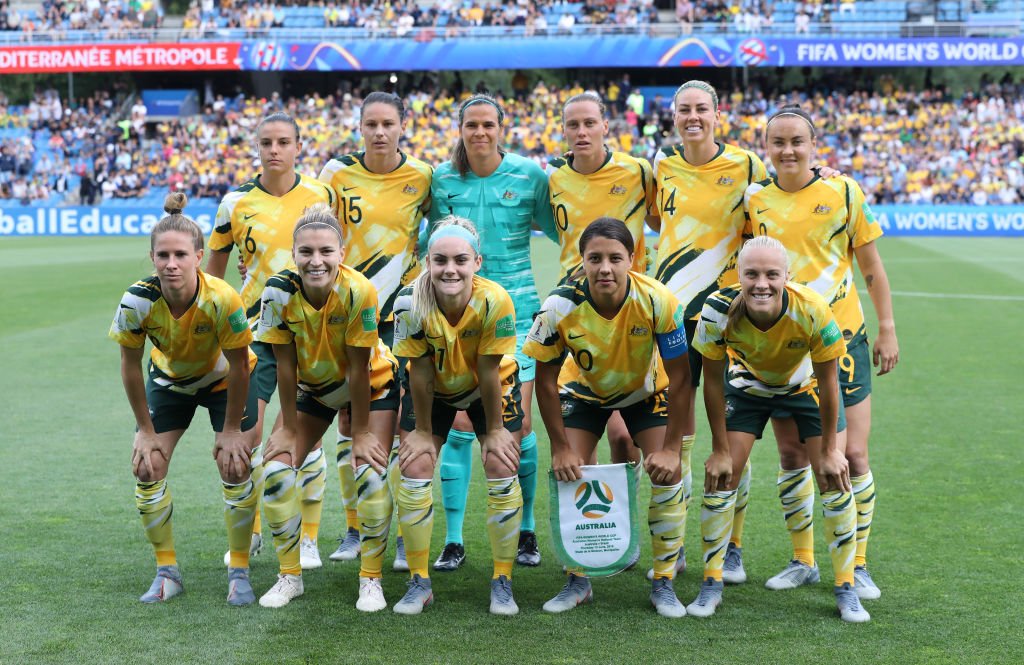 The Matildas finished group stage play with a comfortable 4-1 win over Jamaica in Grenoble, sealing a spot in the Round of 16.
Lisa De Vanna became only the second player after Cheryl Salisbury to reach 150 appearances for the Matildas, playing a strong 60 minutes. At the other end of the scale in terms of caps, Karly Roestbakken impressed at left back in her first Matildas start.
Lisa De Vanna's 150 A appearances for @TheMatildas is against a record 35 different opponents
35 opponents LISA DE VANNA
34 Cheryl Salisbury
33 Elise Kellond-Knight
32 Clare Polkinghorne
31 Heather Garriock, Emily van Egmond#JAMAUS 65' pic.twitter.com/D6U1SxSks4

— andrew howe (@AndyHowe_statto) June 18, 2019
Sam Kerr hit the net in the 11th minute, heading an Emily Gielnik cross home for the Matildas' opener.
The Australians dominated possession, Chloe Logarzo and Emily Van Egmond finding more space through the midfield. However, they had a few defensive lapses late in the first half, handing Jamaican attackers Khadija Shaw and Cheyna Matthews chances, but neither were able to capitalise. Shaw had perhaps the best of these, flashing a header wide to the left of goal off a corner.
Kerr capped the first half by heading another one into the net, this time off a Katrina Gorry ball, taking the Matildas to a 2-0 lead at the break.
Halftime substitute Havana Solaun found the back of the net for Jamaica's first World Cup goal to launch the second half. Shaw charged up the field, feeding it through to the unmarked Solaun, who had time to round Lydia Williams and score.
Our first-ever #FIFAWWC  goal 😭⚽️! Big up @HavanaSolaun! #JAMAUS 1-2 🇯🇲🇦🇺 #ReggaeGirlz #StrikeHard pic.twitter.com/5aKg9zaKa4

— Digicel Jamaica (@DIGICELJamaica) June 18, 2019
What followed was a lift in intensity by the Reggae Girlz, with Shaw visibly growing in confidence with every step, starting to pepper the goal. Australia's response to the increase in pressure was less than ideal, with a number of defensive errors, and it took a change up top to shift the momentum.
Hayley Raso, mirroring Solaun's earlier impact, wasted no time as a substitute to create Australia's third goal. The flying winger weaved her way through multiple defenders in the 18 yard box, delivering Kerr her hat trick right in front of the goal.
Logarzo went down in tears clutching her back with fifteen minutes to go, while Kerr had a penalty appeal waved off. Logarzo would return to play soon afterwards, and Kerr pounced on an error in defence from Nicole McClure to net her fourth of the match.
Khadija Shaw was still firing at Lydia Williams in the dying minutes, while Alanna Kennedy sent a long range header onto the top of the crossbar in additional time to close off an exciting match.
FULL TIME | Sam Kerr scores FOUR goals and we book our spot in the #FIFAWWC Round of 16! #WeAreMatildas #JAMAUS pic.twitter.com/NYxc2l1SkV

— Matildas (@TheMatildas) June 18, 2019
Australia's win lines up a Round of 16 encounter with Norway, to be played in Nice on 5:00am Sunday morning AEST.
MATCH DETAILS
Jamaica       1 (Havana Solaun 49')
Australia     4 (Sam Kerr 11', 42', 69', 84')
Date: 18 June 2019 (FRA) / 19 June 2019 (AUS)
Venue: Stade des Alpes, Grenoble
Kick-off: 21:00 (FRA) / 05:00 (AEST)
Broadcast: Live in Australia SBS TV and Optus Sport
Jamaica Line up:  13. Nicole McClure, 4. Chantelle Swaby, 5.  Konya Plummer, 11. Khadija Shaw, 12. Sashana Campbell, 14. Deneisha Blackwood, 15. Tiffany Cameron (Havana Solaun 46'), 17. Allyson Swaby, 19. Toriana Patterson, 20. Cheyna Matthews (Trudi Carter 59'), 22. Mireya Grey (Jody Brown 72')
Yellow Cards: Konya Plummer 71'
Australia Line up: 1. Lydia Williams, 5. Karly Roestbakken, 6. Chloe Logarzo, 7. Steph Catley, 10. Emily Van Egmond, 11. Lisa De Vanna (Hayley Raso 63'), 14. Alanna Kennedy, 15. Emily Gielnik (Caitlin Foord 59'), 19. Katrina Gorry (Aivi Luik 87'), 20. Sam Kerr, 21. Ellie Carpenter
Yellow Cards: Emily Van Egmond 76'