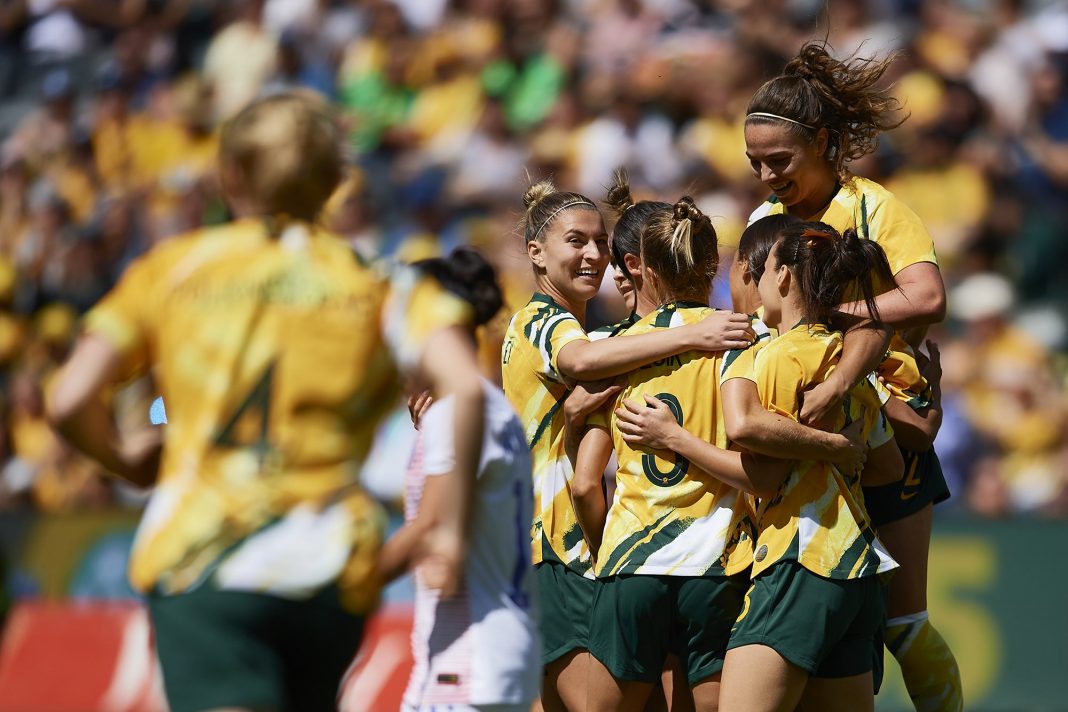 The Matildas moved past their World Cup heartbreak in the best possible way on Saturday, winning 2-1 over Chile at Bankwest Stadium in Sydney. In front of 20,029 spectators – the highest ever crowd for a stand-alone Matildas match – Sam Kerr's double was enough to ensure victory for Ante Milicic's side, with Camila Saez scoring a late consolation for La Roja.
The home side kicked off with the attacking intent required, pushing Chile back into their own half in the opening seconds.
Matildas debutant Jenna McCormick took her first touch in international football in the first minute, showing nerves of steel in front of a huge crowd which included her family.
Jenna McCormick becomes the 241st Matilda in #AUSvCHI.

McCormick was born in Mount Gambier and is the 2nd regional South Australian-born Matilda in 2 years, after Port Pirie-born Emily Condon.

See all 241 @TheMatildas & map their matches from here ===> https://t.co/P5dqXUD6VM pic.twitter.com/cx0xO67lnY

— andrew howe (@AndyHowe_statto) November 9, 2019
Chile's Francisca Mardones committed a foul on Hayley Raso a minute later to give the Matildas a real chance at opening proceedings. Emily Van Egmond sent in a looping ball, finding Sam Kerr. The NWSL MVP volleyed it off her chest and brought boot to ball into the bottom right corner past Chile keeper Christiane Endler, putting the Matildas 1-0 up in the 3rd minute.
Ellie Carpenter looked lively at right back in her 37th international appearance, linking up well with Raso and winning another free kick. Although the free kick wasn't converted, McCormick was able to pick up the pieces and send in a lovely cross for Raso, but the forward couldn't get enough on it and Endler claimed the ball.
In the 11th minute Chile had their first attacking opportunity from a set piece. Francisca Lara sent in a cross to the box which found Daniela Zamora, who put the ball in the back of the net but was denied by the assistant's flag.
Statistically, the home side were looking strong, with 67% possession to Chile's 33% by the 14th minute.
In the 20th minute Matildas won a corner ball, McCormick winning a header and finding Kerr. Kerr played in Claire Polkinghorne who couldn't get a shot on goal after a good clearance by Daniela Pardo.
Another standout moment in the first half was Endler's fantastic save in the 33rd minute, coming out to a charging Chloe Logarzo and clearing away the ball.
The first half finished 1-0 to Australia. Whilst they started strong, Chile forced their way back into the contest and the Matildas had to work hard for every opportunity after that. Additionally, some great chances were not capitalised on. Australia's main tactic was playing the long ball into the box when Kerr was there, which didn't work on multiple occasions. Balls into the penalty area were 25 to Chile's three!
Chile kicked off the second half and played out from the back rather than instantly looking to attack. This resulted in a good spell for La Roja, as they won mutiple set pieces in good areas and were able to put Australia under pressure for the first time in the contest. Chile were also able to maintain discipline at the back, catching Australia offside on numerous occasions.
On 68 minutes Van Egmond made way for Amy Harrison, with the Western Sydney crowd cheering loudly for their home town player. Harrison almost completed her comeback story after recent injury woes when she linked up with Foord, however her shot from the box went wide.
In the 70th minute, Foord sent in a fantastic through ball to Kerr, putting her one on one with Endler. The striker slotted it home to give the Matildas a two goal buffer.
Kerr's brace had significance: not only was it her 9th in international football this year, but also her 40th goal in 40 games within in a calendar year for club and country! She also moved into equal-third place on the Matildas all-time goal scoring list with 38 goals to her name.
4️⃣0️⃣ goals in 4️⃣0️⃣ games in 2019!@samkerr1 has been on fire for club and country.

🎥 @FOXFOOTBALL #WeAreMatildas #AUSvCHI pic.twitter.com/lpGmb1C3FA

— Westfield Matildas (@TheMatildas) November 9, 2019
Matildas coach Ante Milicic continued to ring the changes, and Raso was substituted for Emily Gielnik, who has made a huge name for herself after signing for German powerhouse FC Bayern München earlier this year.
McCormick also earned a great ovation for her debutant efforts – easily being one of the best on ground – after being withdrawn for Emma Checker. This match marked Checker's first international appearance since the 2014 AFC Asian Cup, and it's great to see her back in the green and gold!
Lydia Williams didn't have too much to do in the game, but when she is called into action you are always bound to see something incredible. After copping a hard blow to the head from Zamora's attempt, Williams recovered quickly with a great save from another Zamora shot!
After much pressure Chile finally scored when Saez headed the ball in off a corner. It was 2-1 with just under a few minutes to play, with Kerr far from impressed that the players had broken their defensive wall.
Full time sounded shortly thereafter, with Australia winning 2-1.
It was a great game of football to watch, with the home side looking creative but needing the final ball to go their way. There is however, a sense of disappointment from the side after they let Chile through, and Kerr elaborated on her frustration with regards to the late goal conceded.
"We were good for the first 75 minutes but not good enough for the final 15. It's disappointing to concede off a setpiece. Look, we won, but that's not good enough for us. Today was a real test," she said.
McCormick also shared her thoughts after a great performance on debut.
"It was pretty incredible … I still want to be out there actually! I've worked really hard to get here, I'm very proud and I'm very appreciative of the girls to be able to share this with them. It's very special," she said.
Carpenter also stood out with her attacking runs and forward play, with many of Australia's best moments coming when she linked up with Raso on the right flank.
"It was a good game back after the FIFA Women's World Cup. Obviously a lot we can work on, but I think it was a good starting point today. This stadium is amazing and with the record crowd my family was able to come along too, so that was pretty special," she said.
Speaking on her combination play with Raso, Carpenter was full of praise for her club and international teammate.
"It's great playing together at Portland Thorns and here with the national team. We have a good relationship on the right side and I love playing with her."
While there are still some areas that need to be worked on, any win has to build confidence going forward for the Matildas. They will no doubt again be tested by Chile on Tuesday night, under the lights of Hindmarsh Stadium in Adelaide.
Australia 2 (Kerr 3′, 72′)
Chile 1 (Sáez 89′)
Australia: Williams, Carpenter, Polkinghorne, McCormick (Checker 86′), Catley, Van Egmond (Harrison 69′), Luik, Logarzo, Foord, Raso (Gielnik 75′), Kerr.
Yellow: Raso 71′
Chile: Endler, Soto (Galaz 60′), Mardones (Toro 85′), Sáez, Guerrero, Pardo (Araya 79′), Zamora, López (Balmaceda 46′), Lara, Aedo, Urrutia (Roa 63′)
Yellow: Aedo 64′