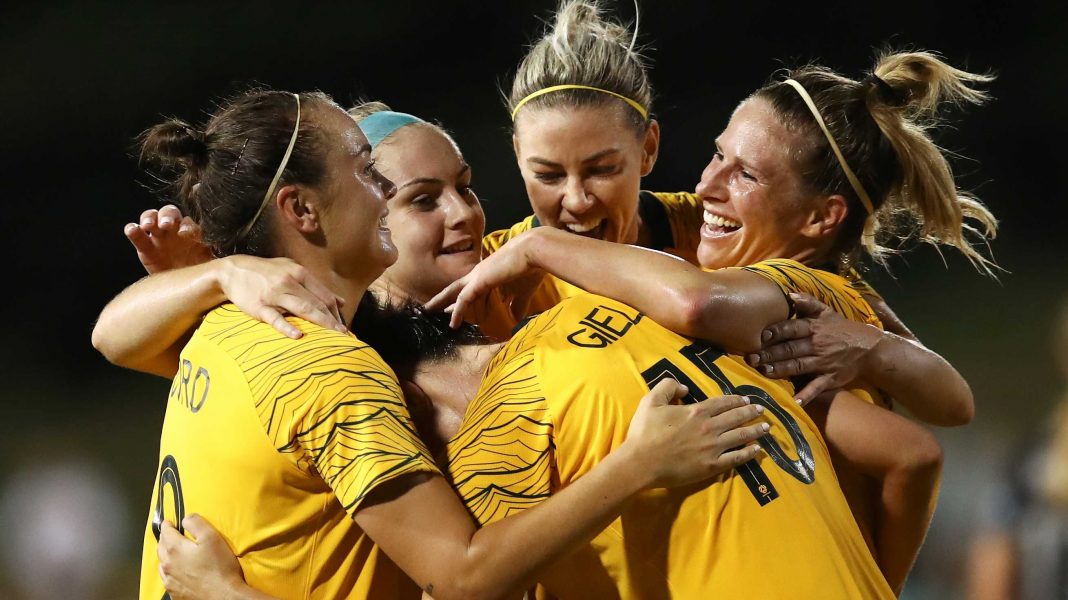 Australian head coach Ante Milicic has announced the 23 player squad to take on world champions USA next month in Denver, Colorado.
The squad includes 18 members of the Matildas victorious Cup of Nations roster with three familiar names returning.
Midfielders Katrina Gorry and Chloe Logarzo make their return to the squad after injury ruled them both out of the Cup of Nations, while Sydney FC championship winning defender Elizabeth Ralston earns her first national team call up.  .
The US tour provides Milicic with an opportunity to observe the duo that brings more than 100 games of experience to the squad.
Logarzo was instrumental the last time Australia played the United States, finishing off a stunning counter-attack in the 22nd minute.
Also added to the squad is American based goalkeeper and former Young Matilda Teagan Micah and teen striker Mary Fowler.
If you're not already following @UCLASoftball on any social media platform, you're doing life wrong. https://t.co/vbxNIowfXM

— Go Joe Bruin (@GoJoeBruinUCLA) March 21, 2019
Fowler made her debut for the Matildas in the 2018 Tournament of Nations and was a part of the European Tour against France and England.
However, a rift appeared to have developed post European Tour with Fowler left out of the Chile International Series.
Milicic's call up is an opportunity for the striker to make a late run for the World Cup squad after impressing as a substitute in the USA and Europe.
"It has been my intention from the outset to give as many players as possible a chance to impress ahead of our final squad selection for France," Milicic said.
"Katrina, Chloe, Mary, Elizabeth, and Teagan will join us in the United States, and while some players have missed out on this window that doesn't mean that their hopes of being with us at the 2019 FIFA Women's World Cup are over."
This will be the 30th meeting between the two nations with recent encounters in 2017 and 2018 resulting in a win and draw for Australia.
"We will be looking for players to step up in the United States both in training and our match against the world's number one ranked side, and as a unit we will be aiming to build upon the foundations and standards we set during the recent Cup of Nations," he said.
Milicic will name Australia's squad for the 2019 FIFA Women's World Cup in mid-May before the team commences its final preparations for France in Antalya, Turkey, from May 19.
Australia will face the USA on 5 April 2019 at  Dick's Sporting Good's Park.  Kick off is at 12.30pm (AET) live on Fox Sports.
---
MATILDAS SQUAD FOR USA TOUR
| | | |
| --- | --- | --- |
| Name | Club, Country | A-International Caps (Goals) |
| Teigen ALLEN | Melbourne Victory FC, Australia | 40 (0) |
| Laura ALLEWAY | Melbourne Victory FC, Australia | 60 (2) |
| Mackenzie ARNOLD (Gk) | Brisbane Roar FC, Australia | 23 (0) |
| Tameka BUTT | Klepp IL, Norway | 77 (10) |
| Ellie CARPENTER | Portland Thorns, USA | 30 (1) |
| Steph CATLEY | Seattle Reign, USA | 71 (2) |
| Lisa DE VANNA | Sydney FC, Australia | 146 (46) |
| Caitlin FOORD | Portland Thorns, USA | 70 (15) |
| Mary FOWLER | Bankstown City Lions FC, Australia | 3 (0) |
| Emily GIELNIK | Melbourne Victory FC, Australia | 27 (7) |
| Katrina GORRY | Brisbane Roar FC, Australia | 72 (14) |
| Elise KELLOND-KNIGHT | Seattle Reign, USA | 105 (1) |
| Alanna KENNEDY | Orlando Pride, USA | 76 (7) |
| Samantha KERR | Chicago Red Stars, USA | 75 (30) |
| Chloe LOGARZO | Washington Spirit, USA | 37 (6) |
| Aivi LUIK | Levante UD, Spain | 21 (0) |
| Teagan MICAH (Gk) | UCLA, USA | 0 (0) |
| Clare POLKINGHORNE | Houston Dash, USA | 115 (9) |
| Elizabeth RALSTON | Sydney FC, Australia | 0 (0) |
| Hayley RASO | Portland Thorns, USA | 33 (3) |
| Gema SIMON | Newcastle Jets FC, Australia | 10 (0) |
| Emily VAN EGMOND | Orlando Pride, USA | 84 (18) |
| Lydia WILLIAMS (Gk) | Seattle Reign, USA | 76 (0) |
MATCH DETAILS
United States of America v Australia
Date: Thursday, 4 April 2019
Venue: Dick's Sporting Good's Park, Commerce City, Colorado
Kick-off: 7.30pm (local); 12.30pm – Friday, 5 April 2019 (AEDT)
Broadcast: Live in Australia on FOX SPORTS 503