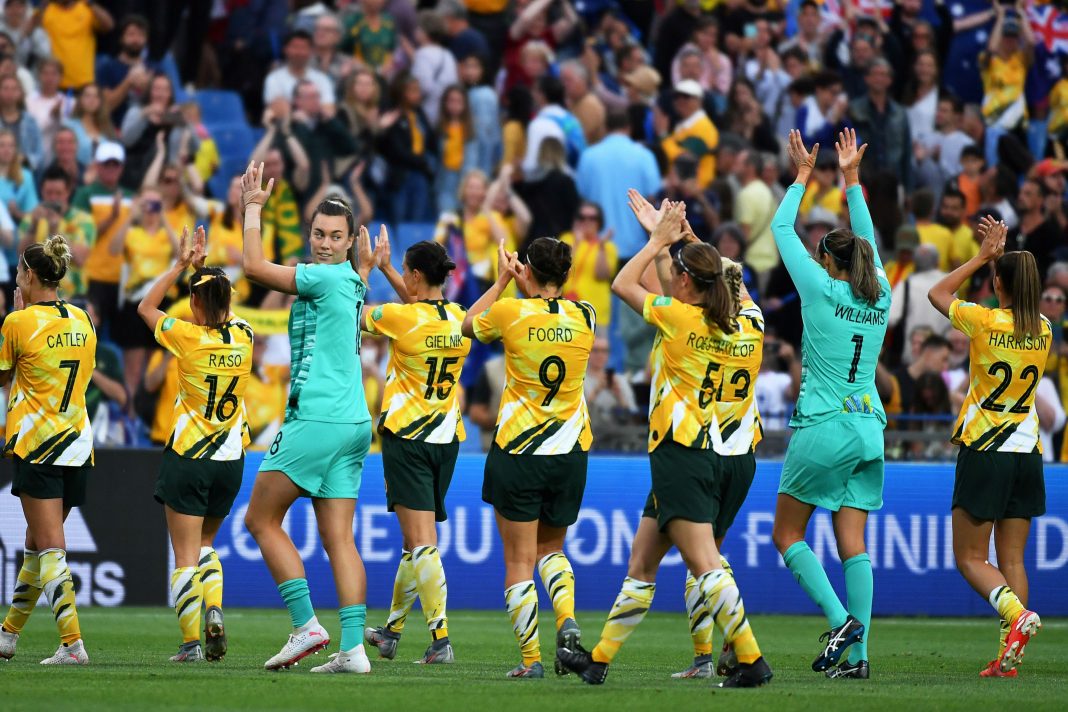 Football Federation Australia and Professional Footballers Australia today announced the signing of a new Collective Bargaining Agreement, paving the way for improved pay parity between senior national teams.
The agreement, negotiated over several months, represents a massive leap forward in the professionalism of elite women's football in Australia, bringing the Matildas closer to the Socceroos than at any time in the team's 40-year history.
A day almost a century in the making. #WeAreMatildas pic.twitter.com/UkRoA0yXOL

— Westfield Matildas (@TheMatildas) November 5, 2019
The four-year pay deal will for the first time see the Socceroos and Matildas share a collective revenue pool, with both teams receiving an agreed 24% portion of their generated revenues in 2019-20, rising steadily to 28% in 2023-24.
Significantly, Matildas players will now be employed under a new three-tiered centralised contract system, with top-tier Matildas players to receive the same pay as their male counterparts under the new deal.
Players will have access to a soon-to-be reviewed and improved parental leave policy, further supporting Matildas during pregnancy and their return to playing duties, as well as a PFA-administered player development policy aimed at improving player wellbeing on and off the pitch. Matildas players will also be afforded access to the same high-performance resources as the Socceroos, including business-class travel.
The new agreement also sees an increase in tournament revenues allocated to the playing groups: World Cup qualification will see players earn 40% of prize money – up from the current 30% – which would increase to 50% should either team qualify for the respective knockout stage; Asian Cup prize money will also increase from 30% to 33%, with teams' qualification for the Asian Cup Final increasing that share to 40%.
Junior national teams – such as the Joeys and Young Matildas – will also see increased investment under the new CBA, with 5% of revenues allocated to national teams being dedicated to Australia's next generation of international footballers. In addition, the FFA and PFA will also place 0.5% of all revenues generated by national teams into a trust aimed at funding the Pararoos, Australia's Cerebral Palsy national teams.
FFA Chairman Chris Nikou said that this groundbreaking agreement would ensure that football remained the number one sport in terms of gender equity and pathways for all players.
"Football is the game for everyone, and this new CBA is another huge step toward ensuring that we live the values of equality, inclusivity and opportunity," Nikou said.
"For the first time, player remuneration will be directly tied to the revenues generated by our National Teams – this will create a sustainable financial model that incentivises players and FFA to collaborate and grow the commercial pie together."
"With this CBA, the next generation of aspiring Australian kids can see a pathway that offers a sustainable career, a chance to be an Olympian, and the lure of playing at a FIFA World Cup – regardless of your gender. It means whether you are a male or female, the value football places on your jersey is no different. We are proud to break this new ground in Australian and world sport."
Former Matildas striker and FFA Head of Game Development Sarah Walsh paid tribute to the pioneering spirit of her predecessors in women's football.
"FFA, the PFA and all the players are proud to be leading the way in delivering real gender equality within the game we love," Walsh said.
"This agreement is the product of generations of Matildas and their supporters advocating for real change. This moment belongs to all of them as well."