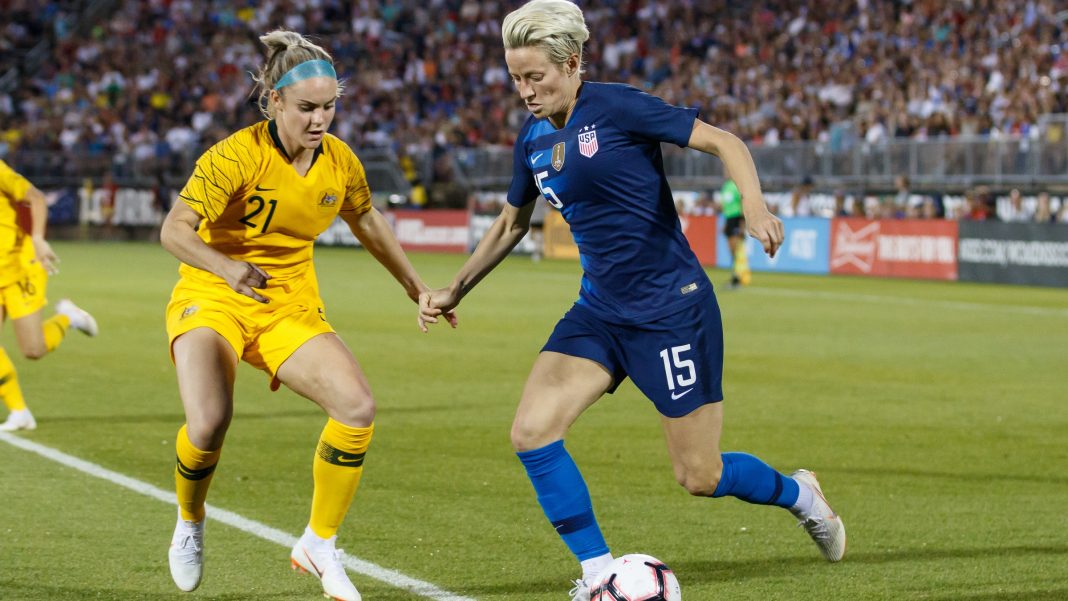 The Road to France continues for the Matildas on Friday, 5 April as they take on defending world champions USA in Denver, Colorado.
It will be the second time the two nations have met at Dick's Sporting Goods Park, with the last encounter in the altitude of Denver back in 2012.  
On that occasion, the Matildas introduced a host of young players to the American audience and said farewell to a legend, with Sarah Walsh playing her last match in the green and gold. 
This time around, those kids of yesterday – Kennedy, Catley, van Egmond, Foord, Gielnik, Allen – are now seasoned Matildas preparing to mount a World Cup challenge.  
TEAM NEWS
NWSL club commitments have meant that the full squad has taken some time to assemble for camp in Colorado.  
While a number of players arrived last Thursday, it wasn't until early this week that Ante Milicic had the full squad at his disposal.  
That squad contains a host of experience. Twelve players with over 50 caps (and 3 over 100 caps) but also some fresh faces, plus another 4 players with 10 caps or fewer.  
Sydney FC defender Liz Ralston and former Young Matildas goalkeeper Teagan Micah are the only two uncapped players in the squad, while teenage striker Mary Fowler gets an opportunity to audition for a World Cup berth.  
Fowler will get a chance to impress and has already been doing so in training.
"She will get game time. In terms of team selection, we're looking to give players opportunities," said Milicic.
"She is an extremely explosive athlete. She's very mature for her age, very good back to goal, very good left foot and right foot and she is a genuine finisher.
"She's settled into the group really well, happy how she has been around the team and conducted herself.
The squad also sees the return of injured duo Katrina Gorry and Chloe Logarzo. Both sustained injuries in the recent W-League season and, along with Kyah Simon, are pushing to return to fitness and form ahead of the World Cup squad announcement.  
Logarzo, defenders Laura Alleway and Steph Catley all will be unavailable.
"We don't want to rush players back," he said.
"We have a duty of care towards them, especially being so close to a World Cup. But it's an opportunity to (other) players … to show themselves against the best team in the world."
LAST TIME THEY MET
The Matildas went close to rolling the United States for the second time in as many years at the 2018 Tournament of Nations.  
A rapid counter attack from Lisa De Vanna ended in a 22nd minute Chloe Logarzo goal. It almost proved the winner before NWSL MVP Lindsey Horan popped up at the back post late in injury time to secure an equaliser for the hosts.  
KEY PLAYER TO WATCH: ALANNA KENNEDY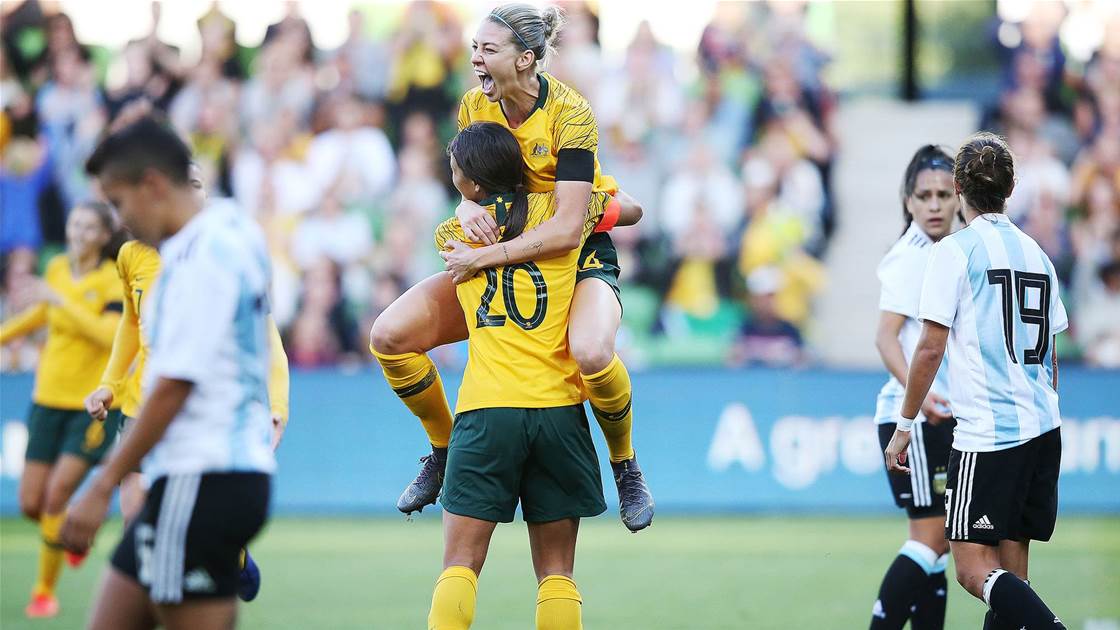 After another stellar season in which she helped Sydney FC claim their third W-League Championship, 2019 could be a big year for Matildas central defender Alanna Kennedy.
As she was in 2015, Kennedy will be key for the Matildas in their World Cup campaign, matching up with some of the world's best strikers.  
Friday should be a great test of what Kennedy will be up against as she goes head-to-head with her Orlando Pride team-mate and USA superstar, Alex Morgan.  
Morgan is a quick, intelligent striker with one of the most lethal finishes in women's football – on her left or right foot. The 29 year old – who is closing in on 100 goals for her country – has been in top form, scoring 26 goals over her last 31 national team matches.  
Although Morgan may have the edge in speed, Kennedy's defensive positioning and tackling ability will be critical against a player who can create space out of nothing, as will the Sky Blues' defender's ability to make well-timed covering tackles. It will be interesting to see whether club familiarity will be a factor in this potential match up.  
On the attacking end, Kennedy's diagonal switch balls from the Australian defence have often started a quick Aussie counter and, with a potentially pacy frontline, this may be one way to cause the United States some problems.   
WHAT TO EXPECT?
This match is one of the last chances for players to put up their hands for a ticket to France.  
While Ante Milicic has called in a host of players on the fringe, whether he plays them against the world number one remains to be seen.  
That being said, Milicic has shown a willingness to try new playing combinations despite the fluency issues that may result.  
Players who had struggled for regular minutes in previous years – Gema Simon, Teigen Allen, Aivi Luik – all received some significant time in the Cup of Nations, and game time will be crucial for others like Gorry and Logarzo who have yet had an opportunity to show their worth on a match day.  
In many areas across the pitch, Australia and the United States are closely matched. There is a similarity to their squads with pacy and skilful strikers, robust and physical midfielders, and solid defences.  
https://www.instagram.com/p/BvxR9RHDby6/
During the Cup of Nations, Milicic demonstrated that he was able to build on the foundations of Alen Stajcic, but added his own approach and style. While there was a pressing game, it wasn't the same high and at times energy-sapping press of recent years.
Instead, the Matildas showed an ability to corral their opponents and win the ball back within two or three passes.  
"We are building on our success at the Cup of Nations and how we really enjoyed playing there," said goalkeeper Lydia Williams.
"It is just building on that momentum leading into our next phase. We are just putting in the final groundwork. He is just really confident in the way we play and he wants to build that.
"Every time that we come into camp we are really positive and he wants us to take risks and be confident in how we can play so that is always exciting."
For Elise Kellond-Knight, the USA match is about more than tactics – it's also about the mentality required to be champions.  
"This is a really important game for us," said the veteran midfielder.
"Playing against the world number one, it's a really big occasion. We have spoken a little bit about presence and being ready to compete against America and kind of putting our presence on the field."
Mentality is key to winning a big tournament and Australia will be going up against one of the giants in women's football in this department. It is a perfect test for what they will face in June and July.
Another thing to look out for in this match will be some new rules getting a test run in preparation for the upcoming World Cup. They include:
A player being substituted must leave the field of play at the nearest point on the boundary line.

Yellow and red cards for misconduct can be issued to team officials.

On a goal kick and a free kick for the defending team in their own penalty area, the ball is in play as soon as the kick is taken, so a player – or opponent, as long as they started outside the penalty area, or were not given the proper time to exit the penalty area – can play the ball before it leaves the penalty area.

These changes will officially be in play in June but USSF obtained consent to use them in their April friendlies.  
BROADCAST DETAILS
Fox Sports 503 will have all the action from 12.00pm (AEDT). SBS will also carry the game on free-to-air TV from 12.00pm (AEDT), with streaming available on The World Game website and app.
Unfortunately for international viewers, it is all geoblocked. However, you can follow all the pre-match, match, and post-match action via our twitter account: @Beyond90AU
______________________________________________________________
MATCH DETAILS
United States of America v Australia
Date: Thursday, 4 April 2019
Venue: Dick's Sporting Goods Park, Commerce City, Colorado
Kick-off: 7.30pm (local); 12.30pm – Friday, 5 April 2019 (AEDT)
Broadcast: Live in Australia on FOX SPORTS 503, SBS TV
LAST 4 FIXTURES
30 Jul 2018: USA 1-1 Australia (Tournament of Nations)
28 Jul 2017: USA 0-1 Australia  (Tournament of Nations)
09 Jun 2015: USA 3-1 Australia (FIFA Women's World Cup)
21 Oct 2013: USA 4-0 Australia (Friendly)
AUSTRALIA SQUAD
GOALKEEPERS: Lydia Williams (Melbourne City / Seattle Reign), Mackenzie Arnold (Brisbane Roar), Teagan Micah (UCLA)
DEFENDERS: Teigen Allen (Melbourne Victory), Laura Alleway (Melbourne Victory), Ellie Carpenter (Canberra United / Portland Thorns), Steph Catley (Melbourne City / Seattle Reign), Alanna Kennedy (Sydney FC / Orlando Pride), Clare Polkinghorne (Brisbane Roar / Houston Dash), Elizabeth Ralston (Sydney FC), Gema Simon (Newcastle Jets)
MIDFIELDERS: Tameka Butt (Melbourne City / Klepp IL), Katrina Gorry (Brisbane Roar), Elise Kellond-Knight (Melbourne City / Seattle Reign), Chloe Logarzo (Sydney FC / Washington Spirit), Aivi Luik (Levante), Emily van Egmond (Newcastle Jets / Orlando Pride)
FORWARDS: Lisa De Vanna (Sydney FC), Caitlin Foord (Sydney FC / Portland Thorns), Mary Fowler (Bankstown City), Emily Gielnik (Melbourne Victory), Sam Kerr (Perth Glory / Chicago Red Stars), Hayley Raso (Brisbane Roar / Portland Thorns)
USA SQUAD
GOALKEEPERS: Adrianna Franch (Portland Thorns FC), Ashlyn Harris (Orlando Pride), Alyssa Naeher (Chicago Red Stars)
DEFENDERS: Abby Dahlkemper (NC Courage), Tierna Davidson (Chicago Red Stars), Crystal Dunn (NC Courage), Ali Krieger (Orlando Pride), Becky Sauerbrunn (Utah Royals FC), Casey Short (Chicago Red Stars), Emily Sonnett (Portland Thorns FC)
MIDFIELDERS: Julie Ertz (Chicago Red Stars), Lindsey Horan (Portland Thorns FC), Rose Lavelle (Washington Spirit), Allie Long (Reign FC), Samantha Mewis (NC Courage), Andi Sullivan (Washington Spirit), McCall Zerboni (NC Courage)
FORWARDS: Tobin Heath (Portland Thorns FC); Carli Lloyd (Sky Blue FC), Jessica McDonald (NC Courage), Alex Morgan (Orlando Pride), Christen Press (Utah Royals FC), Mallory Pugh (Washington Spirit), Megan Rapinoe (Seattle Reign FC)