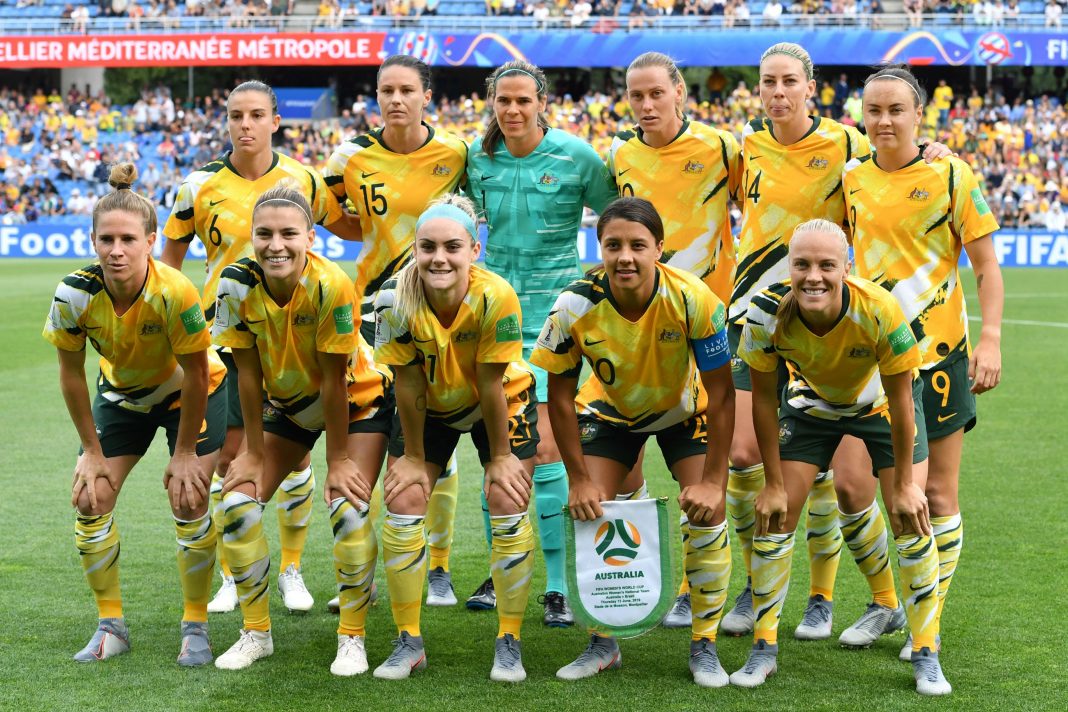 Matildas manager Ante Milicic today announced Australia's 20-player squad for the upcoming Tokyo 2020 Olympic qualification tournament in Wuhan, China.
The majority of Milicic's side will meet in Sydney for a training camp prior to travelling to China for the matches against China, Chinese Taipei, and Thailand, and will be joined by European-based players Sam Kerr and Emily Gielnik in China ahead of the tournament itself.
Matildas all-time leading goalscorer Lisa de Vanna is the biggest omission from Milicic's squad, with Melbourne Victory fullback Teigen Allen, Western Sydney midfielder Amy Harrison, and Adelaide United striker Mary Fowler also missing from the 20-player list after appearing at the 2019 Women's World Cup, while Victory defender Jenna McCormick maintains her spot after making her international debut in the November 2019 friendly against Chile.
The Matildas will need to secure a top-two finish in their group in order to progress to the next phase of qualification: a two-legged play-off against either Korea Republic, Vietnam, or Myanmar in March 2020, the winner of which will book their ticket to Tokyo.
"We have a great amount of experience in our squad, as well as some emerging talents, and I expect us to perform strongly in Wuhan," Milicic said.
"Together with my staff I have been keeping a very close eye on the Westfield W-League, and it is pleasing that many of our players have produced strong performances in the competition over the past two months.
"The great amount of consistency within our squad from November's series against Chile in Sydney and Adelaide means that we will be able to continue to make progress with many areas of our play from the moment we convene in Sydney as we build up to these crucial qualifiers.
"With only 20 places in this squad and 18 for Tokyo should we qualify, every player will need to show her best in this upcoming camp and help the nation take another step towards the Olympic Games," he said.
Milicic highlighted the smaller squad has increased competition for positions, calling this out as a positive but that it also led to "difficult conversations".
"Emma Checker has been playing regularly, learning how to play in a back three, and she hasn't put a foot wrong," Milicic said.
He went on to add that Jenna McCormick played well against Chile so he made the decision to stick with her.
When asked the likelihood on changes to the final squad if the Matildas qualify for the Olympics, Milicic noted the competition between Gorry and Amy Harrison, in which Gorry was better at working in congested areas in the midfield.
Laura Brock coming back from injury and Lisa de Vanna are also possibilities.
Milicic also pointed out that players need to decide what they're going to do after the W-League season is over to keep themselves in competitive environments.
"That's what Mary [Fowler] and a couple of other players in the squad need to be thinking about now, not in March at the end of the season."
The Matildas' training camp in Sydney will be held between 20-27 January, with the team to depart for China on 28 January, where Australia's games in Wuhan will be held on 3, 6 & 9 February .
Matildas' 20-Player Squad | Women's Olympic Football Tournament Tokyo 2020 Asian Qualifiers | Wuhan, China
| | | |
| --- | --- | --- |
| Name | Club, Country | 'A' International Caps (Goals) |
| Mackenzie ARNOLD (GK) | Brisbane Roar, Australia | 23 (0) |
| Ellie CARPENTER | Melbourne City, Australia | 38 (1) |
| Steph CATLEY | Melbourne City, Australia | 78 (2) |
| Caitlin FOORD | Sydney FC, Australia | 78 (17) |
| Emily GIELNIK | Bayern Munich, Germany | 34 (8) |
| Katrina GORRY | Brisbane Roar, Australia | 76 (14) |
| Elise KELLOND-KNIGHT | Brisbane Roar, Australia | 109 (2) |
| Alanna KENNEDY | Sydney FC, Australia | 83 (7) |
| Sam KERR (C) | Chelsea, England | 83 (38) |
| Chloe LOGARZO | Sydney FC, Australia | 44 (7) |
| Aivi LUIK | Melbourne City, Australia | 24 (0) |
| Jenna MCCORMICK | Melbourne Victory, Australia | 2 (0) |
| Teagan MICAH (GK) | Melbourne Victory, Australia | 0 (0) |
| Clare POLKINGHORNE | Brisbane Roar, Australia | 121 (9) |
| Hayley RASO | Brisbane Roar, Australia | 41 (3) |
| Karly ROESTBAKKEN | Canberra United, Australia | 3 (0) |
| Kyah SIMON | Melbourne City, Australia | 87 (24) |
| Emily VAN EGMOND | Melbourne City, Australia | 92 (18) |
| Lydia WILLIAMS (GK) | Melbourne City, Australia | 84 (0) |
| Tameka YALLOP | Brisbane Roar, Australia | 83 (10) |