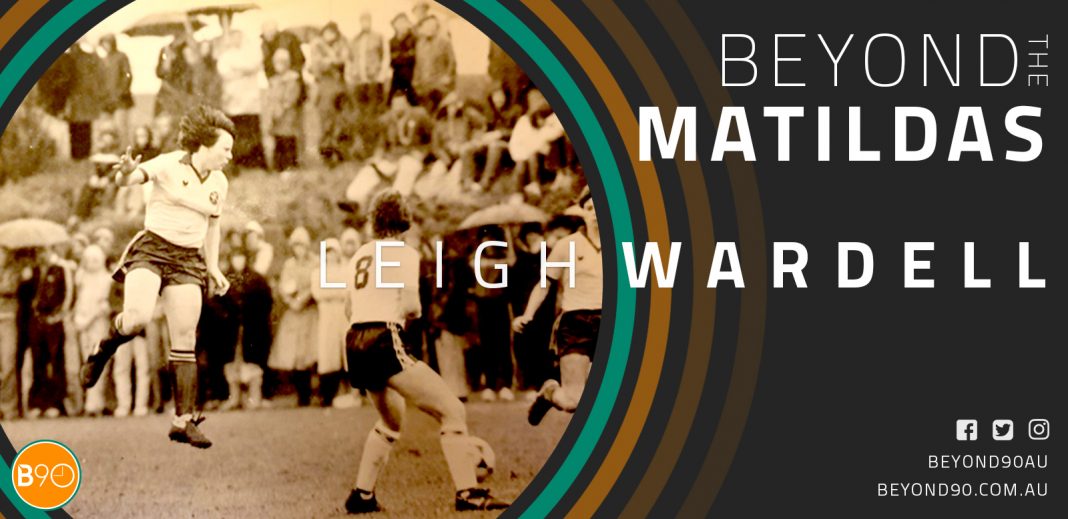 This series, 'Beyond The Matildas,' takes us back through the history of Australia's most-loved sporting team. It delves into the memories and experiences of its pioneers, and sheds light on the many aspects of life for Australia's women footballers—both during and after their playing careers—that we don't hear much about. 'Beyond The Matildas' celebrates the achievements of several generations of women players, while also looking at the more complex aspects of football for Australian women over time—the emotional struggles of losses and injuries, balancing football with other careers, the bumpy transitions into retirement, the new lives they forge, and the legacies they leave behind.
Macquarie Park — Sydney
It's late May.
The Sydney air is just starting to bite with winter cold. By 6:00pm the sky is already inky black, and the lights from the city towers to the east shimmer in the dark like distant stars.
At Christie Park football ground in the north-western suburbs, two lines of players—one dressed in yellow and black, the other in blue and white—walk out onto the brightly-lit pitch. Spectators, many of them cocooned in blankets and over-sized ski jackets, huddle together for warmth in the nearby grandstand. An icy wind stirs in the trees behind the electronic scoreboard at the back of the field. The players take their positions across the synthetic turf, shivering and puffing warm air into their hands.
Watching them from the second-storey balcony of the nearby clubhouse, curled up in a plastic deck chair, is Leigh Wardell. She's dressed for the weather in a black windbreaker and matching tracksuit pants, a black club cap hiding a neat crop of silver-grey hair and a heavy brow. Her sharp, observant eyes are framed by a pair of thick-rimmed glasses that catch the light from the towers below, making it difficult to know where she's looking.
Wardell is here, like she is most weekends, to watch the North West Sydney Koalas senior team compete in the NSW National Premier League Women's competition. As I pull up a chair on the open-air balcony, a number of people walk past below—players and spectators from the earlier game. They wave up at her with words of greeting or goodbye.
She knows all of them by name.
That is to be expected; Wardell has worked for the North West Sydney Koalas in various roles for the past 15 years.
She currently serves as part of the club's Skills Acquisition Program, and tonight she's here to observe the players who have developed under her watchful eye since they were kids.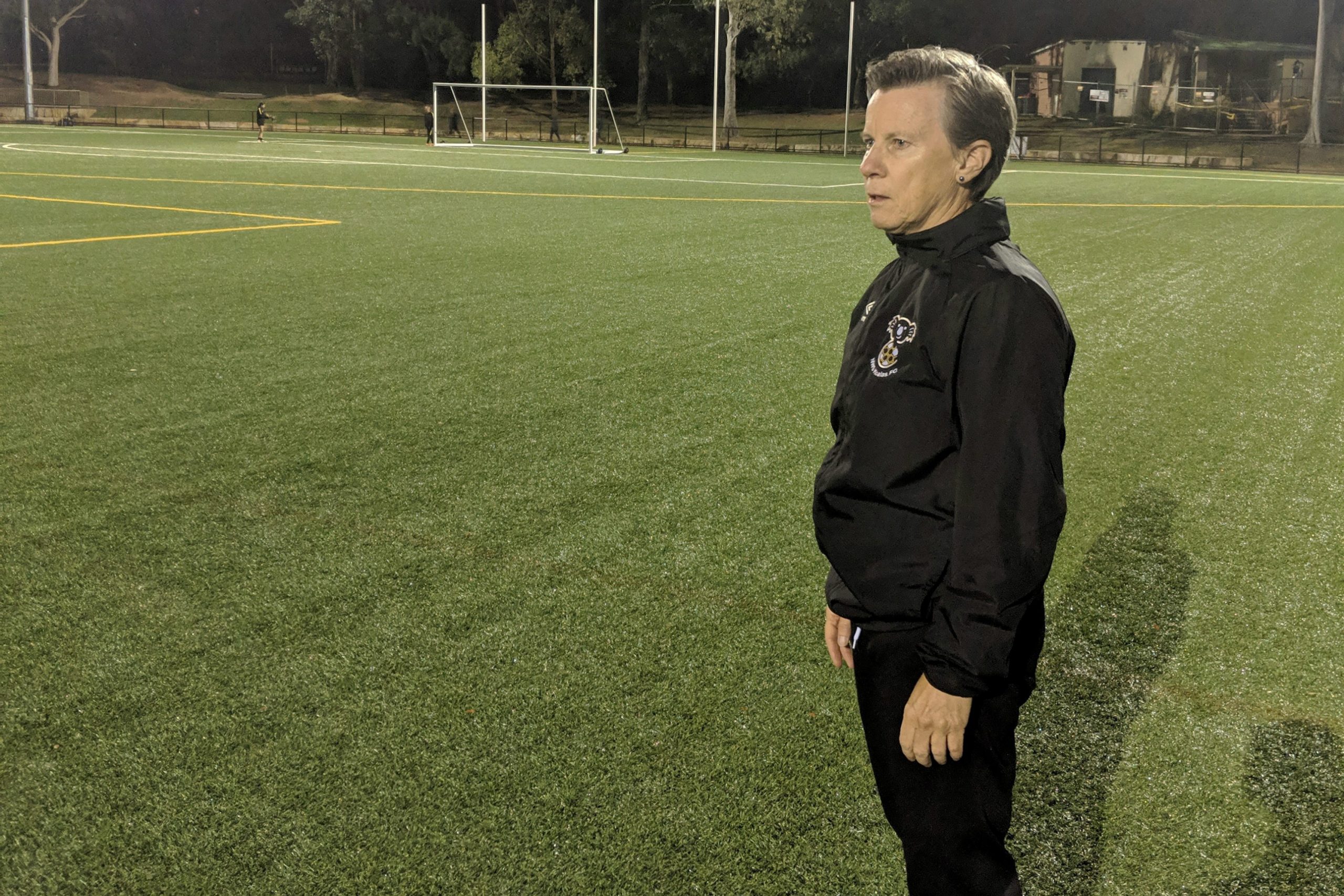 "I can remember my first training session," Wardell reminisces as the whistle blows and the match gets underway.
"My best friend and I rode around to the local oval on our bikes and we sat and watched some fifth and sixth-form girls from our high school, and we just went 'that's it.' Got back on our bikes, rode back home.
"My dad was home and said, 'what are you doing here?' I said 'Dad, they're awful! They can't kick a ball! We're not playing with them!' And he goes 'well, you don't have a choice.'
"So, we had to ride our bikes back around and basically it was dribble through some cones and kick a ball and we were in the team."
Wardell's dad, David, had been encouraging his daughter to play football from when she was a child.
"He tried to put me on the back of one of the boys' teams at West Pymble. Even though I looked like a boy, I didn't quite get away with it," Wardell laughed.
"They were like, 'you can't play, you're a girl!' And I said, 'yeah, but it's okay, I can play,' and they said, 'no you can't, you're a girl!'
"'Why can't I?' Well, because it was against the rules. And in those days, it kind of was. So, you know, we had to change the rules."
Her Father's Daughter
David himself had a deep history in Australian football. He worked as an assistant to former Aston Villa and Celtic manager Jozef Vengloš at Sydney FC Prague in the mid-1960s, and joined Marconi Stallions under Les Scheinflug, who would go on to coach the Socceroos at different points throughout the 1980s and 1990s. He was also close with future Socceroos coaches Raúl Blanco and Joe Vlasits.
"I grew up around them," Wardell said of the Australian football luminaries who were an ever-present part of her childhood.
"As a family, we would go when he coached at Marconi, but I would still go with him to Prague and other places as well. I liked it and I always thought, 'when I'm old enough, I'll be able to play.'
"I was talking to my sister not long ago and she said 'you know, it wasn't dad who said that you would be a player. It was actually uncle Joe.' That was Joe Vlasits."
Having grown up around some of the greats of the Australian game, national team football was almost inevitable for Wardell. Not only did she develop technically at a much faster rate than some of her peers, but she also developed a work ethic and a character that she has carried into her post-playing days.
"Growing up with football, ever since I could just about walk, I would go to football with my Dad. It was very, 'you have to go to training every week, you have to clean your boots, you have to make sure of this and that.'
"Years later, I had coaches say to me, 'it wouldn't have mattered if you didn't turn up to training, you still would have played on the weekend.' That ethos that he had, I just picked up and ran with that. I thought that's how everything worked."
Wardell made her senior debut when she was just 13 years old and was part of both the official and unofficial "first international Matildas matches" when she was still in high school: the Women's World Invitational Tournament in Taiwan in 1978, and the FIFA-sanctioned friendly tournament against New Zealand in 1979. It was as though she had an older player's brain in a younger player's body.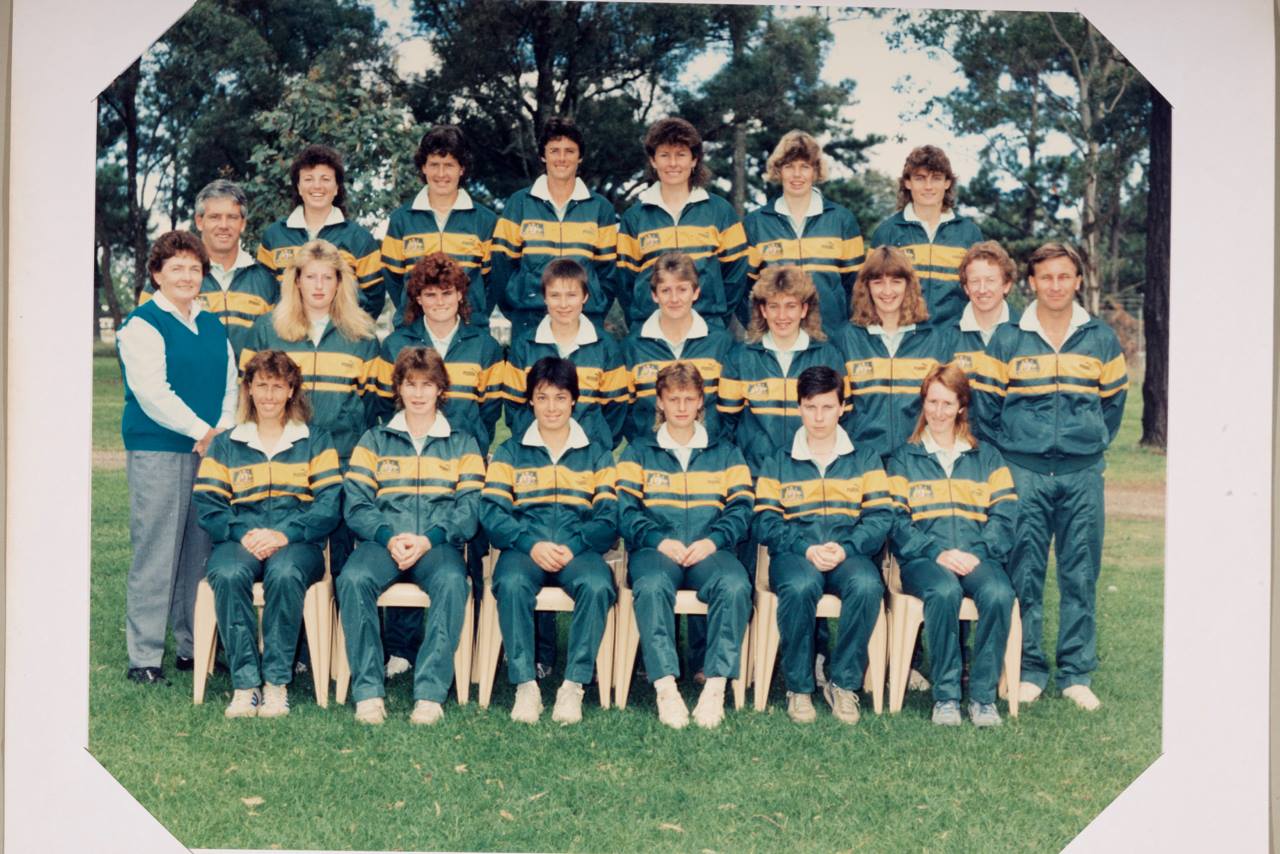 "When I played for the first time for the Matildas, I thought I was gonna go away and get identified as a professional player. Boy, did I get a rude shock," Wardell said.
"My mum packed HSC study books [for the tour], and I've unpacked my bag and gone, 'what the? Bin, bin, bin, bin. I'm gonna be a professional footballer, what do I need books for?'"
But this was the late 1970s; it would be decades before women's football would become a source of income for players. Instead, Wardell built a career in another industry entirely. But her love of football always meant the pitch was never far away.
The Other Side of the Line
Wardell's football career, like the career of all the pioneering Matildas, was set against a backdrop of study or work. While national team games were irregular, she would play consistently for her home state, and played for a number of local clubs including Putney Town, North Ryde RSL, Sydney Olympic, Epping-Eastwood, and Gladesville Hornsby—the forerunner to the NWS Koalas club where she now volunteers.
Although Wardell's playing career ended a little earlier than expected in the late 1980s, she was offered a lifeline from another David who would become a major influence in the next stage of her football journey.
"I actually hadn't finished playing when I got a phone call from the Technical Director at Soccer New South Wales, David Lee, who I'd known since I was a kid through my dad," she said.
"He rang and said, 'we've got the boys development program set up here and are looking to replicate that with the girls, do you want to be part of it from a coaching perspective?'"
Wardell always knew she would work in football after her playing days were over, but she had no idea what that work might look like. Having grown up around some of the great coaches of the Australian game, absorbing their lessons and philosophies along the way, it was almost pre-destined that coaching would be the next chapter in her story.
Just as she became a player surrounded by some of Australian football's best, Wardell became a coach surrounded by some of the current leaders in the industry, including Kelly Cross (Sydney FC Head of Development), Tony Walmsley (former Technical Director and head coach of Central Coast Mariners) and Jean-Paul de Marigny (assistant coach of Western Sydney Wanderers). An apprenticeship, of sorts.
"I think that's a great way of doing things. As a player, you take things from coaches, you learn things," Wardell said.
"I learned a lot from some of those guys, but I also figured things out for myself, and Mr. Lee was always in the background."
Just like her father, David Lee had an enormous impact on the kind of coach Wardell would become.
She would join the elite junior pathway programs in NSW, nurturing the careers of future Matildas including Thea Slatyer, Rhian Davies, Sarah Walsh, Ellyse Perry, and Chloe Logarzo. She would coach the NSW Under-19s team from 1994-1996, and have a stint as the assistant coach of the Matildas under Tom Sermanni in the mid-1990s.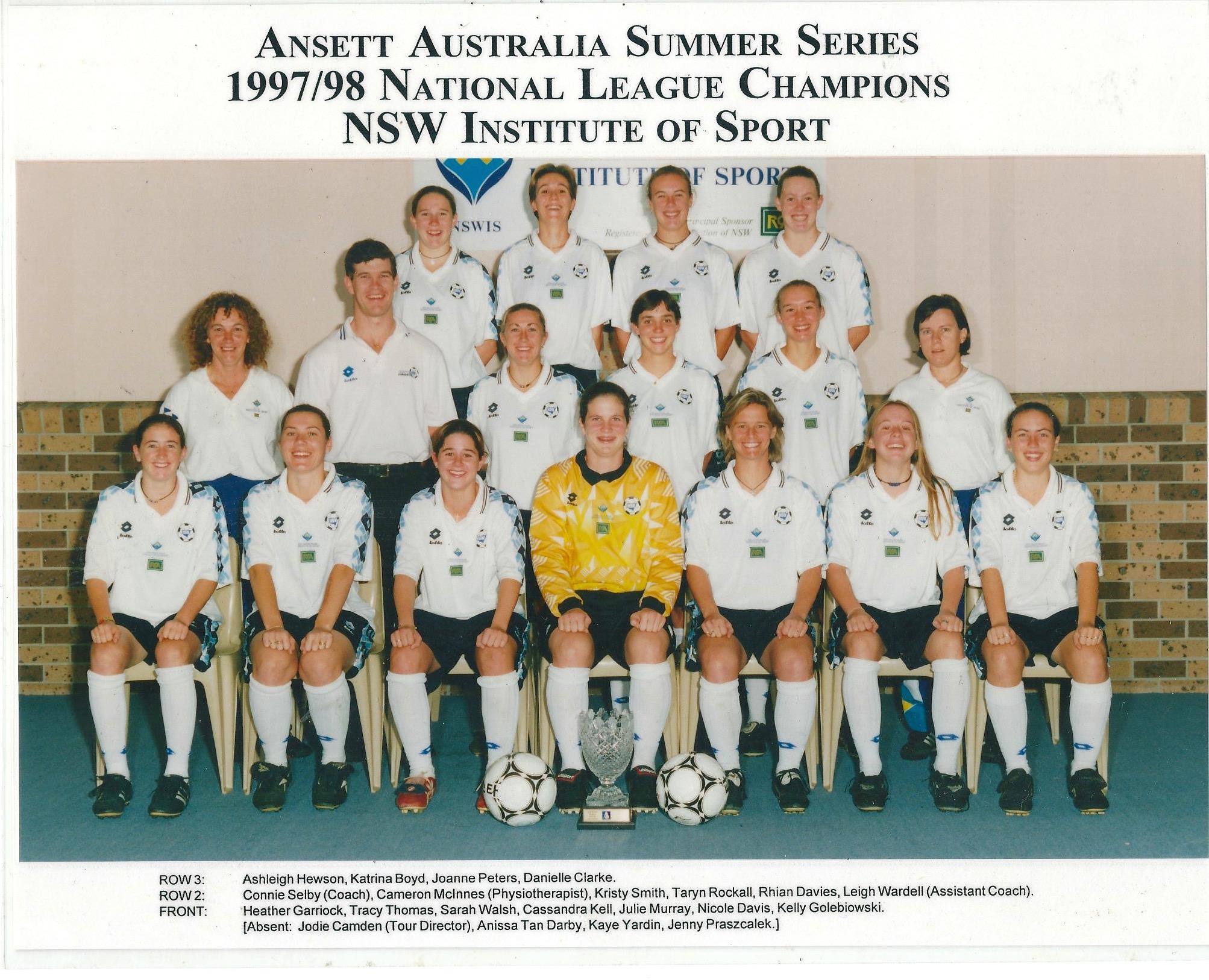 Having learned the lessons from her father as a player and from David Lee as a coach, Wardell's approach to youth development has become—almost paradoxically—progressive.
"Development is about process, [Mr. Lee] would say. You get the process right; the outcome will follow," she said.
"Coaches don't develop players. Players develop players. Coaches facilitate that development. It's like teachers. You put all the kids in the same classroom and you put the teacher in front. Do they all develop? The ones that want to, will. The ones that can, will. The ones that can't, probably won't. The ones that don't want to, won't. The player won't do it unless they want to do it."
I asked whether she deliberately channels her father in the work she does with young players now. She doesn't remember much of him, she says, but she still feels his influence in other, less tangible ways.
"It's a little bit strange. Something's come out of my mouth and I have no idea where it's come from," she said.
"One of the questions Mr. Lee could never answer is 'how does an 8-year old play like a 40-year old, and a 40-year old play like an 8-year old?' The last part's easy to answer: they just don't have a football brain. They love playing the game and that's great. But the first part?
"It wasn't until after he finished working that another coach, Geoff Stanmore, and I caught up with [Mr. Lee] and he said, 'I've figured it out.' As soon as he said it, we knew what he was talking about. It's the only thing he was never able to reason through. I said, 'what's the answer?' and he said 'reincarnation.'
"'They must have been here before. There is no way that an 8-year-old kid has been on this earth long enough to get that amount of football experience to be able to do what they're doing.'"
A Quiet Mark
Wardell has now been a coach for longer than she was ever a Matilda. As one of the few Matildas who has worked on both sides of the pitch, her impact on Australian football shouldn't be underestimated.
From being part of the first official Matildas team in the late 1970s, which opened a door that had been firmly shut to women players since the 1920s, to her involvement in football coaching and development behind the scenes for over 30 years, Wardell has made an invaluable mark on the Australian game—even if that mark isn't obvious yet.
A few days before our interview, Wardell was inducted into Football Federation Australia's Hall of Fame.
She's one of just 19 Matildas to have done so.
While she was grateful for the acknowledgement, she was almost flippant about the award. Just like her father and David Lee, Wardell takes much greater joy and fulfillment from the work she's doing now.
"I'd rather have recognition in relation to achieving something that makes a significant change in the way things happen," she said.
"It's not just about what happens on the field but being able to influence players on and off the field, because they're people first, players second. The age group that I work in is a place where you can be incredibly influential.
"To be able to influence, not just from a football perspective but also from a life perspective… that's what teachers do. That's the kind of legacy that you want to leave."
Wardell's comments linger as the full-time whistle rings out from the pitch below.
The Koalas go down 2-0 and were largely out-played by their opponents. They have some bright young talent, though, and the team is full of promise. I think about reincarnation and wonder whether it's as much about good teachers as it is good students.
"I've actually reinvented myself quite a few times since I've been here," Wardell says, revealing that she was diagnosed with breast cancer in 2012. The past seven years have included two surgeries, six rounds of chemotherapy, and 25 rounds of radiation.
"I went and had my head shaved. I was getting my hair cut at Newtown in those days, and I walked out and thought 'everybody is staring at me'. But they're not.
"I do remember standing on the corner waiting to cross the road and there's two guys with shaved heads next to me. I just walked around with a shaved head after that; it didn't bother me."
The players and families drift past us and off into the dark carpark behind the clubhouse. I offer to help move the new club kitbags, still in their plastic wrappers. Wardell politely declines, preferring to carry them all herself, and heads off down the path toward the empty field—already thinking about tomorrow.