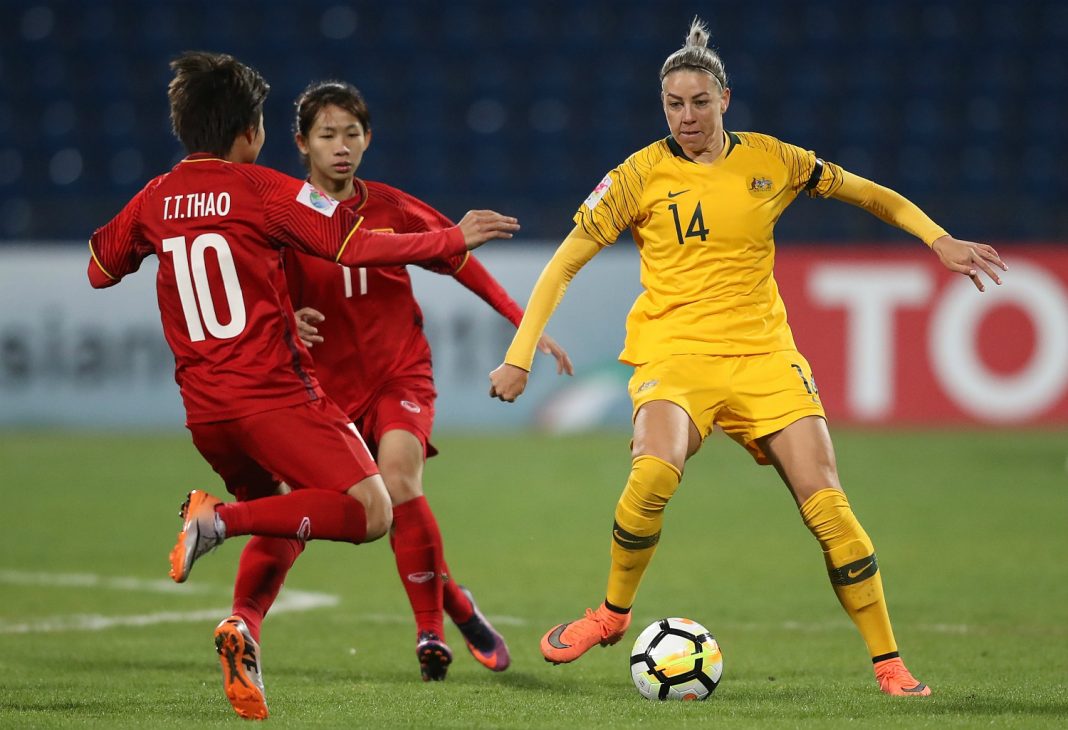 Just two matches separate Australia or Vietnam from a berth at the Tokyo 2020 Olympics. For Vietnam, this two-legged playoff is the culmination of more than 12 months of relentless brilliance in qualifying; for Australia, the shortest of sprints could book them a place among this edition's Olympic elite. Beyond 90 shines a light on the Matildas' opponents ahead of the final Olympic play-off this week.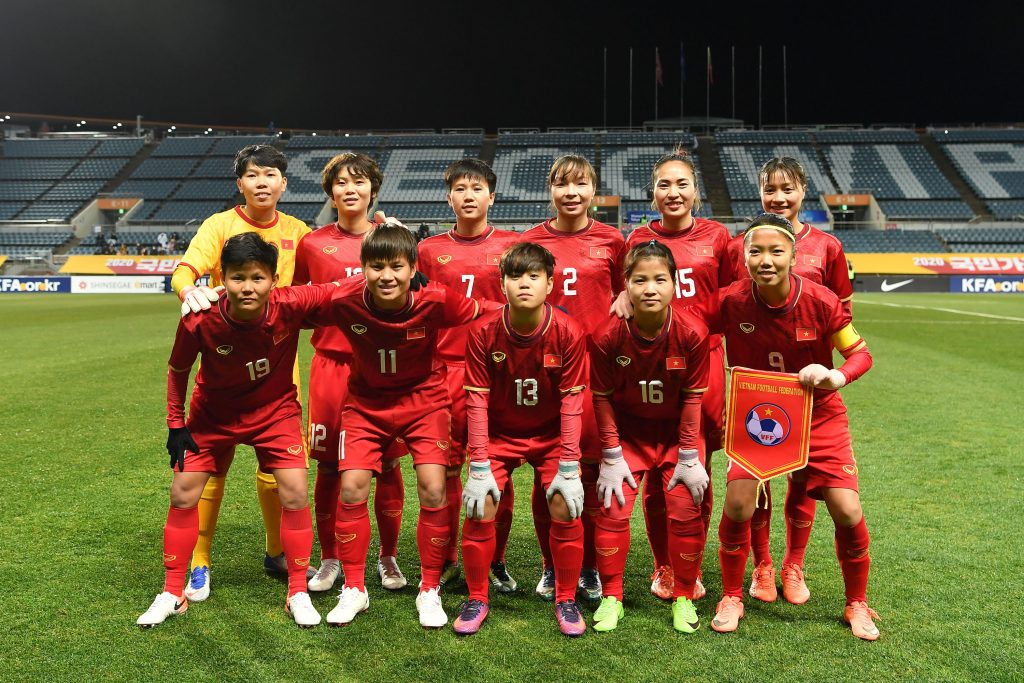 VIETNAM (VIE)
In the global scheme of women's football, it wouldn't be unfair to argue that of all the national teams active today, Vietnam is among the unluckiest. A consistent fixture in Asian competition since its first full international in 1997, Vietnam has appeared at every AFC Women's Asian Cup since 1999, winning a handful of regional titles along the way. Yet, for all its local glory, a maiden appearance at both the Women's World Cup and Olympic football tournament continues to elude Vietnam, even as lower-ranked opponents qualified in its stead.
While Vietnam has performed admirably in AFC and ASEAN tournaments across the past two decades, the simple reality of women's football in Asia has seen the Golden Girls – along with 2015 and 2019 Women's World Cup participants Thailand, Korea Republic, and former powerhouse DPR Korea – relegated to a kind of international football purgatory. With traditional heavyweights China PR, Japan, and Australia hoarding the limelight, major tournament appearances are dependent only on either an incredible performance across a short span of qualifying games, as shown by Thailand in recent years, or a major disruption to the status quo, such as Japan's hosting of the 2020 Olympics or DPR Korea's qualification ban.
Having missed out on qualification to the 2015 Women's World Cup in Canada after a 1-2 play-off defeat to neighbours Thailand, the Golden Girls strung together an unprecedented run of results, pushing Vietnam up the FIFA World Rankings to number 32, making it the sixth-ranked team in Asia. Since re-taking the helm in 2016, Hanoi-born manager Mai Duc Chung has guided the side through a period of unprecedented success. No stranger to either women's football or the international stage, having managed Vietnam over three stints since 2003 and represented his country through the early 1980s, Mai has lead the side to a medal of each colour at the past three ASEAN Football Championships and gold medals at both of the previous two Southeast Asian Games.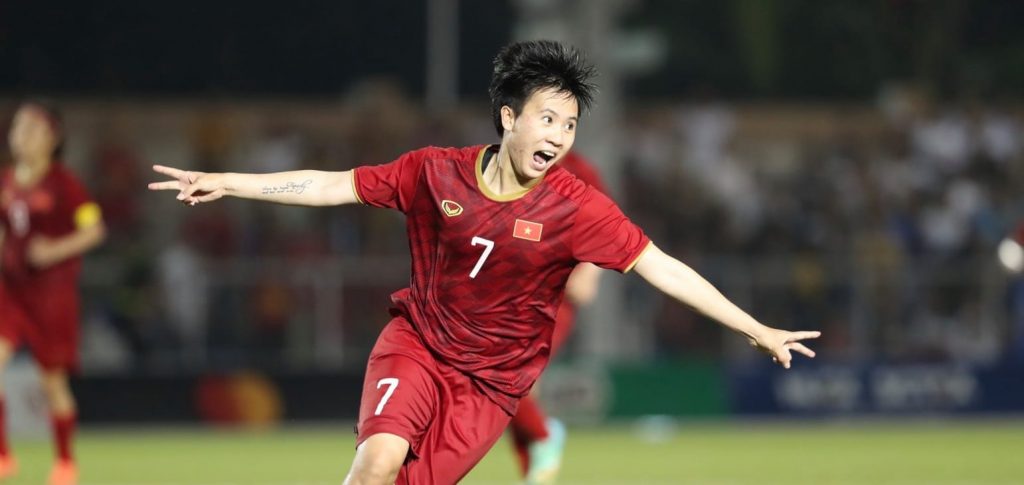 However, that success once again went unrewarded in 2018, as Vietnam were drawn to face the dominant triumvirate of Japan, Australia, and Korea Republic in the Women's Asian Cup, with the tournament also serving as the final round of qualification for the Women's World Cup. Despite admirable showings, Vietnam were eliminated from contention without troubling the scorers, conceding 16 goals in the process against three teams that would all reach the World Cup proper. With Vietnam out of the running, Thailand would go on to qualify for its second consecutive FIFA tournament as Asia's fifth-placed team, while Chile, South Africa, Scotland, and Jamaica also earned their maiden World Cup appearances in France.
Of Mai's teams' strengths, the most obvious is its incredible recent defensive record; throughout 2019, the Golden Girls conceded just four goals – one each against Uzbekistan, Hong Kong, the Philippines and rivals Thailand. As well as that brick wall defence, Vietnam had seemingly forgotten how to lose, its last defeat prior to their loss to Korea Republic coming in August 2018 – a 0-7 Asian Games loss to Japan – after which the side went undefeated for the next 18 months, collecting gold medals in both the 2019 ASEAN Football Championships and 2019 Southeast Asian Games along the way.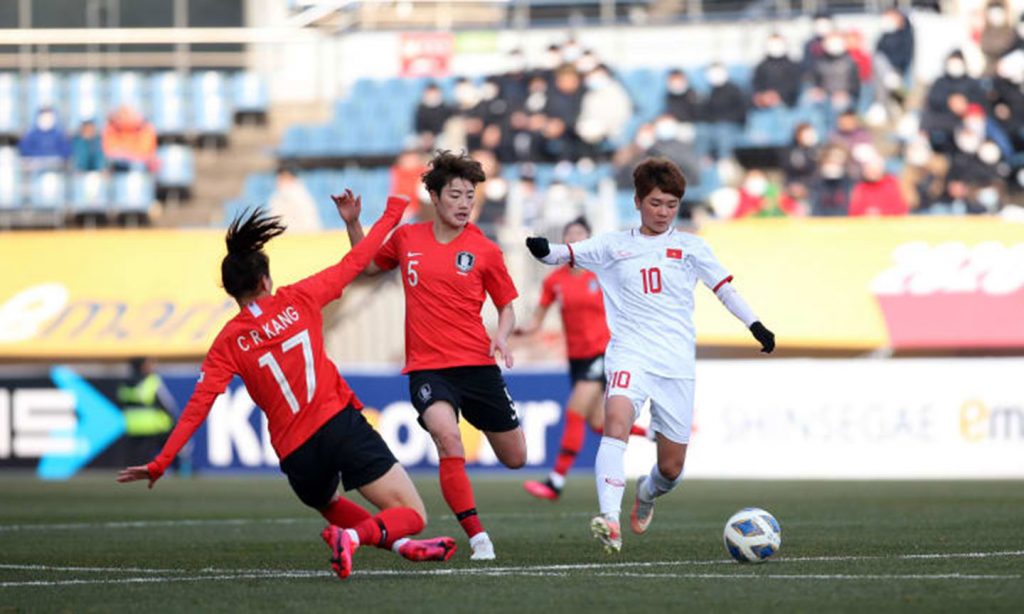 By way of contrast, the Golden Girls' greatest weakness recently has been the lack of a consistent goalscorer. Despite recording significant victories over Cambodia (10-0 in August) and Indonesia (6-0 in August and 7-0 in November), Mai's side has relied on goals coming from all over the park, as opposed to a central striker consistently providing a spark as the point of attack. This problem seems to have been solved by the team's playmaker and captain Huynh Nhu, who scored 12 goals in 2019 playing as a classic #10, and winger Nguyen Thi Tuyet Dung, who chipped in with goals in both the ASEAN Championships and Southeast Asian Games semi-finals. However, if Vietnam is to challenge not only Australia, but other top Asian countries in the future, the side will need to call upon attacking options such as Pham Hai Yen, Thai Thi Thao, and Nguyen Thi Tuyet Ngan in order to make headway in the front third.
Similarly, Vietnam's record against top Asian nations remains somewhat of a sticking point; in fact, of all the teams against which the Matildas are undefeated, Vietnam has the second-worst record: seven losses in seven games without scoring, only bettered – for want of a phrase – by Papua New Guinea's eight losses. Despite that weight of history, Vietnam seem to be relentlessly positive, with captain Huynh Nhu telling FIFA.com "This is already a successful campaign for us [regardless of the play-off result]. The whole team are united and are working hard for the common cause and we have made progress game after game."
Coach:
Mai Duc Chung
Captain:
Huynh Nhu
Ranking:
32
Best Olympics result:
Final qualifying round (2008 & 2016)
Last 5 Matches:
LWWWW
3 Key Players:
Hoang Thi Loan:

Her side's defensive rock, centre-back Hoang is the organiser-in-chief within the Vietnamese back line. Capable of playing in defensive midfield as well as defence, Hoang will have the unenviable task of marshaling her side against Australia's potent three-pronged attack, working alongside teammates Tran Thi Hong Nhung and Phuong Thao Tran Thi in what will likely be a five-strong defensive block. Add to that her duties taking goal kicks in place of 'keeper Tran Thi Kim Thanh, and Hoang could be in for a very busy 180 minutes indeed.

Nguyen Thi Tuyet Dung:

A nifty right-sided midfielder or winger, Nguyen shot to prominence in 2015 after scoring two olimpico goals – one with each foot, directly from each corner – in Vietnam's 7-0 win over Malaysia in the ASEAN Football Championship. Not afraid to run at or around her opponent, Nguyen's crossing was a feature of her side's recent 1-0 win over Myanmar, and while her pace was less useful against a dominant Korea Republic, manager Mai will look to Nguyen's contribution in both transition and attack.

Huynh Nhu:

Vietnam's captain and most influential playmaker, Huynh is a #10 with the touch of silk. Comfortable in a distributing or more direct role, Huynh isn't afraid to take on opponents one-on-one, creating chances for herself and her teammates. Winner of the 2017 Vietnamese Golden Ball and in a rich vein of scoring form, Huynh could be one of her side's biggest threats in the front third.

The More You Know…
They say two years is a long time in football, and the recent turnover in the Vietnamese national team is no different. Between Vietnam's last match against Australia in 2018 and its recent match against Korea Republic, only six players remain: defenders Tran Thi Phuong Thao, Tran Thi Hong Nhung and Pham Thi Tao, and midfield trio Thai Thi Thao, Tran Thi Phuong Thao and Nguyen Thi Tuyet Dung.

By comparison, the Matildas' line-up since the two teams last met remains almost the same, with only Laura Brock and Alex Chidiac missing from the current squad.
---
Australia vs Vietnam
Friday 6 March – kickoff: 6.30pm AEDT
Hunter Stadium, Newcastle
Vietnam vs Australia
Wednesday 11 March – kickoff 6.00pm local (11.00pm AEDT)
Cam Pha Stadium, Cam Pha