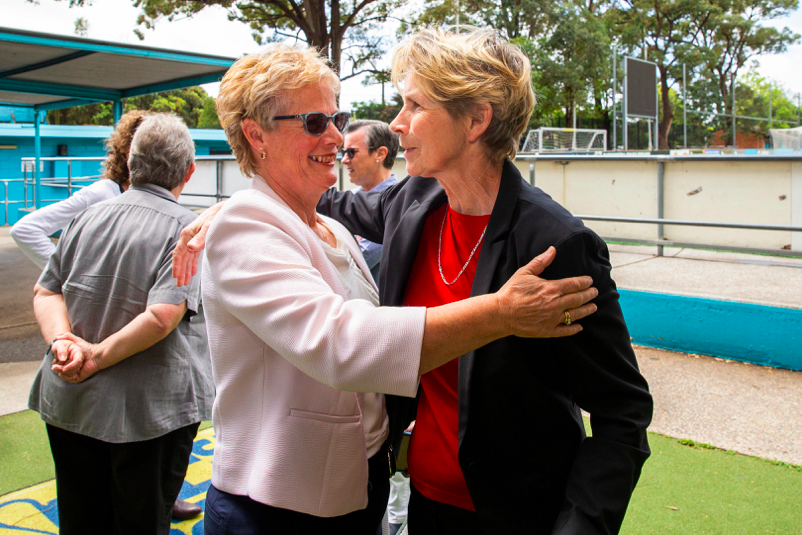 "Julie Dolan said to me recently… There were not very many players that she worried about where they were, but I always worried about you; where you were and that you always had such a presence," is how Shona Bass replies when asked about her style of play.
One of the players to be amongst the first XI to ever hit the field for an official Australian women's match, Bass made the midfield her home during her playing days. The words shared by Dolan to Bass are ones of familiarity, one in which the duo were pitted against each other on numerous occasions, including in a number of national championships. 
It's easy to imagine Bass buzzing around the park, putting in tough challenges, sparking attacks with penetrative passes and putting in the hard work following a conversation with the midfielder. 
The 40th anniversary of the first 'A' international match brought together the first Matildas squad, along with the present and future Matildas to Seymour park, including Bass,
"It was very emotional," she began,
"I just had a real adrenaline rush actually… Just the memories… And to see that there were so many of the ex-players, some I haven't seen for thirty years. That opportunity to be with the Matildas and the Young Matildas and the opportunities they've got now, it was a really emotional time."  
It sounds cliché, but a lot has changed in 40 years for women's football in Australia.
"Well, polar opposite really," Bass replies when asked about the differences four decades on.
"The drive and passion for the game is exactly the same, but the actual platform that you're working from was completely polar opposite. To see the media there, to see the respect of the FFA, to see the opportunities that the players and the young players have, their pathways, an opportunity to play professionally overseas. It's just absolutely extraordinary the difference in it. 
"It's unbelievable.
"There's a long way to go, but there's so much that's been achieved already. And the girls who are playing now are such fantastic ambassadors for the game."
Now the Matildas have a network of staff and coaches, who aid in a number of things both on and off the park. When Bass was in the squad, this wasn't nearly the case.
"We took responsibility for practically everything, particularly me, being Melbourne based. I was having to do all the training by myself. We were basically funding ourselves, and everything."
Bass brushed off words that alluded to the early Matildas being trailblazers or pioneers, 
"Back then, that was just the norm. You just did it.
"I was one of the first women in Australia to have one of the highest accreditations in coaching. I had to do all of that with the men. There was one other woman who was doing it with me. 
"You're always having to prove yourself, above and beyond."
'Absolute passion' is a phrase Bass uses when describing how she had the very committed attitude to play and coach as a woman for decades. It becomes clear from her story; she oozes passion for the game.
Similar to many Australians, Bass began playing at the age of 12 after her eldest brother found the game through two English boys at school.
"I heard a rumour that Victoria was starting off a women's soccer team. And so at the age of 12, with a friend, we sort of just hunted around and co-opted and recruited girls and women to play to form a team.
"And so I actually, as a 12-year-old started my own soccer team." 
The mix and match team included sisters of the boys who played and a couple of mums. 
"It was amazing, it just went from strength to strength," Bass concludes on her first team.
This love of football only continued to grow from here. 
Bass used every opportunity to be involved in soccer. The Victorian is the ultimate student of the game. Her first degree in Exercise Science only provided more open doors to study the game, with an uncanny knack to focus nearly every project on soccer.
"I learnt the biomechanics of kicking. In exercise physiology, I delved into the fitness for soccer and training programmes. In sociology, the development of the game and gender issues in sport. So I developed this, I'd say, academic and practical understanding of the game that a lot of other coaches didn't have." 
In addition, Bass has volunteered to serve on many women in sport committees and associations – to advocate for gender equality and safety for women and girls in sport and exercise. Examples include the International Olympic Committee for Women in Sport, Women Sport Australia and Sports Medicine Australia. She followed this up with a Masters Degree in women in sport and a PhD in medicine.
This deep understanding and love for the game smoothly translates to her coaching, something Bass is just as keenly passionate about. Bass is now back on the coaching scene after previous experience including spells with a range of teams from national, state and grassroots.
Speaking at length on the topic, Bass is now keenly interested in ensuring girls have the basics correct, an area often skipped over due to the differing pathways of girls and boys.
"It's interesting that for girls coming through, there are so many girls who aren't given the fundamental motor pathways, fundamental motor patterns for quality technique on the ball…
"It's been a huge concern of mine, because they're fantastic athletes, but their skill set just hasn't been developed. So I've volunteered to coach individual girls, teaching them correct technique."
Bass is now involved at the club her 15-year-old daughter plays, NPL side Bayside United Football Club. She has been able to help the all-female club embrace a holistic philosophy. The former Matildas' impact has led her to step into a role as head of football operations. 
In a role where she is head of all the club's coaches, Bass is working on making pathways available and visible for women in the still much-dominated male area.
"I've sort of realised, we just need to get some pathways going so that women and girls can see their role models and have the opportunity to be mentored by role models" 
Bayside United have taken the first step with the new appointment of a female technical director for the Junior Programme next season, which has been met with positive feedback. Bass has witnessed the early stages of the development of the next generation of female coaches.
"There's a couple of community clubs around here (in Melbourne) that have developed fantastic pathways for girls and their coaching… A community club that I was a coach mentor for had about five teenage girls coaching junior boys and girls. 
"And all the girls I spoke to, about why they were coaching replied in a similar way 'you know, I just love it'."
Coaching is a whole different ball game, it's about the potential impact a coach can have on an individual that keeps Bass hooked and wanting to share with other girls and women,
"it's a whole different concept really other than playing. 
"But to see development, to see that you can actually impact a person's life, just by that input that you're giving them… I see it as a real gift that I can pass on."