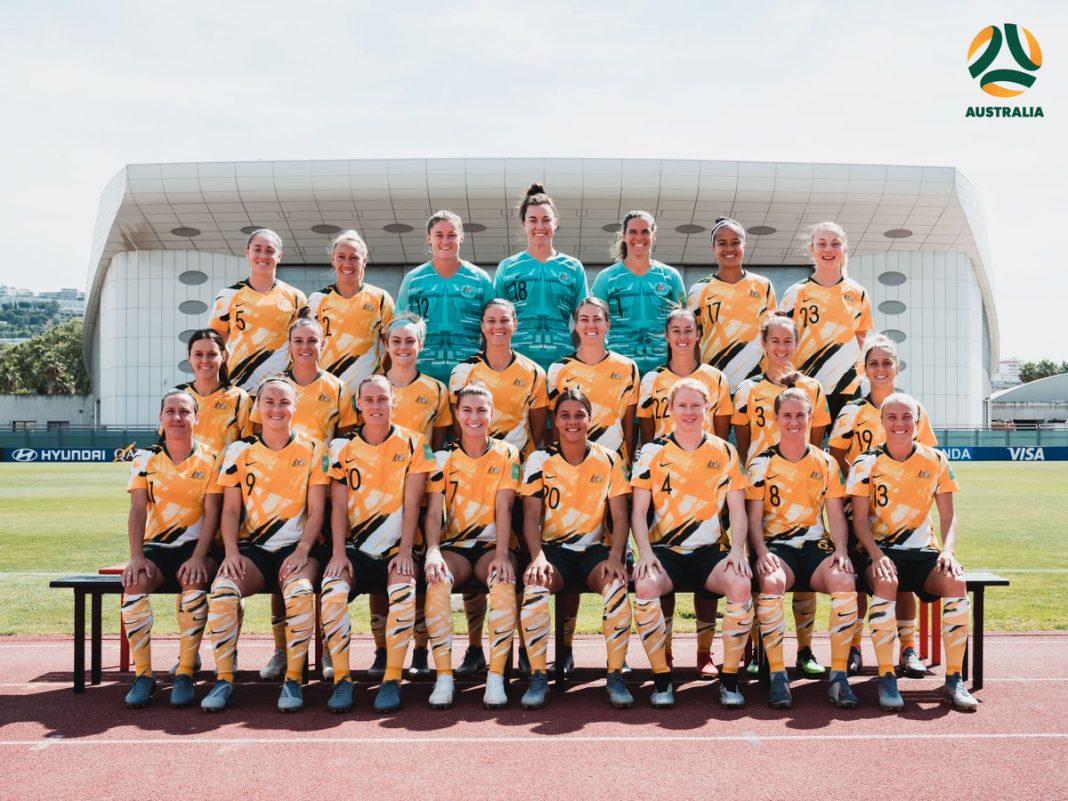 "When you fall in love with football, you fall in love with heartbreak." I wrote this for the first time on April 14, 2016 in an article addressed to Alanna Kennedy, in the hours that followed the Matildas penalty shootout defeat to Brazil at the Rio Olympics. I hoped I wouldn't have to write it again.
The Matildas are Australia's premier national team. As their star has risen to household fame, we have been told time and time again that this team is capable of achieving "something special." It's a statement repeated so many times that it holds weight as more of a promise, a declaration of hope that this current group of talent can reach heights Australian football has only ever dreamed of. I believe this wholeheartedly, what I can't believe is that the Matildas are home-bound having crashed out of the World Cup at just the Round of 16.
This campaign, as is custom with all major tournaments, was prefaced with boundless anticipation – this was the year the Matildas won the World Cup. The truth is that as a collective we generated this hype, and therefore immense pressure, on this team based on results achieved in Asia. The catch? This wasn't an Asian Cup, it was the World Cup and what's good enough for one is not necessarily good enough for the other.
The Matildas have improved dramatically in the last four years, absolutely. What we, their fans, failed to recognise is that other teams have done the exact same thing. European nations are evolving at an alarming rate and when we meet them, we are faced with technical excellence, tactical diversity, clinical finishing and progressive, clever football. Forget our rivalry with the USWNT – they cruised through their group stage, put 13 on Thailand and are still the least of our worries.
There is a clear and obvious disparity in the way the likes of France, England, Germany and Holland (as a start) are playing their football. A notable difference in adaptability and creativity is clear; it took all of 15 minutes to understand the Matildas game plan – get it out wide and cross it into Sam Kerr. As a footballing nation we obsess over playing 'our game' but at that level it is imperative that we adapt to find a solution, a different formation that gives us the best possible chance at winning the game even if it isn't exactly on our terms. While we are mostly effective at playing 'our game' it also makes us destructively predictable and too easy to defuse.
In the tournament post-mortem, key decisions are revisited with heightened scrutiny as we search for an answer to the million dollar question, "what went wrong?". Mere days from Australia v Italy, Laura Alleway was ruled out of the tournament. The reaction was critical and had to be perfect – put simply, it was the wrong one. The decision to not bring in another specialist centre back proved cataclysmic as the dominos fell when Clare Polkinghorne picked up an injury in the first outing.
Speaking conservatively, Steph Catley is sensationally talented and therefore versatile enough to 'do a job' covering the center back position. However, her doing so sacrifices the opportunity to play her best football for her country, even if she does so with willing optimism. The Matildas vice-captain is one of the best, most explosive left backs in the world, but when restricted to centre back she is stripped of her best attributes. The team desperately missed her impact, attacking quality and creativity down the left side – it isn't the first time Catley has been asked to compromise her performance by playing out of position, but I sincerely hope it is the last.
Moving Catley exposes the lack of depth in the left back position. Elise Kellond-Knight is lost from the midfield to cover at left back, which in turn forces Emily van Egmond to sit deep, neutralising her creative influence going forward. From there, Chloe Logarzo and Tameka Yallop are left with a mountain of work, as well as the responsibility of ensuring a swift, smooth transition and service to the final third. With this integral structure fractured, our fluidity is disrupted and the ripple-effect carries throughout the entire team. With what is undoubtedly the golden generation of Matildas at our disposal, on the world stage and at the pinnacle of world football, we simply must set our players up for success – we didn't.
Whilst everything is clear in retrospect, the task now is to look to the future, to look to change. It is as simple as this: For the Matildas to continue to improve, to make progress, to compete, to do 'something special' they must be regularly exposed to genuine top-level teams. Don't schedule another friendly against Thailand. No more China or Vietnam. Make the investment, put the dollars earned from the World Cup into securing friendlies against the next world number one contenders; France, Germany, England, Norway, Holland and even Italy to start. That is the calibre of teams we need to beat in order to fulfil the potential of this team – specifically, its brilliant players.
In her final World Cup interview, Sam Kerr called rumours of a two year offer from Chelsea 'speculation'. I hope it isn't. As the old saying goes, "to be the best, you must beat the best", and that starts with playing both with and against them. If Australia secures a home World Cup in 2023, the golden generation have every chance of being in the prime of their careers, however that is simply not possible playing in Australia in its current format.
Putting it very gently, the success of the current Matildas is a credit to them as individuals, to their talent, support systems and dedication, because the governing body's investment in them and the domestic league does them no favours. Without as much as a full home and away season in the W-League, playing in Australia offers no catalyst for shaping World Cup winners. With the next World Cup opportunity just four years away, there isn't time to create a world-class league on Australian soil. The sad reality is that to be their best our players must go abroad.
It's no coincidence this World Cup is being dominated by European teams and exposure to that level of football education, culture and environment could be instrumental in getting the absolute best out of our already fantastic players. Ellie Carpenter is 19 years old, she is ambitious, driven, eager and fearless, with standout performances against both Italy and Brazil. Alanna Kennedy is Australia's first choice centre back, but her ability to read and control the play, as well as ping a pass anywhere on the park with exceptional accuracy would make her a serious force in Australia's midfield. Imagine Caitlin Foord, Chloe Logarzo, Hayley Raso, Emily Gielnik, really the entire team, playing in the world's best leagues, being challenged and evolving as professionals. The potential is unlimited.
The difference between the Matildas and the teams running deep into the final stages of the World Cup isn't the calibre of players – we have excellent players. The difference is everything else around them; the conditions, the preparation, the treatment. The best players in the world play in the world's best leagues with access to top quality training, football theory, tactics, strategy, development, conditioning and competition. That is where we need to play too.
The truth is our golden generation is now, and our time is running out. If we don't put ourselves amongst the best then all the Kerrs, Catleys, Kennedys, Carpenters and Foords in the world simply won't be enough to do 'something special'.