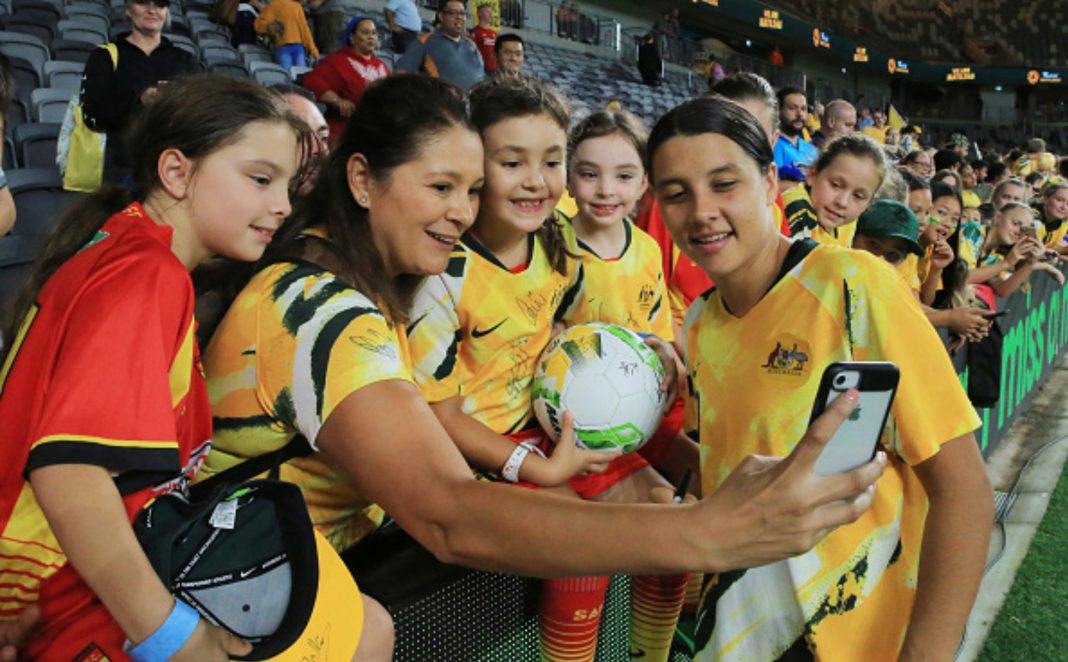 The butterfly effect is an idea that says a small change can make much bigger changes happen.
When Sam Kerr kicked her first football as a child, she could never have known the effect it would have many years later, or how she would be recognised as a leader on the forefront of the change that women in sport are experiencing around the globe.
If you had been listening to the rumblings in 2019, you would have heard a chorus of voices who have been growing in volume and in numbers; the ones who are making discussions about women in sport a trending hashtag, who have joined a movement that will no longer be silenced; they are a cohort who are not only here to stay but ready to take on the world of sport, and win.
Who would have thought? It is now 2020 and while there are legions of pioneers who have paved the way for the wave of attention #WomenInSport have received in the last 12 months, you could almost start to believe that there has been progress made in this space. It would not be before time, either.
Women excelling in sport is not a new phenomenon, we have been doing it, and doing it well for a long time; but I have never been more excited about the progression of equality for women in this space as I have been right at this moment.
Despite some remaining antiquated mentalities that sadly many of us deal with daily, there is much more to be excited about and if you can drown out the haters long enough to enjoy the moments we have been presented with over the last 12 months, it is not hard to get excited.
The moments that captured us in 2019 of athletes achieving their best have been unforgettable. Tayla Harris, for example (that kick!), Ash Barty winning her first French Open or the footage of a young fan breaking into tears when meeting her idol, Ellyse Perry. These are images drenched in ability, dedication and pure emotion.
Of them all, one stood out to me above all others.
I saw the image on Twitter the morning of the Matildas v Chile game on November 9, 2019; the same day that 20,029 fans would stream through the gates of Bankwest Stadium, in the heart of Parramatta, to cheer on the Matildas.
It was a picture of a young boy wearing a Matildas jersey with the name KERR clearly displayed on the back, he was waiting for Kerr as the team bus pulled up and he wanted an autograph. Thinking about the image I get goosebumps. The photo in itself was not all that much to look at, but it spoke volumes to me.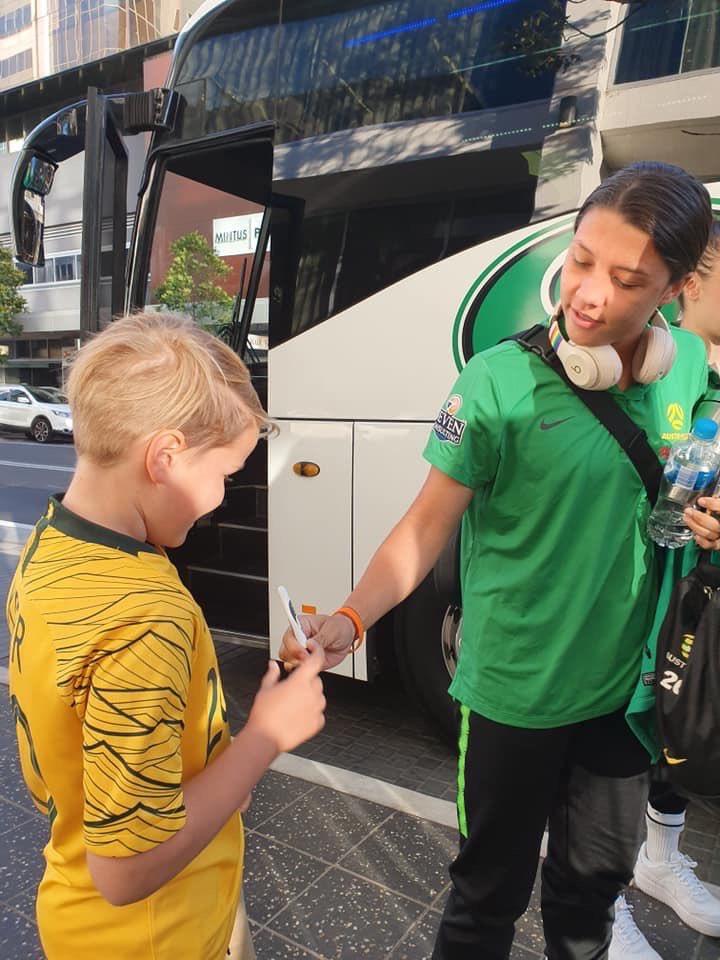 When a Picture is Worth a Thousand Words
Some may have glazed over the photo, but it stopped me in my tracks because it symbolised the change in society that has been a long time coming. A little boy proudly wearing the jersey of the captain of the Australian Women's National Soccer Team, how cool is that?
This is the Sam Kerr effect.
Helped along by the fan-fare stirred up by the 2019 FIFA Women's World Cup held last year, the country finally got to see the person behind the player. Kerr's honesty and frankness at media engagements made her already strong fanbase resolute in their support of her, and also engaged a new breed of fans. People who were not only perhaps new to the sport, but new to the Matildas.
Acknowledged as one of the best in her world at her craft, having the ability to back up her off-field confidence with impressive displays of talent during gameplay has made her one of the most sought after players in the world.
Kerr transferring to Chelsea in 2020 confirms her standing within the world of women's soccer; and if we thought she was good before the move, we can assume that the growth she is about to undergo could elevate her career to legend status. Kerr is enjoying success in the UK with Chelsea recently winning the Women's Continental League Cup title. While it was at the expense of Matildas teammate Caitlin Foord, no one could begrudge the first bit of silverware for Kerr in the blue jersey.
Someone familiar with the hard work that goes hand in hand with being an advocate for women in sport is Kate O'Halloran. O'Halloran is a freelance journalist, with a PhD in Gender and Cultural Studies, who in 2019 won the VicHealth award for Outstanding Reporting on Women's Sport. O'Halloran is also a founding member of Siren Sport, a Women in Sport Collective who are challenging the status quo of sport media. I asked O'Halloran what impact Kerr has made to the sporting landscape in Australia over the last 12 months:
"I think Sam's impact has been enormous. There's obviously the on-field impact, where she is widely recognised as one of the best, if not the best, women's footballer(s) in the world. That has made her a household name in Australia, a rare achievement for a woman in sport, even in the 21st century; but there's her off-field contribution as well.
"When her move to Chelsea was announced, and she officially became one of the best-paid women's footballers in the world, she said she hoped one day soon all women would be paid as she is – and that they deserve it. She has been an ardent supporter on a national level of the PFA's Our Goal is Now campaign for prize money equality for women – and was also part of the ground-breaking collective bargaining agreement process in Australia that saw the Matildas earn a revenue-sharing deal with the Socceroos.
"Then there's the fact that she's open about her sexuality (as LGBTI) and that she comes from a diverse cultural background. I think all of those parts of her identity make her a visible and strong role model for a whole range of girls and women (but also boys and men) in Australia … it is vitally important that women in sport like Kerr continue to speak out on a whole range of social justice issues to ensure we really capitalise on this "revolution" for women in sport. It won't be a revolution unless we achieve political and social equity on a range of different levels."
There is no doubt over the next decade that the impact Kerr has on and off the field will play a major role in the evolution of women's sport, both in this country and around the globe. Her casual demeanour, likeable charm but savage skills on the field make her both adored by fans and hard to ignore. There is a confidence and a swagger that only comes with a strong sense of self and determination to break the mould.
On Friday night Kerr will lead the Matildas out onto McDonald Jones Stadium in Newcastle in a must-win Olympic Qualifier against Vietnam; and should they be successful in securing a spot at the Games in Tokyo, we can expect to see even more evidence of the Sam Kerr effect amongst young girls. If they can see it, they can imagine it, and if they can imagine it, the sky is the limit for this next generation of #WomenInSport.
Get tickets to the Matildas v Vietnam game here.
---
Read more Matildas coverage.