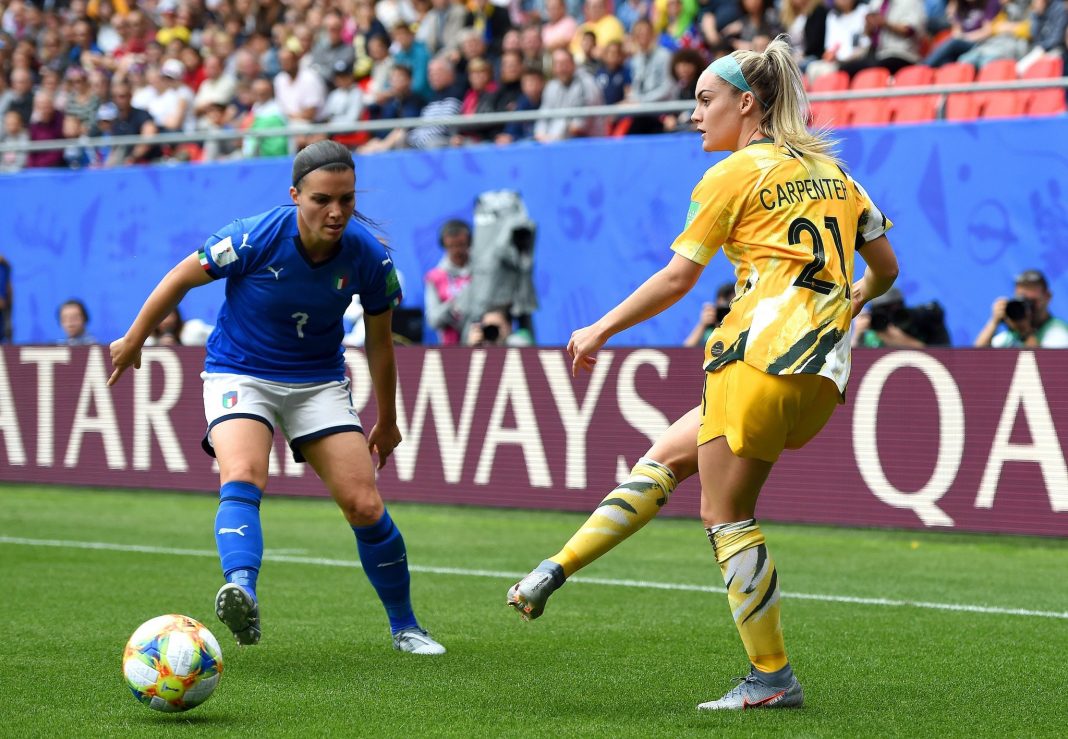 We're missing a midfield general
While Kellond-Knight was available for selection, and eventually joined the team in the 83rd minute, Emily Van Egmond was given the responsibility of steering the ship. Although Van Egmond showed good awareness around the park with her positioning, and her passes back to Lydia Williams couldn't be faulted, when she did try to go forward or wide, her passes were intercepted too regularly.
It would have been interesting to see the untested Aivi Luik fill the central defensive midfield role, at the risk that she hasn't been part of the Matildas set up for long enough. Her comfort in that role with Melbourne City was such a critical reason why City was always so clinical in finals matches. Luik's ability to bolster the back four when her wing-backs flood forward, as the team needs from Carpenter and Catley, could help close the spaces that are being left between Polkinghorne and Kennedy in the current line up.
No one's perfect
We hold this team in such high esteem on this island nation of Australia. Our major focus for football played by women is the W-League, and the US National Women's Soccer League, where the Matildas are highly acclaimed. So the nation's expectations of the team are high.
Sure, mistakes happen in every game, on every continent. But mistakes made at a World Cup are all the more painful because the stakes are so high and they only roll around every four years. The Matildas' first 25 minutes were peppered with poor passes and poor decisions. Australia were lucky that Italy also hadn't settled their nerves and that the VAR judged in their favour on a questionable offside to deny an Italian goal.
But for some players, the mistakes kept coming. The ability to concentrate fully through the fatigue and pressure of a world cup match is important. To be able to adjust your own personal approach and positioning when playing a team you have only seen and read about, is critical. I would argue this team is better placed than it was at Canada 2015 and Rio 2016, as it should be with the players now operating as full time professionals. Our expectations perhaps overreach for a team that has only just joined the professional ranks.
Professionalism is progress
Two of Australia's best players on the night, Ellie Carpenter and Hayley Raso, are plying their trade at one of the world's premier clubs, the Portland Thorns. Both started slowly with nervous touches and turnovers in the first 15 minutes, but they grew in confidence and positivity, and ended up providing the Matildas with the most creativity through the side's best period of the game. While their Thorns teammate Caitlin Foord showed glimmers of brilliance with some positive moves off the ball, she wasn't able to make an impact.
The professional set-up in Portland, the pressure cooker cauldron of the sold-out crowds at their home stadium, and the ability to play finals football most seasons are benefits not every professional player brings to France. The chance to test their decision making and skills in a high pressure environment, training alongside some of the world's best under a world class coach week in week out, are all factors in a champion player's development.
Most of the Matildas have played overseas, and have featured in finals series in Australia. The exposure to different types of professional scenarios, including exposure to more tournament style situations, is something to consider for our elite players. The FFA sounds keen to keep talent in Australia by upping the minimum salary for W-League players by an impressive 33 per cent next season. It's worth keeping an open mind about the benefits of building a diverse international resume, particularly as the investment in women's football in Europe continues to skyrocket.