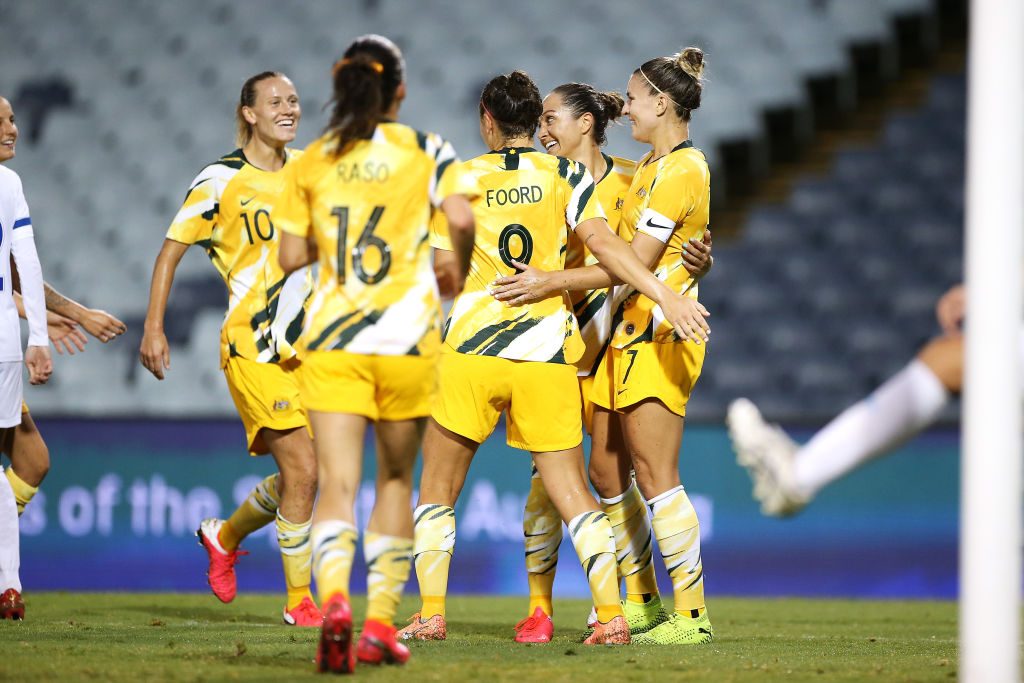 The Matildas played their first competitive match of the year at Campbelltown Stadium on Friday night, running out 7-0 winners over Chinese Taipei in their first match of the penultimate stage of qualification for the Tokyo 2020 Olympic Games.
Australia, currently ranked 7th in the world, proved to be a class above Chinese Taipei, romping to a 4-0 half time lead courtesy of a hat-trick to Player of the Match Caitlin Foord and a rare goal to stand-in captain Steph Catley. The side maintained its dominance in the second half with goals to Hayley Raso and substitutes Sam Kerr and Katrina Gorry.
In the lead-up to the game coach Ante Miličić explained that Tameka Yallop would not participate in game one due to an injury niggle, while Kerr would see restricted minutes. Expressing faith in all members of the squad, he outlined the importance of spreading the load during the busy schedule, with players potentially expected to be able to play in more than one role.
Opponents Chinese Taipei – currently ranked 40th – opened their account earlier in the week with their youthful team recording a 1-0 victory over 38th-ranked Thailand, a game in which the Taiwanese side looked the more potent in the front third despite having less of the ball during the game.
As the teams took the field it was apparent that Jenna McCormick would partner Clare Polkinghorne in central defence, while Karly Roestbakken would play her first game for the national team on home soil at right back. Kyah Simon also returned for her first Matildas game in well over a year.
It's been 489 days since @KyahSimon was on the pitch for the @TheMatildas Great to see her back! Go girls! 💚💛

— Tara Rushton (@TaraRushton) February 7, 2020
Chinese Taipei opted to play reserve goalkeeper Cheng Ssu-yu, with coach Kazuo Echigo explaining in the post-match press conference that the team wanted to keep first choice keeper Tsai Ming-Jung in cotton wool for their key match-up with China PR.
Lineups for @TheMatildas and Chinese Taipei have dropped and the following starting 11's will be kicking off on the pitch at 7:30 pm .#AUSvTPE pic.twitter.com/JYkQy8ehCD

— Beyond 90 (@Beyond90AU) February 7, 2020
Miličić expected both Thailand and Chinese Taipei to set up defensively against the Matildas and that was indeed the case here, with the 5-4-1 formation adopted by Chinese Taipei more defensively-oriented than the 4-4-2 employed against Thailand.
For their part, the Matildas set up as somewhat of a 4-1-4-1 that was very flexible in nature compared to their opponents, who tended towards playing in flat lines across the field. A central midfield triangle saw Elise Kellond-Knight play in her customary defensive holding role, with Emily van Egmond and Kyah Simon both playing in the central spaces between Kellond-Knight and Caitlin Foord at the point of attack. On the attack, however – and there was a lot of attack – Foord was never isolated up front, with both wide midfielders in Raso and Logarzo pushing forward to join the attack whenever the opportunity presented.
In fact, Logarzo spent so much time in the front third in the first half in particular that she often resembled a left winger. Despite a five-player backline, the right side of the Chinese Taipei defence looked all at sea in the first half trying to contain Logarzo and Catley, who added to their defensive concerns down that flank when overlapping with the already-advanced Logarzo. This paid dividends on a number of occasions with Catley especially able to send in dangerous crosses, and capitalise herself with the spaces in which she was able to run.
.@stephcatley scores a rare @thematildas goal!

How about the celebrations 😍🥰

— Westfield Matildas (@TheMatildas) February 7, 2020
As can be seen above and in several of the other goals, a feature of the Matildas success in this game can be seen in the ability of both Simon and van Egmond – who was replaced by Gorry at half time, also looking right at home – to find the spaces in between the lines and to feed short clever passes in and around the penalty box for goal-scoring opportunities.
To her credit, Foord was able to make the most of this service on her way to a first half hat-trick with some incisive and determined runs.
Not one… not two… but THREE ⚽️⚽️⚽️ goals for @CaitlinFoord!

A superb hat-trick 👏

🎥: @FoxFootball #WeAreMatildas pic.twitter.com/dbCHRsUb6o

— Westfield Matildas (@TheMatildas) February 8, 2020
While it missed the cut of the Foord highlights package, van Egmond capped off a fine 45-minute stint with a beautifully-timed run to stylishly lay the ball off for Foord's third goal.
Raso seemingly picked up on the opposite wing in the second half where Logarzo had left off, making numerous sizzling runs at and around the Chinese Taipei defence. Her pace is such that occasionally she struggles to maintain close control of the ball, but she was rewarded for her efforts with a goal in the 54th minute having been released by Gorry down the right channel.
The moment @HayleyRaso added our fifth goal!#AUSvTPE #WeAreMatildas

— Westfield Matildas (@TheMatildas) February 7, 2020
A loud cheer greeted Sam Kerr's entry to the game just past the hour mark, replacing Simon who enjoyed a strong return to the national team. Kerr did not disappoint, showing no ill effects from a quad strain on her way to scoring one goal, and being called just offside on another.
It took @samkerr1 just three minutes to find the back of the net!

🎥: @foxfootball #AUSvTPE #WeAreMatildas pic.twitter.com/vP2eqI5HSB

— Westfield Matildas (@TheMatildas) February 7, 2020
Emily Gielnik joined the fray in the 75th minute in place of Foord, and her powerful running and ability to shoot with venom showed off some points of difference in her game in attack.
A late goal to Gorry completed a fine evening's work for the Matildas, capitalising on a Raso cut-back from the by-line to finish with a volley for her team's seventh goal.
With regard to the defensive line, Miličić spoke after the game of how the team is still sometimes prone to vulnerability with the ball in behind or over the top. He stressed the need in games like these to ensure that a sense of complacency does not undo the team's ability to keep a clean sheet.
Polkinghorne enjoyed some fine moments manoeuvring through tight situations and surging forward. McCormick was solid all game, and it was pleasing to see Roestbakken gaining the confidence to overlap late in the piece, as this is a real strength of her natural game. Kellond-Knight played to the high standard we've come to enjoy over the years in that key sweeping role in front of defence.
One felt for Chinese Taipei's sole striker Lee Hsiu-Chin, asked to perform a thankless and exhausting role in chasing Matildas defenders until substituted in the 73rd minute. Her best chance came in the 62nd minute, hitting the post after a miscommunication between Matildas keeper Lydia Williams and Polkinghorne. Her team will be looking to their China PR matchup as their chance to advance to the playoffs at the the expense of their opponents in that game.
The Matildas have clearly benefited from the extended training period in the lead-up to this game, and Miličić will be keen to maintain and improve upon this level of performance on the way to the next game against Thailand, followed by the biggest test of this qualifying stage: the People's Republic of China.
An enjoyable outing all round for those who ventured out in the wet weather to see their favourite team…
Sound on. That's the tweet.#MatildasPassion pic.twitter.com/qEqbJNYJC3

— Westfield Matildas (@TheMatildas) February 7, 2020
Australia 7 (Foord 9' 24' 38' Catley 31' Raso 54' Kerr 64' Gorry 90'+2)
Chinese Taipei 0
Australia: Lydia Williams; Steph Catley (c), Clare Polkinghorne, Jenna McCormick, Karly Roestbakken; Emily van Egmond (Katrina Gorry 46'), Elise Kellond-Knight, Kyah Simon (Sam Kerr 61'); Chloe Logarzo, Caitlin Foord (Emily Gielnik 72'), Hayley Raso.
Chinese Taipei: Cheng Ssu-yu; Lan Yu-chieh, Pan Shin-yu, Jhuo Li-shan, Li Pei-jung, Zhou Li-ping; Chen Yen-ping, Wang Hsiang-Cuei (Tseng Shu-o 85′), Chang Chi-lan (Nien Ching-yun 46'), Ting Chi (c); Lee Hsiu-chin (Su Yu-hsuan 72').
---
In the earlier game of the double header, China PR ran out convincing 6-1 winners against Thailand. Li Ying and Jiali Yang both scored a brace for China PR, with Xin Zhang and Wang Shanshan adding a goal each for the Steel Roses, while Silawan Intamee notched a late goal for Thailand.
The Matildas take on Thailand on Monday 10 February at Campbelltown Stadium, and China PR on Thursday 13 February at Western Sydney Stadium in Parramatta.
Further match details can be found at the Beyond 90 Olympic qualifiers match centre, while information on the Matildas opponents can be found at the Beyond 90 Group B preview of the qualifying stage.