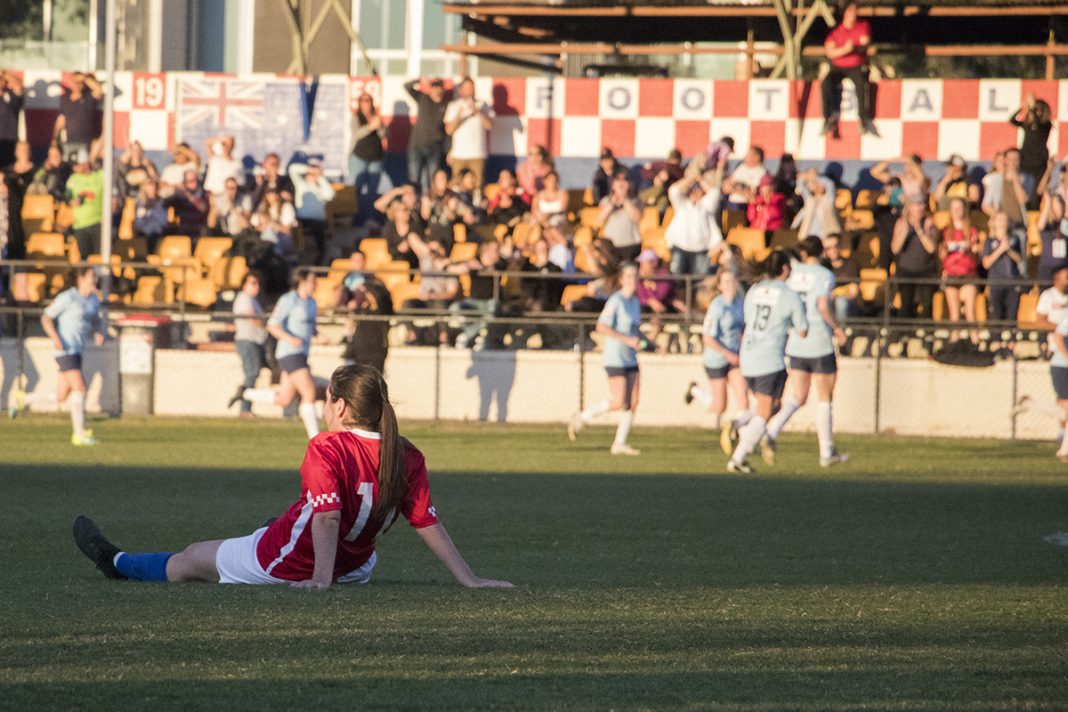 The highly-anticipated final outing in the Capital Football NPLW calendar was to be contested between clearly the two best sides in the competition. There has been little to separate them this year, but the spoils have gone Belconnen's way thus far in their undefeated campaign.
Grand Final: Belconnen United v Canberra FC
In an absorbing game worthy of a Grand Final, it was Belconnen's Caitlin Muñoz who was able to break the nil-all deadlock at the end of the second period of extra time. We were to find out after the game that this was likely to be her last in this competition. In a game of many twists and turns as the stakes continued to escalate against a valiant opponent, Muñoz ensured that her team were able to complete the season treble (Premiers, Champions, and Federation Cup winners) and end both her own and coach Antoni Jagarinec's illustrious Blue Devils NPLW careers on a high.
NPLW FT |
For 118 minutes @BLUE_DEVILSFC and @CanberraFC1 couldn't be separated, before a late extra-time goal from Caitlin Munoz lifted @BLUE_DEVILSFC to a famous win!#NPLWCF pic.twitter.com/0S2slSFr9Y

— NPL Capital Football (@officialNPLCF) September 14, 2019
A testament to the physical preparation regimes all year of the teams, both had a familiar look as they took the field at Deakin Stadium in the decider. Only Belconnen striker Maddy Whittall has been absent for a time, while Canberra FC's Sharon Chao was declared unavailable for this game due to a commitment with the ACT Schoolgirls team.
The warm conditions were perfect for the enthusiastic crowd but testing for the players, and this became apparent in the first half as the game was being played in uncharacteristically central channels. Similar to earlier encounters between the two teams this season, Belconnen were content to defend quite deep, perhaps wary of the speed of the Canberra FC offence. The Canberra FC formation was the same as the one deployed with success in the Preliminary Final, with captain Grace Gill playing as centre forward, and Mel Bunker playing wider on the right in what was also potentially her last game for Canberra FC for now, with plans to head back to the United States.
The first half hour found both teams finding the pace of the game and feeling each other out. Belconnen's Michaela Day was influential in this first period and the instigator of many of her team's early good moments. Neither team were inclined to switch the ball across the field much at this time, with possession paramount.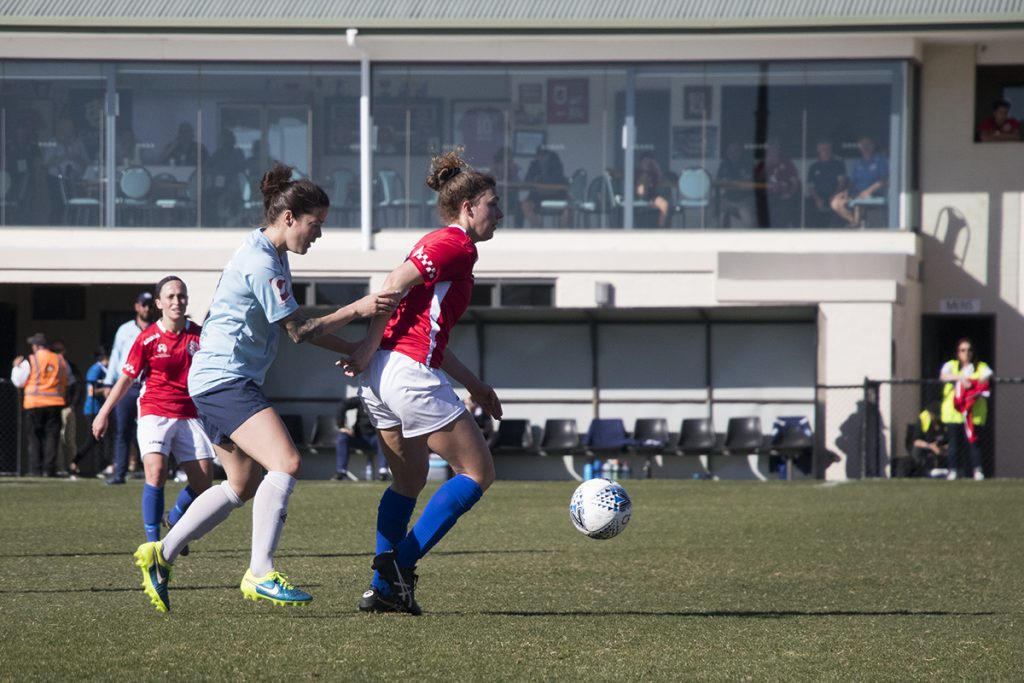 There was an early shot on goal from range by Muñoz, comfortably dealt with by Canberra FC custodian Nat Vasta, and in the 3rd minute Belconnen defender Karen Clarke competed strongly for a header with Bunker. The unsighted Bunker felt the full force of Clarke's clean challenge and was a little slow in getting up, but was able to continue.
Clarke lined up a free kick from distance in the 10th minute, her direct shot eluding the outstretched arm of Vasta and clattering off the upright, but her team-mates were unable to follow up on the rebound.
Belconnen's Catherine Brown was to go on to do many good things in this game and her ball from the left touchline into the path of Keira Bobbin in the 13th minute was just the first of these. Under pressure from Canberra FC defenders Alice Churchill and Isabella Tammaro, Bobbin was unable to get a clear shot on goal. In the 18th minute Brown's free kick was aimed at the incoming Bronte Pyke in the Canberra FC penalty box, but Vasta punched the ball away with authority.
At around the half hour mark Canberra FC were playing more football in opponent territory and it was no coincidence that captain Grace Gill was coming into the game at this time, finding Krista Hagen who then played Bunker through on the right wing. Bunker cut sharply inside Pyke into the penalty box, but her shot did not test Belconnen keeper Sally James.
Equal-leading goalscorer Brittany Palombi fired her first shot at goal in the 38th minute from outside the box as the ball fell to her from her team's first corner kick of the game, but was wide of the mark on this occasion. A minute later Canberra FC central defender Ivana Galic was shown a yellow card for a slightly mis-timed challenge on Bobbin, and this was to have far-reaching consequences later in the game. Clarke's free kick from distance was this time wide of the Canberra FC goal.
Canberra FC were able to sustain their pressure, with Bunker somehow finding a way in the 41st minute to play a ball into the Belconnen six-yard box from the by-line under pressure. James fumbled the ball but her defensive cadre were able to whisk the ball away, the game remaining scoreless coming into half-time. Neither side had made effective use of some of their greatest weapons all year in the first half. Whether it was the heat or the deep defensive line, there wasn't much in the way of overlapping wingback action from Belconnen United, although Brown was pushing into midfield when able. Palombi was being frustrated by the Belconnen defence in her attempts to have an impact on the game, and Belconnen central striker Nicole Jalocha had also been quiet to this point.
NPLW HT | #BUFCvCFC
There's nothing to separate between @BLUE_DEVILSFC and @CanberraFC1 after a tight first-half in the NPLW decider!#NPLWCF pic.twitter.com/rkxxox8MIF

— NPL Capital Football (@officialNPLCF) September 14, 2019
The second half commenced and excitement in the stands rose as the match wore on. Canberra FC picked up from where they left off, with Palombi having switched sides to the right flank and shooting from range in the 52nd and 54th minutes, while in between Gill turned nicely on a throw-in and toed a ball towards James but without any real power.
Bobbin made a flying leap at a high bouncing ball just as an unimpressed Vasta took possession of it in the 56th minute. A minute later a Day cross from the right found Jalocha in the six yard box, but Jalocha was unable to retain her footing when attempting to turn.
Canberra FC's Bunker – perhaps still feeling the effects of the Clarke contact early in the game – was replaced by Vanessa Ryan close to the hour mark as the pace of the game lifted and the game became more open. A massive throw-in by Clarke troubled the Canberra FC defence shortly thereafter, while a Day shot in the 62nd minute fizzled and didn't trouble James.
The 65th minute saw a turning point in the game. As Canberra FC's Jamie Berkeley trotted over to take a corner, referee Ghirardello saw something in the way Galic pushed past Brown to take her position, and brandished a second yellow card at the Canberra FC defender. Her team now had a minimum 25 minutes to complete the Grand Final one player down.
Some teams would have dropped their heads at such a development but to their credit it seemed to galvanise Canberra FC, who went to a back three and pressed their opponents with headed efforts by Goldstein and Gill in quick succession. Gill again asked questions of the Belconnen defence in dangerous areas in the 71st minute, as Day diffused the threat.
Belconnen young gun Alexia Forner came on for Katie Woodman in the 73rd minute and with her fresh legs and the player advantage Canberra FC slowly began to tire. Sensing this, Canberra FC coach Brozinic brought on Amy McLachlan for Krista Hagen in the 84th minute, shoring up the defensive formation to a back four and moving Gill back into midfield. A pair of long throws from Clarke into the penalty area were tricky for the Canberra FC defence but they were up to the task. Churchill did well to chase down and block a Forner shot as well as a subsequent Day attempt on goal, after Forner's free kick from the left of the penalty area spilled out to Day.
Vasta did well to rush out and clear a ball away from the oncoming Jalocha and then bundled a Bobbin side-footed shot over the goal-line in the 87th minute. Brown's corner was headed by Jalocha towards goal as Vasta hooked the ball off the line back towards Brown. Ryan was too vigorous in closing Brown down and the referee showed Ryan a yellow card for the tackle.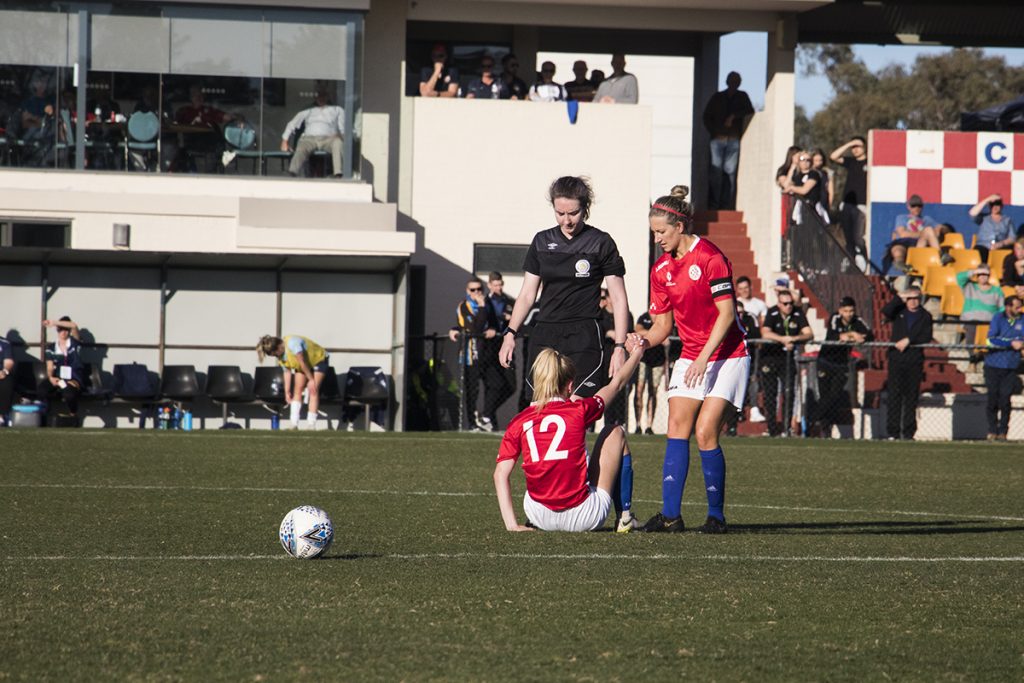 It was all Belconnen in these late minutes and Canberra FC were desperately holding them out. Late chances by Muñoz – over the bar in the 89th minute – and Bobbin – a shot at Vasta having got onto the end of a through ball in the 93rd minute, with Vasta coming out brilliantly – were in vain as the referee blew the whistle for the end of normal time.
NPLW End of 90 |
A scoreless 90 minutes sees the NPLW decider go to extra-time!#NPLWCF pic.twitter.com/EN1qYkGplV

— NPL Capital Football (@officialNPLCF) September 14, 2019
The first period of extra time commenced and Belconnen fans were finally getting to see captain Lauren Keir embark on overlapping runs from the right side of defence. In the 94th minute Bobbin did well to turn her defender in the Canberra FC box, smashing the ball onto the crossbar. Two minutes later at the other end, Churchill attempted to lob James, her effort just going over.
Goldstein showed in the 101st minute that she still had some petrol in the tank, making a great run downfield and beating two defenders, before Jessie Rasschaert interceded right in front of goal.
The first period of extra time closed with an audacious long distance lob by Brown – spotting Vasta off her line – with the just-wide attempt almost paying dividends.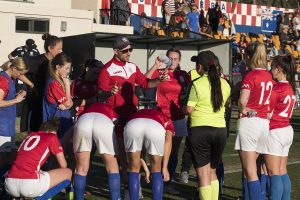 Extra time changeover. Images courtesy @KaiMoebus
Players started going down with cramp, understandable in the warm conditions. Day received a yellow card in the 110th minute for a raised foot on the leg of Canberra FC defender Alice Churchill.
Brown once again shot from the right in the 113th minute, the ball curling, dipping, but narrowly missing. The quality of service from her throughout the game never faltered as she continued to fire the ball into dangerous areas.
Coach Brozinic made a tactical move in the 117th minute, bringing Chantel Jones on in goal for the outstanding Vasta with an eye no doubt to penalties and Jones' greater wingspan. The move had obviously not been discussed to this point, and Vasta was clearly upset as she stormed off.
It became a moot point when Muñoz finally scored the only goal of the game moments later, with Clarke's free kick popping out to Muñoz at the near post, making no mistake with all those years of experience contributing to her being in exactly the right place and slotting the chance from close range in the final significant moment of the game.
118' | 1-0 | #BUFCvCFC
Goal! Is that the winner? Caitlin Munoz grabs the lead for @BLUE_DEVILSFC with two minutes left in extra-time!#NPLWCF pic.twitter.com/hIfAJ94waR

— NPL Capital Football (@officialNPLCF) September 14, 2019
Two minutes of stoppage time ticked down, and as the referee's final whistle rang out, Belconnen's players rushed to embrace outgoing coach Jagarinec and celebrate his final win with the club.
Speaking after full-time, Canberra FC coach Brozinic was understandably deflated, and said that his team's paucity in front of goal had cost them dearly.
"It's not an easy one to swallow, for large parts of the game we were the better side but somebody's got to win at the end of the day and unfortunately we ended up on the wrong end of it," he said.
"I gave the team clear instructions on what we needed to do for today's game and once they settled into the fixture 15-20 minutes in they executed the game-plan perfectly and started to get on top of the game, but we weren't clinical with the opportunities we did get and unfortunately towards the end there we copped that late goal which hurts."
Reflecting on his first year in charge of the group, Brozinic said he was happy with their achievements, but knows there's more to achieve.
"They're a great group and they work hard and for one another and that's the pleasing thing about them; they're a team and they have that team mentality – there are no individuals in there – they are a group who will do anything for each other. Overall the season has been great; I've learnt a lot. It's my first season and I still have more to learn going forward and I look forward to doing that in the next few seasons".
Winning coach Antoni Jagarinec spoke about the emotion of the day after his long and successful tenure.
"Win, lose, or draw, it was going to be an emotional day and we're just over the moon. The girls have just been through a real battle and we came away with the win.
"This one will be seen as a classic. Canberra FC are a quality opponent and when they went to ten [players] they were really hard to play against. It's a credit to their staff and to their players, they pushed us all the way, but Caitlin Muñoz at 35 years, 56 caps experience, she got us out of jail against them twice this year in the 120th minute [after the Federation Cup semi-final earlier this year – won 3-2 late in extra time]. A lot of credit goes to her but collectively the team were sensational."
Asked about the warm conditions, Jagarinec said that both sides were made to work harder across the 120 minutes.
"I thought we were a fit team but the heat really slowed us down; in general we were probably 10 or 15% slower and not as sharp as what we normally are, but in saying that Canberra FC had to also play in the same conditions and were affected as well. It probably wasn't the most intense match that we've had against them this year but it was a big factor definitely."
Belconnen midfielder Michaela Day was presented with the Julie Murray Medal for best on ground.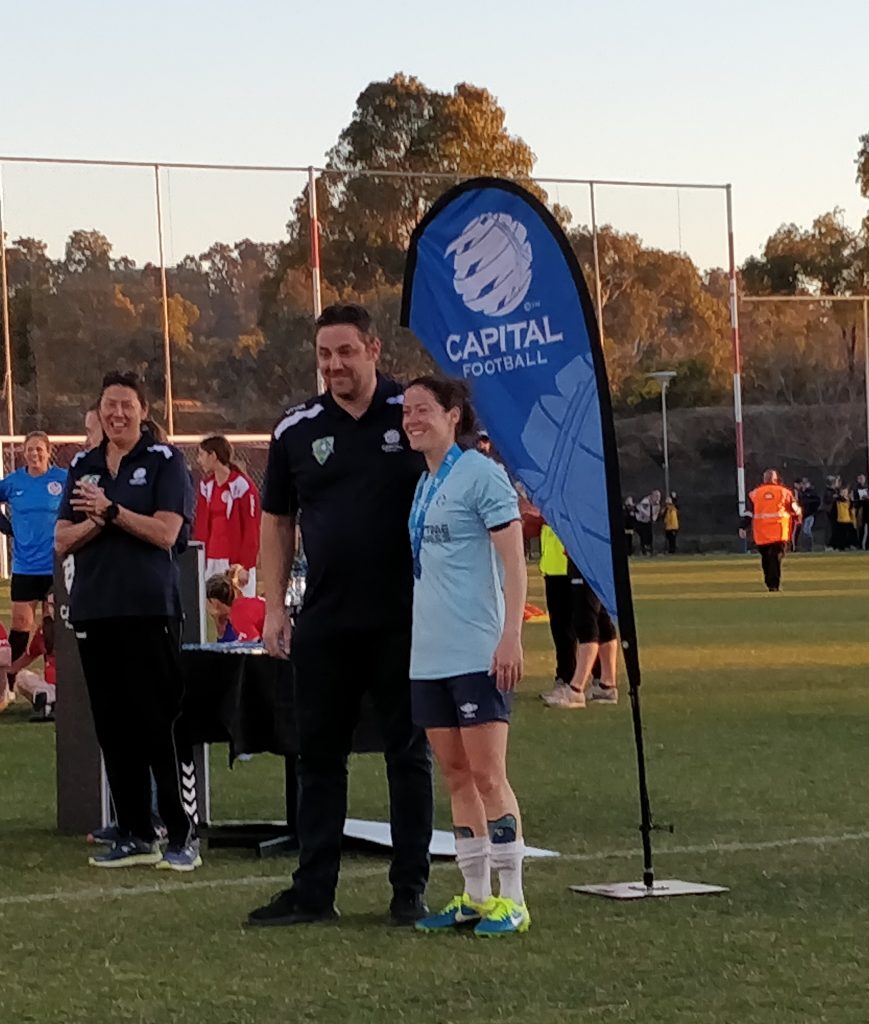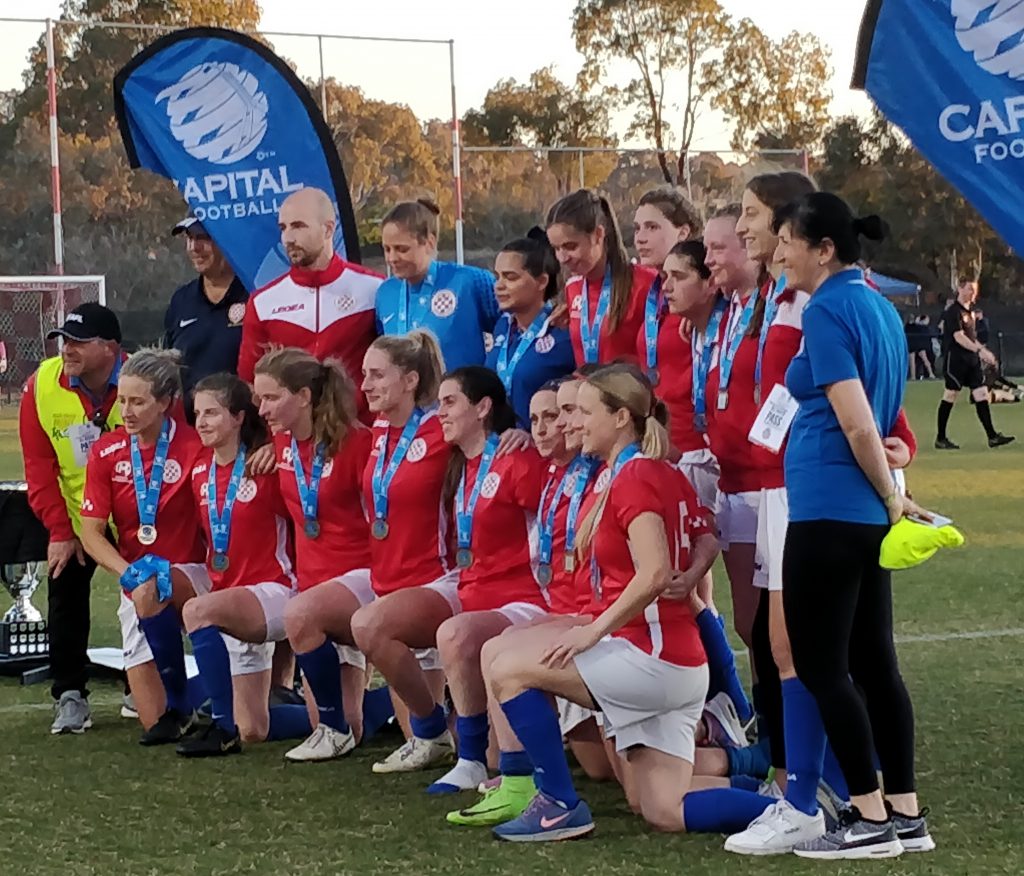 Belconnen United 1 (Muñoz 118′)
Canberra FC 0
Teams:
Belconnen United – Coach: Antoni Jagarinec
Sally James; Lauren Keir (c), Karen Clarke, Jessie Rasschaert, Bronte Pyke; Michaela Day, Katie Woodman, Caitlin Muñoz; Nicole Jalocha, Keira Bobbin, Catherine Brown.
Subs: Jayla Murphy, Leah Carnegie, Alexia Forner, Maria Pachi, Jaz Zabel
Yellow card: Day 110′
Canberra FC – Coach: Nik Brozinic
Nastaja Vasta; Bridgette Wright, Ivana Galic, Isabella Tammaro, Alice Churchill; Krista Hagen, Jamie Berkeley, Rachel Goldstein; Melissa Bunker, Grace Gill (c), Brittany Palombi.
Subs: Amy McLachlan, Vanessa Ryan, Lara Agnew, Chantel Jones, Jordan Ujdur
Yellow cards: Galic 39′, Ryan 88′
Red card: Galic 65′