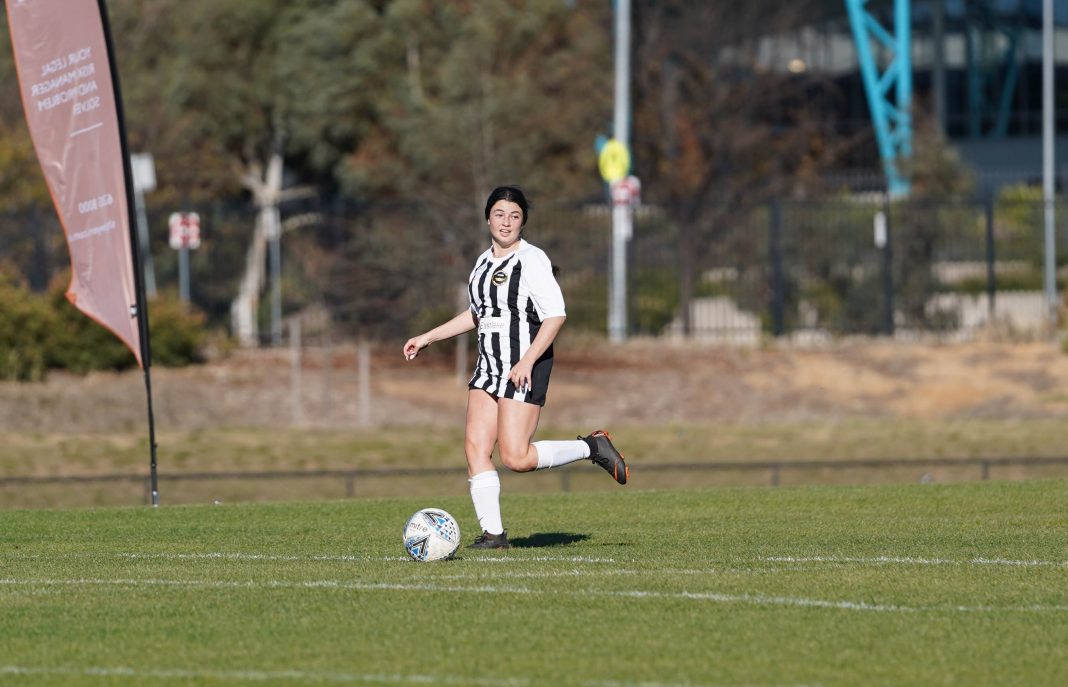 Match of the Round: Gungahlin United v Woden-Weston
The outcome of this Round 13 clash between two teams jostling for a finals berth was likely to prove significant. Gungahlin held a 6 point lead over Woden-Weston coming into the game, but Woden-Weston had a game in hand. A win to Gungahlin would see them 9 points ahead and difficult to catch with five rounds remaining, while a win to their opponents today would see Woden-Weston draw to within 3 points.
Two perfectly weighted corners from Ella Brown delivered to Rachel Corbett's head, along with a delightful flick over the keeper from Nat De Marco, would see the home team triumph 3-0, but Woden-Weston were not without their opportunities.
FT | 3-0 | #GUFCvWWFC
Nat and Stella De Marco combined for @GUFC1997's second goal, as the home side grabbed a vital three points against @wodwstfc on Sunday!#NPLWCF pic.twitter.com/Gl37lcamxJ

— NPL Capital Football (@officialNPLCF) July 7, 2019
Two influential players were unavailable for today's contest: Woden-Weston captain Cassia McGlashan, and Gungahlin right wing flyer Erika Pennyfield. The loss of Pennyfield was however compensated for by the return of Elke Aitolu to the Gungahlin forward line.
Woden-Weston have a right wing flyer of their own in the shape of Sofia Christopherson, and it was she who opened proceedings in the first minute, whipping in an excellent cross which worried Gungahlin keeper Kailey Tonini. Christopherson's pace was to trouble Gungahlin left back Brigitte Sander all game.
Woden-Weston midfielder Alex McKenzie made several good contributions in the first 20 minutes, running onto a through ball and forcing an early corner from Gungahlin defender Marija Rathouski on 9 minutes, and shooting from range on the quarter hour.
Gungahlin's Elke Aitolu was enjoying her return from injury, looking – as always – as though she has more time on the ball than most others; laying balls off to build attacks; or shooting with power from range when opportunities arose.
Ruby Gambale found the head of fellow Gungahlin team-mate Nat De Marco from a free kick in the 19th minute, but the header from within the six yard box sailed over the bar.
Gungahlin's Rachel Corbett made several forays forward in the next ten minutes. Her efforts were finally rewarded in the 26th minute when a perfect corner from Ella Brown found Corbett unmarked near the back post, and she made no mistake with the header to give her team the lead.
26' | 1-0 | #GUFCvWWFC
Goal! Rachel Corbett heads home from a corner to give @GUFC1997 a 1-0 lead!#NPLWCF pic.twitter.com/j8lDSYB0iC

— NPL Capital Football (@officialNPLCF) July 7, 2019
Gungahlin United continued to press from the half hour mark with three chances falling to Aitolu in the next 8 minutes. One wasn't taken cleanly, another flew wide, and the third was fired over the bar.
They didn't have it all their own way in this time however, with Christopherson continuing to skate past defenders until inevitably blocked by the covering Rathouski, who was having an outstanding game.
A lovely passing move between Aitolu and the De Marco sisters  – Stella and Nat – in the 40th minute finished tamely when Nat De Marco shot directly at Lilian Geale in the Woden-Weston goal.
Woden-Weston's Anna Vandenbroucke was in the thick of the action in the 43rd minute. She won the ball from Maddie Perceval, before advancing into the penalty box and hitting the crossbar with a venomous strike. A moment or two later Shaquille Chong played a wonderful ball into the penalty box for Vandenbroucke to have a one-on-one opportunity with Tonini, who managed to block the attempt on goal with her feet.
While Woden-Weston went into the break one goal down, they would have been excited by their resurgence in the closing minutes of the first half.
HT | 1-0 | #GUFCvWWFC
A tight first-half at GEO, with a Rachel Corbett header the only difference between @GUFC1997 and @wodwstfc!#NPLWCF

— NPL Capital Football (@officialNPLCF) July 7, 2019
Woden-Weston's enthusiasm may have been somewhat dampened early in the second half when the two De Marcos and Aitolu again shared a wonderful passing interchange through the Woden-Weston defence. Stella De Marco instigated the move and received a return ball after sprinting forward. She then managed to get a ball to sister Nat in the six yard box, who flicked it over Geale's head for a 2-0 lead.
Vandenbroucke was the recipient of a wayward release from Tonini in the 52nd minute, however she could only manage to spray her long range effort wide of goal. At the other end of the field, Rathouski came close to scoring two minutes later. Another fine Ella Brown corner made its way to the back post end of the six yard box, but Rathouski's low drive was blocked by Geale's glove and the base of the post.
Sofia Christopherson continued to harry and trouble the Gungahlin defence in the second half, and her enthusiasm was matched after the break by fellow attacker Briana Maguire. In the 67th minute, Maguire was pulled down in the Gungahlin box by Perceval. However, in a possible turning point for the game, the referee played advantage when the ball fell to the unmarked Annica Schoo (who had come on for Chong). This was to be Woden-Weston's best chance of the game, but Schoo's effort went over the bar from close range.
Schoo had another opportunity for Woden-Weston in the 73rd minute from a ball centred by Maguire, but shot wide. Gungahlin's Nat De Marco had a shot of her own blocked two minutes later after some excellent lead-up work by both Gambale and Ella Brown.
The killer blow from the Gunners arrived in the 76th minute with a repeat performance of the first goal, an unmarked Rachel Corbett again finding the back of the net with a header from a superb Ella Brown corner kick.
76' | 3-0 | #GUFCvWWFC
Goal! Corbett scores her second of the match for @GUFC1997, that will surely kill off the contest now! #NPLWCF pic.twitter.com/ufjR20cUAJ

— NPL Capital Football (@officialNPLCF) July 7, 2019
Although McKenzie and Maguire continued to pressure their opponents until the final whistle, Woden-Weston were unable to respond with a goal of their own, despite Gungahlin failing to clear a ball bouncing around their own penalty box in the 87th minute.
All ACT NPLW teams now have a week off, and they return for Round 14 on Sunday July 21st. Woden-Weston will be tested at home against ladder leaders Belconnen United, and Gungahlin take on Canberra Olympic.
Final score:
Gungahlin United 3 (Corbett 26′, 76′, N. De Marco 48′)
Woden Weston 0 
Teams:
Gungahlin United – Coach: Diego Iglesias
Kailey Tonini, Brigitte Sander, Marija Rathouski, Maddie Perceval, Ruby Gambale, Stella De Marco, Rachael Corbett, Natalie De Marco, Ella Brown, Jade Brown, Elke Aitolu, Niamh Larkin, Sophie Spice, Courtney McCann, Cam Jackson
Yellow cards: Nil
Woden-Weston Wanderers – Coach: Mark Boyd
Lilian Geale, Bridget Plummer, Samantha Briggs, Sarah Whitfield, Jemima Millar-Carton, Anna Vandenbroucke, Alex McKenzie, Teah Hayes, Sofia Christopherson, Briana Maguire,  Shaquille Chong, Alice Johansson-Crumfield, Annica Schoo, Samantha Savanhu, Sarah West
Yellow cards: Nil
Around The Grounds:
Canberra FC 2 – 0 Canberra United Academy (Thursday night; rescheduled from round 15)
Tuggeranong United 1 – 5 Belconnen United
Wagga City 0 – 10 Canberra FC
Bye – Canberra Olympic
Ladder:
| | | | | | | | | | |
| --- | --- | --- | --- | --- | --- | --- | --- | --- | --- |
| Pos | Team | P | W | D | L | For | Against | GD | Pts |
| 1 | Belconnen United FC | 11 | 10 | 1 | 0 | 66 | 2 | 64 | 31 |
| 2 | Canberra FC | 13 | 9 | 2 | 2 | 59 | 9 | 50 | 29 |
| 3 | Canberra United Academy | 13 | 8 | 1 | 4 | 50 | 18 | 32 | 25 |
| 4 | Gungahlin United FC | 11 | 8 | 0 | 3 | 32 | 16 | 16 | 24 |
| 5 | Woden-Weston FC | 10 | 5 | 0 | 5 | 23 | 27 | -4 | 15 |
| 6 | Tuggeranong United FC | 12 | 4 | 0 | 8 | 12 | 49 | -37 | 12 |
| 7 | Monaro Panthers FC | 12 | 2 | 0 | 10 | 19 | 46 | -27 | 6 |
| 8 | Canberra Olympic FC | 10 | 2 | 0 | 8 | 9 | 54 | -45 | 6 |
| 9 | Wagga City Wanderers FC | 12 | 2 | 0 | 10 | 13 | 60 | -47 | 6 |