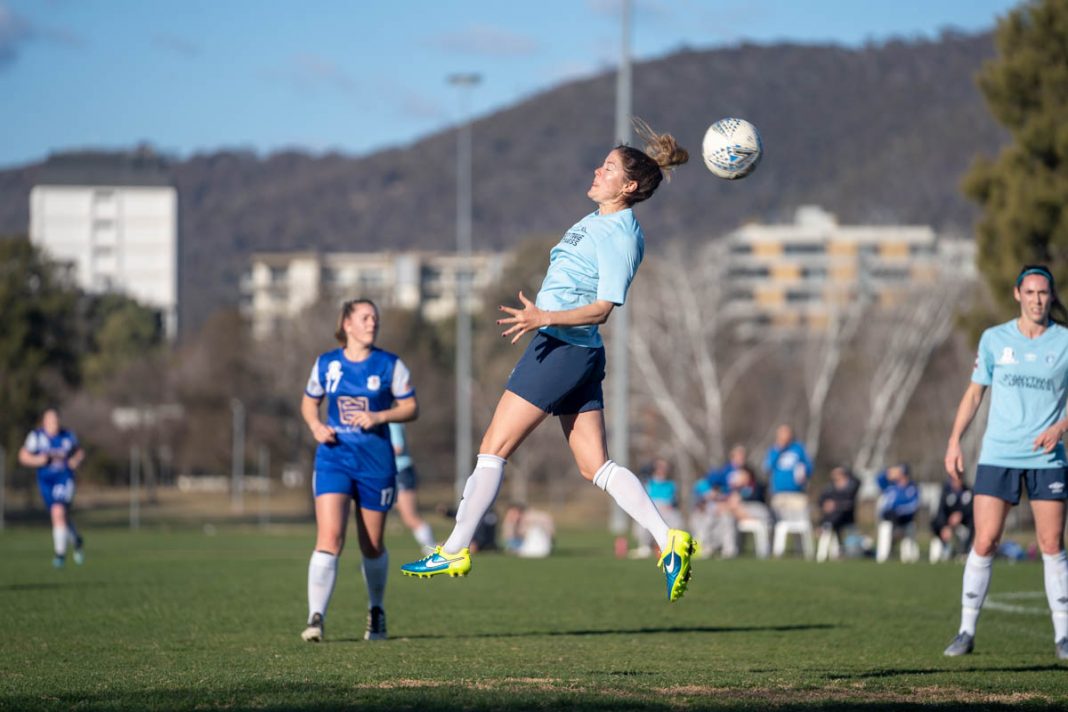 Match of the Round: Canberra Olympic v Belconnen United
Canberra Olympic managed to share the points in their game last week against fourth placed Gungahlin United, but reigning champions Belconnen United would be an altogether different proposition for them this week. Belconnen were ruthless in the second half to come away with a big 10 goal win over an Olympic side that – in the first half in particular – showed that there are grounds to be optimistic despite the score-line here.
With Sally James and Alexia Forner recovering from their weeklong NTC challenge participation at the AIS, Belconnen United also rested captain Lauren Keir (hamstring) and prolific goalscorer Maddy Whittall. This brought Leah Carnegie into the starting lineup, a return to the backline for Karen Clarke, and a first appearance this season in goals for Jess Giovinazzo. For their part, Canberra Olympic were still without regular captain Victoria Jamieson.
The first five minutes of the match featured impressive runs forward by Belconnen's Michaela Day and then – a couple of minutes later – by Olympic's Lily Dawson. Both resulted in attacking threats in their respective opponents' penalty boxes, and both players would go on to be influential in this game.
On five minutes Belconnen's Keira Bobbin made the first of many impactful runs, weaving past her defender in the box and centring the ball to Nicole Jalocha, who shot straight at Olympic keeper Angelica Pahina.
A carbon copy Bobbin-Jalocha move two minutes later was met with a far more satisfying result for Jalocha. This time she made enough room to strike a powerful low shot, giving Belconnen a one goal lead.
7' | 0-1 | #COLvBUFC
Goal! @BLUE_DEVILSFC grab the lead as Nicole Jalocha takes the ball on to her right and fires home! #NPLWCF pic.twitter.com/UNzJTuheDM

— NPL Capital Football (@officialNPLCF) July 28, 2019
Jalocha only had to wait another two minutes for her second and final goal for the day, this time crossing a low hard ball from the right wing which managed to sneak under Pahina and into goal.
Olympic right winger Emma Croker was a tricky proposition at times for Belconnen  defender Catherine Brown, and was also an effective outlet for midfield distributors Dawson and Kiara Gaspari. In the 12th minute Dawson won a midfield challenge and released Croker, who then found Eleanor Jones, whose shot was deflected for a corner. Emma Guo got her head on the corner ball, directing it over the bar. The Dawson-Croker combination would force a second corner just four minutes later.
On 20 minutes Carnegie ran onto a through ball in the Olympic box but was met in a strong challenge by the onrushing Pahina in goals.
Clarke then released Bronte Pyke two minutes later with a fine ball down the right, however the threat of the centred ball was defused by the Olympic defence.
Caitlin Munoz showed she has lost none of her touch with a cheeky flick in the Olympic penalty box in the 25th minute, which went just wide of the post. Munoz made up for the narrow miss by converting a penalty kick on 34 minutes after Catherine Brown was brought down in the Olympic box, to give her side a 3-0 lead.
In a scene to be repeated several times in this game, Bobbin outsprinted her defender in the 42nd minute, getting on the end of a Jalocha through ball. Her shot however flew just to the left of the goal.
Day was shoved over in the Olympic penalty box in added time of the first half, and Munoz once again made no mistake, putting away the penalty kick for a 4-0 half-time lead. The score-line perhaps did not reflect the pressure that Olympic were able to exert on the Belconnen defence at times.
HT | 0-4 | #COLvBUFC
A dominant first half from @BLUE_DEVILSFC has them leading by four goals at the break. #NPLWCF pic.twitter.com/dLMzy9evWf

— NPL Capital Football (@officialNPLCF) July 28, 2019
Belconnen were able to put away six goals in the second half. Carnegie's pinpoint corner kicks, as well as Bobbin's pace and composure when finishing, proved decisive. Olympic found themselves unable to impose themselves to the degree they displayed at times in the first half.
Jessie Rasschaert was the first recipient of Carnegie's corner kick precision, using her height to make it 5-0 just two minutes into the second half. Clarke got up well for another fine Carnegie corner two minutes later, but her header went just wide of goal.
Day showed her class just before the hour, controlling a ball beautifully in midfield and then sending Bronte Pyke to run onto a through ball. On the way to goal Pyke was able to ride Jodie Kirkness' challenge, neatly finishing past Pahina to make it 6-0 to Belconnen.
Clarke found her range from another superb Carnegie corner kick in the 61st minute to head the ball in from the back post, making it 7-0. Just six minutes later the goal procession continued. Clarke was in the role of provider this time, releasing Bobbin down the left with a terrific ball. Bobbin's speed was too much for the trailing defence and she finished off the move with poise to make it 8-0 for the away side, giving the advancing Pahina no chance.
Olympic's Aoibhinn Crimmins and Eleanor Jones combined well in attack in the 78th minute, but Jones' shot was directed straight at Belconnen keeper Giovinazzo.
Bobbin's pace was featured again in the 80th minute against a tiring defence, thanks to a Katie Woodman through ball. Bobbin's composure was impressive, finding the open space  to the right of Pahina to make it 9-0, having outpaced Kirkness en route to goal.
Undeterred, Crimmins applied pressure on the Belconnen defensive midfield in the 83rd minute, the ball finding Guo and popping out to an on-rushing Jones on the edge of the penalty area. Jones couldn't however find the required accuracy with her shot on the Belconnen goal.
Bobbin made it an afternoon to remember in the 85th minute, completing her personal hat-trick – and a double digit score-line for her team – when Carnegie found Pyke on Belconnen's right wing. Pyke's near post ball to Jalocha was finessed to the unmarked Bobbin at the back post, and she managed to squeeze the ball past Pahina into the net despite the keeper getting a hand on the ball.
It was an afternoon where Belconnen did not ease the pressure on their opponents even as the goals piled up, which is a credit to their (and coach Antoni Jagarinec's) drive and will to maintain their high standards. Their fitness was also a major factor, as it allowed the team to fend off mental fatigue and to keep competing all around the park. This in turn translated to possession, as well as the ability to make the most of the attacking threats and speed on offer in the team.
Despite the score-line, Olympic should not come away from the match too down-hearted. Their midfield at times showed enterprise, especially in the first half, and were able to construct attacking threats coming forward and out wide. The return of their captain Jamieson will also add some steel to their defence. In a rebuilding year, there are some encouraging signs and this was reflected in them never giving up even as the goal tally mounted up against them today.
Belconnen travel away to Wagga City next week in pursuit of the premiership, while Olympic – who maintain position 7 on the ladder – take on Woden-Weston at home.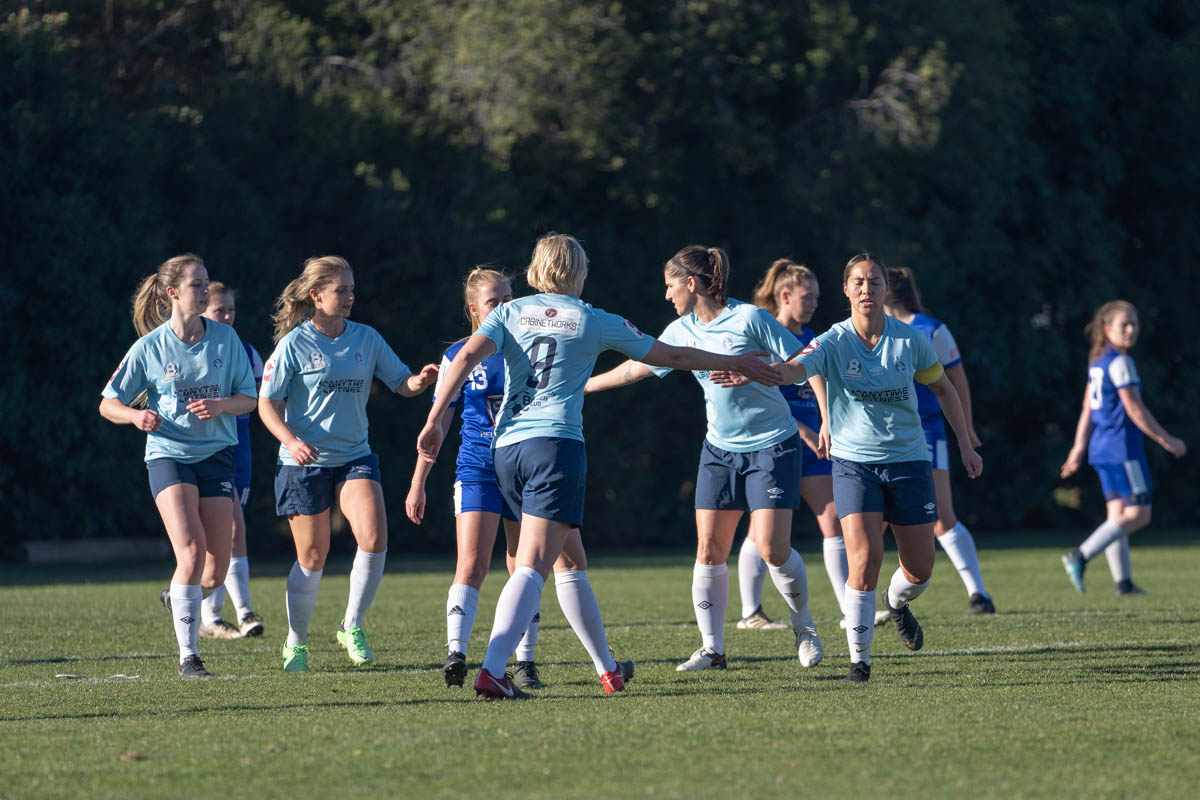 Final score:
Canberra Olympic 0
Belconnen United 10 (Jalocha 7′ 9′, Munoz 34′ 45+2′, Rasschaert 48′, Pyke 58′, Clarke 61′, Bobbin 67′ 80′ 85′)
Teams:
Canberra Olympic – Coach: Andrew Woodman
Angelica Pahina, Celina Vecchi, Keeley Pasfield, Ali Cook, Jodie Kirkness, Eleanor Jones, Kiara Gaspari, Lily Dawson, Emma Croker, Emma Guo (c), Sophia Gidis, Aiobhinn Crimmins, Courtney Atwood, Georgina Woodward
Yellow/Red cards: Nil
Belconnen United – Coach: Antoni Jagarinec
Jess Giovinazzo, Bronte Pyke, Karen Clarke, Jessie Rasschaert, Catherine Brown, Michaela Day, Katie Woodman, Caitlin Munoz, Leah Carnegie, Nicole Jalocha, Keira Bobbin, Jayla Murphy, Steph Hedditch, Maria Pachi, Jazz Zaebel
Yellow/Red cards: Nil
Around The Grounds:
Wagga City 0 – 6 Gungahlin United
Woden-Weston 2 – 1 Tuggeranong United
Monaro Panthers – bye
(The Canberra FC v Canberra United Academy fixture was played back on July 4th, resulting in a 2-0 victory to Canberra FC)
Ladder:
| | | | | | | | | | |
| --- | --- | --- | --- | --- | --- | --- | --- | --- | --- |
| Pos | Team | P | W | D | L | For | Against | GD | Pts |
| 1 | Belconnen United FC | 13 | 12 | 1 | 0 | 79 | 2 | 77 | 37 |
| 2 | Canberra FC | 14 | 10 | 2 | 2 | 66 | 9 | 57 | 32 |
| 3 | Gungahlin United FC | 13 | 9 | 1 | 3 | 38 | 16 | 22 | 28 |
| 4 | Canberra United Academy | 13 | 8 | 1 | 4 | 50 | 18 | 32 | 25 |
| 5 | Woden-Weston FC | 13 | 7 | 0 | 6 | 29 | 32 | -3 | 21 |
| 6 | Tuggeranong United FC | 13 | 4 | 0 | 9 | 13 | 51 | -38 | 12 |
| 7 | Canberra Olympic FC | 13 | 2 | 1 | 10 | 10 | 68 | -58 | 7 |
| 8 | Monaro Panthers FC | 13 | 2 | 0 | 11 | 19 | 53 | -34 | 6 |
| 9 | Wagga City Wanderers FC | 13 | 2 | 0 | 11 | 13 | 66 | -53 | 6 |