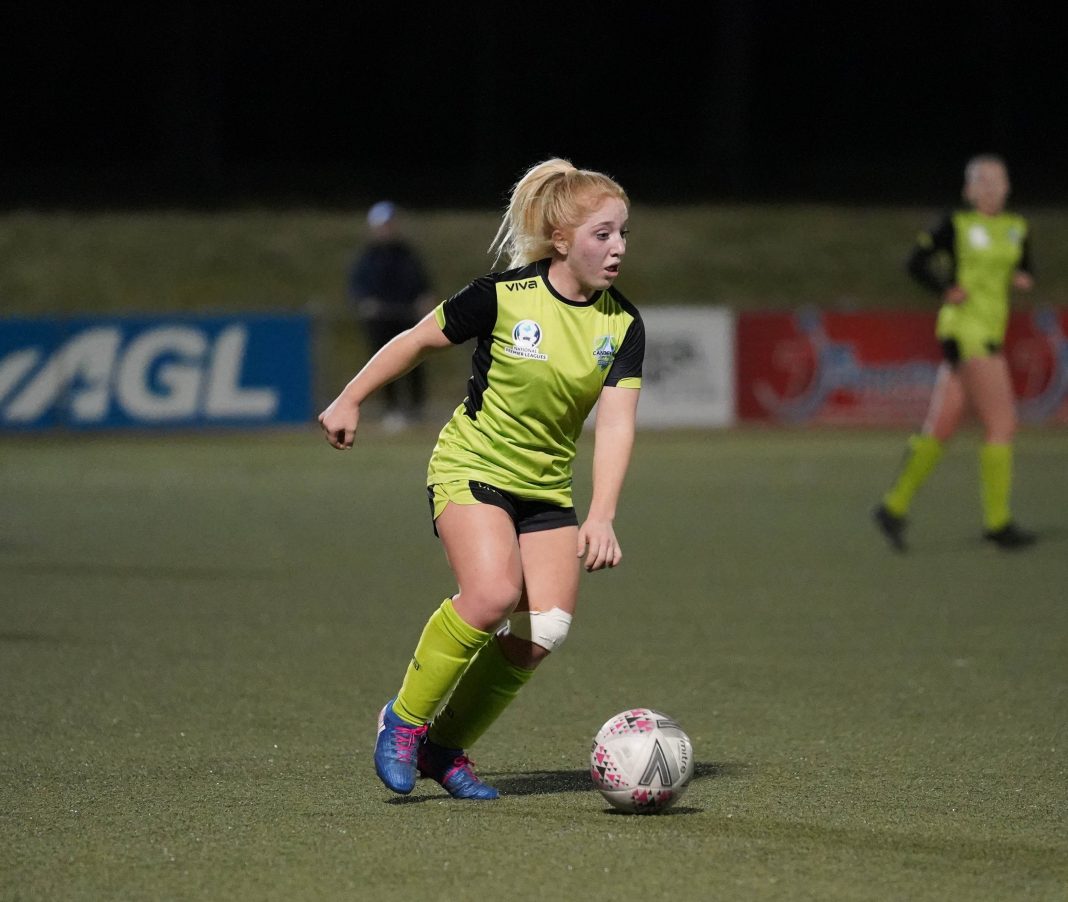 Match of the Round: Canberra United Academy v Gungahlin United
Two critical matchups, as far as possible finals spots were concerned, were on offer this week. Woden-Weston needed to continue their good recent form against Wagga City to be a chance of sneaking into fourth spot next week, while the winner in the high stakes match of the round would be guaranteed a finals berth.
Canberra United Academy had more of the contest, but the Gunners battled hard in the first 85 minutes to retain a one goal lead. A formation change late in proceedings by returning Academy coach Heather Garriock swung the game back in Academy's favour, with two late goals in a remarkable final five minutes giving the Academy a hard fought 2-1 win, as well as guaranteeing them a place in the finals series.
NPLW FT | 2-1 |
Full-time! They trailed for 86 minutes, before late goals to Tara Cannon and Hayley Taylor-Young stole the win for the @CanberraUnited Academy, who also booked their spot in the finals!#NPLWCF pic.twitter.com/qh8kPv3rp8

— NPL Capital Football (@officialNPLCF) August 10, 2019
Canberra United Academy went into the game fielding a full strength lineup, bar Mia McGovern and Jade Trewin, who were on Junior Matildas duty. With McGovern away, more responsibility for guiding the team in midfield fell to Bella Barac and the incoming Meg Roden. Gungahlin United chose to begin with Courtney McCann and Dhiaan Sidhu – leaving Ella Brown and Marija Rathouski on the substitute bench – and were looking to further regain fluency for a finals push in the ongoing absence of Nat De Marco.
Much of the early play occurred in the Gungahlin half. In the 7th minute Isabell Mulhall played through to Charli Mitchell in the Gungahlin box, but defender Maddie Perceval read the play and shepherded the ball over the goal-line. A minute later Bella Barac released Sasha Grove for a one-on-one opportunity, however the combination of advancing Gungahlin keeper Kailey Tonini and a slightly heavy last touch by Grove diffused the danger.
Against the run of play, Gungahlin's Elke Aitolu drove a trademark fierce free kick from 25 yards out into the top of the net on 11 minutes, eluding the outstretched arm of Academy keeper Isobel Davey and giving the Gunners a precious lead.
11' | 0-1 | #CUAvGUFC
Goal! Elke Aitolu's right-foot is lethal! The @GUFC1997 striker fires home a free-kick from 25 yards out to put the visitors ahead!#NPLWCF

— NPL Capital Football (@officialNPLCF) August 10, 2019
The goal sparked some life into Gungahlin United, and they commenced work on dividing possession between the two teams on a more even keel. Academy's Barac and Roden had been commanding in midfield to this point, but Gungahlin's Stella De Marco and Rachael Corbett began to make midfield inroads of their own.
A Hayley Taylor-Young shot right at the keeper on 15 minutes from a wide left position was countered by the Gunners' Erika Pennyfield outmuscling Molly Lawless on her way to goal, however Lawless put her off just enough for Pennyfield's toed attempt to be wide of the left post.
Mitchell was then in the right place at the right time on 19 minutes. Some Barac trickery just inside the Gungahlin box resulted in the ball deflecting for a left foot low drive, but Tonini pulled off a great diving save to deny her.
Academy produced some delightful passages of play in this period of the half. Lawless switched play to good effect; Barac spun, shielded and distributed the ball; Mulhall played with enterprise down the right; and Roden made excellent decisions in midfield. However, little of this was translating to meaningful direct attempts on goal. Gungahlin were content to play on the counterattack, and Academy's Annie Grove desperately wrestled the ball away from Jade Brown, who threatened to burst towards goal in the 25th minute.
Shots on goal were fired by Mulhall and Taylor-Young for Academy late in the half, and by Jade Brown for Gungahlin, but they were either well over the bar or straight at the keeper on all occasions. Gungahlin went into the sheds at half-time clinging to a one goal lead.
NPLW HT | 0-1 | #CUAvGUFC
A tight opening 45 minutes at Hawker, with Elke Aitolu's strike the only difference between @CanberraUnited Academy and @GUFC1997!#NPLWCF

— NPL Capital Football (@officialNPLCF) August 10, 2019
Gungahlin's Ruby Gambale took it upon herself to get forward with more purpose in the second half. She was the recipient of a wonderful Corbett through ball into the Academy box on 52 minutes, however could only harmlessly scuff her shot.
Annie Grove once again got the better of Jade Brown three minutes later, stopping dead Brown's excellent forward run past defender Demi Nikias after a strong tackle.
An hour in, Academy were still guilty at times of overplaying the ball in attacking positions and wasting opportunities. Mitchell was subbed off for Tara Cannon with twenty minutes to go and a change in formation ensued, as coach Garriock recognised the need to change things up if they were going to challenge for the win. Academy went to three at the back and shifted Sacha Grove into the right side of the attack, while Taylor-Young moved into a central striking position. Gungahlin also made changes in the last quarter of the contest, bringing on Niamh Larkin, Ella Brown, and Marija Rathouski at different times to provide fresh legs and defensive acumen.
Taylor-Young received a throw-in on 73 minutes, teeing up Barac for a shot near the Gungahlin six yard box, but Tonini made another great save to her right to protect her team's lead. The crowd could sense the Academy attacking pressure increasing, however Sacha Grove was unable to capitalise on marginal chances in the 80th and 81st minutes.
A corner was awarded to Academy in the 86th minute. Cannon attacked the ball with determination, showing the kind of directness that had been missing from the Academy attack and forcing the ball into the goal to square the game at 1-1.
The Academy continued to press the attack, forcing defensive clearances by Gungahlin in their own box on 88 minutes. In the 90th minute Gungahlin's Ella Brown received a ball in space and scored but was clearly offside. Then two minutes into added time, Taylor-Young ran onto a perfectly weighted Sacha Grove through ball into the Gungahlin penalty box, sliding the ball under Tonini and into the bottom left corner of the net to give Academy the lead.
The excitement didn't end there. Ella Brown sprinted downfield from the kickoff and received a lobbed ball in the Academy penalty box, however her volley was directed right at keeper Davey in what was to be the final attacking move of the match.
Academy coach Heather Garriock spoke on the win afterwards: "[That type of game] is good for the girls as they need that pressure, especially for their development. I think we were in control of the game in the first half and played some great stuff … sometimes rather than playing good football you need to penetrate on goals and I don't think we did that very well. The other team overloaded the midfield and played more of a transition game. In the second half we tweaked things a little bit, we went to three at the back and then the girls stepped up; they showed true character. Young Tara who scored off the set play is a reserve grade player … I saw her at training the other night and she impressed and took it upon herself [to score]. It was a really good team effort, and more from a character point of view – the girls knew the pressure was on and needed to win to make finals, it's a credit to the players".
On Taylor-Young: "I set Hayley a challenge before the game to make an impact and show her qualities … when she's in that 9 position and she gets in behind defences – as she did for the goal – she's really natural. Everyone likes her as a winger, I really like her as a 9, in fact I would say she's a similar player to a Hayley Raso or an Ash Sykes, just lightning quick. The good thing about Hayley is that she's left and right footed – you don't know which way she's going to go; cut in or out. She's an outstanding player for the future".
On Meg Roden: "Meg had to step in as normally Mia plays in that 6 role, and I said 'You need to be nice and disciplined as it's an important game'. She said 'Heather, I'm really nervous' … she got really emotional; and I thought for her to feel like that and play the game like she did today – she was instrumental for us in the middle of the park".
Following the Round 17 results, fourth place on the ladder is still up for grabs. Woden-Weston need all three points against Monaro next week to be a chance of supplanting Gungahlin in the four, while Gungahlin can ensure their safety with a draw or better against Canberra FC. Gungahlin nearly pinched this game, and did look more cohesive in the middle of the park compared to their last couple of outings, but will need to be at their best next week against Canberra FC in their final round matchup.
On a side note, in the week after Belconnen United completed their ninth successive ACT NPLW premiership win, Antoni Jagarinec announced he will be stepping down as coach at season's end. Woden-Weston assistant coach Sarah West – newly appointed to the Executive Committee of Football Coaches Australia – had this to say on Jagarinec's legacy:
Women's football in the ACT owes @ant_jaga a lot – his dominance of the NPLW 1st grade competition has made us all work harder and aspire to be better. Good luck in whatever comes next. #coachingexcellence https://t.co/Ao3R2yDqIP

— Sarah West (@sarahthewest) August 9, 2019
Next week's final round fixtures:
Belconnen United vs Canberra United Academy at McKellar Park, Saturday @ 3pm
Gungahlin United vs Canberra FC at Gungahlin Enclosed, Sunday @ 2pm
Wagga City vs Canberra Olympic at Gissing Oval (Wagga Wagga), Sunday @ 3pm
Woden-Weston vs Monaro Panthers at Melrose Synthetic, Sunday @ 3pm
Final score:
Canberra United Academy 2 (Cannon 86′, Taylor-Young 90+2′)
Gungahlin United 1 (Aitolu 11′)
Teams:
Canberra United Academy – Coach: Heather Garriock
Isobel Davey, Stefi Lejins, Annie Grove, Demi Nikias, Molly Lawless (c), Bella Barac, Isabell Mulhall, Meg Roden, Sacha Grove, Charli Mitchell, Hayley Taylor-Young, Jenny Hill, Alyse Jensen, Tara Cannon, Alex Gidis
Yellow/Red cards: Nil
Gungahlin United – Coach: Diego Iglesias
Kailey Tonini, Brigitte Sander, Dhiaan Sidhu, Maddie Perceval, Ruby Gambale, Stella De Marco, Rachael Corbett (c), Courtney McCann, Jade Brown, Elke Aitolu, Erika Pennyfield, Marija Rathouski, Ella Brown
Yellow/Red cards: Nil
Around The Grounds:
Belconnen United 6 – 0 Monaro Panthers
Canberra Olympic 1 – 1 Tuggeranong United
Wagga City 0 – 5 Woden-Weston
Canberra FC – bye
Ladder:
| | | | | | | | | | |
| --- | --- | --- | --- | --- | --- | --- | --- | --- | --- |
| Pos | Team | P | W | D | L | For | Against | GD | Pts |
| 1 | Belconnen United FC | 15 | 14 | 1 | 0 | 97 | 2 | 95 | 43 |
| 2 | Canberra FC | 15 | 11 | 2 | 2 | 78 | 9 | 69 | 35 |
| 3 | Canberra United Academy | 15 | 10 | 1 | 4 | 55 | 19 | 36 | 31 |
| 4 | Gungahlin United FC | 15 | 9 | 2 | 4 | 40 | 19 | 21 | 29 |
| 5 | Woden-Weston FC | 15 | 9 | 0 | 6 | 37 | 33 | 4 | 27 |
| 6 | Tuggeranong United FC | 16 | 4 | 1 | 11 | 14 | 67 | -53 | 13 |
| 7 | Canberra Olympic FC | 15 | 2 | 2 | 11 | 12 | 72 | -60 | 8 |
| 8 | Monaro Panthers FC | 15 | 2 | 1 | 12 | 20 | 60 | -40 | 7 |
| 9 | Wagga City Wanderers FC | 15 | 2 | 0 | 13 | 14 | 80 | -66 | 6 |