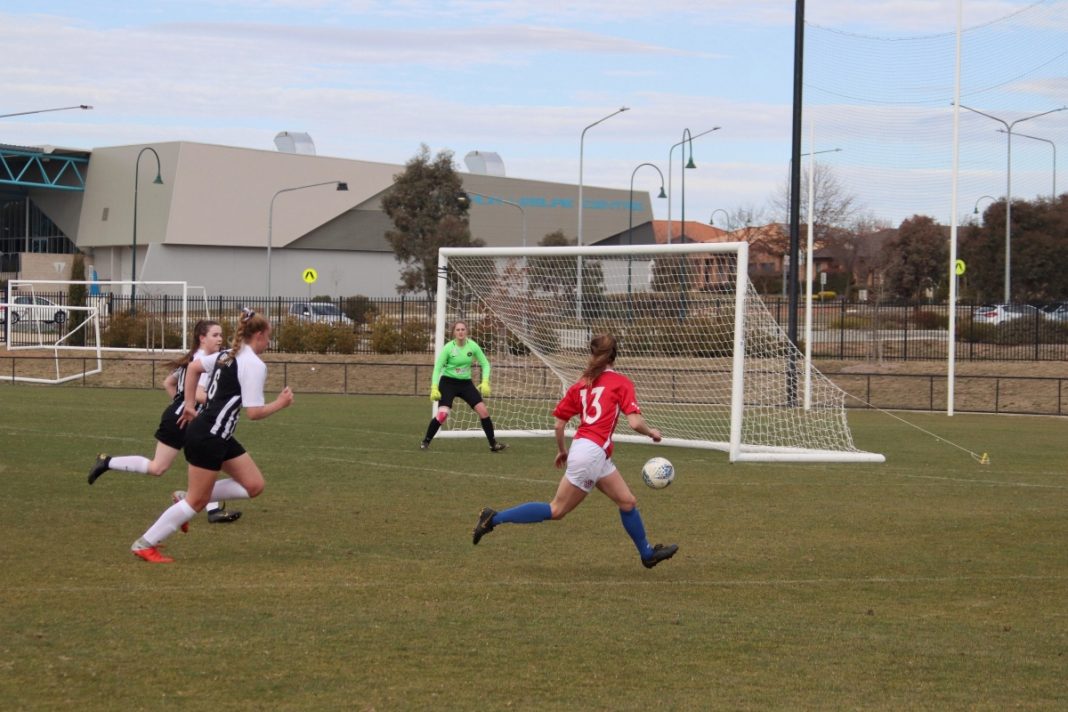 Match of the Round: Gungahlin United v Canberra FC
Fourth spot on the ladder and an appearance in the finals series were on offer in the last round of the 2019 Capital Football NPLW competition. Gungahlin United would be guaranteed fourth place if they could obtain a point or more at home from Canberra FC, while Woden-Weston could make their way into finals football by overcoming Monaro Panthers on Melrose Synthetic, if the Gunners came away from their game with no points.
At the top and bottom ends of the ladder there was also no lack of motivation. If Wagga City could take the points in their game at home against Canberra Olympic then they could jump from last to third last, while Belconnen United and Canberra United Academy were seeking to use their meeting to build some good form in the leadup to the finals.
Canberra FC got the jump on Gungahlin, scoring twice within the first five minutes. The Gunners wrestled their way back into the game and replied with a goal before half time, but could not maintain their competitiveness in the second half. Brittany Palombi and Grace Gill created goal-scoring havoc for Canberra FC on their way to a comprehensive 8-1 victory.
NPLW FT |@CanberraFC1 stormed to a big win at GEO today, leaving @GUFC1997's top four hopes in the hands of Woden-Weston and Monaro at Melrose. #NPLWCF pic.twitter.com/KEtIvbjBMg

— NPL Capital Football (@officialNPLCF) August 18, 2019
While Gungahlin went down in a narrow loss to the Academy last round, they would have been encouraged by their performance, holding the lead for the majority of that game. Their fortitude would be tested however, after a foul was conceded in the Gungahlin penalty box on Canberra FC's Brittany Palombi after 40 seconds, Palombi making no mistake in converting the penalty. This was followed by a second Canberra FC goal on 5 minutes, with Jamie Berkeley firing the ball into the top of the net at close range, after the ball wasn't cleared from the six yard box. Ivana Galic's long ball from the centre of the Canberra FC defence to Palombi at left wing rates a special mention in the construction of this move.
5' | 0-2 | #GUFCvCFC
Goal! Jamie Berkeley fires one into the back of the net to give @CanberraFC1 a 2-0 lead inside five minutes!#NPLWCF pic.twitter.com/6XbYUT0qlW

— NPL Capital Football (@officialNPLCF) August 18, 2019
No doubt stunned by the game's opening minutes, Gungahlin set about getting themselves back into the game, with Ruby Gambale hitting the right post on 8 minutes after some lovely passing across the Gungahlin offensive line (Ella Brown to Elke Aitolu to the incoming Gambale).
Canberra FC's midfield dynamo Krista Hagen was doing everything in her power to prevent Gungahlin's efforts in midfield, seemingly covering miles of territory in doing so. Canberra FC right back Bridgette Wright was finding space chiming into the Canberra FC attack but this at times left Gungahlin's Ella Brown open as a counter-attack target for Aitolu and company.  Gungahlin central defender Marija Rathouski put in some strong challenges in the first half hour, with Gill's threat in the 28th minute met with authority by Rathouski in the Gungahlin box.
In the 33rd minute Gungahlin central attacker Jade Brown managed to hold off Galic long enough to get a powerful shot away under pressure, which was saved brilliantly by Canberra FC keeper Nat Vasta.
The Gunners were rewarded for their efforts in the 38th minute when the busy Stella De Marco received Aitolu's wall pass and squared a breathtaking ball to Ella Brown at the far post to bring them back to 2-1.
38' | 1-2 | #GUFCvCFC
Goal! Ella Brown pegs one back for @GUFC1997! Game on at GEO!#NPLWCF pic.twitter.com/lfKaei8swe

— NPL Capital Football (@officialNPLCF) August 18, 2019
Canberra FC's Rachel Goldstein shot well from range late in the half but Gungahlin keeper Kailey Tonini threw herself low to her right to push the ball wide of goal. The Gunners would have gone into halftime with some optimism for their second half prospects having recovered well from the calamitous first five minutes.
It was Canberra FC, however, who came into the second half with renewed purpose, Palombi and then Gill dominating proceedings. On the hour, Canberra FC left back Alice Churchill threaded a precision through ball between two defenders to Palombi in the box, who finished clinically to Tonini's left. Palombi then struck twice more in a whirlwind two minutes, both thanks to Hagen through balls. Palombi guided the first between the feet of two defenders, and a minute later the onrushing Tonini's attempted clearance bounced off Palombi and headed towards goal for a simple tap-in. Palombi was substituted thereafter with an astonishing four goals to her name and her team 5-1 up.
Gill's class and ability to play with composure under pressure were on display in the last 20 minutes of the game. She used all the time and space available to her to complete an assured hat-trick of her own, propelling her team to an 8-1 score-line. Goldstein's cross from the right was deflected off a defender in the 71st minute and Gill raced into the penalty box to slot the ball coolly to Tonini's left. Nine minutes later she rounded Perceval and shot from an impossibly tight angle. The ball came off the post and was unfortunately palmed into the net by Tonini. Gill completed the coveted hat-trick in the 88th minute, turning Gambale on the edge of the penalty box and sizing up the angle past a defender for a precise finish into the bottom right of the net.
Canberra FC coach Nik Brozinic praised Krista Hagen's performance today, as well as his goal-scoring trio: "[Krista is] a workhorse, she almost does the work of two players in there sometimes, which frees Grace and Jamie and the others and allows them to move forward and give the team that forward momentum.
It's good to have our goal-scorers in form leading up to this important time of the year – it's really promising going forward into the finals series. We've had a broken run into finals; we've had 3 games in 7 weeks and now the week off next week, so we haven't been able to build that momentum, but had friendly games against Victorian State sides which helped us along. It's absolutely pleasing to see the performance today; it's been a long season and the girls are carrying knocks and the time off is giving them a chance to get 100% fit".
The result today meant that Gungahlin's finals fate was now in the hands of Woden-Weston, who kicked off an hour later at Melrose Synthetic against Monaro Panthers. The Panthers were able to hold the home team to a scoreless draw despite the weight of possession against them, leaving Woden-Weston no doubt disappointed to be thus finishing an otherwise promising season (which included a Federation Cup final appearance), and Gungahlin to take their place in the finals series.
Belconnen United were presented with the premiership trophy following their convincing win against Canberra United Academy on Saturday.
https://www.instagram.com/p/B1SNAlIgmFP/
The three week finals series commences in two weeks' time, which should help players with niggling injuries, and coaches with tactical fine-tuning. Both games in the first week of finals are at AIS Grass Field 1 on Saturday August 31st:
Semi-final 2 – 2pm – Canberra United Academy vs Gungahlin United
Semi-final 1 – 4.30pm – Belconnen United vs Canberra FC
Final score:
Gungahlin United 1 (Ella Brown 38′)
Canberra FC 8 (Palombi 2′ 60′ 64′ 65′, Berkeley 5′, Gill 71′ 80′ 88′)
Teams:
Gungahlin United – Coach: Diego Iglesias
Kailey Tonini, Brigitte Sander, Marija Rathouski, Maddie Perceval (c), Ruby Gambale, Stella De Marco, Rachael Corbett, Jade Brown, Elke Aitolu, Erika Pennyfield, Ella Brown, Courtney McCann, Niamh Larkin, Sophie Spice, Mio Giorgi
Yellow/Red cards: Nil
Canberra FC – Coach: Nik Brozinic
Nastaja Vasta, Bridgette Wright, Ivana Galic, Isabella Tammaro, Alice Churchill, Krista Hagen, Grace Gill (c), Jamie Berkeley, Rachel Goldstein, Melissa Bunker, Brittany Palombi, Amy McLachlan, Sharon Chao, Vanessa Ryan
Yellow/Red cards: Nil
Around The Grounds:
Belconnen United 8 – 0 Canberra United Academy
Wagga City 3 – 1 Canberra Olympic
Woden-Weston 0 – 0 Monaro Panthers
Tuggeranong United – bye
Ladder:
| | | | | | | | | | |
| --- | --- | --- | --- | --- | --- | --- | --- | --- | --- |
| Pos | Team | P | W | D | L | For | Against | GD | Pts |
| 1 | Belconnen United FC | 16 | 15 | 1 | 0 | 105 | 2 | 103 | 46 |
| 2 | Canberra FC | 16 | 12 | 2 | 2 | 86 | 10 | 76 | 38 |
| 3 | Canberra United Academy | 16 | 10 | 1 | 5 | 55 | 27 | 28 | 31 |
| 4 | Gungahlin United FC | 16 | 9 | 2 | 5 | 41 | 27 | 14 | 29 |
| 5 | Woden-Weston FC | 16 | 9 | 1 | 6 | 37 | 33 | 4 | 28 |
| 6 | Tuggeranong United FC | 16 | 4 | 1 | 11 | 14 | 67 | -53 | 13 |
| 7 | Wagga City Wanderers FC | 16 | 3 | 0 | 13 | 17 | 81 | -64 | 9 |
| 8 | Monaro Panthers FC | 16 | 2 | 2 | 12 | 20 | 60 | -40 | 8 |
| 9 | Canberra Olympic FC | 16 | 2 | 2 | 12 | 13 | 75 | -62 | 8 |