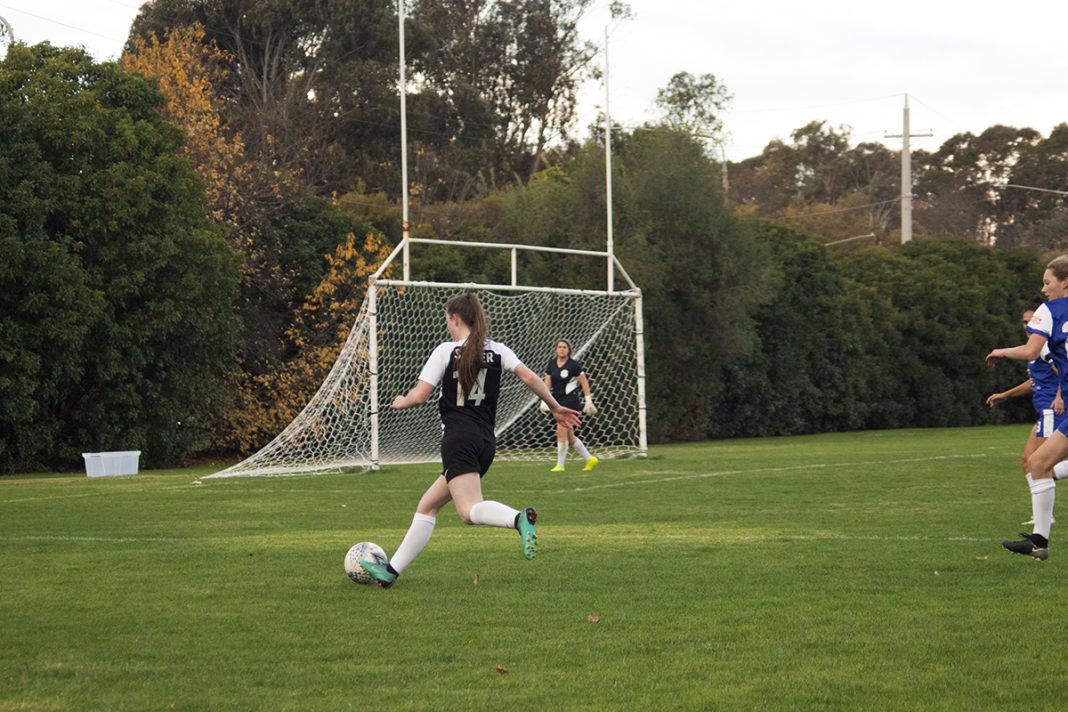 With Canberra Olympic registering a win in their last outing – in the Women's Federation Cup – and Gungahlin United storming home last week in their NPLW fixture against Woden-Weston, this game was shaping up as contest to be won by the side that could best build upon their momentum. It was Gungahlin who would come out on top, dominating possession in the first half and seeing off a more determined Olympic in the second for a 3-0 away victory.
Gungahlin started the game in commanding fashion with a fourth minute goal to Jade Brown after some fine work dispossessing a central Olympic defender, belting the ball into the left side of goal from outside the penalty box.
This was to set the tone for the first half, with much of the game being played in Olympic's half. Gungahlin dominated possession and seemingly knocked the ball around at will, with not enough pressure being applied by the Olympic midfield. Gungahlin right full-back Alex Paterson was proving a threat to Olympic with overlapping runs down the wing, while Freya Jacobsen and Rachael Corbett were given a measure of freedom in midfield to shoot at goal, or to send through balls to Jade and Ella Brown.
Olympic were able to hold Gungahlin out until just before half time with Victoria Jamieson in defence making good defensive decisions. However, Olympic keeper Madeline Sanfrancesco's poor clearance from a back-pass found Gungahlin's Erika Pennyfield, who was able to shoot and score from distance with Sanfrancesco well off her line.
NPLW FT | 0-3 | #COLvGUFC
This goal from Erika Pennyfield was the second for @GUFC1997 as they clinched a 3-0 win over @COFC1956 at O'Connor today. #NPLWCF pic.twitter.com/4h68kWoigp

— NPL Capital Football (@officialNPLCF) May 5, 2019
The second half commenced with Gungahlin threatening, as an early Jade Brown shot which went over the bar, followed by a third goal for the Gunners in the 53rd minute by Corbett heading in a beautifully-placed Paterson corner.
The Gungahlin dominance continued, with Pennyfield shooting wide after nice combination play between Corbett and Ella Brown; and with a Corbett shot hitting the left post a minute later.
The five minutes after the hour mark belonged to the Browns, with both Ella and Jade featuring in missed opportunities on goal for Gungahlin.
It was around this time that Olympic brought Olivia Catherall on with an attacking frame of mind, and this seemed to be exactly what Olympic needed. Natina Skinner had been starved of the ball all game up front for Olympic, but with Catherall venturing forward and some excellent runs down the right side by a hardworking Emma Croker, Skinner also came looking for the ball in midfield to good effect.
Gungahlin were not without influential substitutes of their own, with Elke Aitolu coming on for Jade Brown in the 67th minute. Coach Iglesias was no doubt hoping for a repeat of last week's heroics by Aitolu, who was to prove a threat here as well, but without adding to the scoreboard.
The last 20 minutes of the game were the most entertaining, with both teams now attacking freely. Olympic were finally applying the pressure needed in midfield, with Skinner assisting there on occasion and Croker also coming into a bustling central midfield role after another substitution. This pressure started manifesting in Olympic chances on goal, with Jamieson bursting through from defence and supplying a through ball that was cleaned up by Kailey Tonini in the Gungahlin goal, and a shot by Cattherall also knocked wide by Tonini for a corner.
Gungahlin regathered the ball and replied with a low long range shot by Aitolu in the 76th minute, followed by a stunning back-heel layoff in the penalty box by Aitolu in the 80th minute which was unable to be converted by Natalie DeMarco.
Aitolu for Gungahlin finished the game with a further two unsuccessful long range shots just before full-time, while Paterson also got in on the act with the same end result.
Gungahlin will be pleased that they were able to dominate much of the game and come away with a convincing successive away win. It would not surprise if Aitolu were to receive more minutes in forthcoming weeks.
Olympic will be somewhat disappointed that it took so long in the game to come up with the arrangement and will to compete with the Gungahlin midfield and thereby bring their own attacking prowess into the game. Victoria Jamieson had an excellent time of it in central defence and did not put a foot wrong all game. 
Canberra Olympic 0
Gungahlin United 3 (Jade Brown 4', Erika Pennyfield 41', Rachael Corbett 53')
Teams:
Canberra Olympic – Coach: Andrew Woodman
Madeline Sanfrancesco, Emily Dillon, Victoria Jamieson, Kiara Gaspari, Eleanor Jones, Lily Dawson, Natina Skinner, Georgina Woodward, Laura Berry, Jodie Kirkness, Jasmine Webb, Olivia Catherall, Celina Vecchi, Emma Croker, Abigail Stanton, Renee Mastrolembo
Yellow/Red cards: nil
Gungahlin United – Coach: Diego Iglesias
Kailey Tonini, Brigitte Sander, Alex Paterson, Rachael Corbett, Maddie Perceval, Freya Jacobsen, Stella DeMarco, Jade Brown, Erika Pennyfield, Ella Brown, Marija Rathouski, Elke Aitolu, Natalie DeMarco, Sophie Spice, Courtney McCann
Yellow/Red cards: nil
Around The Grounds:
Belconnen United 12 – 0 Woden-Weston
Canberra United Academy 6 – 0 Tuggeranong United
Monaro Panthers 2 – 7 Canberra FC
Wagga City Wanderers – bye
Ladder:
| | | | | | | | | | |
| --- | --- | --- | --- | --- | --- | --- | --- | --- | --- |
| Pos | Team | P | W | D | L | For | Against | GD | Pts |
| 1 | Canberra FC | 5 | 4 | 1 | 0 | 34 | 4 | 30 | 13 |
| 2 | Canberra United Academy | 5 | 4 | 0 | 1 | 24 | 2 | 22 | 12 |
| 3 | Belconnen United FC | 4 | 3 | 1 | 0 | 25 | 0 | 25 | 10 |
| 4 | Gungahlin United FC | 4 | 3 | 0 | 1 | 13 | 8 | 5 | 9 |
| 5 | Wagga City Wanderers FC | 3 | 1 | 0 | 2 | 6 | 18 | -12 | 3 |
| 6 | Woden-Weston FC | 4 | 1 | 0 | 3 | 5 | 24 | -19 | 3 |
| 7 | Tuggeranong United FC | 5 | 1 | 0 | 4 | 4 | 26 | -22 | 3 |
| 8 | Monaro Panthers FC | 3 | 0 | 0 | 3 | 4 | 14 | -10 | 0 |
| 9 | Canberra Olympic FC | 3 | 0 | 0 | 3 | 0 | 19 | -19 | 0 |