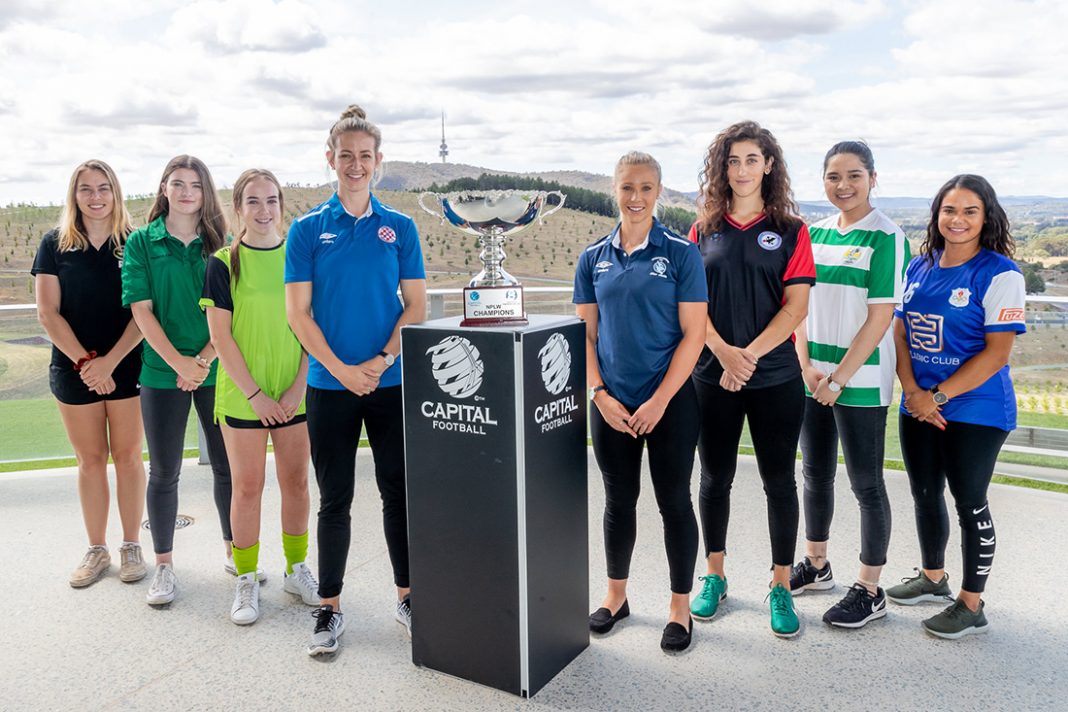 The 2019 Capital Football NPLW season is over, having provided a feast of entertaining football to spectators in the greater Canberra region. It is now time for coaches, clubs, and Capital Football to reflect, and to look to season 2020.
Competition observations
The 2019 season featured one new entry to the league in Wagga City Wanderers, with the ladder revealing:
a top tier of two teams – Belconnen and Canberra FC – with zero and two losses respectively;
a second, closely contested tier of three teams – Canberra United Academy, Gungahlin United, and Woden-Weston – with each scoring more goals than conceded, and with 5 to 6 losses each; and
a third tier – also closely contested – consisting of the remaining four teams, with Tuggeranong United just ahead of the others.
With each tier being closely contested, there was surprisingly little difference in scoreline blow-outs from season 2018 when you compare the top two and the bottom two teams, with season 2019 faring slightly better in this regard.
In 2019 the top two teams scored a total 191 goals over 16 games while the bottom two scored 33 goals, yielding a ratio of 5.8 goals per top two team for every goal from a bottom two team. Compare this to 2018's top and bottom two over 21 games, scoring 178 and 28 goals respectively for a ratio of 6.3 goals. This could be viewed as one measure indicating the overall competition was slightly more even this year.
For comparison's sake, the previous season had:
one clear front runner in Belconnen United;
a second tier of Canberra United Academy and Canberra FC, the latter of which had a season beset by injuries;
a third tier of Canberra Olympic and Gungahlin United;
Woden-Weston and Monaro Panthers two and three wins respectively further behind, making up a fourth tier; and
one team struggling to make an impact in Tuggeranong United.
Clubs that clearly improved in season 2019:
Tuggeranong United recorded four wins in season 2019, finishing in 6th position, having failed to record a single win in the previous campaign; and
Woden-Weston improved to the point of just missing out on finals in the final round of the season, while in season 2018 they were 11 points off fourth place. They also competed in the 2019 Federation Cup final.
The big mover down the ladder was Canberra Olympic, who played in the season 2018 finals series. The club suffered a massive loss of experience this year with five players with W-League experience opting not to play NPLW, and two others switching clubs.
Team by team
(in final ladder order)
Belconnen United – Season 2019 ranking: 1 (Season 2018 ranking: 1)
Wins:15  Draws: 1  Losses: 0  Goals scored: 105  Goals conceded: 2  Points: 46
Coming into the season: Much of the squad from the 2018 campaign was retained, with Maddy Whittall and Lauren Keir coming off the experience of a Canberra United season, and a couple of new additions in Canberra United Academy keeper Sally James and Canberra Olympic's Alexia Forner.
How the season played out: Favourites once again for the 2019 title, Belconnen did not disappoint, conceding only 2 goals on the way to winning every game apart from the one draw. This doesn't happen without preparing the team well physically; a strong team culture; and a tactical game that all players have bought into. The team were able to farewell long serving coach Antoni Jagarinec as well as ex-Matilda Caitlin Munoz in the best way possible, taking home all three trophies on offer. Along with Gungahlin United, Belconnen have the best overlapping wingback game in the league.
Key player(s): Nicole Jalocha, Michaela Day, Jessie Rasschaert, Caitlin Munoz
Called upon to adopt a striker role for much of the 2019 season, Jalocha did so with aplomb, finishing up as leading goal scorer for the Blue Devils this season.
Day's Julie Murray Medal-winning performance in the Grand Final points to her importance to this team. She is in many ways the 'glue' to much of what occurs in midfield, but versatile enough to play anywhere, as demonstrated by her fullback outing during the finals series.
Athletic and composed, the rangy Rasschaert played out a fine season as a bastion of Belconnen's central defence. Her height ensures that she is an ever-present contender for the ball in either penalty box in corner kick and free kick situations.
Munoz was instrumental to her team's fortunes this year. When key games were on the line, it was Munoz who found a way to win. Her positional sense is unmatched, and her experience was on show every game she played in the way she directs play around.
Rising star(s): Keira Bobbin, Alexia Forner
A revelation in 2019, Bobbin went on to become Belconnen's equal second leading goalscorer, cementing her place in the team along the way. Her willingness and electric pace were key factors in her success.
Forner is an intelligent player who shines on the ball, and in constructing and completing attacking moves. She is also adept in dead ball situations.
---
Canberra FC – Season 2019 ranking: 2 (Season 2018 ranking: 3)
Wins:12  Draws: 2  Losses: 2  Goals scored: 86  Goals conceded: 10  Points: 38
Coming into the season: Coach Nik Brozinic's first campaign in the top flight saw an initial emphasis on physical preparation after a horror run with injuries in 2018. The squad remained stable, with Vanessa Ryan joining from Canberra Olympic.
How the season played out: The ladder shows two losses, but one of those was a win that was revoked after Canberra FC played too many subs. Compared to 2018, the team were able to field consistent line-ups throughout much of the season. Like Belconnen, Canberra FC are blessed with defenders who read the game well and know how to use their physical presences. With Gill orchestrating distribution and manufacturing chances, and Krista Hagen's phenomenal work-rate in midfield, Canberra FC were a force in 2019, with only Belconnen successful in subduing their goal-scoring threats.
Key player(s): Brittany Palombi, Grace Gill, Rachel Goldstein
Clever, quick, and not afraid to shoot, Palombi finished up as equal Golden Boot for the league with 28 goals, terrorising defences from her favoured left wing.
With her smarts and wealth of experience, and physically stronger this year, Gill's role cannot be overstated, bringing the same type of X-factor to her team as Belconnen's Munoz does for hers.
The athletic Goldstein was especially potent in the first half of the season, ending the year as Canberra FC's second top scorer, comfortable both in running at defences from midfield, or on the end of through balls in the forward line.
Rising star(s): Brigette Wright
A quiet achiever, Wright's endeavours as an overlapping wingback were admirable in both attack and defence, and she grows in confidence with each outing.
---
Canberra United Academy – Season 2019 ranking: 3 (Season 2018 ranking: 2)
Wins:10  Draws: 1  Losses: 5  Goals scored: 55  Goals conceded: 27  Points: 31
Coming into the season: There were big shoes to fill with the loss of W-League players Karly Roestbakken (Future Matildas), Laura Hughes (boys NPL U18s), and Aoife Colvill (NSW NPLW). Sarah Morgan was another who opted for NSW NPLW this season, while keeper Sally James headed over to Belconnen United, and Emma Ilijoski chose to play in a boys' competition. The team was looking forward to the returns from injury of Jaide Trewin and Bella Barac to help fill the experience gap.
How the season played out: A team that literally plays above its weight and with composure beyond their years, the Academy's challenges are always going to be the physical contest against older opponents – being nimble and light on your feet only gets you so far – and finding central midfielders with the right mindset to steer the young team around against more experienced teams.
To Academy's credit, the team turned out to be in good hands, with Mia McGovern, Bella Barac, and Molly Lawless early on, and eventually Isabel Mulhall and Meg Roden, all making significant contributions by season's end. This exciting midfield group, coupled with performances worthy of attaining representative honours for McGovern and Trewin – both called up to the Junior Matildas squad after strong NTC Challenge performances – and Isobel Davy – selected for the Young Matildas' October camp – ensured a semi-finals appearance and a fine all-round season for Canberra United Academy.
Key player(s): Hayley Taylor-Young, Mia McGovern, Jade Trewin
Taylor-Young capitalised this year on the promise shown last season. Powerful, quick, determined, and with a fine strike, she was a handful to right fullbacks everywhere this year, finishing the season as equal leading goal-scorer for the competition.
One of her side's few taller players, much responsibility fell to McGovern as far as showing the way with physical pressure, which belies her importance to the team in either a forward role, or in pulling the strings in midfield.
Coming back from a serious knee injury, Trewin was a rock in defence, with a knack for making the right decision at the right time. Her performances were recognised with a train-on Junior Matildas selection.
Rising star(s): Sasha Grove, Meg Roden, Isobel Davy
While difficult to single out players in such a talented list, Sasha Grove was able to take on whatever forward role was asked of her – wide, central, in behind – and with her smarts and nose for goal, ended up as second leading goal-scorer for Academy.
Roden came into the team late in the season but showed she has all the right attributes in midfield, with an admirable work ethic and the vision required to find players in space.
Davy was dynamic between the posts in the back end of the season and was rewarded by being selected in the forthcoming Young Matildas training camp.
---
Gungahlin United – Season 2019 ranking: 4 (Season 2018 ranking: 5)
Wins: 9  Draws: 2  Losses: 5  Goals scored: 41  Goals conceded: 27  Points: 29
Coming into the season: There was very little change from the 2018 squad, with Stella De Marco coming in from Canberra United Academy to partner her sister Nat in midfield. Just outside the four in 2018, Gungahlin were looking to be in the finals mix in 2019.
How the season played out: The Gunners' well-balanced squad enjoyed a dream run in the first half of the season, in ladder position two after a five match winning sequence. Their strong performances aligned with the emergence of Elke Aitolu, coming off the bench in the early rounds and turning games in their favour, before earning a starting berth for the remainder of the season. The team was not able to sustain this high water mark in the second half of the season, with the losses of Alex Paterson and later Nat De Marco affecting their attacking potential. In a successful season, Gungahlin went one ladder position better than 2018, competing in the finals series but eliminated in week one.
Key player(s): Nat De Marco, Elke Aitolu, Ella-Rose Brown
A creative attacking midfielder, Nat De Marco's wizardry was behind much of her team's success, often able to capitalise on the work of her sister in creating chances with and for Aitolu, or for wide runners Erika Pennyfield and Ella-Rose Brown. She also scored five goals of her own.
One of those players who looks like she has twice as much time as anyone else on the field, Aitolu is blessed with touch, a powerful shot, and the vision to bring others into the game around her.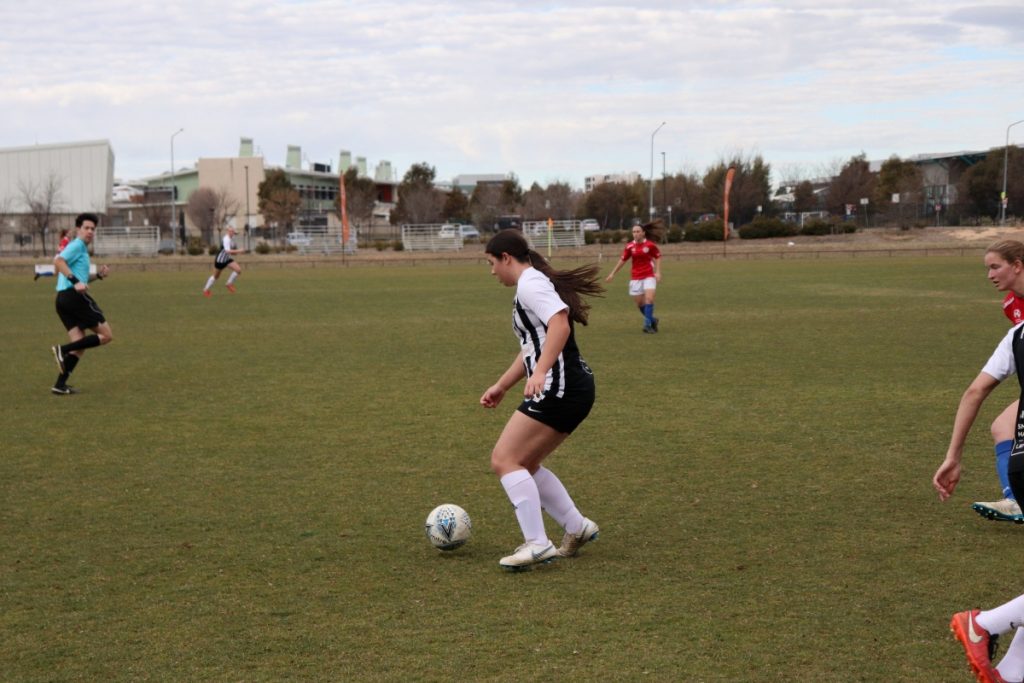 Ella-Rose Brown ended the season as the Gunners' leading goal-scorer on 8 goals. Favouring the left wing, her fine positional sense and speed ensured she also had success inside the penalty box.
Rising star(s): Niamh Larkin, Stella De Marco
Coming off the bench mainly in the second half of the season, Larkin impressed and is definitely one to watch in 2020.
Stella De Marco's excellent form in central defensive midfield led to her selection in the ACT U17 NTC Challenge team.
________________________________________________________________________
Woden-Weston – Season 2019 ranking: 5 (Season 2018 ranking: 6)
Wins: 9  Draws: 1  Losses: 6  Goals scored: 37  Goals conceded: 33  Points: 28
Coming into the season: A new coaching team was in place in the form of Mark Boyd and Sarah West, but the roster remained stable, with just the inclusions of Shaquille Chong in attack from Canberra FC, and Cristina Esposito in goals from Tuggeranong United.
How the season played out: A season of ups and downs, where the ups included a Federation Cup Final appearance. On the other side of the ledger the Wanderers would have been disappointed to miss out on finals having done the hard work to get to a winnable last round home game which would grant them a finals passage, but they failed to seize their chance. Consistency will be the aim in 2020.
Key player(s): Cassia Mcglashan, Alex McKenzie
Mcglashan can be summed up as an inspirational captain and a perpetual motion machine, and is a central figure in the team no matter where she plays on the field.
In just her second year of NPLW, McKenzie's game is all about measured midfield control. She plays with great awareness and is a dead ball specialist.
Rising star(s): Sofia Christopherson
A young speedy winger who came off the bench after the first third of the season,  Christopherson ended up as a key member of the attack with 11 appearances and 5 goals.
________________________________________________________________________
Tuggeranong United – Season 2019 ranking: 6 (Season 2018 ranking: 8)
Wins: 4  Draws: 1  Losses: 11  Goals scored: 16  Goals conceded: 47  Points: 13
Coming into the season: Expected to again field a young team after a tough 2018 season, Tuggeranong lost keeper Cristina Esposito to Woden-Weston, but were keenly anticipating the arrival of English forward Alice Linn.
How the season played out: A 12 point improvement over the previous season, Tuggeranong United and coach Michael Aldred can claim the mantle of biggest improver this season. There were patches in games against Tier 1 and 2 sides where they could go with them, but the challenge will be sustaining this level in 2020.
Key player(s): Kristy Helmers, Sarah Daisley
Helmers was an important member of the 2019 team, only playing seven games but making her mark with her will to compete and shoot. This positive attitude garnered her three goals in those seven games, giving her the mantle of her team's leading goal-scorer for the season. Helmers would go on to pursue a season of US College football after her NPLW season wrapped up.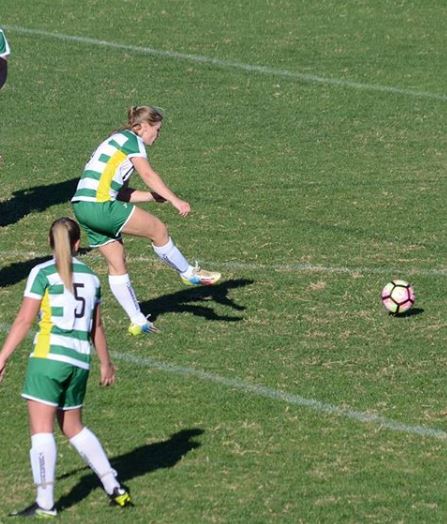 A memorable away game at Riverside Stadium against Monaro Panthers saw Sarah Daisley stand up and grab the game by the scruff of the panther neck. Tuggeranong will be seeking more of this leadership from Daisley in 2020. Daisley finished the season as equal second leading goal-scorer.
Rising star(s): Sophie Bui
Promising forward Bui also ended 2019 as equal second goal-scorer, and is currently undertaking a season of US College football. Bui should return a more complete player with this great experience under her belt.
Coach's thoughts on the season:
Coach Michael Aldred said despite his side's slow start, he was pleased with the way the team grew into the season.
"The season started slowly with a defeat in the first game, [but] once the team recovered from injuries and player availability the team played some excellent football that resulted in wins against Monaro, Olympic, and Wagga, combined with some very impressive performance against teams at the top end of the competition ladder," Aldred said.
"The turnaround in 2019 was built upon a strategy of playing a possession based game within a well organised and drilled team shape. The players demonstrated great belief in the strategy which created an excellent team spirit both off and on the pitch. With a fit and available squad on the pitch we can be a very competitive team, and … could have even pushed on from the 6th spot that we eventually finished the season in.
"We have over the last three seasons had to play some very young players due to injuries and lack of depth not only in our team but across the competitions. This process has seen some harsh results and as we saw in season 2018 it can lead to difficult seasons, but it can also create a desire and inner strength as we saw in 2019 when the whole program was galvanised to improve."
Looking forward to season 2020, head coach Aldred is excited about their prospects going into next year.
"The challenge next season is to again take another step forward; we have and will continue to do some great work in the younger age groups. We have an excellent program in place that is designed to develop the players of tomorrow. In 2020 we are looking for the senior side to take the next step forward and we have to aim to challenge for a spot in the play offs. To do that we need to add a bit more quality and depth to our playing roster, hopefully potential players out there will have seen the improvement made in season 2019 and noticed we are a team that is going places with a clear strategy and playing style."
________________________________________________________________________
Wagga City – Season 2019 ranking: 7 (Season 2018 ranking: N/A)
Wins: 3  Draws: 0  Losses: 13  Goals scored: 17  Goals conceded: 81  Points: 9
Coming into the season: Coach Mick Godbier was enthusiastic about his team's long-awaited inclusion in the league, and the pathway prospects for players in the Riverina area playing at the higher ACT NPLW 1 level for the first time.
How the season played out: A strong midfield contingent ensured that Wagga were competitive in the games where they had their best eleven on the field. In games where some of the strong midfield contingent were unavailable, a lack of squad depth was perhaps evident. The round 8 game against Woden-Weston was a case in point, leading against their more fancied opponents until late in the game when forced substitutions altered their effectiveness, resulting in a loss.
Wagga City finished the season on a good note with a 3-1 win over Canberra Olympic, lifting them off the bottom of the table and into 7th spot.
Key player(s): Raechel Lyon, Tess Vaccari
Lyon is an important cog in the Wagga City wheel, able to direct her team around from midfield, as well as having impressive ability in dead ball situations. Lyon was the team's equal leading goal-scorer this season, with Vaccari sharing in leading scorer spoils.
Vaccari only played in ten games but her prized goal at Deakin Stadium against Canberra FC in round 4 showcased her blistering pace down the left wing and ability to shoot from distance.
Rising star(s): Piper Lockley
A player somewhat reminiscent of Grace Maher, with composure, excellent midfield decision making in abundance, and an eye to playing intelligent through balls, Lockley has a bright future.
---
Monaro Panthers – Season 2019 ranking: 8 (Season 2018 ranking: 7)
Wins: 2  Draws: 2  Losses: 12  Goals scored: 20  Goals conceded: 60  Points: 8
Coming into the season: The Panthers were awaiting the arrival of a strong international contingent to join the team, with Kaitlyn Joy (USA), Chris Yip-Au (Singapore), and three Solomon Islands players expected to arrive to bolster the ranks of the young team.
How the season played out: It became apparent as the first half of the season progressed that the three Solomon Islands players were not to arrive after all, which must have caused coach Ian Worthington to change his plans somewhat.
Key player(s): Alicia Meuronen, Darby Whitely, Kaitlyn Joy
Captain Meuronen was again an influential player this year for Monaro in midfield, and equal top scored with unerring shots from range, often in dead ball situations.
Joy also had a strong season and remarkably was to share top scorer honours from centre back. There are a handful of players in the league who score consistently from range and from free kicks at distance, and Monaro is blessed with two of them in Meuronen and Joy.
https://www.instagram.com/p/B1-vSZ1nz60/?utm_source=ig_web_copy_link
Whitely was the player Monaro called upon to mark opposition speedsters, but this aspect of her game sells her talents short as she is a well rounded midfielder in her own right. Having played only half the season, the Panthers were not quite as effective when she was absent. Whitely is currently in her second stint of US College football.
Rising star(s): Thembi Compton
In her first year in NPLW, Compton went from strength to strength in central defence for the Panthers, playing all but three games, and forming a great partnership with Joy.
---
Canberra Olympic – Season 2019 ranking: 9 (Season 2018 ranking: 4)
Wins: 2  Draws: 2  Losses: 12  Goals scored: 13  Goals conceded: 75  Points: 8
Coming into the season:
2018 saw Olympic contest NPLW semi-Finals for the first time, supported by the short-term injection into the team of five W-League players at the beginning of that season. Those players either took time away from football in 2019 or headed overseas to continue their professional careers. Young talent Alexia Forner joined powerhouse Belconnen United in the off-season, and winger Vanessa Ryan joined Canberra FC.
To counterbalance the movement of players away from the team, more than ten new players joined the fold. Fresh faces included Emma Finch and Eleanor Jones (previously of Monaro Panthers), Laura Berry (a former Arsenal FC academy player), as well as the mid-season additions of Rose Wills (North Shore Mariners) and goalkeeper Angelica Pahina (Victorian NPLW).
The club also had a whole new coaching team, with former Belconnen Unites premiership-winning coach Andrew Woodman in charge, ably assisted by former Canberra United championship-winning captain Nicole Begg.
How the season played out: While disappointed to drop from 7th position on the ladder to 9th in the last game of the season following their result in Wagga Wagga, Olympic became noticeably more cohesive as the season progressed. They achieved a Federation Cup Semi-Final appearance, and troubled teams above them especially towards the end of the season.
Key player(s): Victoria Jamieson, Lily Dawson
With exactly the right kind of cool temperament and good decision making required in defence, Jamieson led her team by example in 2019.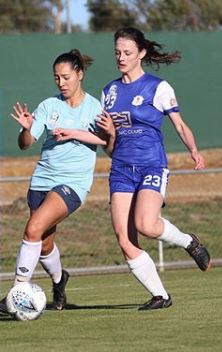 Dawson is a lively player and is able to lift her team with her efforts whether in midfield or contributing to the attack.
Rising star(s): Emma Finch
A terrific season by Finch in only her second season in the top flight, Finch was her team's leading scorer for the year with four goals.
Coach's thoughts on the season:
Andrew Woodman spoke on the challenges in 2019 of rebuilding the side around talented stalwarts Victoria Jamieson, Lily Dawson, Kiara Gaspari, Emma Guo, and Celina Vecchi.
"The focus for our 2019 season was always going to be centred around building a great team culture, and ideally picking up some wins and strong results as the season progressed, but with a long-term plan in mind," Woodman said.
"Despite being disappointed with our final position on the ladder, 2019 has nonetheless proved to be a very progressive and enjoyable one, both on and off the park. The players gelled with each other quickly and worked hard to implement our new style of play. Much progress has been made. The team was buoyed by making the Federation Cup Semi-Finals, and subsequently winning some matches and taking points off other teams, including a quality draw against Gungahlin United late on in the season – a game we were ultimately unfortunate not to win.
"Overall, the team improved their results against the majority of their opposition the second time they played them, despite having Academy, Canberra FC, Gungahlin, and Belconnen in the first five rounds. The team got notably stronger every week, playing the way we want to play, including playing without fear against every opposition, producing some fantastic second halves against both Academy and Canberra FC in the second half of the season, despite us going through a very rough patch with player injuries and/or being overseas through that mid-July period.
"In our first half against Belconnen United towards the end of the season, we created more final third entries and chances than most teams have been able to against Belconnen; further proof of the belief that our playing group has that the results will come if we continue to back ourselves as footballers, and play great football. We are looking forward to making O'Connor Enclosed a fortress in the years to come."
Woodman was also thankful of Nicole Begg's contribution as Assistant Coach – "[it's] brilliant to have her involved, and we have developed an excellent partnership."
"Our playing group and coaching and management team are very much looking forward to the 2020 season and planning is well underway, as we take the next steps in our evolution as a football team with the exciting addition of Mick Begg to our staff as an Athletic Development Coach."