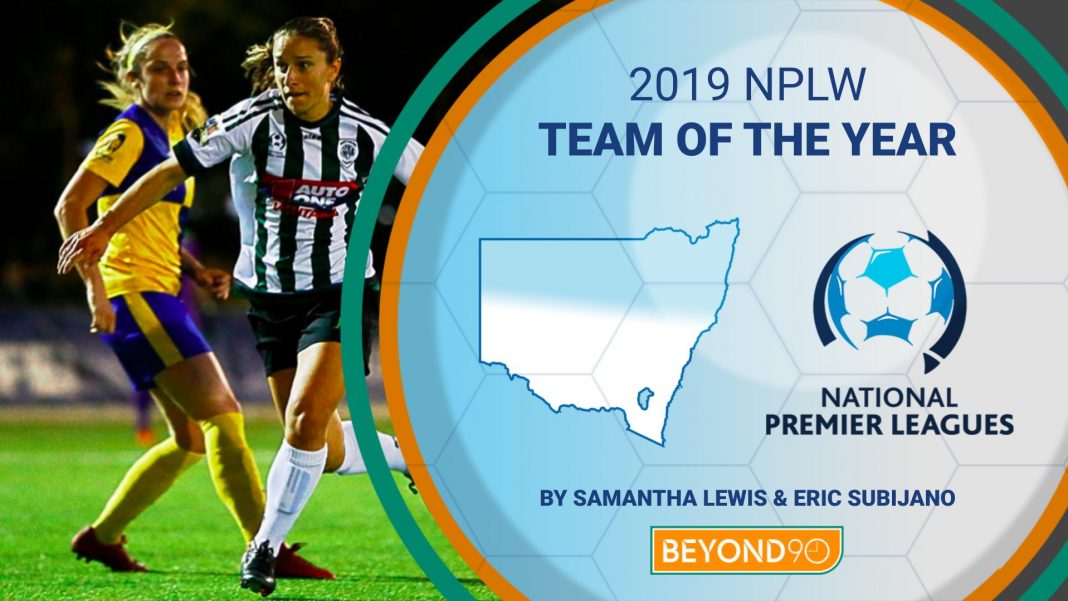 As we bask in the halo of perhaps the most exciting season of the NSW NPLW in recent years, with several players being called up into the W-League and Young Matildas off the back of their sensational performances, we thought it was only fitting that Beyond 90's two resident NSW NPLW writers offer their 2019 Team of the Year.
These players were chosen according to an extremely objective, scientific rationale (who we thought kicked the most ass in the context of their own teams and the league generally).
So without much further ado, here's Sam and Eric's 2019 Best Starting XI (plus 5 bench players), followed by some short paragraphs on why we chose them: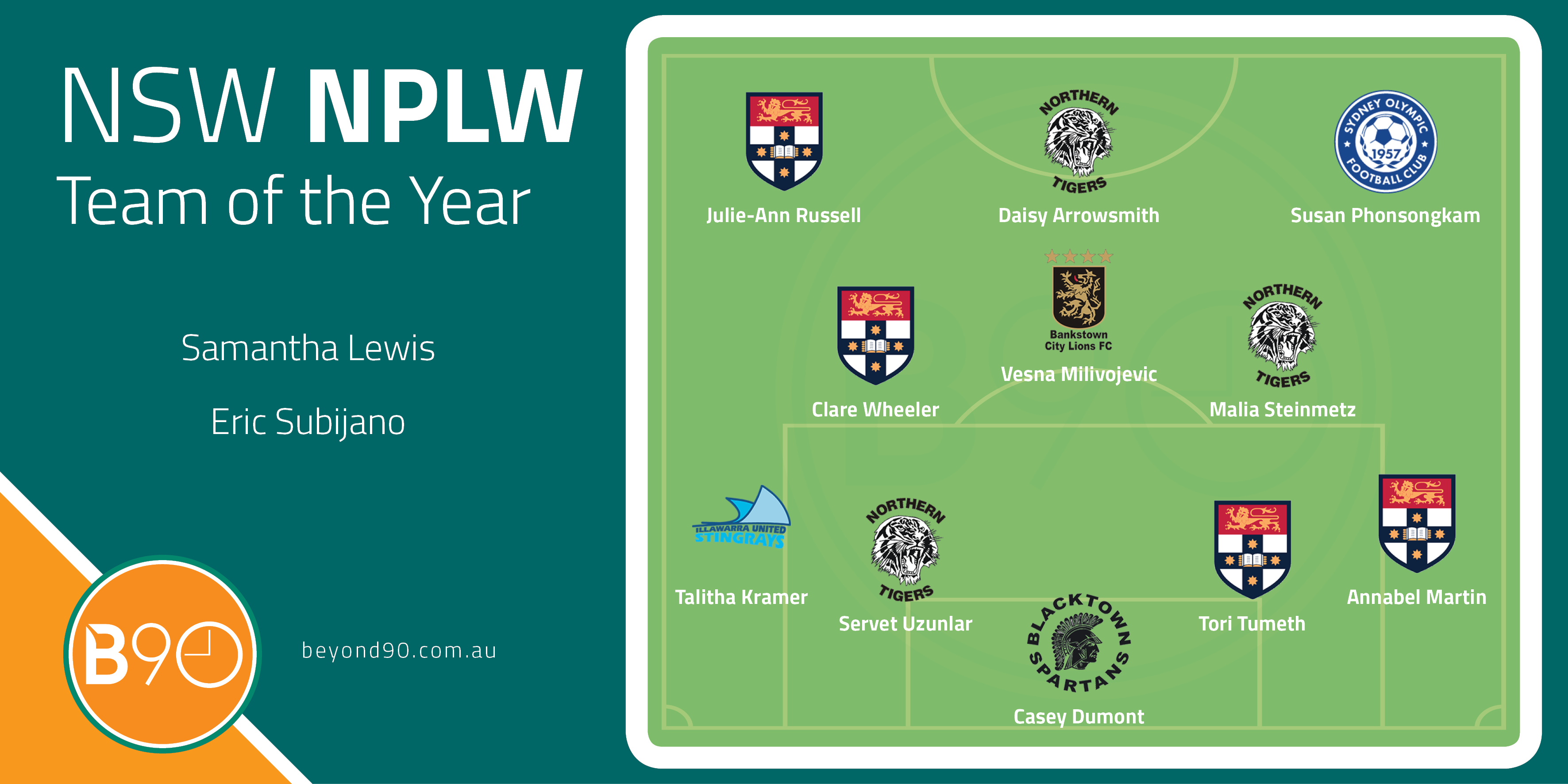 Goalkeeper: Casey Dumont (Blacktown Spartans)
In a side full of young players, Dumont provided vital experience between the sticks as her side recorded their highest finish (fourth) since 2015. The former Matilda seemed to make vital saves every week, and recorded six clean sheets as the Spartans almost halved their number of goals conceded from the previous season (29, compared to 55 in 2018).
Left back: Talitha Kramer (Illawarra Stingrays)
Long-time fans of either Western Sydney Wanderers or the Stingrays will be familiar with Kramer's all-action style of play. Never one to shy away from a tackle, Kramer provides a physical presence in defence, as well as plenty of overlapping runs down the left flank. Scoring three goals along the way, Kramer helped the Stingrays to their third consecutive finals appearance.
Right back: Annabel Martin (Sydney University)
The tough-tackling, former Melbourne Victory defender had another brilliant season on the right side of the Uni backline, playing in 19 games. This year, Martin also added a string to her bow by spending some time on the wing, grabbing four goals and ensuring that Uni ended the season as the most successful club in NSW NPLW history, winning the Premiership, Championship, and Club Championship treble.
Centre-back: Servet Uzunlar (Northern Tigers)
Uzunlar's experience was crucial in guiding a young Tigers outfit to their best ever season in the NSW NPLW competition. The former Matilda is as ferocious as ever in the tackle, and she set an example both with her bravery and her distribution. Uzunlar, who captained the side all season, was a deserving winner of the Player of the Match award in the Grand Final, helping the Tigers push eventual Champions Sydney Uni to penalties after a spirited and commanding performance at the heart of defence.
Centre-back: Tori Tumeth (Sydney University)
Tumeth has been a key member of the Uni defence for two seasons now, and it's hard to believe that she's still only 18 years old. The technically-gifted centre-back, who also has experience with the Young Matildas, is a big reason why Uni had the league's stingiest defence in 2019, at one point keeping ten clean sheets in an eleven game stretch.
Central midfield: Clare Wheeler (Sydney University)
Wheeler played in every Sydney Uni game of the 2019 season, having become a crucial midfield cog in Uni's disciplined, possession-based style. Newcastle Jets fans would be familiar with her proficiency as a holding midfielder, but there's much more to her game than meets the eye; Wheeler would often look dangerous when moving upfield to support the Uni forwards, even scoring two goals herself. Her cleverness in consistently finding and creating space in central areas made her one of the stand-outs of an already stand-out team.
Central midfield: Malia Steinmetz (Northern Tigers)
Still only 20 years old, the Kiwi international plays with a maturity that belies her age. Steinmetz combines an extraordinary passing range with enough defensive nous to fill in as a centre-back when required. The central midfielder is also highly durable, and is one of only two players to have made 26 appearances in 2019 (Tigers team-mate Daisy Arrowsmith being the other). Like Wheeler, Steinmetz played an un-ignorable part in the Tigers' blistering season, including scoring one of the goals that got her team into the Grand Final.
Attacking midfield: Vesna Milivojevic (Bankstown City Lions)
Milivojevic was the shining light for Bankstown City this season, and a worthy winner of the NSW NPLW Player of the Year award. The attacking midfielder ended up with a goal tally that any striker would be proud of (15 goals in 22 games), and was a constant threat with her willingness to run at defenders. Her importance to the Lions cannot be underestimated: she scored almost 40% of their goals in 2019, and is now deservedly on the radar of a number of W-League clubs.
Left wing: Julie-Ann Russell (Sydney University)
The versatile forward is a constant menace to opposing defences, whether she plays on the right wing, the left wing, or as a centre forward. Despite only scoring five goals throughout the season, she was one of Uni's most dangerous players whenever she was on the pitch, particularly providing several assists in and around the box. Russell has been rewarded for her 2019 form with a recall to the Irish national team.
Right wing: Susan Phonsongkham (Sydney Olympic)
Phonsongkham showed the league that her 16 goal haul for Football NSW Institute in 2018 was no fluke. This year, she was the only player to hit the 20 goal mark, and the Young Matilda recorded three hat-tricks along the way. Equally dangerous as a centre forward, winger or attacking midfielder, the 18 year old looks set to make her mark on the W-League after re-signing with Western Sydney Wanderers.
Centre-forward: Daisy Arrowsmith (Northern Tigers)
Northern Tigers fans could often be heard chanting "Daisy's on fire, your defence is terrified," and with good reason. Arrowsmith had a breakout year in 2019, scoring 18 times and doubling her 2018 tally. The striker had a knack for scoring important goals, among them a 90th-minute winner in Round 22's 4-3 victory over Bankstown City (one which secured the Tigers third place), and an 87th minute winner in Week 1 of the Finals against Sydney Olympic that eventually got them to their first ever Grand Final appearance.
Subs:
Goalkeeper: Eliza Campbell (Northern Tigers)
Campbell has now played three seasons for the Tigers, and she was outstanding in 2019, keeping 12 clean sheets and only missing one game. Her ability to play as a sweeper-keeper allowed the Tigers to push higher up the field and keep the ball moving, but she also made some big saves, most notably a triple save in stoppage time of their 4-3 win over Bankstown City in Round 22.
Centre-back: Ellie Brush (Northern Tigers)
As she has done for her whole career, Brush led by example in the Tigers' backline. The universally-admired centre-back brought a calming influence to the northern suburbs outfit alongside captain Servet Uzunlar, impressing all who watched her. Among them was Sydney FC coach Ante Juric, who has signed Brush for the upcoming W-League campaign.
Central midfield: Teresa Polias (Sydney Olympic)
It's still a bit strange to see Polias in Olympic blue instead of Macarthur maroon, but the Sydney FC stalwart was unfazed by the switch. Usually played as the sole holding midfielder, allowing others to do their thing in attack, Polias became more than a screener in 2019, hitting the back of the net seven times to be Olympic's joint third highest scorer.
Right wing: Ashlie Crofts (Blacktown Spartans)
Crofts couldn't stop scoring for the Spartans reserves last year, and she handled the step up to 1st Grade action brilliantly, finishing as the league's third-highest scorer with 16 goals. Possessing pace to burn and a cool head in front of goal, Crofts may well be on the radar of W-League clubs looking to bolster their attacking options.
Centre-forward: Cortnee Vine (Sydney University)
With 12 goals in 19 appearances, this list would not be complete without the inclusion of the energetic former Newcastle Jets striker (#VineTime). Spear-heading Sydney Uni's tremendous attack alongside strike-partner Nicki Flannery, Vine was a constant menace in central positions, utilising her speed and physicality in equal measure to ensure her team finished the season with a whopping 55 goals.
Coach: Jason Eagar (Northern Tigers)
A lot of the Tigers' success in 2019 can be attributed to Eagar, who took a club that hadn't previously finished higher than ninth to within minutes of a Grand Final victory. Not only was there strong recruiting (the likes of Daisy Arrowsmith, Maddie Bart, Malia Steinmetz and Aimee Phillips come to mind), but he also continued the Tigers ethos of promoting youth, with Emma Watkins, Hannah McNulty & Josie Wilson excelling this year. The result was an incredibly well-organised outfit that exceeded all expectations.