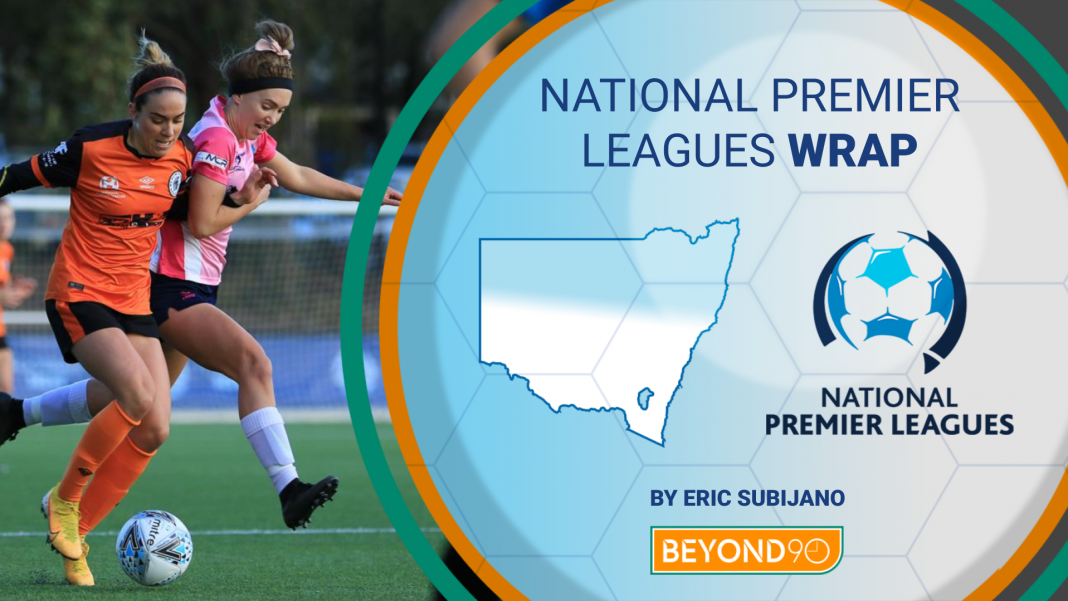 Elimination Final: Blacktown Spartans v Illawarra Stingrays
This year's finals began on a windy Saturday afternoon at Valentine Sports Park, as Blacktown Spartans faced Illawarra Stingrays in an elimination game.
The Spartans ended the home-and-away campaign in fourth, their best result since 2015, which was also the last time they made the finals. Meanwhile, Illawarra were making their third consecutive appearance in the postseason after a fifth place finish.
Everything pointed to a close contest. Both of the previous matches between these two sides had been decided by a single goal (a 2-1 win for Blacktown Spartans in Round 8 and a 1-0 victory for the Stingrays in Round 19), and the teams were separated in the standings by one point.
The game would indeed be close, but nothing like the previous two low scoring encounters. In an extraordinary first half, the Spartans were leading 3-0 just past the half hour, only for Illawarra to score four times in 13 minutes and take a 4-3 lead into halftime. The Stingrays scored their fifth with 25 minutes remaining, and a late Spartans goal would prove to be mere consolation as Illawarra hung on to win by the incredible scoreline of five goals to four.
It didn't take long for the goalmouth action to commence, and early Stingrays chances for Blaize Kendis and Michelle Carney were saved by Spartans goalkeeper Casey Dumont. Then on the quarter hour, the Spartans forward duo of Linda Dudek and Ashlie Crofts linked for the first time. Dudek's neat through ball sent Crofts racing towards goal, forcing Illawarra goalkeeper Trudy Burke into a one on one save.
Burke saved a powerful Alix Roberts free kick soon afterwards, but the shotstopper was unable to prevent David Saliba's side going ahead at the resulting corner kick. The Stingrays couldn't clear their lines, and a scramble on the edge of the area ended when Crofts sent a dipping volley into the top corner.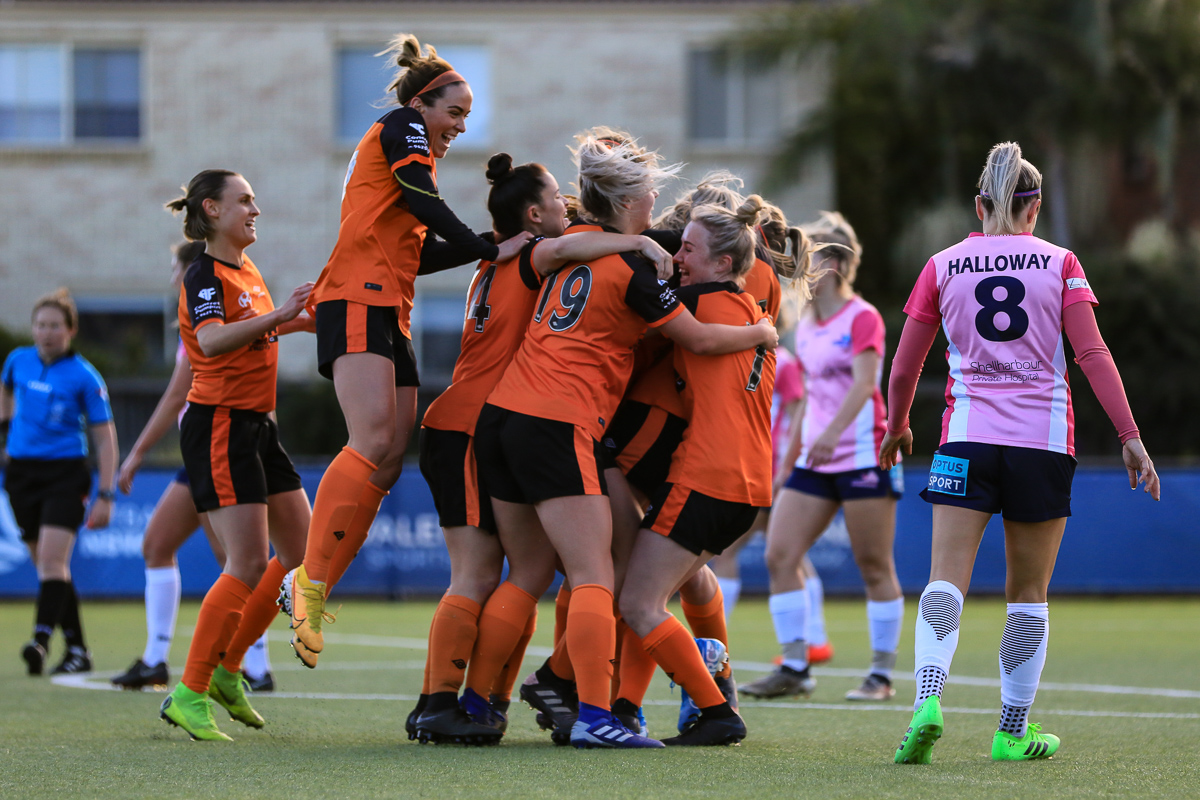 A stroke of good fortune saw the Spartans double their lead on 20 minutes. Dudek picked out a trademark overlapping run from Roberts, with her cross sailing past Burke and in off the far post.
The game settled down for a brief spell, then in the 31st minute it was 3-0. Crofts played a nice one-two with Olivia Price and sprinted past the defence, tucking the ball past Burke for her 16th goal of the season.
Illawarra could have been forgiven for any despondency. Instead, they attacked immediately, pulling a goal back on 34 minutes. Erica Halloway skipped past a challenge in the area, firing a shot that looped off Dumont. The ball was headed for the back of the net, but Carney threw herself at the ball to make sure it went over the line.
Blacktown Spartans almost restored their three goal cushion on 36 minutes when Roberts drilled a low free kick into the six yard box. Burke needed all of her reflexes to prevent an own goal, and Kristy Rohrer headed the rebound against the crossbar from point blank range.
That save and miss would prove crucial as the Stingrays scored again in the 38th minute, cutting the deficit to one goal. Talitha Kramer's ball from the left wasn't cleared and Carney responded by squaring the ball across the six yard box, presenting Halloway with a tap in.
Now Illawarra had the momentum, but even they couldn't have foreseen what would occur in first half stoppage time. Twenty seconds into time added on, Caitlin Cooper's persistence forced a hurried clearance straight to Kaelah Austin, who controlled the ball well and slotted it away for the equaliser. Then in the second minute of injury time, Austin's right wing cross went through the defence, Chloe Middleton poking the ball home to complete a scarcely believable comeback.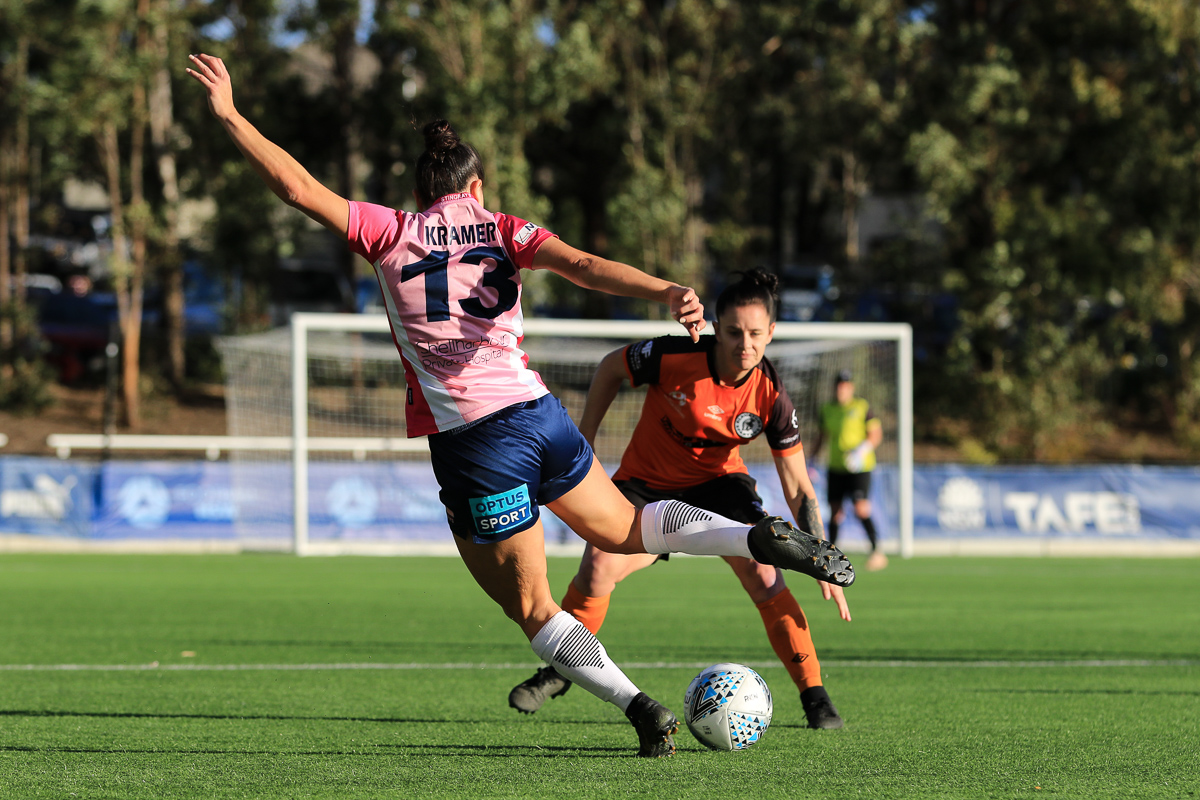 The second half threatened to start the way that the first period had ended, and on 47 minutes Carney rose highest at a Kendis free kick, Dumont tipping her header onto the crossbar. However, the pace of the game did take its toll on both teams, and opportunities were at a premium from this point until after the hour mark.
In the 65th minute, the Stingrays had a chance to extend their advantage when Halloway was brought down in the area by Annabelle Daczko. Austin took the responsibility, slamming the penalty down the middle to make it 5-3.
Some hopeful long range efforts followed, Roberts for Spartans and Kendis for Illawarra, while on 72 minutes Halloway and Middleton combined to set up Cooper, who stung Dumont's palms with a left footed strike.
Just over ten minutes were left when Roberts tried for goal from a 30 yard free kick, Burke equal to the task on this occasion. She then blotted her copybook in the 83rd minute, fumbling a Roberts cross over the goal line to make it 5-4 and set up a grandstand finish.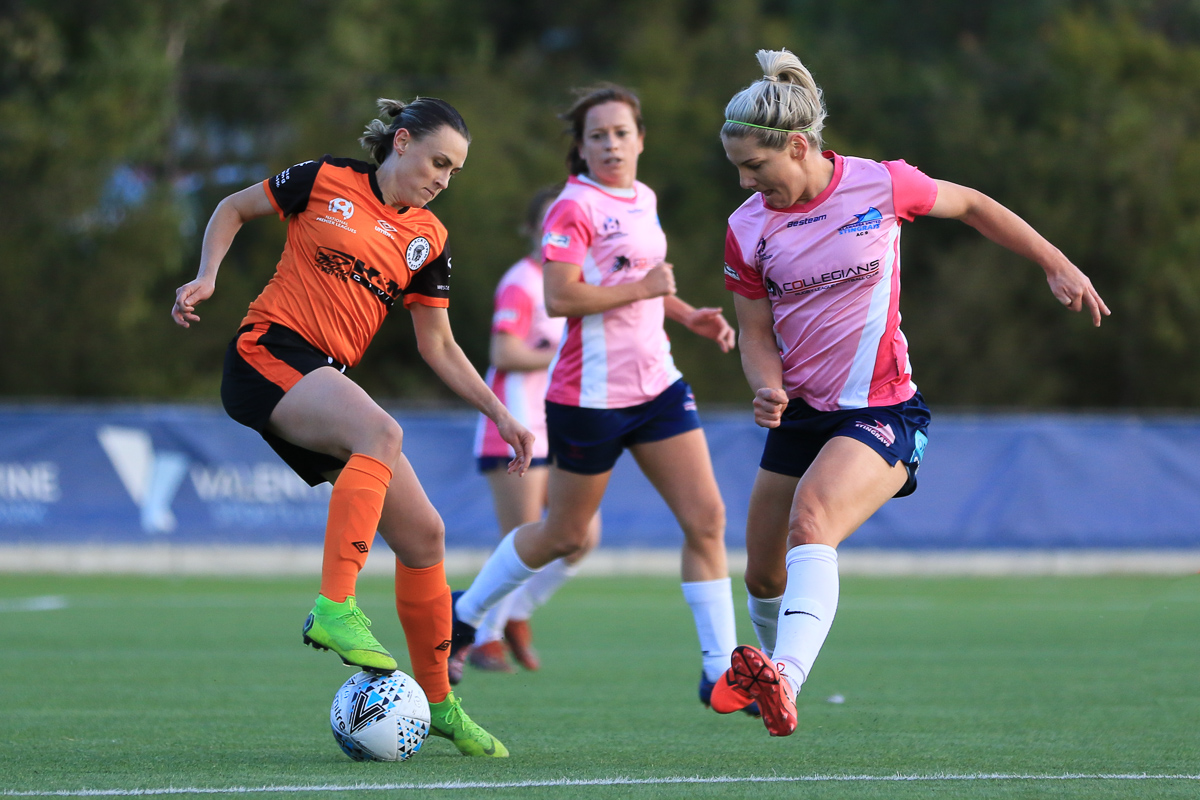 Even at this late stage, the Stingrays pushed for more goals. Middleton raced into the area on 86 minutes, where she was stopped by a perfect tackle from Hannah Bourke. A minute later, Carney thought she had scored from Halloway's lobbed pass, but the flag went up for offside.
The last big moment of the contest came in the final minute of regulation when Dudek managed to get her head to Bourke's long ball. Crofts surged into the area and went to ground under pressure from Danika Matos, however nothing was given and Illawarra hung on to seal a dramatic victory.
For Blacktown Spartans, it was a bitter way to end what has been an outstanding campaign, but they can still take plenty of positives into next season. Crofts established herself as the main goal threat in the Spartans 1st Grade side following two years of prolific scoring for their Reserves, while also developing an effective partnership with Dudek. Bourke impressed in central defence after joining the club from North Shore Mariners, and she could be on the radar of W-League clubs.
Illawarra showed amazing character and spirit to overhaul a three goal deficit, though Stingrays coach Scott Chipperfield will know that they can't repeat the defending of the opening half hour if they are to have any chance of lifting the Championship trophy.
Blacktown Spartans 4 (Ashlie Crofts 16' 31', Alix Roberts 20' 83')
Illawarra Stingrays 5 (Michelle Carney 34', Erica Halloway 38', Kaelah Austin 45+1' 69', Chloe Middleton 45+2')
Teams
Blacktown Spartans: Casey Dumont, Alix Roberts (c) (Tiana Barton 90+3'), Keisha Allen, Hannah Bourke, Tanya Borazio, Kristy Rohrer (Natalie Vukovic 77'), Annabelle Daczko (Tiarne Flavin 69'), Bethany Gordon, Olivia Price, Ashlie Crofts, Linda Dudek
Illawarra Stingrays: Trudy Burke, Blaize Kendis, Sarah Johnston, Danika Matos, Talitha Kramer, Liana Danaskos, Michelle Carney (c), Caitlin Cooper, Erica Halloway, Kaelah Austin, Chloe Middleton
Qualifying Final: Sydney Olympic v Northern Tigers
On Sunday afternoon, Sydney Olympic and Northern Tigers met at Arlington Oval. The winner would progress to next weekend's Major Semi Final against Sydney University, while the loser would face Illawarra Stingrays in a knockout game.
Olympic had done brilliantly to finish second in the regular season, their first at this level after earning promotion in 2018. Third placed Northern Tigers were equally impressive, qualifying for their first finals series since promotion in 2016, and even leading the league for four weeks.
The match featured the league's two top scorers, Olympic forward Susan Phonsongkham (19 goals) and Tigers sharpshooter Daisy Arrowsmith (16 goals). However, it would end up being the polar opposite of the previous day's high scoring affair. A tight battle was settled late on in favour of the Tigers, Arrowsmith's 87th minute strike giving her side a 1-0 victory.
Set pieces were the order of the day in the opening stages. On three minutes, Tigers captain Servet Uzunlar found Hannah McNulty from a long free kick, but the winger couldn't direct her header goalwards.
Olympic attacker Sienna Fraser had a similar result in the 11th minute, unable to threaten the goal when she got on the end of a Teresa Polias dead ball. A minute later, Uzunlar picked out her fellow centre back Ellie Brush, who headed straight at Jada Whyman.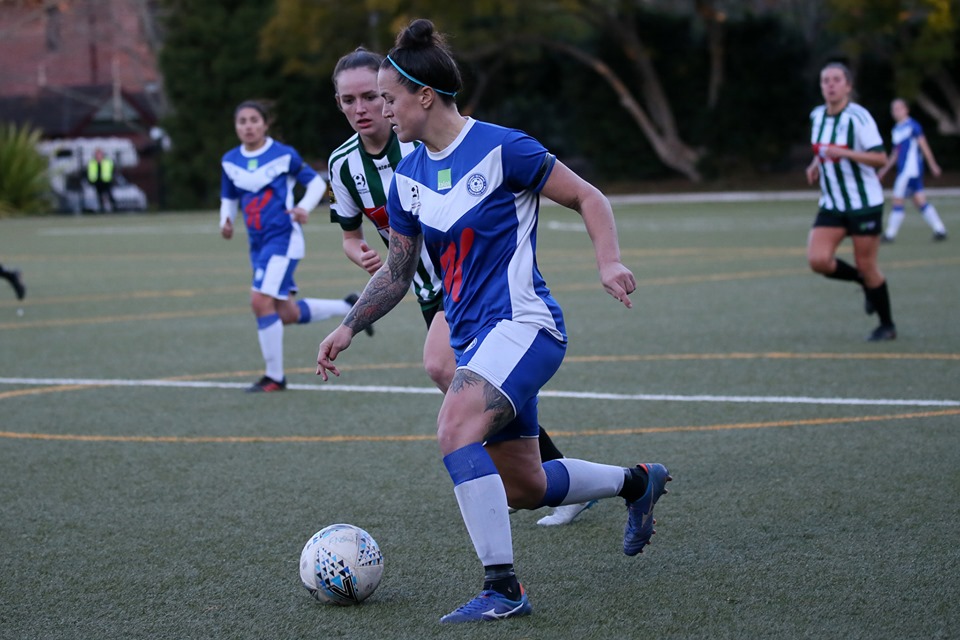 With the Tigers defence looking solid, Olympic resorted to shots from distance, the best of these coming on 26 minutes. Georgia Plessas beat a defender and spotted Eliza Campbell off her line, however she didn't get enough on her attempted 30 yard lob, and Campbell had a simple catch. The Tigers goalkeeper also had to be alert just after the half hour as Plessas sidefooted Sarah Yatim's cross into the six yard box, rushing off her line to beat Fraser to the ball.
Northern Tigers then had a good spell. In the 33rd minute, Arrowsmith collected a loose ball, evaded a challenge and found Aimee Phillips, forcing Emily Kos to move over and make a covering tackle. Three minutes later, a sweeping passing move involving Isabella Foletta, McNulty, Maddie Bart and Josie Wilson set up Arrowsmith, who turned past a defender and was stopped by Whyman's brave dive at her feet.
Olympic right back Jessica Frampton tested Campbell from 20 yards five minutes before the interval, but Campbell made a comfortable save and the game was scoreless at halftime.
On 50 minutes, the Tigers had a good chance when McNulty charged down a Frampton clearance. The ball fell for Arrowsmith and she ran into the area, shooting straight at Whyman.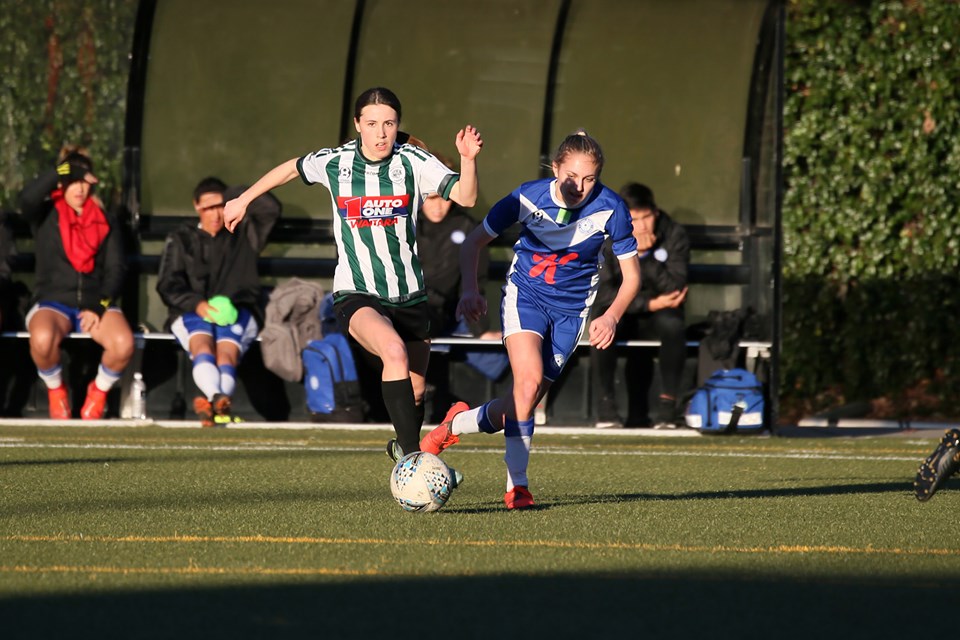 Olympic coach George Beltsos responded by bringing on attacking midfielder Panagiota Petratos in place of Fraser and moving Phonsongkham into the centre forward role. The move almost paid off with 56 minutes played: Yatim played a clever ball behind the defence for Phonsongkham, and Campbell showed her proficiency as a sweeper-keeper to clear the danger. However, the Tigers backline weren't usually caught out so easily, and the occasional long range effort was all Olympic could muster, Plessas hitting the side netting from 30 yards in the 66th minute.
The latter stages of the second half saw the teams maintain their defensive discipline, and both sets of wingers were committed to tracking back and helping their defence. Phonsongkham was marshalled well by Uzunlar and Brush, while the Tigers defensive midfield pair of Malia Steinmetz and Emma Watkins restricted the space for Olympic's creative players.
With Northern Tigers happy to sit back and draw Olympic forward, there was space to counter if they won the ball quickly. On 78 minutes, Watkins, Bart and Phillips linked to find Foletta's overlapping run, but the right back couldn't pick out Arrowsmith in the centre.
Four minutes of normal time were remaining when Petratos squared the ball for Frampton, whose shot from 20 yards was parried by Campbell. The Tigers regained possession, striking the decisive blow less than 60 seconds later.
After Campbell's quick throw, Watkins and Arrowsmith linked to find Phillips in space on the right flank. The winger cut inside before picking out Bart's late run from the edge of her own area, and although Bart was blocked by a combination of Whyman and Kate Halaska, Arrowsmith was on hand to slot the ball into the open goal.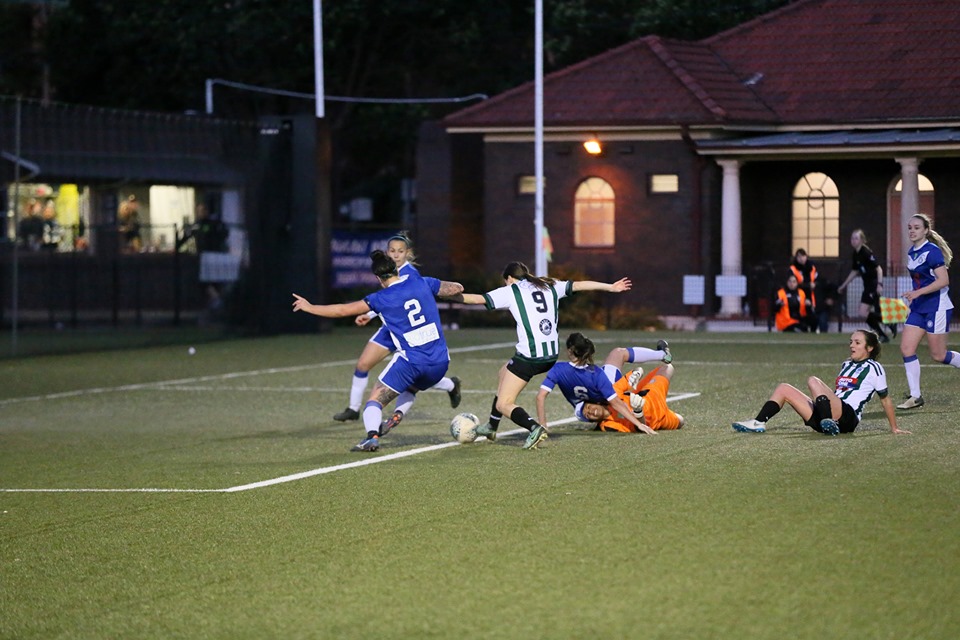 Northern Tigers were able to hold out for the victory, and they return to Arlington Oval on Sunday to face Sydney University, with the winner earning a place in the Grand Final. Meanwhile, Sydney Olympic will battle Illawarra Stingrays next Saturday for the right to advance to the third week of the finals series.
Sydney Olympic 0
Northern Tigers 1 (Daisy Arrowsmith 87')
Teams
Sydney Olympic: Jada Whyman, Jessica Frampton, Kate Halaska (c), Angelique Hristodoulou, Emily Kos, Teresa Polias, Sienna Fraser (Panagiota Petratos 53'), Mackenzie Hawkesby, Sarah Yatim, Susan Phonsongkham, Georgia Plessas
Northern Tigers: Eliza Campbell, Isabella Foletta, Servet Uzunlar (c), Ellie Brush, Josie Wilson, Emma Watkins, Malia Steinmetz, Maddie Bart, Hannah McNulty, Daisy Arrowsmith, Aimee Phillips
Next week's fixtures
Sydney Olympic v Illawarra Stingrays, 3:45pm Saturday 17 August, Valentine Sports Park No. 2
Sydney University v Northern Tigers, 3:45pm Sunday 18 August, Arlington Oval