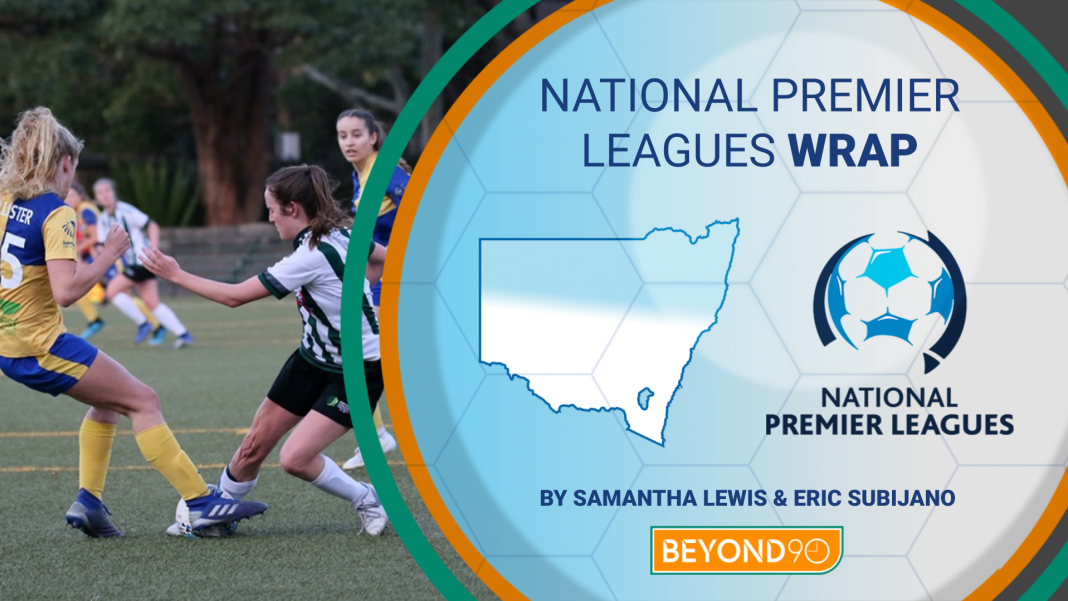 Minor Semi-Final: Sydney Olympic v Illawarra Stingrays
The NSW NPL Finals series returned to Valentine Sports Park on Saturday for a knockout match between Sydney Olympic and Illawarra Stingrays.
These teams experienced completely different emotions in the first week of the finals. Olympic were defeated by an 87th minute goal from Northern Tigers, while the Stingrays were on a high following an amazing 5-4 victory over Blacktown Spartans. Illawarra also had the better of this year's head-to-head meetings, with a 1-1 draw in Round 5 followed by a convincing 4-0 win for Scott Chipperfield's side in Round 16.
Olympic would extend their season by at least one more game, defeating the Stingrays 2-1 in an absorbing contest. After Susan Phonsongkham's penalty was cancelled out by a stunning strike from Caitlin Cooper, another spot kick from Angelique Hristodoulou sent George Beltsos's team into the Preliminary Final.
As has been the case for the latter part of the campaign, Cooper lined up for the Stingrays in an advanced midfield role, instead of her usual W-League position in central defence. She had an opportunity in the second minute, running onto Michelle Carney's through ball and forcing Jada Whyman into a diving save.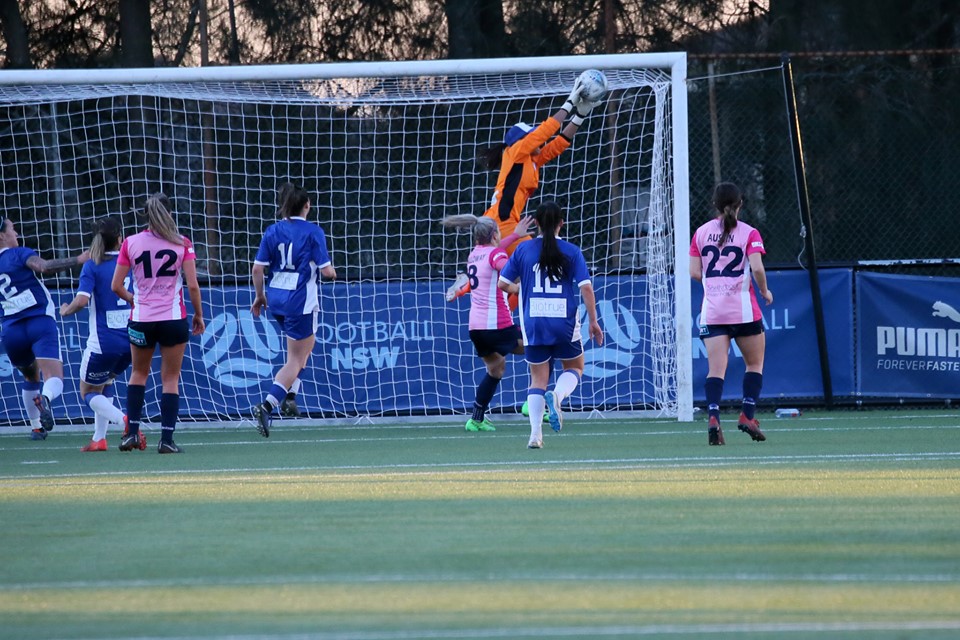 Olympic then looked to threaten from dead ball situations, and Teresa Polias took a 25 yard free kick that missed by inches on six minutes. This was followed in the next five minutes by Sienna Fraser and Emily Kos heading wide from set pieces.
Neither team was able to gain the upper hand for an extended period of time. Illawarra had half chances for Cooper just before the quarter hour and for Carney on 20 minutes, but things swung back Olympic's way. Sarah Yatim tested Stingrays goalkeeper Trudy Burke from the edge of the area at the midway point of the first half, while a couple of minutes later Phonsongkham provided a greater challenge, Burke palming her shot behind for a corner.
Illawarra responded, with Cooper continuing to play a prominent role. On 31 minutes, she had an effort blocked by Polias, and five minutes later Erica Halloway raced onto Cooper's pass, Whyman making a fairly comfortable stop.
The game's first big moment came a little over 60 seconds later. Yatim barged her way into the area, and although the first challenge from Danika Matos didn't warrant the attention of the referee, a penalty was awarded after Talitha Kramer's follow-up tackle. Polias stepped up, however Burke would win this particular battle, diving full length to her left to push the spot kick to safety.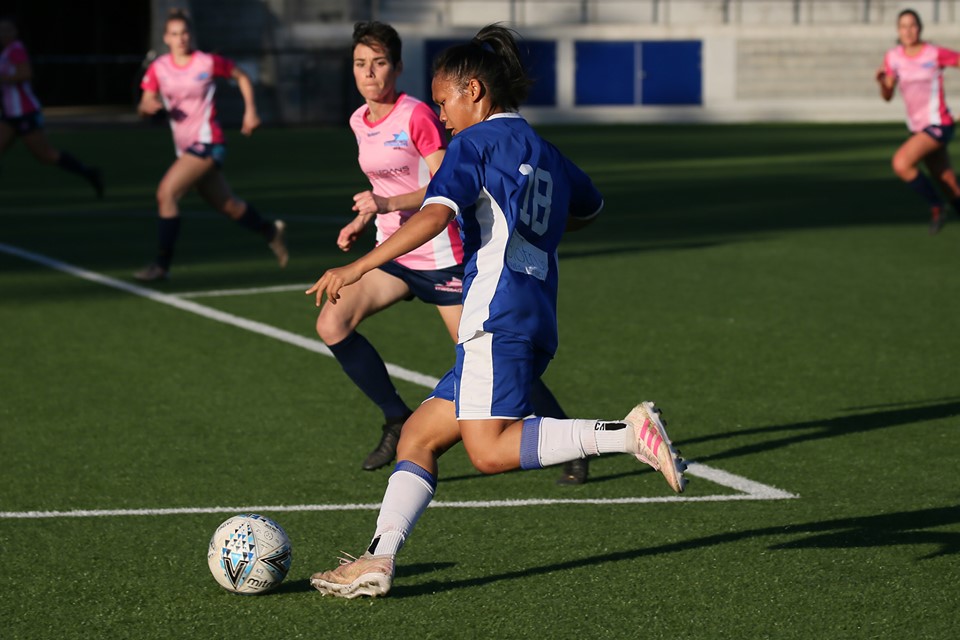 Despite the penalty miss and Fraser's enforced substitution due to injury, Olympic finished the first half on top. Phonsongkham almost got all the way through with an exciting run in the 42nd minute, only to be stopped by a perfectly-timed challenge from Matos.
Stingrays coach Scott Chipperfield reorganised his formation for the second half, changing the positions of four players. Chloe Middleton dropped from the left wing into the holding midfield role, Liana Danaskos pushed into a more attacking midfield position alongside Cooper, Carney moved up front, and Kaelah Austin replaced Middleton on the left flank.
Olympic were still on top, although they were having no luck on the injury front – Kos departed the field six minutes into the second period, suffering the after-effects of a heavy collision with Cooper in first half stoppage time. They continued to press, and on 53 minutes George Beltsos's side won a second penalty when Rochelle Borromeo was fouled by Kramer. Phonsongkham took the responsibility and made no mistake, putting her spot kick out of Burke's reach to give her team a 1-0 lead.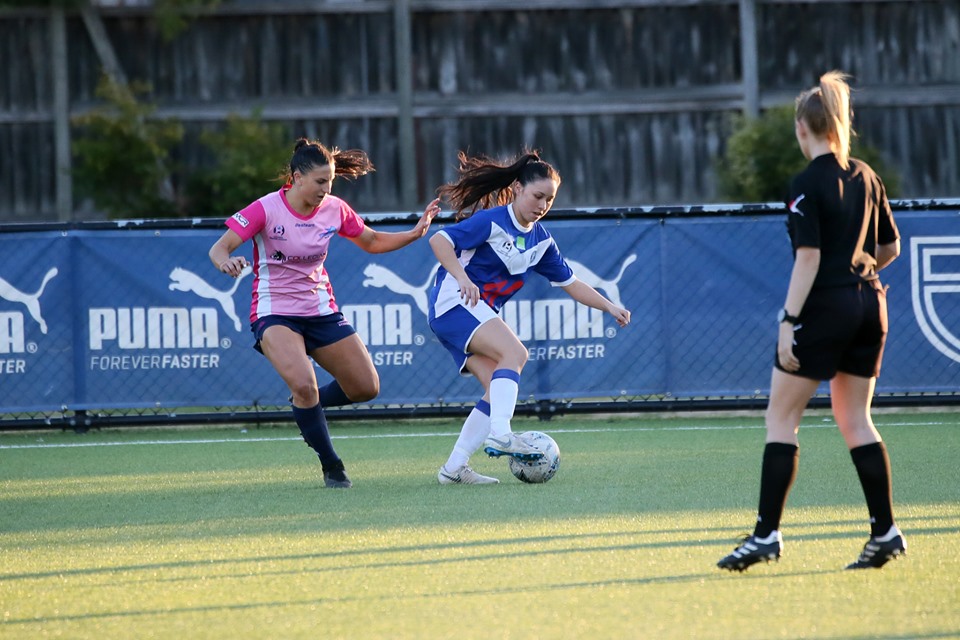 The next ten minutes saw Illawarra get on top briefly, however Whyman wasn't stretched, making easy saves from Kramer, Blaize Kendis and Halloway. Incredibly, Olympic then had to make a third substitution due to injury. Borromeo, who had come on late in the first half to replace Fraser, needed to be carried from the field following a heavy tackle from Danaskos. They did well to carry on despite the injuries, aided by a typically energetic performance up front from Yatim. Her persistence led to an opening in the 73rd minute when she won a 50-50 challenge against Sarah Johnston, but she couldn't keep her effort down.
However, just as it looked like Olympic might close out the contest, Illawarra's never-say-die attitude came to the fore again with ten minutes remaining. From Austin's corner kick, the Stingrays kept the ball alive long enough for Cooper to score a wondergoal, firing a sensational volley from an acute angle past Whyman to make it 1-1.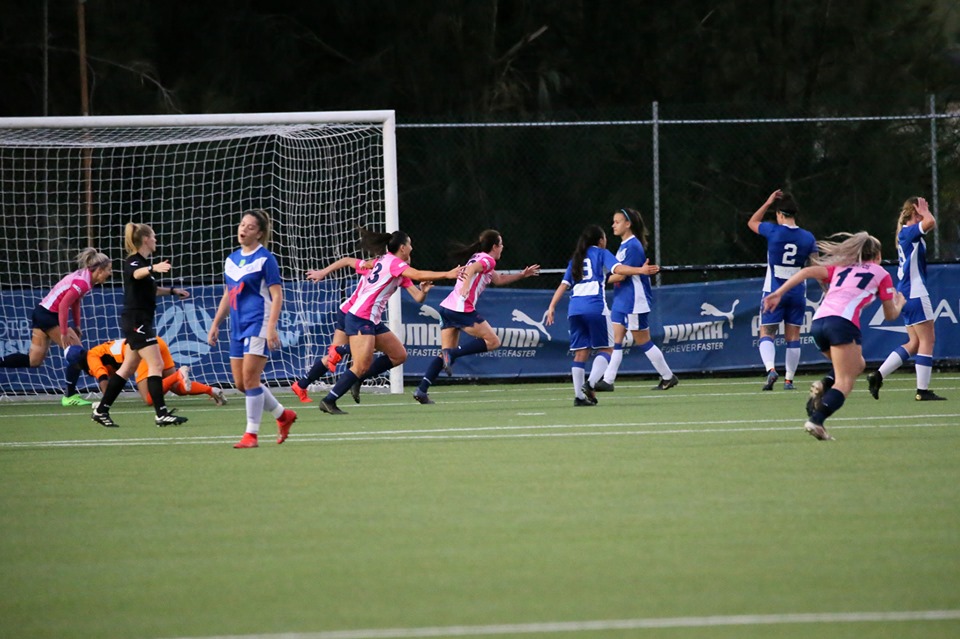 The action was far from over though. From the restart, Polias sent a 30 yard volley crashing off the woodwork, before setting up the game's deciding play less than 60 seconds later. Her precise through ball sent Phonsongkham sprinting into the area, where she won her side's third penalty of the match after being brought down by Burke. Phonsongkham needed to go off for treatment, leaving Hristodoulou to take over, and the central defender slammed the penalty down the middle to put Olympic 2-1 up.
Olympic finished the stronger of the two teams, and on 87 minutes Yatim sent a shot across the face of goal, then in stoppage time Panagiota Petratos crossed for Phonsongkham, but her effort flew over the crossbar.
The result sees Sydney Olympic sail further into uncharted territory – George Beltsos's side have been exceptional during their first year in NSW's top division, while they can be proud of the way they overcame injuries to Fraser, Kos and Borromeo. However, they still have plenty of work ahead of them: squad depth may be tested, and they are yet to score from open play in the finals.
For Illawarra, their quest to qualify for a Grand Final goes on for another season. They do have a history of stability in their 1st Grade squad, so we can expect them to be competitive again next year.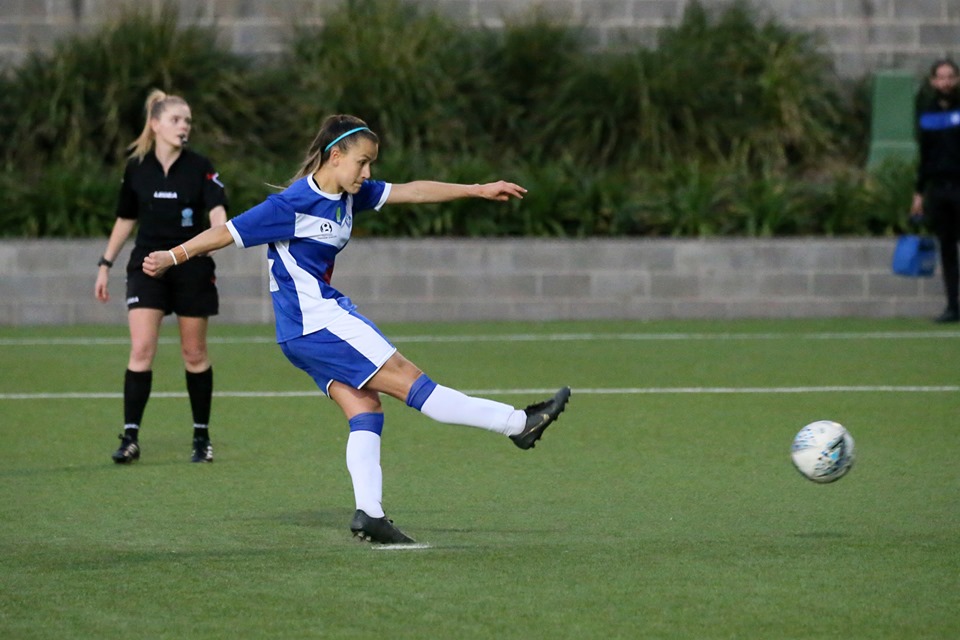 Final score:
Sydney Olympic 2 (Susan Phonsongkham 54', Angelique Hristodoulou 83')
Illawarra Stingrays 1 (Caitlin Cooper 80')
Teams:
Sydney Olympic: Jada Whyman, Jessica Frampton, Kate Halaska (c), Angelique Hristodoulou, Emily Kos (Panagiota Petratos 51'), Teresa Polias, Mackenzie Hawkesby, Susan Phonsongkham, Sienna Fraser (Rochelle Borromeo 39' (Lauren Johnson 67')), Sarah Yatim, Georgia Plessas
Illawarra Stingrays: Trudy Burke, Blaize Kendis, Sarah Johnston, Danika Matos, Talitha Kramer, Liana Danaskos, Michelle Carney (c), Caitlin Cooper, Erica Halloway, Kaelah Austin (Bronte Trew 86'), Chloe Middleton
Major Semi Final: Sydney University v Northern Tigers
NSW NPLW Premiers Sydney University lived up to expectations and secured their spot in the 2019 Grand Final after defeating Northern Tigers 2-0 at Arlington Oval in blustery conditions on Sunday afternoon.
It was destined to be a tight contest, as both teams came into the match with the first and second-best defensive records respectively across the season. After the Tigers kept a clean sheet against top scorers Sydney Olympic last weekend, making it through to this stage with a 1-0 win, Uni knew they had to work hard and smart to find a breakthrough.
It didn't take long for the Students to settle into their rhythm, passing across the width of the pitch to pry the Tigers' central midfield apart. The opening ten minutes set the tempo for the game to come, with Uni comfortably recycling and switching the ball across their back line, while also pressing quickly and in numbers when out of possession.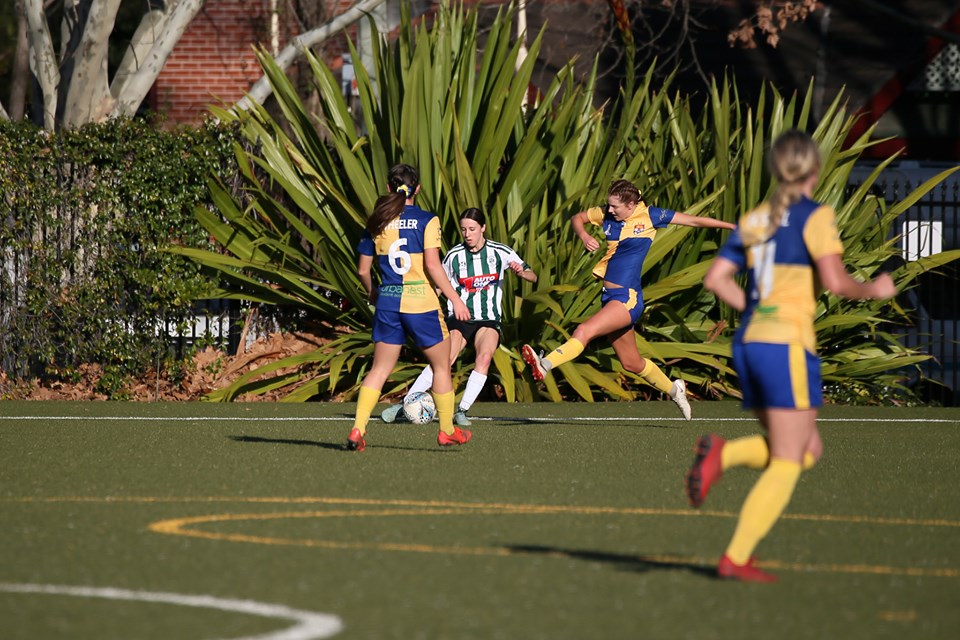 Striker Cortnee Vine led the charge, regularly pressuring Tigers goalkeeper Eliza Campbell and shutting down centre-backs Ellie Brush and Servet Uzunlar, who were often forced into long clearances that landed back at Uni's feet.
At the other end of the field, Uni centre-backs Taren King and Tori Tumeth did well to keep Tigers top scorer Daisy Arrowsmith quiet, while busy midfielders Bianca Galic and Clare Wheeler regularly flooded the centre of the park, limiting the potential for any vertical passes by Maddie Bart or Malia Steinmetz in behind their defence.
Although Uni's flexible system gave them the upper-hand in the first half, they struggled to create clear opportunities from the field of play. Instead, it took an absolute rocket of a free kick by midfielder Rachael Soutar to open the scoring for Uni in the 13th minute. After being fouled 30 yards outside the Tigers' penalty area, Soutar stood over the dead ball and rifled an unstoppable shot into the top right corner, the ball pinging in off the post on its way into the net. 1-0.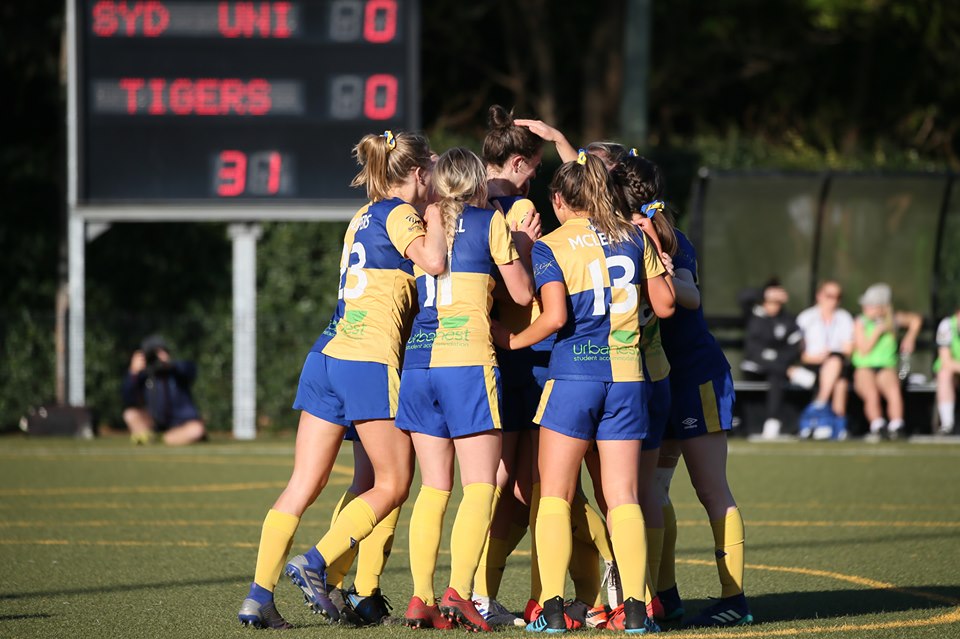 It was back to normal after the opening goal, with Uni moving the ball across the width of the park to try and stretch apart the Tigers' defence. However, the visitors worked hard to stay compact and ensure they didn't give the Premiers any decent looks on goal for the rest of the half, particularly in central areas.
Uni could have had a chance to double their lead in the 35th minute, when right back Annabel Martin was taken down in the penalty box by Tigers defender Josie Wilson after turning her around on the by-line, but the referee waved away the protests.
Less than five minutes later, Uni's best open-play chance of the game went begging. Following a Soutar short corner that Vine volleyed onto the crossbar, centre-back Taren King came from deep to try and head the rebound into the net, but she couldn't get on top of the ball and it went sailing over instead.
Whatever Tigers head coach Jason Eager said to his side in the sheds at half-time seemed to kick them into gear. Winger Aimee Phillips almost equalised in the opening few minutes of the second half, cutting inside from the left and taking aim, but her shot lacked power and rolled into the hands of untested goalkeeper Courtney Newbon.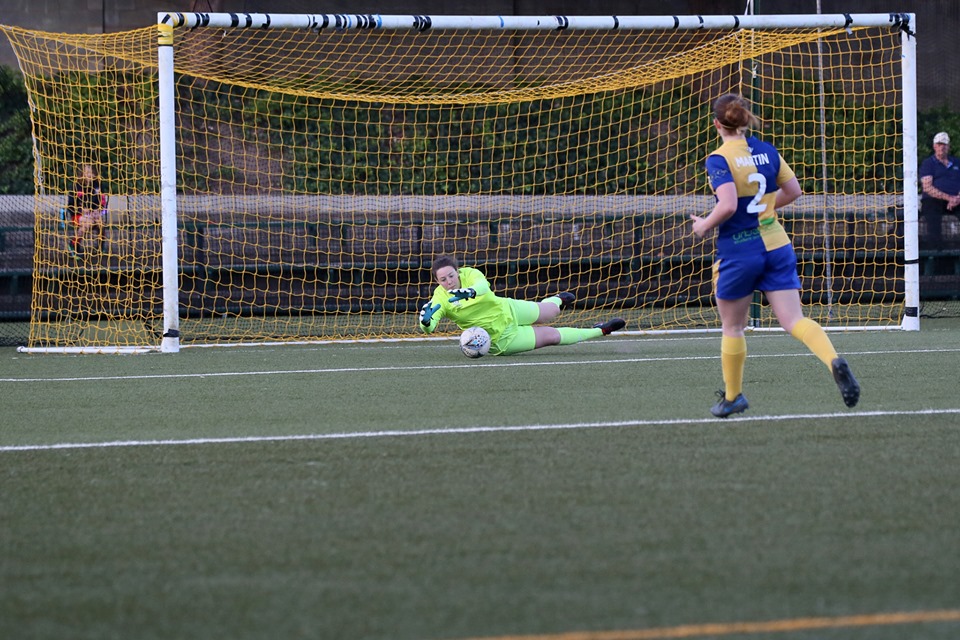 Vine could have extended Uni's lead in the 54th minute after intercepting a poor pass and charging into the box with Uzunlar hot on her heels, but her shot was tame and easily collected by Eliza Campbell.
It wasn't until the 58th minute that Newbon was forced into a save, with Tigers midfielder Emma Watkins volleying low and hard towards the bottom left corner, but the keeper slid across just in time to collect and clear upfield.
Uni had a flurry of chances just past the hour mark through Vine, Wheeler, and Soutar—largely resulting from the team's collective press that kept the Tigers pinned in their own back third—but the players just couldn't keep their shots down.
In the 73rd minute, it was Soutar once again who stepped up to take a set piece after Julie-Ann Russell was fouled on the left side of the box. Soutar's low inward-swinging strike spun around the small wall and went in at the front post following a deflection. 2-0.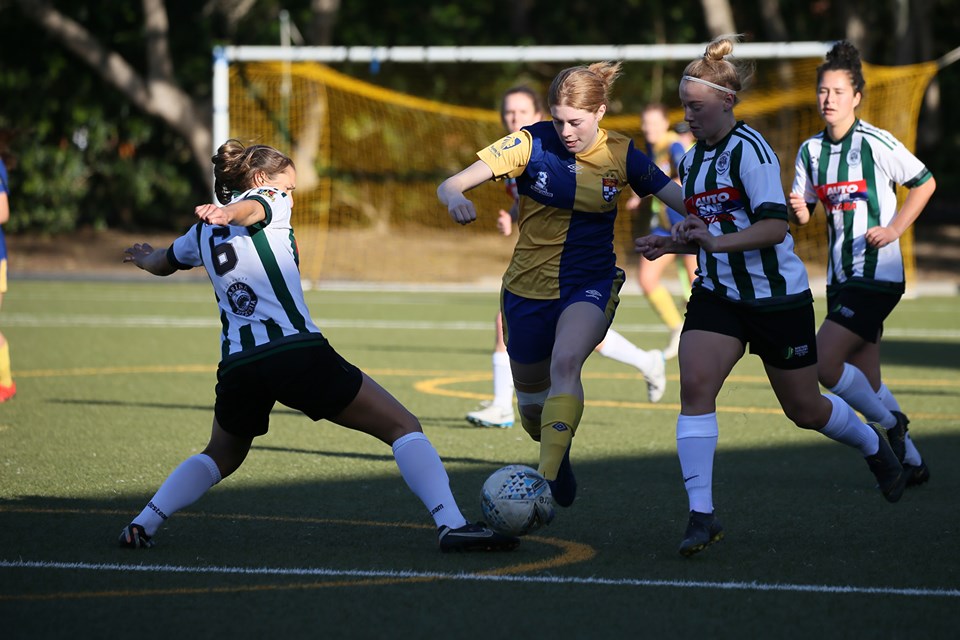 It could have been three in the 81st minute when substitute Teigan Collister picked the ball up after a spell of pressure by fellow sub Stephanie Augoustis. Collister was one-on-one with Campbell in the box, but she took her shot too early and shanked it wide.
Tigers also had a penalty shout in the 87th minute following an Uzunlar free kick which pinged around the box before seemingly hitting a Uni player's arm, but it was waved away. That was the closest the visitors would come to clawing a goal back, the final whistle sending them to next weekend's elimination final.
Sydney Uni head coach Alex Epakis was pleased with the result, but still thinks his side can improve.
"I thought it was a really disciplined performance. We weren't at our best with the ball in the times that we had it, but we were very good when we didn't have the ball," he said.
"We were very tight, we were very compact, we didn't really give Tigers an opportunity to play through us too often. Sometimes you just have to really allow your efforts without the ball to get you over the line and that's what we did today.
"We obviously knew [Tigers] had Servet and Ellie Brush through the centre, they've got a very strong midfield and they've got a top goalkeeper. They haven't conceded many goals for a reason, and we did a lot of preparation and focus to work on how we can overcome that.
"The ways in which we scored today weren't really a direct result of what the focus was going into the match, but we went in with a game plan and the players found other solutions to get goals and I'm fine with that.
"There's a bit of time between now and the grand final so we'll go through in detail, review, preview the opposition, review our own performance. I'm always more focused on making sure we do what we do as best as we can, so if that means reflecting and fixing a few things in attack with the ball then I'm comfortable with that.
"But I think you also have to give full credit to Tigers because they didn't allow us to play; they didn't allow us to keep possession, they were very determined off the ball. They've conceded the second fewest for a reason because they've got some really strong players."
Northern Tigers will now take on Sydney Olympic next weekend for the second spot in the Grand Final.
Final score:
Sydney University 2 (Rachael Soutar 13', 73')
Northern Tigers 0
Teams:
Sydney University:  Annabel Martin, Tori Tumeth, Taren King, Clare Wheeler, Rachael Soutar, Bianca Galic, Cortnee Vine, Julie-Ann Russell, Sarah Morgan, Charlotte Mclean, Aoife Colvill, Courtney Newbon, Holly Caspers, Ariane Demetriou, Teigan Collister, Stephanie Augoustis.
Yellow cards: Taren King (32')
Northern Tigers: Eliza Campbell, Ellie Brush, Emma Smith, Servet Uzunlar, Hannah McNulty, Maddie Bart, Daisy Arrowsmith, Malia Steinmetz, Aimee Phillips, Shayna Killey, Emma Watkins, Josie Wilson, Isabella Foletta, Danielle Bartels, Beth Bernardi, Sophie De Montemas.
Next week's fixtures:
Northern Tigers v Sydney Olympic, 3:45pm Sunday 25 August, Jensen Park No. 1