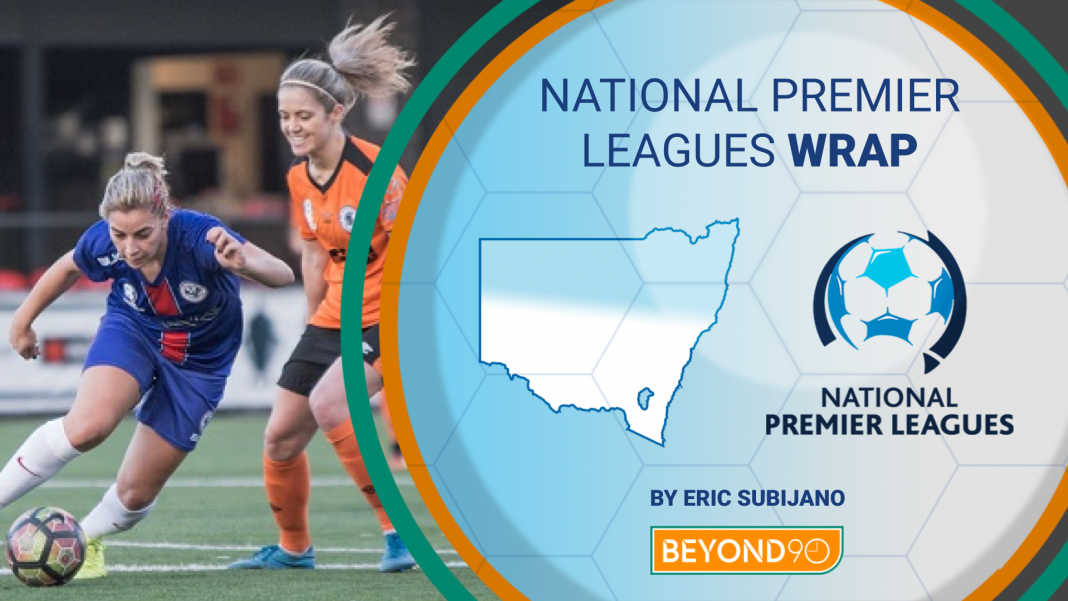 Can you believe that we're already halfway through the season? The only thing predictable about this league seems to be its unpredictability, as we saw the league leadership change hands yet again.
Our featured match saw seventh-placed NWS Koalas host NPL1 debutants Sydney Olympic, who entered the weekend second on the ladder, just one point behind Sydney University.
Both teams were aiming to bounce back after defeats in the previous round, with Koalas losing 1-0 to Sydney University, while Olympic went down 2-0 to Northern Tigers.
On a chilly evening at Christie Park, Olympic would eventually prevail, as second-half goals from Panayiota Petratos and Teresa Polias led them to a 2-0 victory.
Olympic began the contest pressing high up the pitch, and Koalas were unable to find a rhythm when passing out from the back.
Olympic's game plan almost paid dividends in the fourth minute, as a quick turnover saw Petratos slip the ball through to Sienna Fraser, with her shot rattling the crossbar.
The first chance for Koalas didn't come until the ninth minute, when Princess Ibini's low shot was tipped wide of the post by Jada Whyman.
Olympic would soon regain control, and begin peppering the Koalas goal with numerous efforts. Polias sent a couple of free kicks over the crossbar, Angelique Hristodoulou headed wide from a pinpoint Georgia Plessas corner, and then Plessas was off target with her own shot from 25 yards out.
The home team were being pushed back onto the edge of their own box, and had to resort to counter attacks, using the pace of Princess Ibini, Sophie Harding and Morgan Roberts.
However, Olympic maintained a high defensive line, and Jada Whyman was confident in coming out of her penalty area to clear through-balls.
Olympic were also causing trouble with their attacking set pieces, and Plessas picked out Hristodoulou on two more occasions in the opening half hour, but neither of her headers troubled the goalkeeper.
It wasn't just corner kicks that Olympic threatened with; in the 33rd minute a clever free kick routine from Polias and Susan Phonsongkham led to a chance for Demi Koulizakis, but she fired straight at Koalas keeper Romina Parraguirre.
Phonsongkham was having an excellent game as the lone centre forward, holding the ball up well to bring teammates into play, while also using her trickery to get away from defenders.
At the other end, Olympic left back Emily Kos was also in good form, intercepting multiple passes and preventing Roberts from getting into dangerous areas.
The pattern of the game continued into the second half, and Plessas sent in another great corner kick from the right side. This time, Fraser was the target, flicking the ball across the face of goal.
With 51 minutes played, there was a rare chance for Koalas after Kate Halaska gave away possession. Ariella Cabezas and Roberts combined on the counter attack, but then Cabezas was unable to capitalise, sending a shot well wide.
With Olympic continuing to press high, their pressure eventually paid off in the 54th minute. Parraguirre's short goal kick was intercepted by Phonsongkham, and she exchanged passes with Petratos, before the Newcastle Jets midfielder rifled a shot into the bottom corner from outside the area.
On the hour mark, Olympic hit the woodwork for the second time as a 25 yard free kick from Polias hit the top of the crossbar.
This was enough for Koalas coach Jaime Gomez to make a change, with Emma Stanbury replacing Harding, and Ibini moving up front.
However, Olympic were still dominant, aided by some unusually poor passing from Koalas, and only some desperate defending prevented Phonsongkham from firing a dangerous ball across the face of the goalmouth.
In the 71st minute, Natalie Tobin blasted a free kick straight into the wall. This was the start of a good spell for Koalas, as Olympic weren't pressing with the same intensity.
Ibini had a couple of shots from outside the area, one off target and the other deflected wide by Koulizakis, then Roberts whipped in a great cross from the right which was just out of reach for Ibini and Cabezas.
Unfortunately for Koalas, their revival was short-lived, and Olympic doubled their lead with ten minutes left. Phonsongkham was involved again as she won a free kick, and Polias showed great awareness, taking the free kick quickly and lobbing the distracted Parraguirre from 40 yards.
After that Olympic were never really in trouble, although Whyman made an exceptional point-blank save from Cabezas in the 87th minute.
There was even a chance for them to make it three in stoppage time after Phonsongkham raced onto a through pass from Polias and turned a defender, but her shot rolled just wide of the post.
The win, combined with Sydney University's 0-0 draw against Illawarra Stingrays, means Olympic move back to the top of the table. Koalas remain in seventh, three points off a finals spot.
Next weekend, these two teams are on the road. Olympic meet the in-form Blacktown Spartans at Blacktown Football Park, while Koalas make the long trip to Lake Macquarie to face Emerging Jets.
NWS Koalas 0
Sydney Olympic 2 (Panayiota Petratos 54', Teresa Polias 80')
Teams
NWS Koalas: Romina Parraguirre, Kimberley Davey, Tiana Jaber, Kiara Farquhar, Bridget Booker, Deborah-Anne De La Harpe, Natalie Tobin, Princess Ibini, Morgan Roberts, Ariella Cabezas, Sophie Harding (Emma Stanbury 60')
Unused substitutes: Brianna Edwards, Erin Pridmore, Jessica Garrett, Tahlia Macri
Sydney Olympic: Jada Whyman, Jessica Frampton, Kate Halaska, Angelique Hristodoulou, Emily Kos, Teresa Polias, Demi Koulizakis, Panayiota Petratos, Georgia Plessas (Danielle Calvi 90+3'), Susan Phonsongkham, Sienna Fraser
Unused substitutes: Amanda Horafios, Natasha Aitken, Emily Dorahy, Ella Martins
Around the Grounds
Blacktown Spartans 3 – 0 North Shore Mariners
Emerging Jets 0 – 2 Manly United
Football NSW Institute 3 – 2 Macarthur Rams
Illawarra Stingrays 0 – 0 Sydney University
Northern Tigers 1 – 0 Bankstown City
Table
| | | | | | | | | | |
| --- | --- | --- | --- | --- | --- | --- | --- | --- | --- |
| Pos | Team | P | W | D | L | For | Against | GD | Pts |
| 1 | Sydney Olympic | 11 | 7 | 2 | 2 | 31 | 14 | 17 | 23 |
| 2 | Northern Tigers | 11 | 7 | 2 | 2 | 18 | 6 | 12 | 23 |
| 3 | Sydney University | 11 | 6 | 4 | 1 | 27 | 8 | 19 | 22 |
| 4 | Blacktown Spartans | 11 | 7 | 1 | 3 | 24 | 16 | 8 | 22 |
| 5 | Illawarra Stingrays | 11 | 6 | 3 | 2 | 22 | 13 | 9 | 21 |
| 6 | Macarthur Rams | 11 | 5 | 2 | 4 | 24 | 24 | 0 | 17 |
| 7 | NWS Koalas | 11 | 4 | 4 | 3 | 21 | 14 | 7 | 16 |
| 8 | Football NSW Institute | 11 | 5 | 0 | 6 | 19 | 21 | -2 | 15 |
| 9 | Manly United | 11 | 3 | 1 | 7 | 17 | 22 | -5 | 10 |
| 10 | Bankstown City | 11 | 3 | 1 | 7 | 19 | 28 | -9 | 10 |
| 11 | Emerging Jets | 11 | 2 | 0 | 9 | 14 | 36 | -22 | 6 |
| 12 | North Shore Mariners | 11 | 1 | 0 | 10 | 12 | 46 | -34 | 3 |