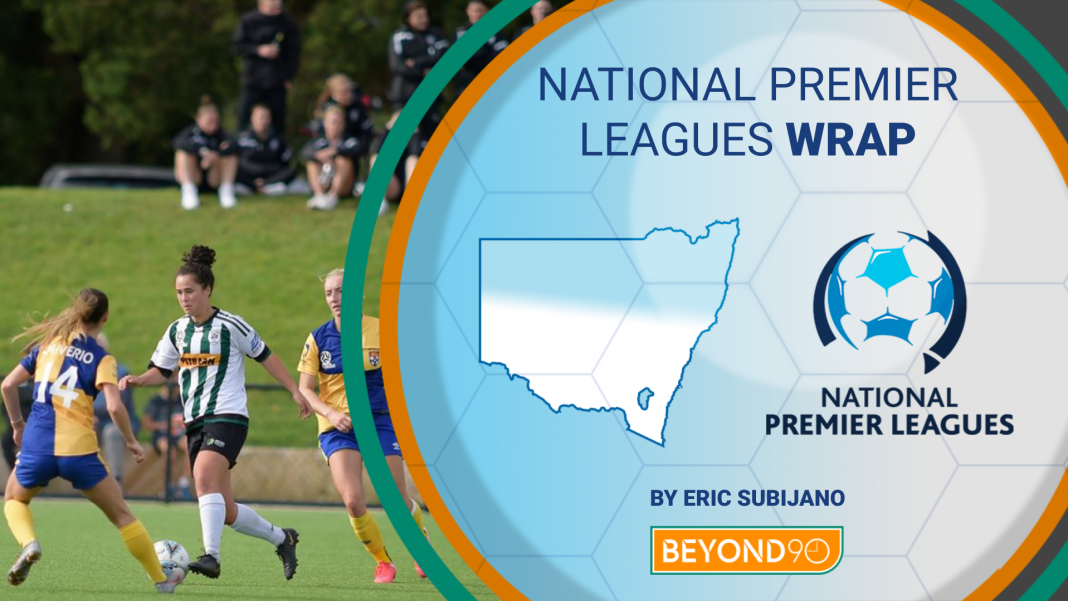 Once again, a raft of postponements due to W-League commitments meant there were only two NSW NPL games played over the weekend. We were left, however, with two rematches of recent Grand Finals in the northern part of Sydney. Over at Cromer Park, Manly United faced Macarthur Rams in a repeat of the 2017 Championship game. Our featured match this week was at North Turramurra Recreation Area, where Northern Tigers hosted Sydney University.
Match of the Round: Northern Tigers v Sydney University
The last time these two teams played in a competitive fixture, it was an epic Grand Final that required 120 minutes and a penalty shootout to decide a winner. On Sunday, the stakes were lower but the contest was equally as fierce. Northern Tigers led for most of the match thanks to a Maddie Bart double, however the points would be shared after a Nickoletta Flannery penalty and a late equaliser from Stephanie Augoustis.
The Tigers were able to start all three of their signings from Newcastle Jets: Claire Coelho was in goal, Gema Simon lined up at left back and Lauren Allan was on the right flank. Tigers coach Jason Eagar also played Malia Steinmetz in central defence, as opposed to her usual central midfield position.
Meanwhile, for Sydney Uni, Irish international Julie-Ann Russell showed her versatility by playing in a central attacking midfield position instead of on the wing. Their goalkeeper Danielle Bartels played in both the Reserves and 1st Grade games, a consequence of Courtney Newbon being on W-League duty.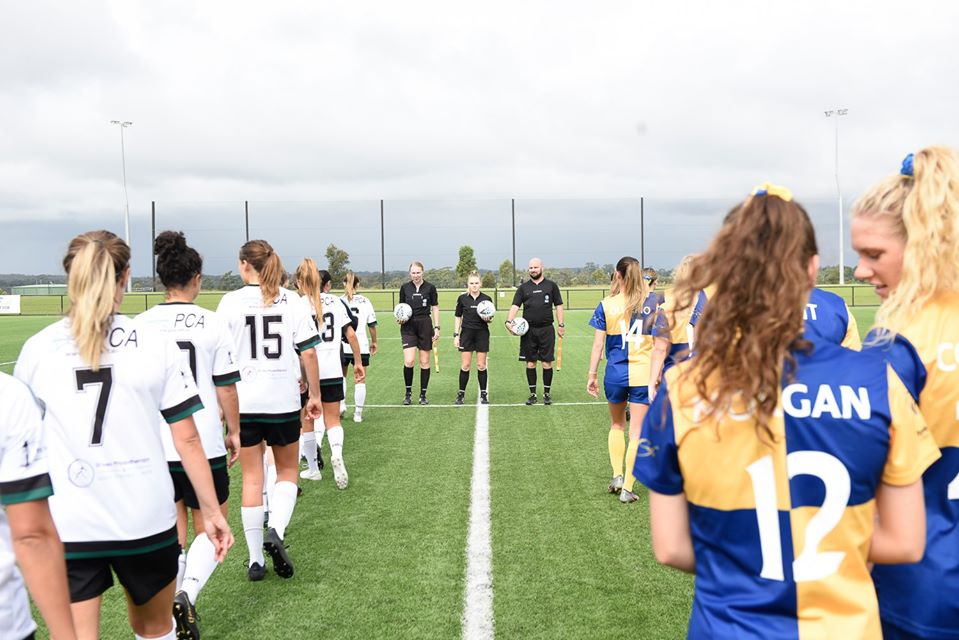 The hosts roared out of the blocks and found a breakthrough after nine minutes. Daisy Arrowsmith blocked Clare Hunt's clearance, allowing Bart to pounce on the loose ball and drill it into the bottom corner.
However, Uni were given a great opportunity to level the scores four minutes later when Hannah McNulty handled a cross in the penalty area. Just as she had done in the Grand Final, Flannery stepped up and converted the spot kick to make it 1-1.
McNulty looked to atone for conceding the penalty midway through the first half when she stole possession and headed straight for goal, but Bartels dove bravely at her feet to smother the ball. Chances kept coming for the Tigers, and they had three in a chaotic 26th minute sequence: Simon whipped a corner into the middle, Steinmetz was denied by Gabrielle Peak's goal line clearance, Bart's follow up was blocked on the line by Russell and then Allan headed wide.
Their pressure did pay off just before the half hour at another set piece. From the right touchline, near halfway, Servet Uzunlar picked out Bart's run, and the attacking midfielder headed past Bartels to put her side 2-1 up.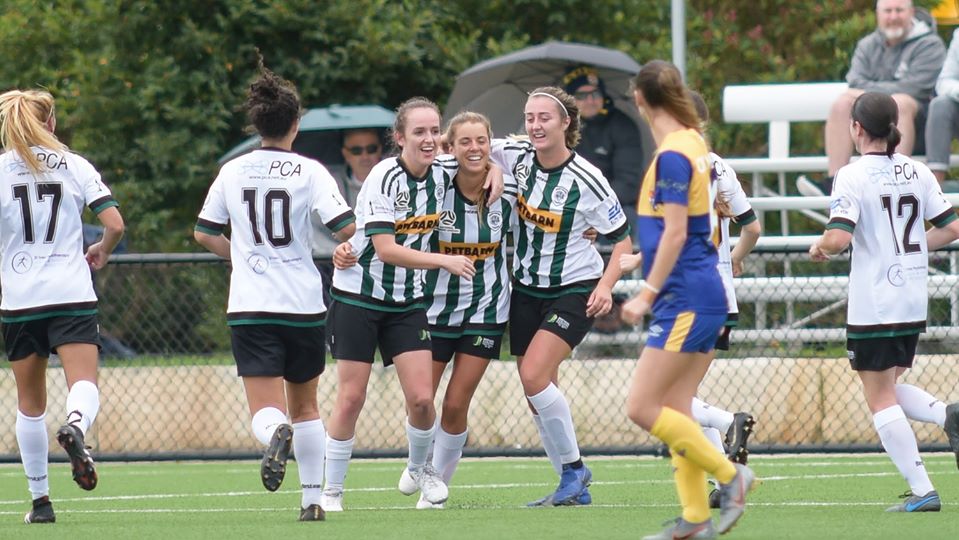 Uzunlar was at the centre of everything for the Tigers. On 33 minutes, her free-kick deflected off the wall and into the path of Emma Watkins, who drew a save from Bartels. Three minutes later, McNulty improvised by getting her knee to Uzunlar's diagonal pass, Bartels scrambling to tip the ball wide.
Sydney Uni had a couple of set pieces near the end of the first half, but it wasn't until after the interval that they went up a gear. In the 53rd minute, Russell kept the ball alive in the area for Flannery to strike (blocked by Uzunlar), and five minutes later the Irishwoman set up Teigan Collister following a strong run, with Collister's long range effort saved by Coelho.
Uni coach Alex Epakis had introduced Rachael Soutar and Augoustis into the fray by the 60-minute mark, but the changes didn't have an effect initially as the Tigers kept their defensive shape in the face of mounting pressure. However, the Tigers dropped deeper and deeper as the game went on, allowing Sydney Uni to dominate possession. This also meant Uni centre backs Tori Tumeth and Clare Hunt were given multiple opportunities to advance well into Tigers territory with the ball at their feet.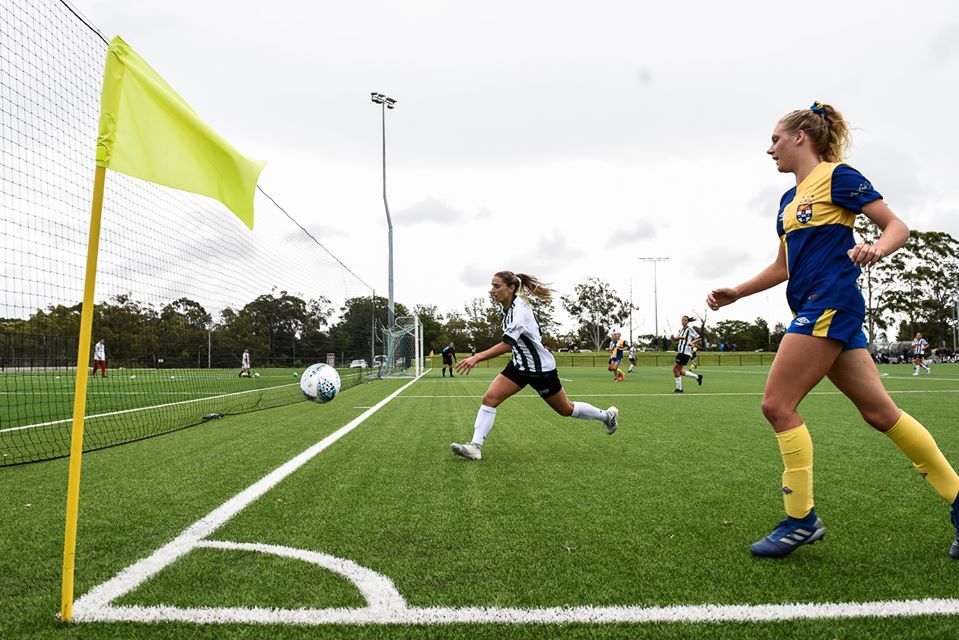 More substitutes were brought on – Roisin Connolly and Heidi Caspers for Uni, Zoe Halpin and Minori Ono for the Tigers – but the pattern of the second half remained, Uni probing patiently for openings as the Tigers put numbers behind the ball.
When an 86th minute Soutar free-kick flew over the crossbar it looked like the Tigers had done enough, but there was one final twist. One minute before the end of normal time, a long kick from Bartels sailed over the Tigers defence and Augoustis was rewarded for her persistence – Coelho's attempted clearance rebounded off the Uni substitute and into the net for a dramatic equaliser.
Manly United v Macarthur Rams
In Sunday's other game, Manly United made it two wins from two after a convincing 4-0 triumph over Macarthur Rams. Claudia Cholakian and Junior Matilda Kahli Johnson hit the back of the net, with the scoring rounded off by a couple of own goals.
Next week
Northern Tigers have a long trip and an away game against Macarthur Rams, while Sydney University head even further south to play Illawarra Stingrays.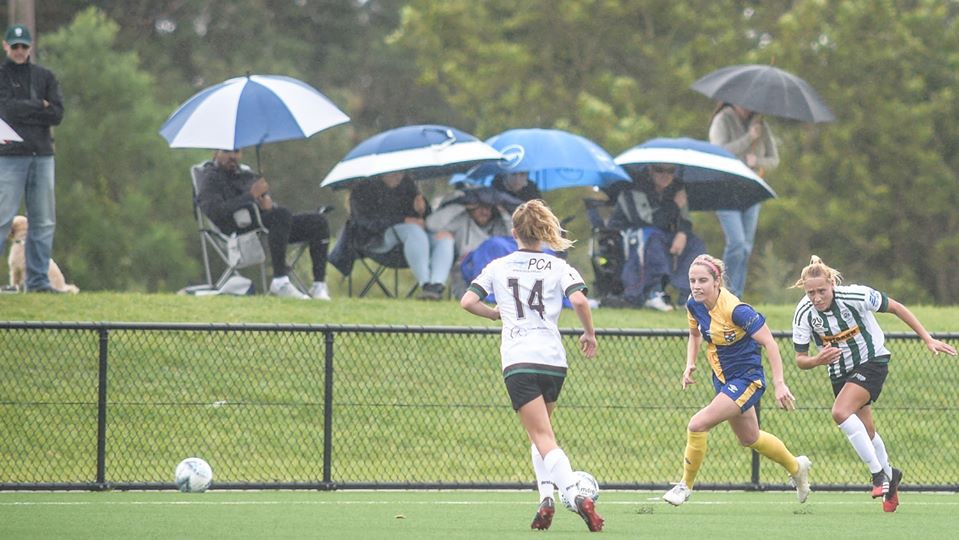 Northern Tigers 2 (Maddie Bart 9' 28')
Sydney University 2 (Nicki Flannery 13', Stephanie Augoustis 89')
Teams
Northern Tigers: Claire Coelho, Josie Wilson, Servet Uzunlar (c), Malia Steinmetz, Gema Simon, Beth Bernardi (Zoe Halpin 64'), Emma Watkins (Erica Di Sciascio 86'), Maddie Bart, Lauren Allan, Daisy Arrowsmith, Hannah McNulty (Minori Ono 75')
Unused substitutes: Kristen Mihalarias, Isabella Foletta
Sydney University: Danielle Bartels, Gabrielle Peak (Heidi Caspers 71'), Tori Tumeth, Clare Hunt, Sarah Morgan (Rachael Soutar 55'), Bianca Galic, Clare Wheeler (c), Julie-Ann Russell, Brianna Oliverio (Stephanie Augoustis 60'), Nicki Flannery, Teigan Collister (Roisin Connolly 71')
Unused substitutes: Lani Johnson
Yellow cards: Gabrielle Peak 32', Julie-Ann Russell 87'
Around the Grounds: Manly United 4 Macarthur Rams 0, Blacktown Spartans v Bankstown City – postponed, Emerging Jets v APIA Leichhardt – postponed, North West Sydney Koalas v Illawarra Stingrays – postponed, Sydney Olympic v Football NSW Institute – postponed
View the NSW NPLW ladder here, and read more Beyond 90 NPLW articles here.