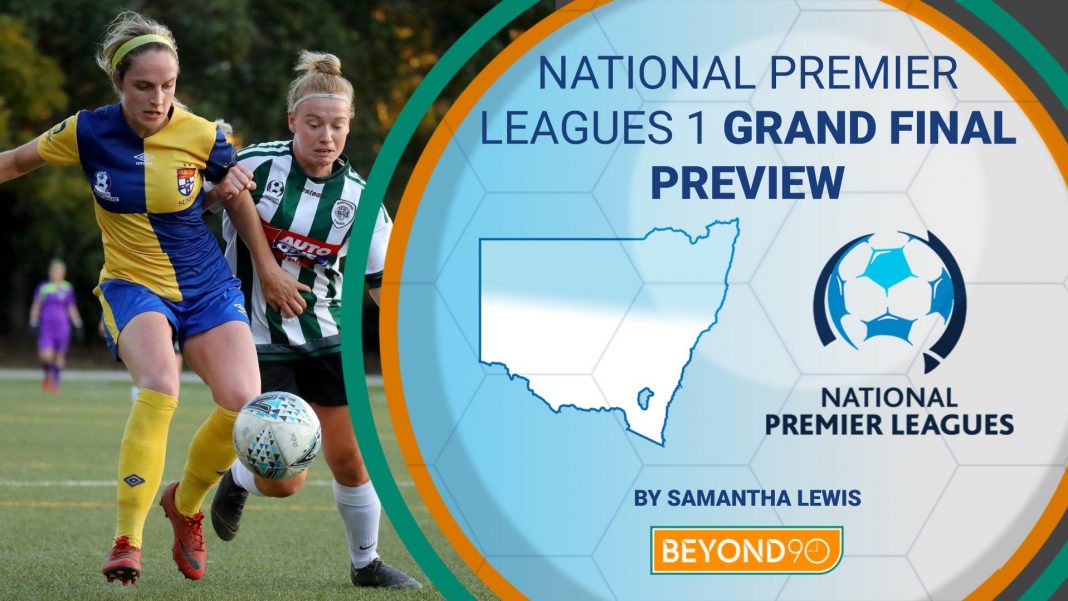 NSW NPLW1 Grand Final: Sydney University v Northern Tigers
Six months. Thousands of kilometres. Games in the wind, games in the rain. Games in the blasting heat of March and the biting winter evenings of July. Injuries and setbacks and moments of doubt. Finally, it all comes down to this. The 2019 NSW NPLW Grand Final.
For the two teams who have made it here, it's a match that has been years in the making.
Premiers Sydney University come into Sunday as firm favourites. Not only have they lost just one game all season, but they haven't missed a finals series since 2010. In fact, alongside the Macarthur Rams, they can lay claim to being one of the most dominant women's teams in the state, having reached the grand final in three of the last five seasons.
It was Canberra United W-League head coach Heather Garriock who last led Uni to the Championship trophy in 2016, and now her former assistant Alex Epakis has a chance to etch his own name into the club's history books.
Despite his record-breaking year leading both the Senior and Reserve Grade squads to single-loss Premierships as well as the fastest Club Championship in recent memory, Epakis has had his eye on the Championship since this exact moment last year, when Uni were defeated by the Macarthur Rams in extra time.
That loss has formed the emotional foundation of Uni's 2019 campaign, a run that has seen a total of 53 points accumulated across 22 rounds—the most points by any team in the history of the current format. If they're successful, Uni will be the first club ever to win the treble of the Premiership, Club Championship, and Championship trophies.
"From a club perspective, I think it would literally be the cherry on the cake," Epakis said.
"The Grand Final, for the players, would be something really special, and more than anything I really want to win for them because last year's heartbreak is probably still fresh for some people."
Spearheaded by 2018/19 W-League Goal of the Year winner Cortnee Vine, Sydney University is overflowing with talent across the pitch. From the defensive stocks of Taren King, Tori Tumeth, Charlotte Mclean, and Annabel Martin, the midfield machine consisting of Clare Wheeler, Bianca Galic, and Rachael Soutar, and the attacking firepower of Nicki Flannery, Teigan Collister, Julie-Ann Russell, and Holly Caspers, it's hard to find a chink in Uni's armour. Some of these players have tasted finals defeat before and will be as driven as their head coach to make up for the trip over last season's ultimate hurdle.
That's not to say it will be easy, though.
Standing in their way is a team that has become one of the stories of the season—a team also setting out to make history, but for totally different reasons.
Three years ago, the Northern Tigers won the NPLW2 Grand Final against Inter Lions SC and were promoted to the NPLW1 competition for the very first time. It was a feat as awesome as it was unexpected given the team had finished no higher than 7th previously.
As they soon discovered, the top-flight women's competition in NSW is a whole new ball-game. The Northern Tigers' first two campaigns in NPLW1 saw them licking their wounds by season's end, finishing 9th in both 2017 and 2018.
But then, something changed. The club decided to take their women's program more seriously, to invest more time, people, and resources into recruitment and training. They attracted talent from all over the state—as well as from abroad—and assembled what has become one of the most exciting, disciplined, and tactical squads of the 2019 season. In just one year, the Northern Tigers have gone from bottom-half-regulars to title contenders.
Wisely, the Tigers' rebuild started from the back, retaining the likes of experienced W-League and Matildas centre-backs Ellie Brush and Servet Uzunlar, as well as the shot-stopping talents of Eliza Campbell. This defensive trio has been key to the side's 2019 success, providing guidance and leadership to the less experienced defenders in Josie Wilson, Erica di Sciascio, Emma Smith, and new recruit Isabella Foletta. Together, these players have created a formidable defensive unit, conceding the second-fewest goals across the entire season.
The recruitment of stand-out New Zealand midfielder Malia Steinmetz has added extra quality to the spine of head coach Jason Eagar's revolutionised Tigers squad, providing a platform for the likes of attacking talents Hannah McNulty, Maddie Bart, Emma Watkins, and fellow Kiwi Aimee Phillips to work their magic further up the field. Finally, the aptly-named Daisy Arrowsmith will be aiming to add to her current season tally of 18 goals this Sunday, the second-highest in the league, in what would be a remarkable achievement given it's her first season with the club.
This revolution is not just a flash in the pan, either: the Northern Tigers also finished second on the Club Championship ladder after their reserves team made finals this season as well. These wholesale changes to the club can be felt both on and off the pitch, with the Tigers women's teams regularly accompanied by a loud cheer-squad of supporters, including many men's players, in an enviable display of the "One Club" philosophy.
Head coach Jason Eagar is looking forward to the atmosphere created by the support from the male players on Sunday.
"The men have got a lot of respect for the women in terms of the way they play and their performances, and the women, when the men are here supporting them, seem to lift and enjoy it as well," he said.
"We'll have them out there again this weekend in full voice, thanks to some changes to scheduling."
The 2019 Grand Final is therefore the ultimate David vs. Goliath battle: a veteran of the big dance—hellbent on avenging last year's final heartbreak—coming up against the quiet underdog that has recently turned over a new leaf. One team knows what it takes, knows what those stadium lights and that crowd can do; the other can only guess.
On paper, this is Uni's game to lose. They've won two of the last three meetings with the Northern Tigers by a two-goal margin, including in a semi-final two weeks ago, while their only other match in late April ended in a goalless draw. For all their progress, and despite having the competition's second-highest scorer in Arrowsmith, Tigers still don't know how to put the ball into the net of the 2019 season's most defensive side.
But Uni shouldn't rest on their laurels; despite their most recent 2-0 win, both goals came from two moments of individual brilliance by a single player from set pieces—something that can't necessarily be counted upon in a game as tense as the one to come.
Uni captain Taren King is fully aware of the weight of past performances on her team's shoulders.
"In First Grade, we've only won two Grand Finals over the history of the club. Obviously we're looking to go for all three this year. Fingers crossed we can do it," she said.
"[Tigers] have probably been our best-matched team over the course of the year, and they're quite strong all over the park. we're cautious of their players, but we're confident in our team as well."
Likewise, Tigers captain Ellie Brush is staying modest and appreciative, conscious of how far her team has come in the last few years.
"It makes me really happy to be able to bring [a Grand Final] to them, from being in the second division only a couple of years ago, to be able to help the club get to these heights," she said.
"I don't think it's something that they thought they'd get to in this short time, so it's really important, and it means a lot to me."
The 2019 NSW NPLW Grand Final promises to be a match for the true football lovers: a battle of tactics and styles, of patterns and pressures. It's as much about which team makes the error as it is about which team out-classes the other. Whatever the result, it's a night where history will be made for one of these exceptional clubs, with NSW women's football itself coming out as the ultimate winner.
Sydney University will take on the Northern Tigers at Valentine Sports Park on Sunday at 5:45pm.