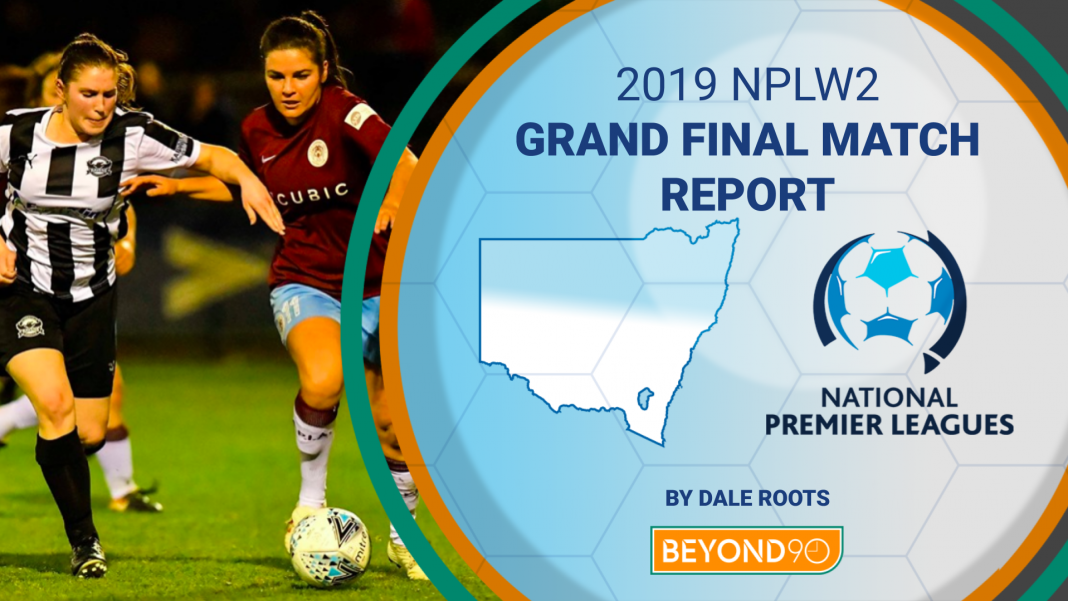 Gladesville Ravens have completed one of the biggest upsets in recent NPLW 2 history, defeating newly-crowned Premiers APIA Leichhardt Tigers 1-0 to claim the 2019 NSW NPL Women's 2 Championship at Valentine Sports Park on Sunday afternoon.
A player-of-the-match performance by Ravens goalkeeper Eri Arikawa and a long-range wonder-goal from substitute midfielder Jade Pond midway through the second half were enough to hand Gladesville victory, securing the club's first major trophy at senior level.
Starting without talismanic midfielder Yume Kashima, who failed a fitness test in the hours leading up to kickoff with a torn knee meniscus, Gladesville promoted Annabelle Kinchington into the first XI alongside Zoe Zaczek and Carlie Ikonomou in midfield, working in front a miserly Ravens defence that had conceded just 23 goals in 25 matches.
APIA had themselves suffered a number of injury setbacks throughout the season, but with their front three of Georgia Bridges, Amy Dahdah, and Golden Boot winner Ash Palombi managing 68 goals between them, and the team having scored in every match this season, the Tigers were always going to create chances in front of goal.
However, with the possibility of completing an NPLW2 Premiership – Club Championship – Championship treble, and looking to emulate the efforts of their men's NPL Championship-winning side from the night before, the Tigers would have known that Gladesville presented a potential banana skin for them.
The only team to defeat APIA in the regular season, Gladesville had proven themselves a genuine title contender throughout the year, winning the sides' opening-round encounter at Lambert Park 2-1, and holding on for a 3-3 draw at Christie Park in May.
The opening stages of the match looked to be following the pattern set down by APIA throughout the season, as they flooded forward in numbers, their crisp passing drawing Gladesville players out of position in the hope of crafting a sight at goal.
That first Tigers chance came after just four minutes, as Dahdah expertly controlled a pass from midfield and threaded the ball through a forest of legs on the edge of the Ravens box to Bridges, only for defender Hannah Gestier to whip the ball off Bridges' toe at the final moment with an expertly-timed sliding tackle.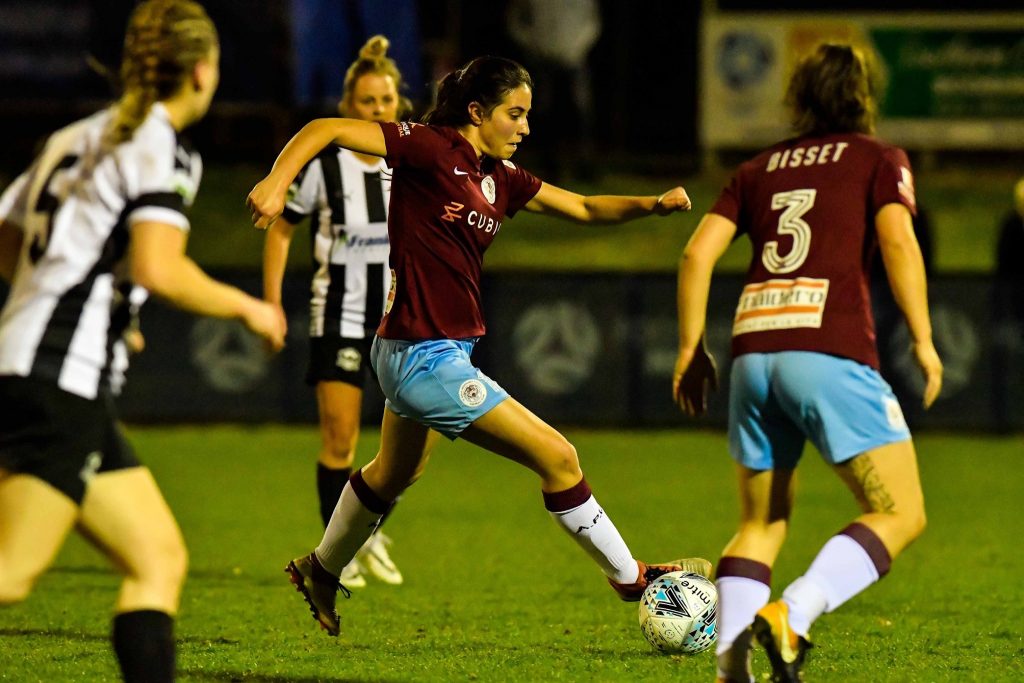 Disaster struck for APIA just seven minutes later as the team was reduced to ten players, with goalkeeper Courtney Halpin dismissed for a last-ditch sliding tackle to deny Ravens striker Emily Diaz an opportunity on goal.
Diaz, running onto a perfectly-weighted pass from Ikonomou on halfway, sprung the offside trap, only to be unceremoniously brought down by the advancing Halpin just outside the penalty area, leaving referee Emma Kocbek no choice to send her from the field.
APIA manager Matthew Constantini shuffled the deck, substituting attacking midfielder Sarah Urquhart for reserve goalkeeper Stephanie Grimbilos, and moving starting wingers Palombi and Dahdah into more withdrawn roles behind a lone striker in Bridges.
Despite their numerical disadvantage, APIA continued to push forward at every opportunity, with Palombi and Dahdah proving excellent foils for the long-range diagonal passes from fleet-footed midfielder Jennifer Bisset and central defender Kerrie Ryan, stretching the pitch and forcing Ravens wingbacks Alanna Fisher and Eloise Taylor to turn and chase on the counter.
Bisset's constant breaking-up of play and short passing game was a thorn in the Ravens' side, as her dogged tackling and calmness on the ball consistently reset play for APIA, allowing her teammates moments of respite in what was quickly becoming an end-to-end contest.
With Palombi and Dahdah acting more as wide midfielders, Bridges was allowed to float between the two Ravens' centre backs and her industry was almost rewarded in the 27th minute as she latched onto a sumptuous long-range pass from Dahdah, only to see her 25-metre chip fly over both the onrushing Arikawa and the open goal.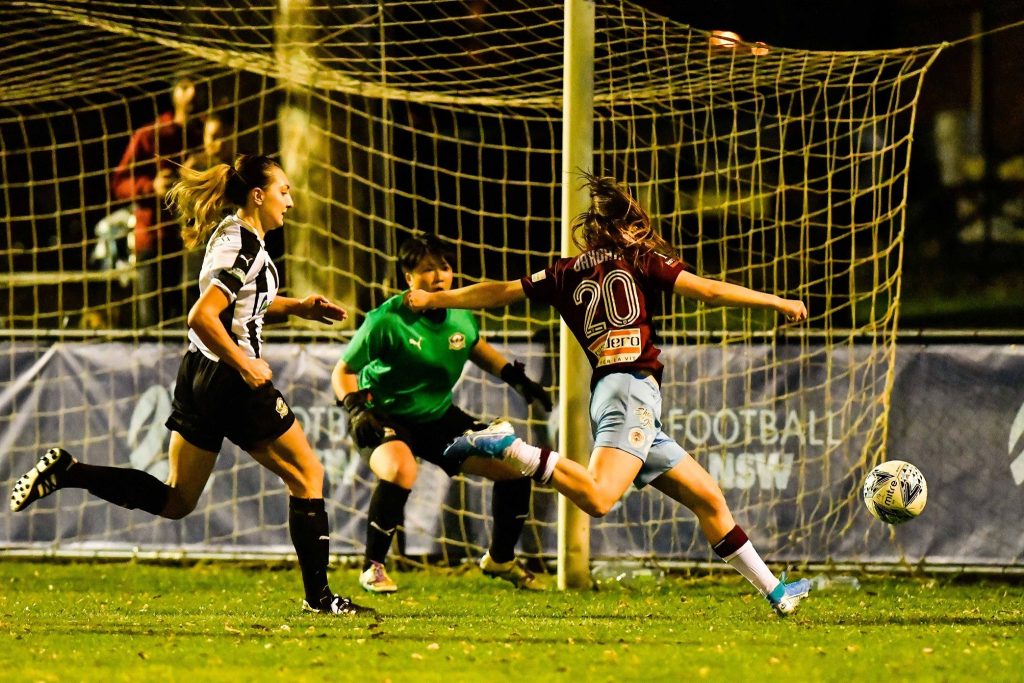 Gladesville were stoic in defence throughout the first half – seemingly happy to allow APIA to play long passes in behind and chance their arm from long distance – but lacked a real cutting edge in the attacking third.
With Bisset and midfield partner Carla Canini proving effective barriers through the middle of the field, the Ravens were forced to rely on attacking forays down both flanks, looking to draw APIA wingbacks Jennifer Bennett and Jessica Fallah into contests further up the park before breaking in behind them to cross into the area, only for that final ball to miss its mark.
That defensive resolve of Gladesville was once again tested on 37 minutes as Bissett played a lovely through-ball to Dahdah in the Ravens box, her twisting and turning run brought to a sudden halt by another expert lunging tackle – this time from Ashleigh Smith – as the referee waved away the Tigers' appeals for a penalty.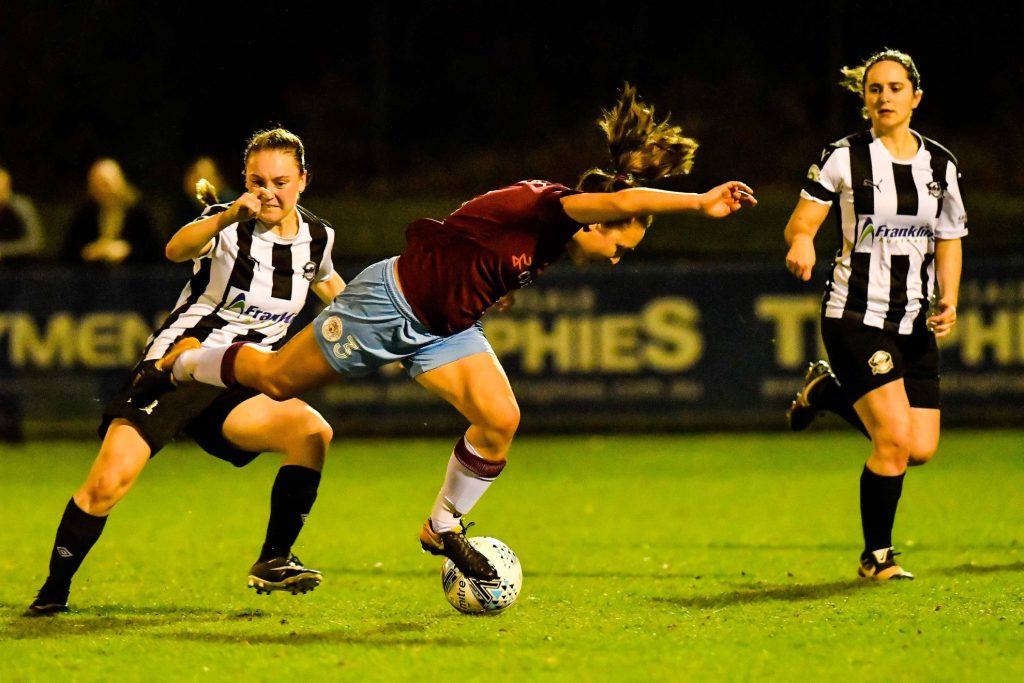 It was Ravens that would have the final chance of the half however, as a horribly-shanked clearance from APIA centre back Rebecca Watts presented Fisher with a gilt-edged one-on-one chance, only for her to screw her shot wide of the far post from just inside the box.
Ravens would finally test Grimbilos shortly after halftime, and the young stopper was not found wanting, making a brilliant diving save at the feet of Diaz in the 48th minute after the APIA defence failed to deal with a dangerous Fisher cross from the left flank.
Gladesville keeper Arikawa was not to be outdone however, diving to her left to acrobatically deny Bissett at her near post moments later after a neat one-two with Palombi on the right wing allowed Bissett space to run and shoot from outside the area.
But it was a moment of pure individual brilliance in the 66th minute that would turn the tide in favour of Gladesville, as substitute midfielder Jade Pond – introduced to the match only five minutes prior – produced a goal good enough to win any match, let alone an NPLW2 final.
Winning the ball in midfield, Pond rode the challenge of Canini to find a yard of space in front of the APIA defence, launching a thunderous shot from all of 25 metres into the top right corner of Grimbilos' net, before haring away to the embrace of her adoring fans on the hill.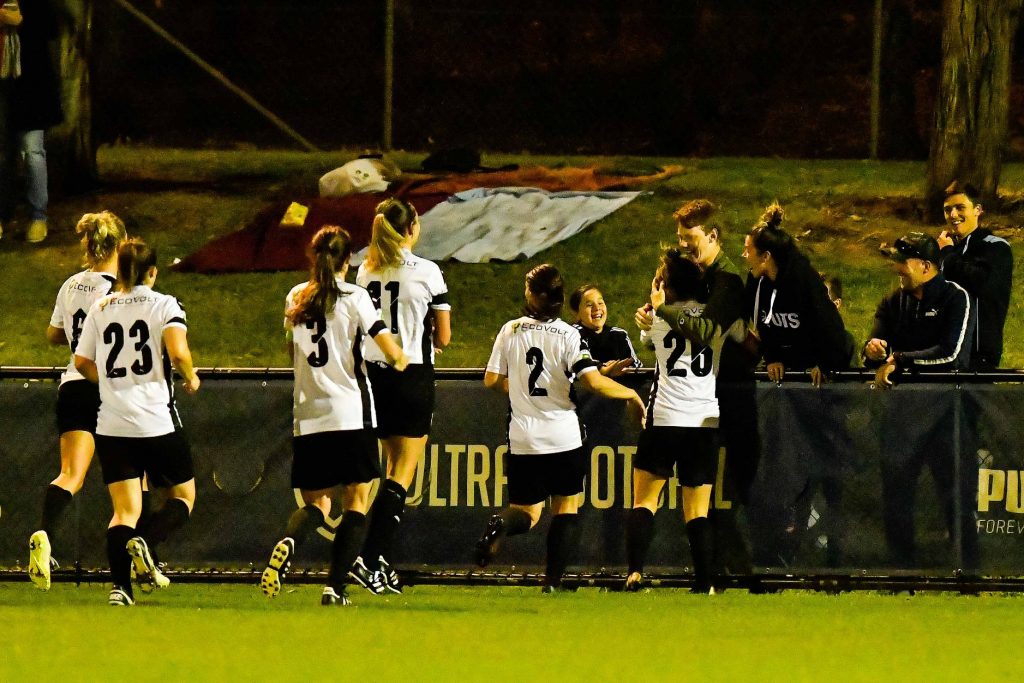 Grimbilos cut a lonely figure in her area before the restart – hands on hips, pacing around near the penalty spot – but in truth the Tigers could have had three goalkeepers on the pitch and still wouldn't have kept Pond's long-range missile from landing where the spiders live.
Pond was soon in the referee's book once again – this time cautioned for a late tackle in the 76th minute that left Rebecca Watts strewn across the pitch, much to Pond's bemusement.
APIA was given another chance to draw level only a minute later, as Bissett was cynically brought down 25 metres from goal after a driving, mazy run through the Ravens midfield. From the resulting free kick, Palombi deftly flicked her delivery over the Gladesville wall to the waiting Dahdah, but the ball wouldn't fall in time for the winger and she could only put her volleyed shot into the trees behind Arikawa's goal.
The Tigers continued to pushed forward in search of an equaliser, sacrificing the toils of defensive midfielder Canini in favour of young striker Lillian Dummett in the 80th minute and moving into more of a 4-1-4 formation as the clock wound down.
With fresh legs and fresh impetus, APIA ran Gladesville ragged in defence, time and time again turning the Ravens around, their frontline constantly taking turns to run at, around, and through the waiting Gladesville back four, only to skew a pass or be turned away with a neat interception.
A brilliant 84th minute through-ball from Tigers fullback Bennet found Bridges on a diagonal run to the left flank, only for her pinpoint low cross to be turned wide from the penalty spot by the unmarked Amy Dahdah as a helpless Arikawa watched on in vain.
It was Bridges again who almost dragged her side level in the last minute of regular time, heading the ball clear of Arikawa's grasp amongst a mass of bodies at an APIA corner, only for Gestier to once again prove herself the Ravens' saviour with a clearing header off the goal line.
Groans went around the increasingly-nervous crowd as five minutes of stoppage time was shown on the fourth official's board; Ravens were only minutes from history, while APIA was seeing it slip slowly out of their grasp.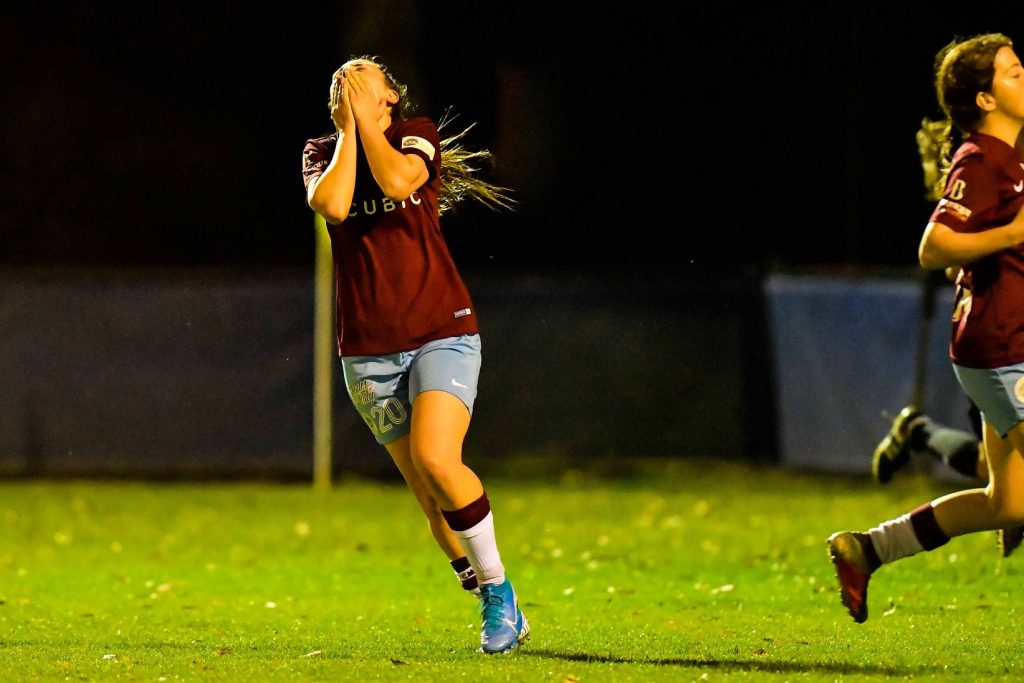 With three minutes of the five played, APIA produced their best chance of the game – one they surely would have taken with ease in any other match.
Lone striker Bridges dropped deep info midfield to win a ball on the centre circle, wriggling free of substitute Eleanor Lidbetter's grasp with her back to goal and finding Palombi over her left shoulder to set a three-on-two attack through on goal.
Sliding to reach her pass on the right wing, Palombi played Dahdah into the box 10 metres from the nearest defender, and with keeper Arikawa rushing out to meet her, she squared the ball to two unmarked teammates – Dummett at the far post and the onrushing Bridges on the penalty spot – only for the latter to mistime her shot and send it spinning away for Gladesville to clear.
All four APIA attackers were left sprawled across the pitch in exasperation, slowly rising to chase back in the hope of finding just one more chance as clear as the last.
But it was not to be, as moments later referee Kocbek's whistle rang out one final time, sending the Gladesville substitutes and staff spilling onto the field in jubilation, their club's first piece of silverware secured and their place in history assured.
APIA Leichhardt Tigers manager Constantini was glowing in his praise of his side, but knew that their inefficiency in front of goal cost them dearly on the night.
"The performance we put in tonight was fantastic with ten [players]. We tried to play through them and had the majority of the chances. We made one small mistake and it cost us. We went down playing our style of football and when you don't take your chances you lose, that's football." said Constantini.
"Twenty one games unbeaten is fantastic in any competition. We got our major goals in the Minor Premiership and Club Championship. It is disappointing not to take the clean sweep but we could play this game 99 out of 100 times and we probably take the chances."
Despite missing their fulcrum in Yume Kashima for the final, Gladesville Ravens manager Albert Disciascio paid tribute to the immense efforts of his side on the night.
"It was hard work tonight. I believed in my team and tonight, we got the result. Credit to APIA, they kept coming at us despite being down to ten players, but I think we were just that line better to score the goal. This is what I wanted this season and we got it."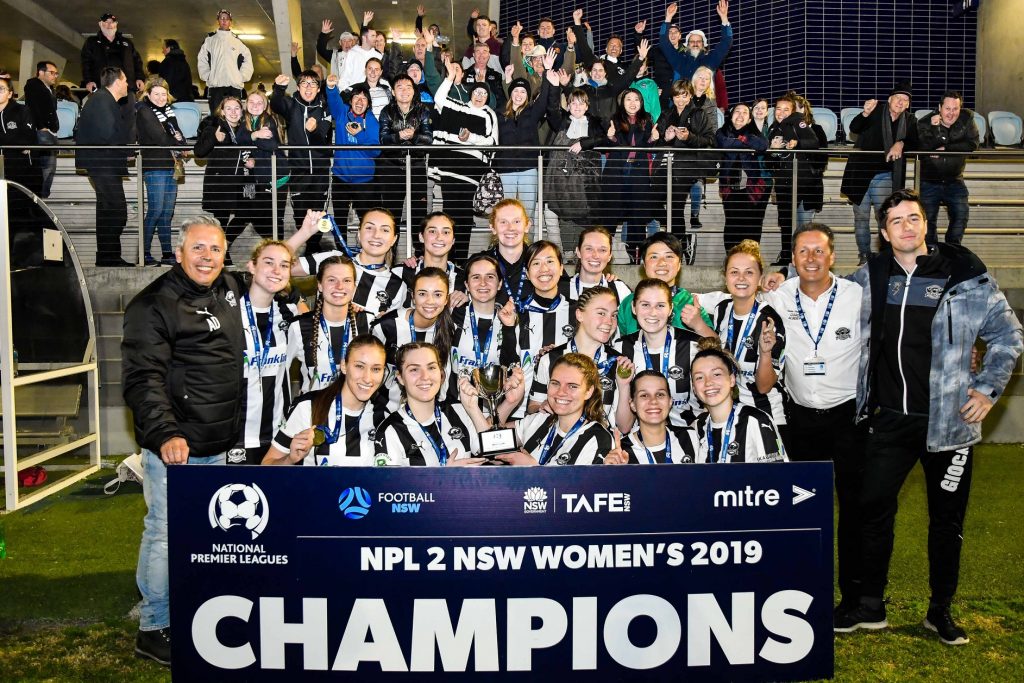 APIA LEICHHARDT TIGERS 0
GLADESVILLE RAVENS 1 (Pond 66')
APIA Leichhardt Tigers: Courtney Halpin; Jennifer Bennett (Hannah Macri 87'), Kerrie Ryan, Rebecca Watts, Jessica Fallah; Jennifer Bisset, Carla Canini (Lillian Dummett 80'), Sarah Urquhart (Stephanie Grimbilos 11'); Georgia Bridges, Ashleigh Palombi (c), Amy Dahdah
Unused subs: Marissa Papoulidis, Abbey Harrison
Red card: Halpin 11'
Gladesville Ravens: Eri Arikawa; Alanna Fisher (Eleanor Lidbetter 86'), Ashleigh Smith (c), Hannah Gestier, Eloise Taylor; Annabelle Kinchington (Jade Pond 61'), Zaczek, Ikonomou; Kasia Wojtowicz, Annelise Schiraldi (Chloe Goldsmith 89'), Emily Diaz (Emma Douglas-Oliveira 78')
Unused subs: Anja Seeto
Yellow card: Pond 76'