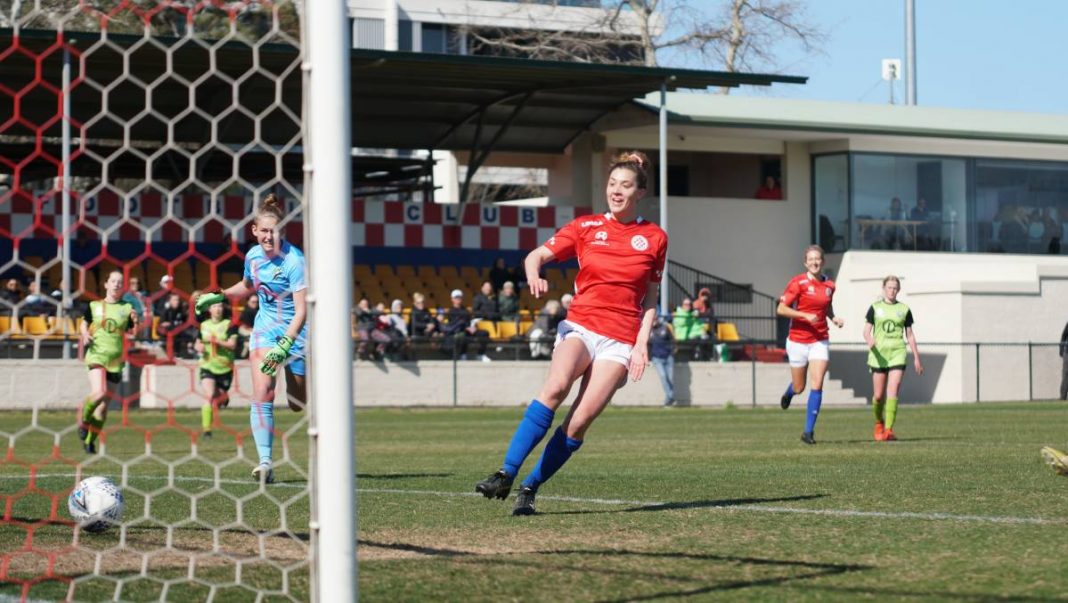 When interviewed by RiotACT in April 2019 – in the first month of Capital Football's NPLW1 season – Canberra FC attacking midfielder Rachael Goldstein was by some way the competition's top scorer, revelling in the joy of being back out on the pitch having recovered from a hamstring tear suffered in the 2018 grand final.
Life in football was good back then for Goldstein, but if you'd said that 12 months down the track she would have also …
contested another Capital Football NPLW grand final;
experienced her first W-League campaign with Canberra United, making her national league debut at the back end of the season;
completely changed where she plays on the park, to a role she'd never played;
joined Macarthur Rams for season 2020 of the NSW NPLW competition, playing in the first two games of the season; and then
12 months after the RiotACT interview, be forced (along with every other player in the nation) to sit out all organised sporting activities due to an unforeseen global pandemic
… you would forgive her for looking at you sceptically and saying "You're dreaming".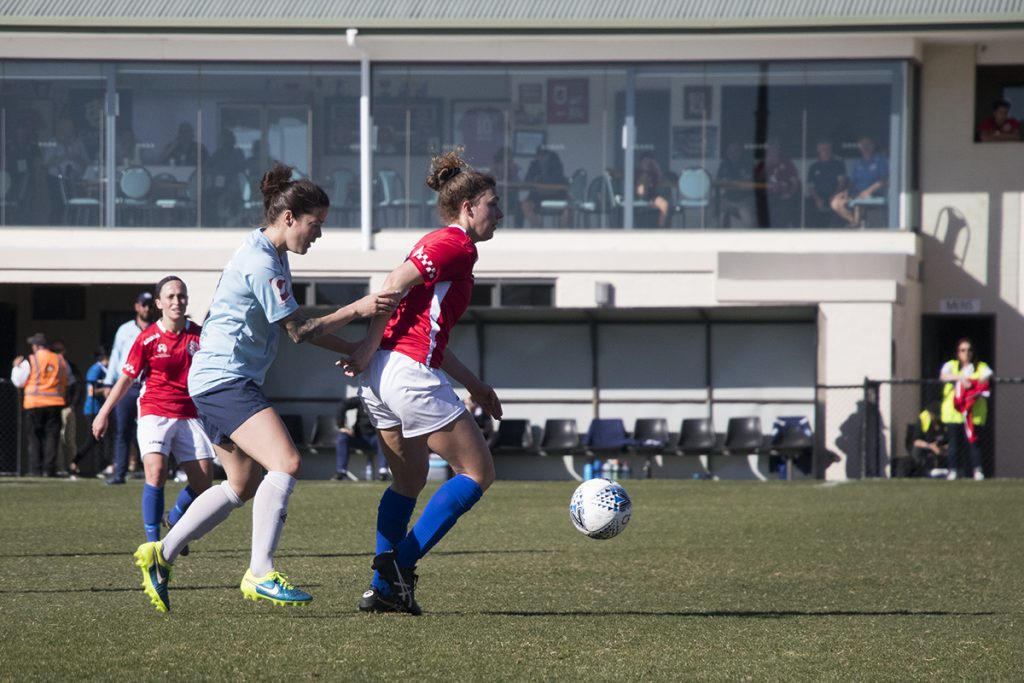 Eleven of those twelve months amounted to an amazing time of football growth, joy, and transformation for Goldstein.
Rewinding things a little to her football roots, Goldstein started out at age six playing for Woden Valley (now Woden-Weston) and was also involved in squad swimming for many years till age 12. Cross country running was also ever-present in her formative years.
"For the last nine seasons, I've been playing at Canberra FC (now Canberra Croatia FC). I spent four years playing in the boys NPL as a holding midfielder (number 6 role). I played five years in the Women's but I always continued to train with the boys NPL U18s & U20s.
"I'm definitely very appreciative of the CFC committee and coaching staff, they've always been extremely supportive of me playing & training with the boys, and have given me countless opportunities to further myself as a player.
"I also was a part of the ACTAS [A.C.T. Academy of Sport, a high-performance programme] training squads from [age] 16, on and off."
Goldstein has happy memories of her years from mid-teens onwards with Canberra FC.
"I've honestly loved playing at my club, and been extremely fortunate with the various opportunities and development I've received over the years.
"It's nice to look back and see that CFC has been consistently strong, regularly challenging for the finals in recent years."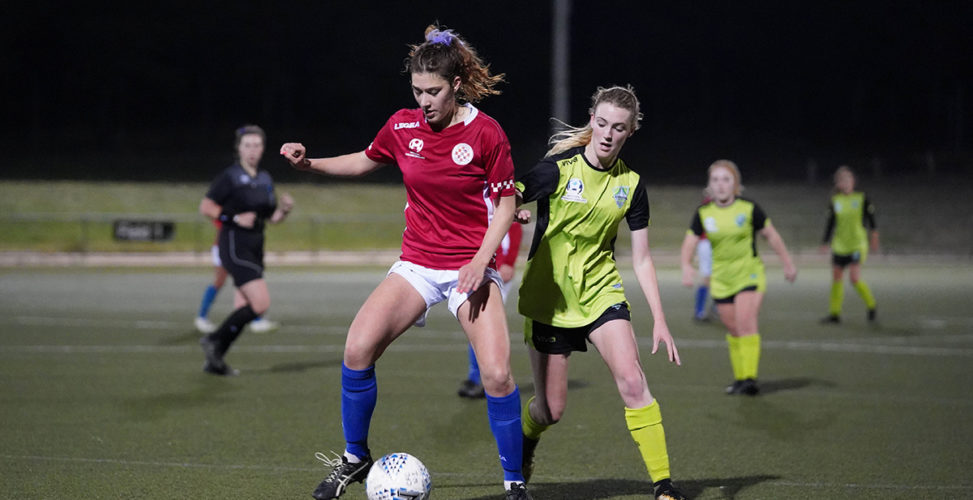 It was during her first playing stint in the W-League with Canberra United for season 2019-20 that Goldstein was first identified as having the right qualities (pace, mobility, physical presence) to play as an overlapping wide back, a position she had never before experienced. This was quite the surprise given all her success at NPLW1 level in a free-roaming number 10 role.
"[It was the early days of training that] my name got put in right back on the board, which was a shock to me because I've never played defence in my life. And at first, it was challenging to adjust out of my comfort zone to the defensive mindset and positioning, but once it clicked I started to enjoy it.
"I just loved overlapping and pushing as a high winger/back.
"I definitely have learnt to enjoy the wing-back defensive role. I think outside of the midfield, wing-back would be my next best position. [But] midfield is definitely where I feel most natural, either in the 8 or 10 role [i.e. more advanced than the defensive number 6 role]. I just love the freedom to move and create in there as well as just being able to run and cover so much ground."
Goldstein made her on-field W-League debut in the last home game of the 2019-20 season.
"As it was my first season, I just wanted to keep working hard and stay positive, as we had a big squad with a lot of established players. I knew if I could continually improve the opportunities would come."
It was a long road to her on-field debut, with beginnings as far back as 2014.
"Many years back I actually had a training agreement with Canberra United in 2014 and then again the year after, in 2015. Unfortunately, in 2015 I lost my agreement as I had broken my foot in the 2015 NPLW grand final. And then my bad luck continued in 2016 where I did my ACL mid-winter season playing NPL U18 boys, so I was out for a good year or so after that.
"While it was a very tough injury, I definitely feel like it changed my mentality and forced me to change and correct my technique, allowing me to come back a stronger player than before."
Her first W-League game was a personal high point for Goldstein, and she looks back fondly on her first W-League season.
"I was very happy with the season being my first one. For me, it was about being in an environment which pushed me to step up, especially since there is such a big gap between W-League and the local NPLW.
"Being surrounded by so many different style players you learn and take in as much as you can. For me, I also feel like I grew so much not only as a player, but also personally.
"I can honestly say that this was the best team environment I've ever been a part of. Everyone was just extremely positive and supportive of one another and it really made us feel like a big family. I couldn't have asked for such a lovely, supportive team and I've definitely been really lucky to have left making some close friendships."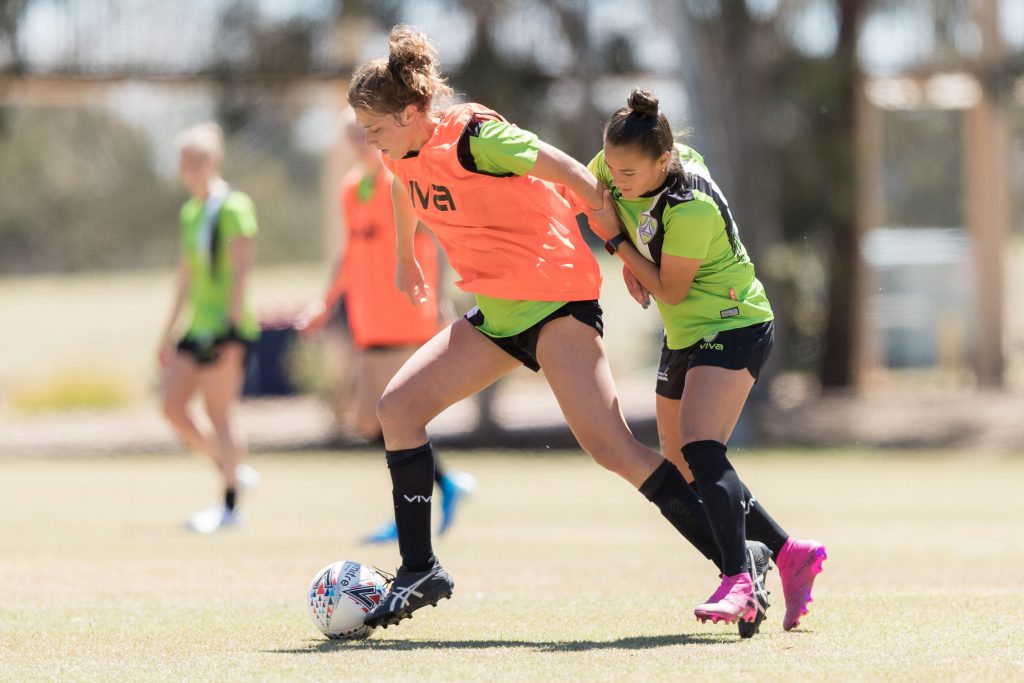 Towards the end of the W-League season, Goldstein decided to test herself in the NSW NPLW competition in 2020, deciding upon 2018 Championship winners Macarthur Rams as the team to join.
"[I wanted to] play in an environment which would allow me to continue to push myself and improve coming off the W-League season. I liked the idea of being surrounded by good players I could work off, especially the older more experienced girls.
"It's definitely a much faster and more competitive competition in Sydney. Every team is strong so you're getting a high-intensity game every week.
"And as I'm still at Uni here in Canberra, joining the Rams also made sense commuting-wise."
The idea of Goldstein playing at right-back has also been adopted by her coach at the Rams. Only two rounds were played prior to the shutdown, but she started both games in her new defensive role, with the first round marking the occasion of her first-ever game in defence.
There are several Canberra United connections to the 2020 Macarthur Rams squad. Goldstein spoke to Nikola Orgill, Patty Charalambous, Sham Khamis and Leena Khamis about the Rams. Not only that, playing alongside her in defence is Tash Prior (who played the previous season with Canberra United). Canberra FC team-mate for the last two seasons (and one of the best central defenders in Canberra over that time) Ivana Galic has also made the move to the Rams this year.
"All the Sydney girls helped me decide which club. It was like a big family discussion every week, as there were a few of us younger girls looking to make the move to Sydney. There were two teams I was talking to and I do remember having a good chat with Niko [Nikola Orgill], which was when I made up my mind to play for Rams. But Sham and Leena definitely helped look after me, and Sham got me in contact with the Rams coach.
"Tash is such a hilarious, unique character to have around. I did know of her and I had met her a few times during the Canberra United season. Knowing she was playing also helped in my decision to play for the Rams as she just adds to another layer of strength to our team.
"[Ivana's move to the Rams] happened separately, and when I was making my decision it just happened to play out that way. But it's really nice, she's one of my good friends and I love playing alongside her."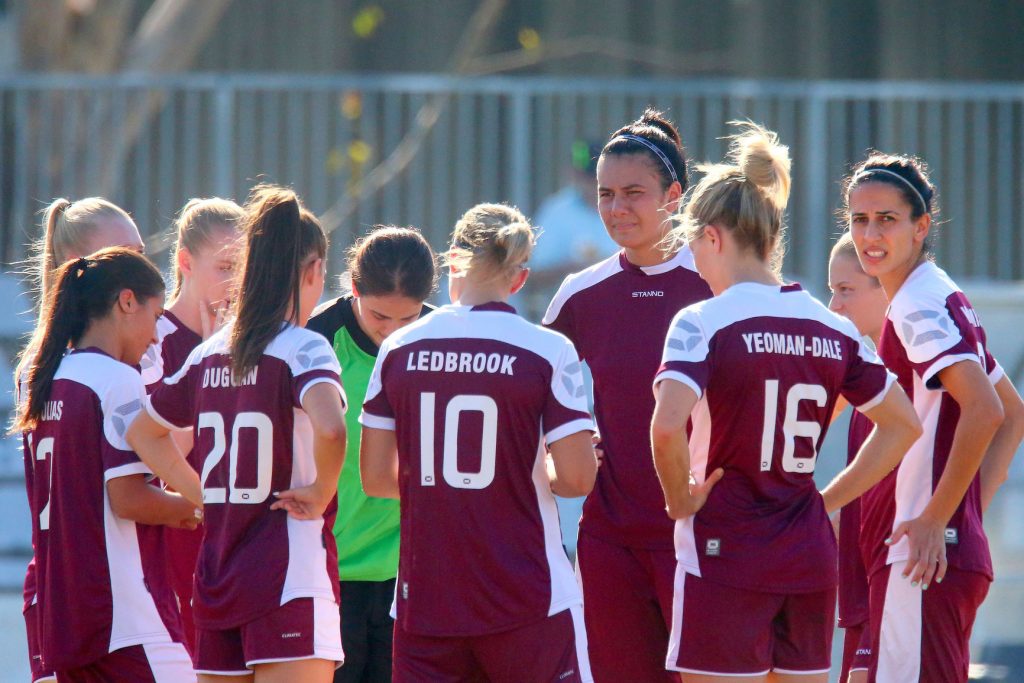 The last couple of months have been universally challenging, and it's been no different for Goldstein, who has kept in regular touch with the Rams and her coach.
"It's definitely been a hard time on everyone, for me having Uni online and football postponed, I've had to move back home. Luckily though I've been able to maintain a solid routine with the programs given to me from my coaches/trainers as well as my own additions. I feel like I've used the time to maintain a high level of fitness and strength but I'm definitely ready to get back to training with my team.
"Not being able to go to gym at ACTAS, our trainer there has been setting us weekly home gym and conditioning sessions. So I've been writing my own sport program which includes both the Rams' fitness targets and the gym/conditioning, as well as my own home conditioning and cardio."
A positive outlook is a hallmark of Goldstein's, and she is looking forward to what the future holds, building upon her remarkable last year.
"With everything that's happened with COVID-19 [I] haven't been able to enjoy the move properly yet. But with training starting up again the commuting will definitely keep me busy."
The Rams started season 2020 with a narrow win over Emerging Jets, followed by a four-goal loss to Manly United.
"We have a top-quality side and it was nice to start the season with a win. It's still early days and we have so many new players including myself this season, and assuming we get back on the field I feel like we can quickly gel as a team with a couple more games under our belt.
"Once we've played together more and figured out each other's playing styles, we'll definitely be a team to watch out for."
Follow all our NSW NPLW coverage, and watch streamed NSW NPLW games via NPL.TV.