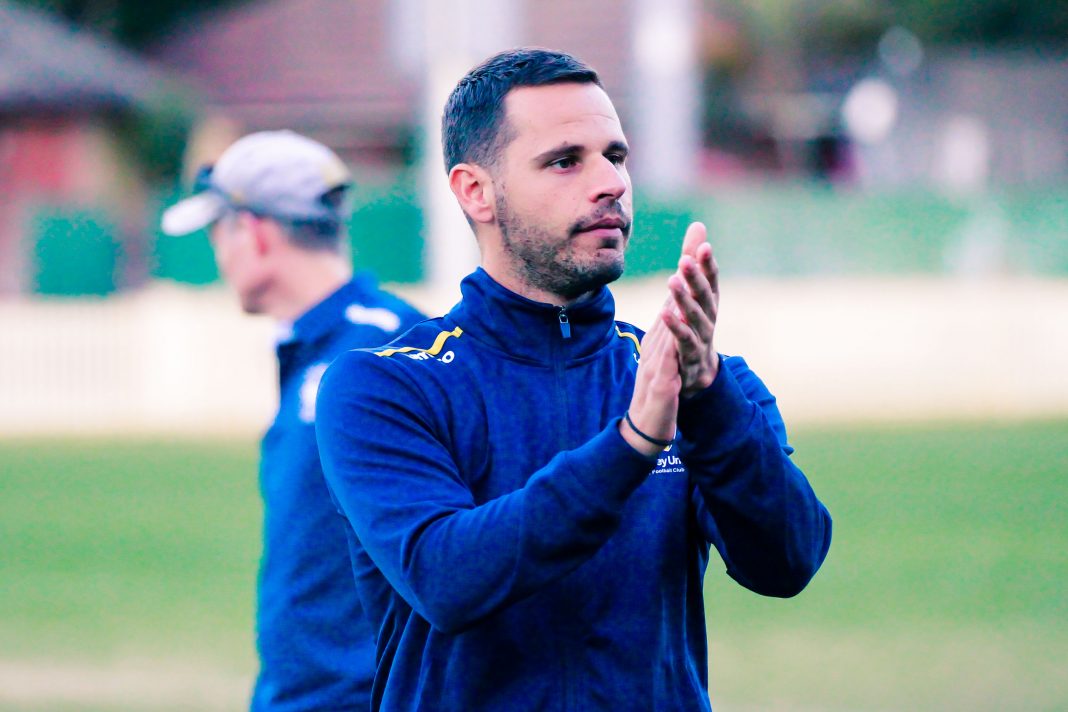 It would have been easy to get angry. To throw his hands in the air. To sigh and drop his head.
After fighting back from 1-0 down at half-time, Sydney University were ahead 2-1 in the 96th minute against traditional rivals, Macarthur Rams. Moments later, Uni head coach Alex Epakis watched on in silence as his side conceded from a free kick in the dying seconds. The final whistle signalled a 2-2 draw, a share of the spoils.
Instead of allowing the disappointment to show in his face or across his shoulders, Epakis strode out onto the field to shake hands with the players. He brought his squad together in a circle, weaved together with arms across backs, and highlighted the positives; the lessons learned.
It was a moment illustrative of the NPL coach who many consider an exciting future prospect, not just for his tactical nous—his team out-played their rivals for large parts of the match—but, perhaps more importantly, his character.
After the crowd had cleared, we walked down the street to the local pub; a place that Epakis, the self-described details-man, often comes after games on his own to sit and unwind. He'll go mad otherwise, he says.
Alex Epakis is responsible for running one of the most professional and progressive set-ups in the women's NPL. Supported by the resources of Sydney University, the team trains three times a week, including in a gym reserved just for its athletes. The back-room staff consists of physiotherapists, a nutritionist, a sport psychologist, and sport scientists. Their physical programs are complemented by theory and tactics lessons involving video analysis, powerpoint presentations, and whiteboard diagrams galore.
"I don't believe the girls had been previously exposed to as much detail or such a specific style of play previously. Every action has purpose and every movement is designed to create a certain outcome," he says.
"Detail for me is my money-maker, so I give them a lot of detail, and at first it might have been over-kill… but I tried to get the detail across in a lot of mediums, so they could get it from every angle. We started to click half-way through last season; all the patterns were coming off, improvisation, structure, everything. And now this season has been a lot easier because we've just carried on.
"At first, there were some moments there where I was telling internationals, W-League players, and Young Matildas, 'how you operate isn't right for me,' and they were like 'well who are you?'
"But last year, we only lost two games in the regular season, and we won the first grade championship and club championship in record time, so I had runs on the board after that, and now they just trust what I say."
Epakis' coaching philosophy is not just detail-focused, it's also player-focused. He belongs to what some call the "new school" of football coaching, an approach that actively privileges co-operation, inclusion, player empowerment, adaptation, and compromise.
This philosophy is most evident in his behaviour on the sidelines during games. Compared to many "old school" coaches who run up and down the technical area shouting instructions, Epakis stays relatively quiet.
This is not from a lack of ideas, but rather a gesture of trust in his players—an acknowledgement of his belief that they can make their own decisions in the moment with the conceptual tools he has already given them.
"I don't like to give the players solutions on the run because I feel as though they're at a point where they can do that.
"But I drive effort and I keep them accountable on the sideline. I don't tell them what to do, I just tell them that what they do needs to be better. I won't give them the solution. I just play my cards right because in different moments they need me and in different moments they don't, and I just try to pick the right moments.
"You don't want to be one of those coaches who's doing it for 90 minutes because then it loses its value. You've probably got three or four good messages to give throughout a game before they lose value."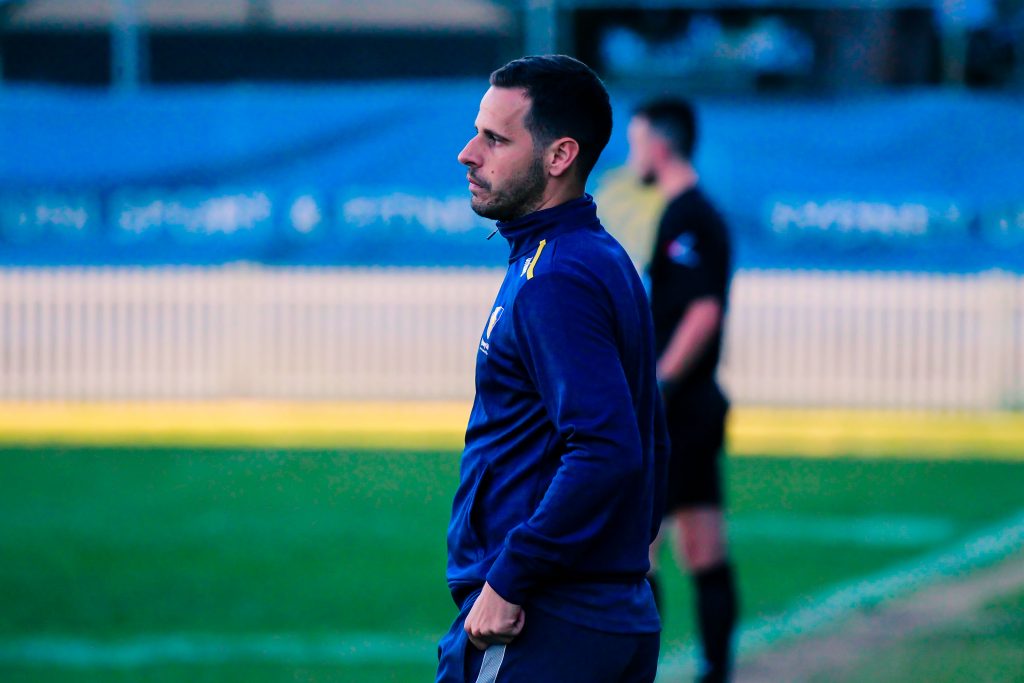 It's fitting that Epakis' approach to football epitomises the "new school" coaching trend given he originally trained as a school teacher.
While doing his undergraduate degree at Sydney Uni in his early twenties, he realised that he would never be a professional footballer himself, but still wanted to stay involved in the game. After his degree, he enrolled in a Masters of Sport Coaching, which required a long-term research project.
"I decided to do my major piece on Coaching Philosophy; determining what is a coaching philosophy and describing what that philosophy is. So that was a twelve-month process where I had to critically reflect and analyse: what do I believe coaching is, and then what do I believe football is, and then put together a document—15,000-20,000 words—on football, coaching, and how to facilitate a high-performance environment.
"So I arrived at all these theories and thoughts through doing a lot of reading, conducting research on evidence-based practice, doing a lot of interviews, and then just putting all my ideas and beliefs on paper and coming to this idea together. Now I'm lucky I have an opportunity to implement this here at Sydney Uni."
It was a stroke of luck that he was able to get his foot in the door of Australian coaching.
"I was finishing my degree and I was doing my B License, and Kelly Cross [Sydney FC's Youth Technical Director] was just finishing his role as head of Coach Education—he was running his last B License. So we came across [each other] like that.
"We had a bit of an intellectual connection on the course, and the he offered me a role to be part of the academy as a coach. I did a lot of scouting and then it just turned into a full-time role.
"I was very fortunate; it was a great opportunity and I learned a lot from Kelly. And from having the idea of an Academy to then seeing it come into fruition, that process was amazing. That was twelve months where we just worked at scouting, coaches, logistics, database management; putting all the pieces together first-hand was unbelievable."
Having started with Sydney FC's Youth Academy, Epakis then found work with FFA and Football NSW as a coach educator and assessor. In 2017, he was brought under the wing of former Matilda and current head coach of Canberra United Heather Garriock as an assistant for their 2017-18 W-League campaign. In early 2018, he became the youngest A-License accredited coach in the country.
While Garriock's pathway from player to coach is worthy of its own article, one aspect of the experience that Epakis was especially grateful for was seeing how Garriock balanced her coaching job with her family.
"I was with her while she was heavily pregnant with her third child, and I know she's a very big family woman—family is important to her and she has a wonderful family—and to see how she managed a difficult season but had a very stable family life… unbelievable. She is driven to win.
"She just found a way to make it work. And when you want something bad enough, like she does, you find ways. And she was very lucky that she had a supportive husband to assist her with that process."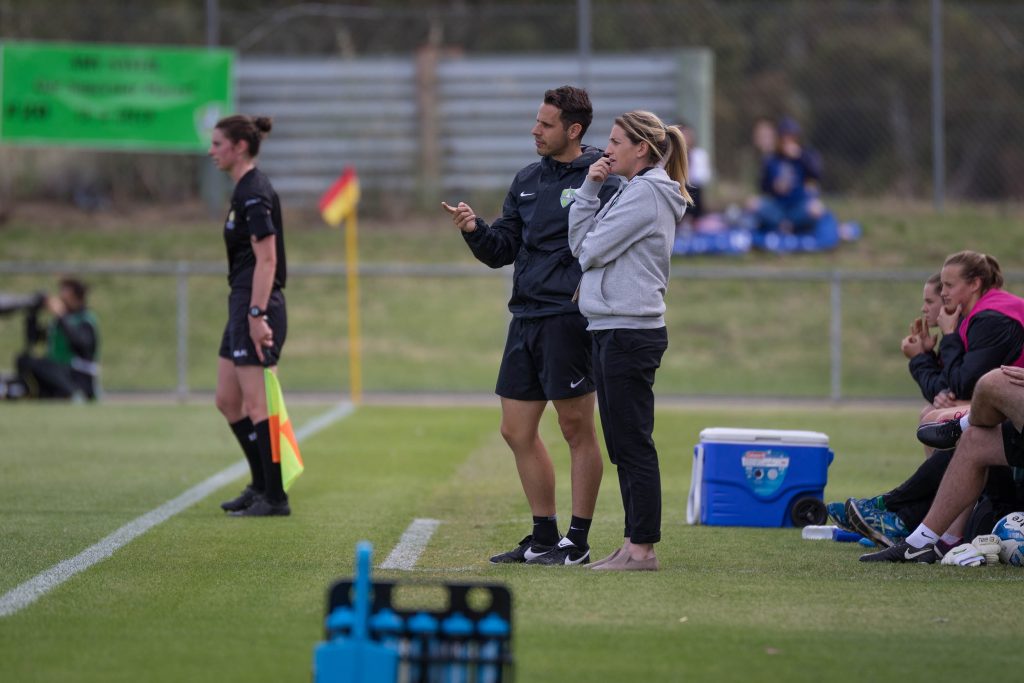 This opens up a bigger conversation that was reignited after the appointment of Phil Neville to the England Lionesses role: male coaches in women's football. The growing success of the women's game is, in some ways, a double-edged sword: as the game becomes more popular and coaching women's teams becomes more lucrative, more male coaches are drawn to and sought after to fill those roles. This is often to the detriment of women coaches who are just as capable and experienced as their male counterparts (if not more so), but who have many additional barriers to overcome in order to prove themselves worthy in what is still a male-dominated industry.
Epakis is attuned to the gender disparity in Australian coaching, not just through what he sees in his role on the sideline but also behind the scenes as a coach educator.
"We don't see many females in the courses. You run a course of 30, and you might get two or three.
"I would encourage as many females to be involved with the coaching courses because I think once they start to get runs on the board and they're confident, just like anyone, male or female, you become attached to it.
"I just don't think the best people are in the best jobs anyway—male or female, if I'm being totally honest.
"I think it's a bit sad that we're losing good resources to not want to be involved in the game—and not even the female game; there's no reason why an ex-Matilda can't be a boys' coach and a boys' team not taking any value out of that."
When asked if he endorses a quota for women in coaching courses, he didn't hesitate in his answer.
"Yes. I don't know how or what that would look like, but there needs to be some initiative to get more [women] into courses, whether it's subsidies or just tapping people on the shoulder and saying 'hey, I think you would enjoy this.'
"Would you come and sit on a course with 40 men? I think that's a question we need to ask. We definitely don't treat men or women differently in the courses—a candidate is a candidate.
"More needs to be done, but I couldn't tell you what."
He's not all talk, either; Epakis encourages many of his Sydney Uni players to pursue coaching themselves.
"A lot of my players have done a C License with me as the instructor. So I did Clare Wheeler, Taren King, Vic Guzman… about six of my female players have done their C License with me as the instructor. And I love that because then they have an understanding as to the thought processes behind why I do what I do.
"And then, if anything, they help me, and now a lot of them have SAP [Skill Acquisition Program] positions here at Sydney Uni. So I've trained them with what I think is effective, and I've hopefully put them to a level where they can make an impact with our future players."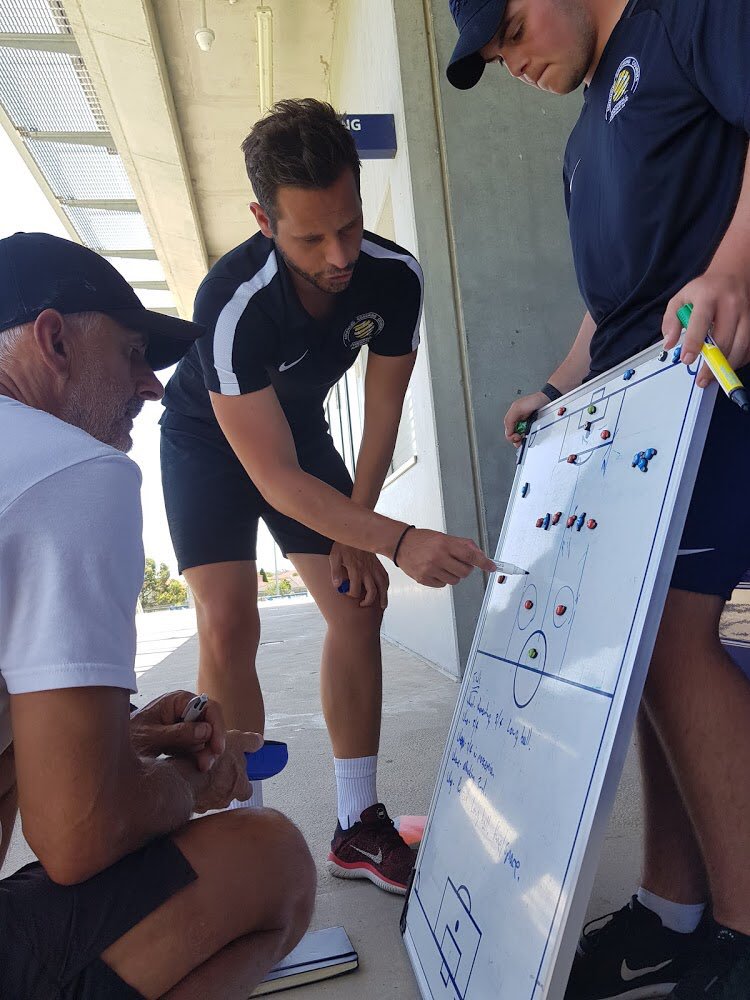 This desire to pass down his coaching pedagogy to the next generation appears to stem from the fact that Epakis didn't have 'effective' coaches when he was growing up. He wants to be the coach he never had.
"I felt I was very let-down with the coaches that I had. They were all good people but I judge effective coaching on one thing: you want me to do something, but why and how? And if the coach can't explain the 'why' and the 'how,' then they're not effective.
"I'm very big on knowing. If I ask a player to do something, I need to know the why they need to do it and I need to know how they can do it. Otherwise it's not going to be clear for me and it's not going to be clear for them."
While he no longer plays the game, he still harbours that hunger and drive that all footballers have to reach the top. This is just the beginning.
"Results are my currency, so if I'm doing well with the women and doing well with the men, hopefully that creates some interest.
"I'm waiting for an opportunity. Obviously I had my time with Sydney FC in their Academy and I had my time in the W-League with Canberra, but I haven't had any opportunities of late as a head coach in National Youth League, W-League… that's the next step I'm looking for.
"I love what I do and I'm ambitious and I want to go as high as possible with it."
One of the most important aspects of the "new school" approach to football is player welfare. As we're sitting in the pub, a group of Sydney Uni players, showered and dressed after their match, wander past us and into a back room to have dinner and hang out together.
Epakis says social life and education are key in his "whole package" philosophy.
"I came to university very lost, but that process shaped me a lot. And a lot of the girls who come in here, if they're in that and they use this time here at university, which is only three or four years… if I can have a 2% impact on them as people—forget as footballers—then I'm so happy. On top of that, if I can have an impact on them as footballers, then I'm going to sleep really well at night.
"In that sense, your academics plays a part in that; social life, work life, everything. The whole package. That's what I'm very big on—I'm big on the package. I'm not just big on them as footballers… they need to have something else to offer society, so I push that as much as I can.
"Ultimately, though, I try to be as authentic to myself as possible. I know what I want as a coach and I know what Uni stands for. I know what values I hold close to me and I share those values with the players as often as possible because I want people with like-minded beliefs here. That's how we get things done."