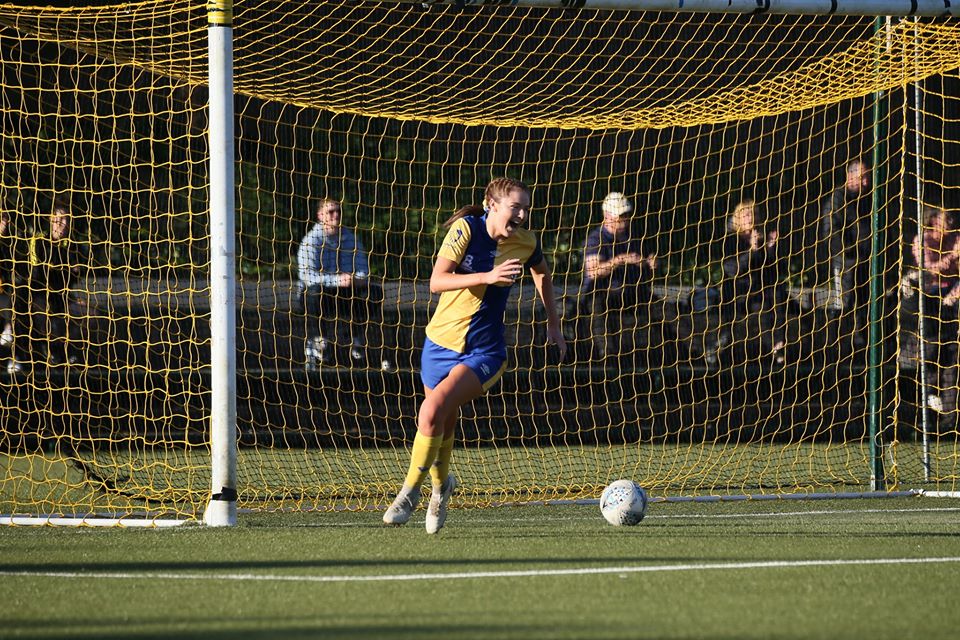 Not many teenagers have three years of experience as 1st Grade starters in the NSW NPL competition. Even fewer have won two Premierships and a Grand Final along the way.
What if I told you that there is a player who has achieved all of the above, while also playing for the Junior Matildas and Young Matildas?
Meet Tori Tumeth from 2019 NSW NPL treble winners Sydney University.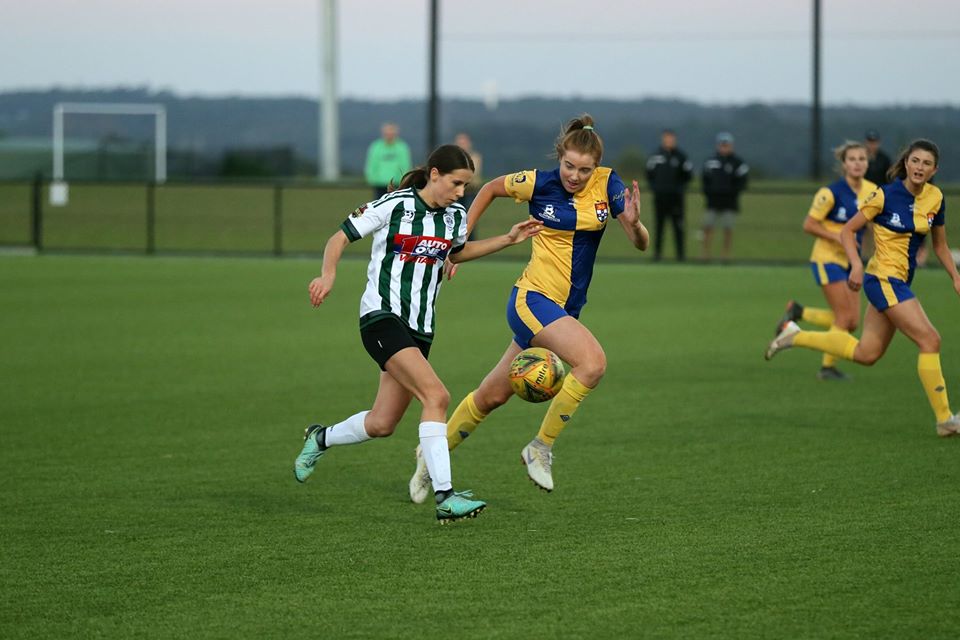 After playing grassroots football for APIA Leichhardt and Canterbury, the 18 year old from Sydney's Inner West received her first NPL opportunity at the age of 12 when she was scouted by John Curran, Sydney University's Director of Football.
"I was at a metropolitan competition for school in Year 6 and John Curran approached me. He talked about the club and I really liked their values. It's a family-orientated club, the young players have a lot to do with the senior players and there's a pathway to 1st Grade."
Tumeth spent the 2013 and 2014 seasons playing NPL Youth for Sydney University, before moving to Football NSW Institute. Her desire to better herself as a footballer and earn representative honours was the reason behind the switch.
"It has the reputation as where you want to be if you want to make state teams and national teams, so that appealed to me. With the facilities at Valentine Sports Park (Football NSW headquarters) and the high profile coaches, it's known as the best of the best in youth football."
She also enjoyed the particular test posed when playing for Football NSW Institute: competing against more experienced players in a very strong league. Tumeth cites this environment as being crucial to her development.
"I liked the fact that it was a challenge. We were always the younger ones playing against older players, we were never the strong team, always the underdog, and I feel like it pushed us to develop. I first played in 1st Grade when I was 16, and I was competing against players who have played for the Matildas. It was eye-opening. When I started I was way out of my depth, but I guess you have to be put in that situation to know what it's all about and how to play. So, thrown in the deep end, but it was beneficial in the long term."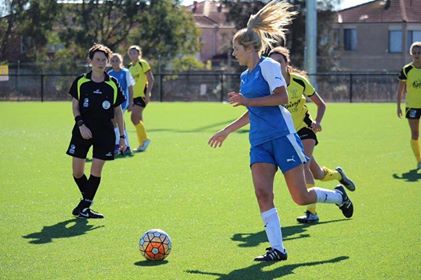 Originally a central midfielder, Tumeth switched to her now customary central defensive position at Institute. Although she didn't like the move at first, Tumeth grew to love playing at the back.
"From the back I can see the whole pitch, I like having everything in front of me. I feel like I can see what's happening more, have some control over what the play's going to be and where we're going from the back."
In 2016, Tumeth received her first national team selection after playing well enough at the FFA National Youth Championships to catch the eye of then Junior Matildas coach Ante Juric. Not only had her hard work resulted in selection for both the 2017 AFC Under-16 Championship Qualifiers and the tournament itself, she also had the honour of captaining the side.
"I went to the National Under-15 tournament in Coffs Harbour, and then I got Player of the Tournament. From there, Ante Juric was the one that selected me. He said he'd be in contact soon, and that team, we went into a few camps at the AIS and then headed over to Vietnam", she said.
"Playing internationally for the first time made all those training sessions, all the hours I took because I was travelling to Valentine Sports Park, all the time I missed with my friends, it just made it feel all worth it, and it was really rewarding."
"As a centre back, it is a role where you have to show a lot of leadership. Captaining the Junior Matildas was probably one of the proudest moments I've had in football. I think I learnt a lot of leadership there at an international level. It's always good that the coach has trust in you to lead the team."
Following the 2017 NPL season, Tumeth faced a difficult decision. She was bedded in as the Institute captain, but also wanted to study at Sydney University. After speaking to Uni head coach Alex Epakis, the lure of her first NPL club was too much to resist, despite concerns about whether or not she would have to drop down to Reserve Grade football.
"I was doing my HSC in 2018, and that's when I moved back to Sydney Uni, I wanted to study here. I had a conversation with Alex, and I genuinely liked what he had to say and what his vision was for me. When my dad first contacted John Curran for me to come back, they had a conversation and the message was, 'Welcome home'. It was always the club that I wanted to come back to", she said.
"My final year, I was captain of Institute. I'd established my spot there, I knew I was playing 1st Grade, and then coming back to Sydney Uni was scary, because they have a lot of W-League players. I didn't know if I was going to be playing 1st Grade, it could have been a step backwards but I settled in pretty quickly."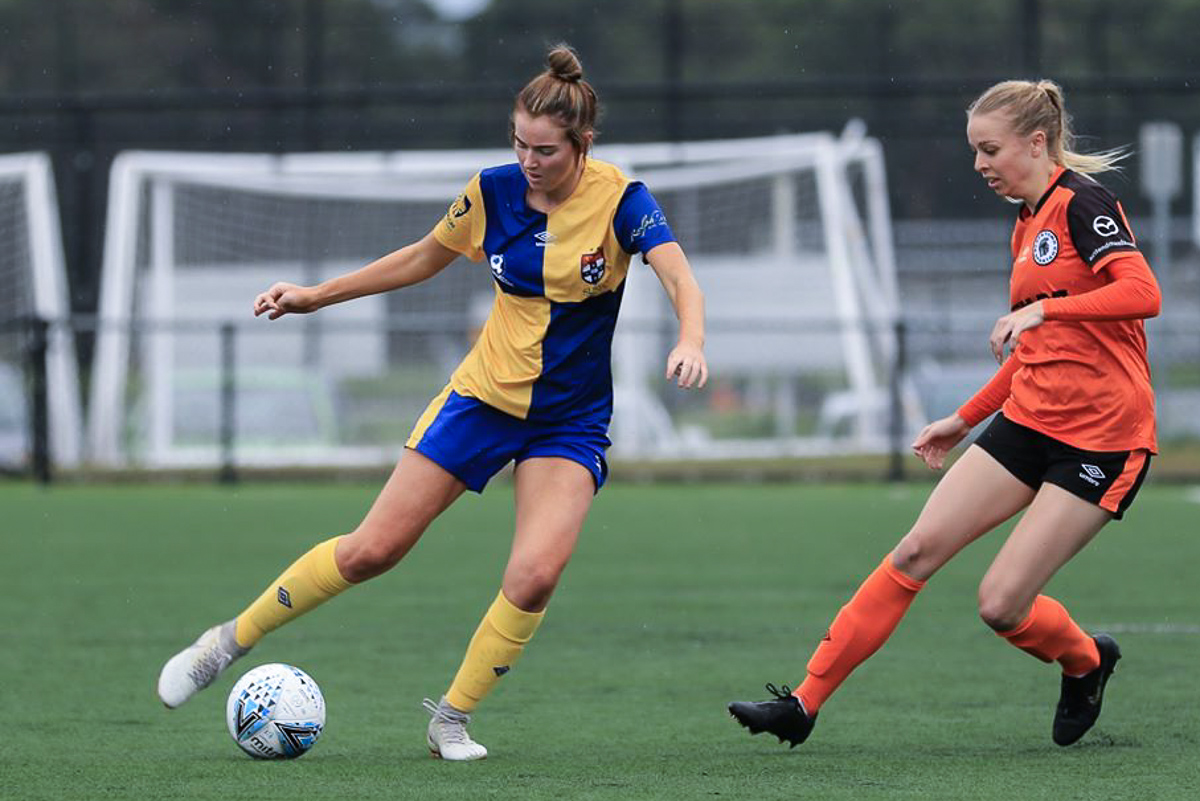 That year, Tumeth appeared in 21 out of 25 games as Sydney University won the Premiership and progressed all the way to the Grand Final. A memorable contest ended with Uni losing 4-3 to Macarthur Rams after 120 minutes of highly dramatic football, having lead 3-2 in the final minutes of normal time.
"I get angry thinking about it, extra time, up-down-up-down, it was back and forth. We were heartbroken after that because we thought we deserved it, being Premiers, having all these accolades and then the Grand Final didn't go our way."
2018 was a busy time. In addition to 1st Grade duties with Sydney University, Tumeth had to juggle her HSC and Young Matildas selection, even sitting exams while away with the national team for the first qualifying round of the 2019 AFC Under-19 Championship.
"I did my HSC in Lebanon with two other players. I had to do well at school because I wanted to go to uni, but at the same time I still had a job to do for the national team, that was still a really big priority of mine. It was a lesson in that it showed you have to balance different things, you have to balance a life away from football."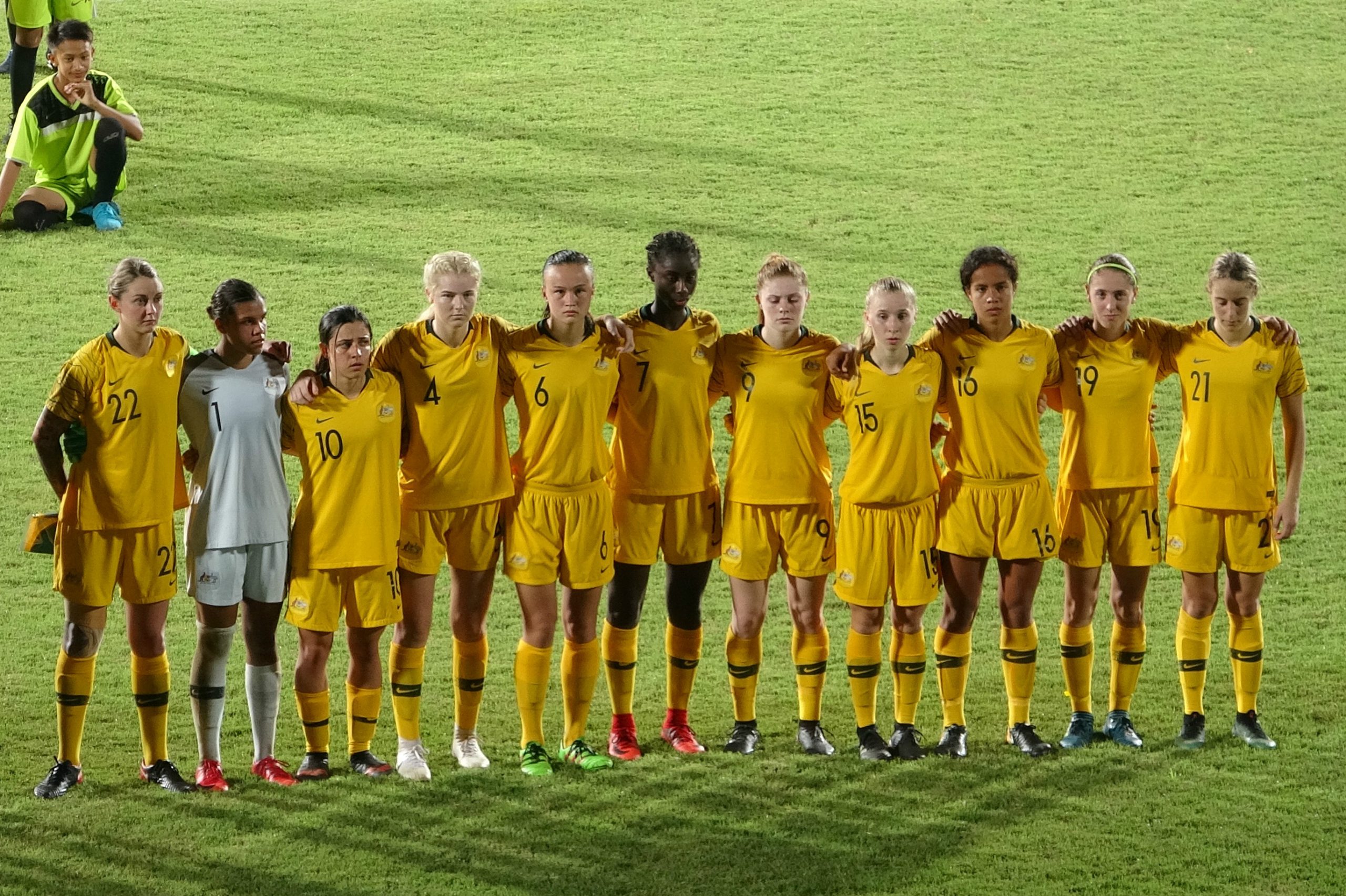 Sydney University rebounded from the disappointment against Macarthur to retain their Premiership in 2019. They did it in some style, with more wins, points and clean sheets than in 2018, while also entering the Grand Final on the back of a 19 game unbeaten run. The 18 year old credits their improvement to attain an even greater standard on the squad's environment, which strikes a nice equilibrium between competition and collaboration.
"At Sydney Uni, we have one squad [to cover 1st Grade and Reserve Grade], and we have a really strong Reserve Grade who are also Premiers, so they're always pushing us to try and steal our spot. It's a competitive environment, but in a good way. We're all friends, we all have each other's back, but we're constantly pushing each other because we know if someone's playing better they honestly deserve that, so the standards are set by that competition we have within the group. When we're pushing each other, you can see the results. The environment's professional because everyone's trying to play 1st Grade", she said.
"I think Alex does keep us accountable, which is good, I like that. Everyone's respectful of each other and respectful of Alex, and while he does have so much input and so much football knowledge, everyone has the ability to input."
Uni won the 2019 Grand Final (their first victory in the Championship game since 2016), but not before another nail biter as Northern Tigers pushed them all the way to penalties. However, atoning for the previous year's heartbreak was not a motivating factor.
"I think that was in the back of our minds, that the year before was heartbreaking, but we always go into every single game at Uni with a fresh slate. We're not worrying about how many straight we've won or situations like that. We go into one game, we play the game and then, while we do a video review on the week before, once that video review is done, we're focused on the next week and it's a fresh slate. So I think going into the Grand Final, while we knew the heartbreak of loss, which did obviously make us want it more, we were focused on a completely different game, a completely different situation, opposition and squad, everything was different", she said.
"It [winning the Grand Final] was a good feeling. When you reflect back on the season and you see how much you put into it, how much Alex has put into it as a coach, it makes it all worthwhile. The Premiership is more rewarding, but that Grand Final win is always the cherry on the top. It's the one that people remember, to be honest."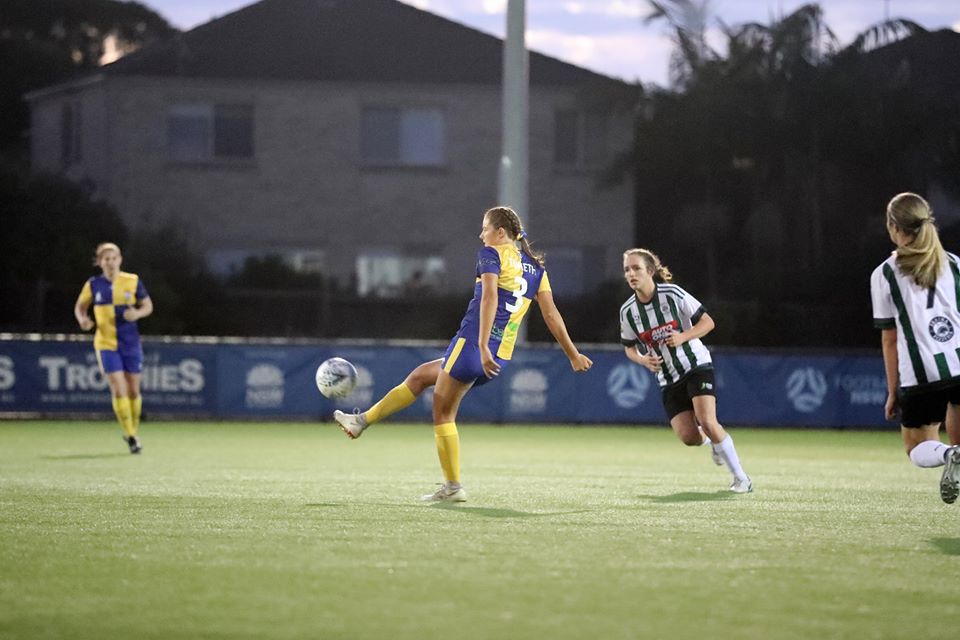 As you might expect from a player who was originally a midfielder, Tumeth is very comfortable on the ball, and has earned a reputation as a ball-playing centre back. She credits the indoor five-a-side game with developing her skills, composure under pressure and physicality.
"I started playing futsal when I was young, I went to Inner West Magic and honestly, fell in love with the game. At Inner West I just really loved how fast paced it was, I loved the physical contact aspect of the game, loved how you're always involved", she said.
"The things that futsal helps me with are my decision making, playing in tight spaces and my confidence on the ball. Physically, it is good in the way that you're forced to make contact with opposition players, it does prepare you for those one on one challenges that you face as a defender."
"I feel like there's a stigma with centre backs, that you're like the brick wall at the back, and that's not me. I think being a technical centre back is a good thing and something you need, to have an integral role in playing out and starting the play. I really enjoy driving through, breaking lines and creating overloads, that's probably a strength of my game, it's not pinging balls 50 metres. Futsal's made me a lot more confident on the ball."
However, futsal isn't just about skill development for Tumeth. A positive atmosphere keeps her coming back to play in the NSW Futsal Premier League every summer, and Inner West Magic's achievements on the futsal court definitely help.
"I love how, the same as Sydney Uni, it is like a family. I think we've had quite a similar squad for numerous years and we, like Sydney Uni, we're winning Premierships. It's a club culture where everyone's just so friendly, has each other's back, everyone wants what's best for you. The young ones are staying back, supporting the 1st Graders, and that's reciprocated."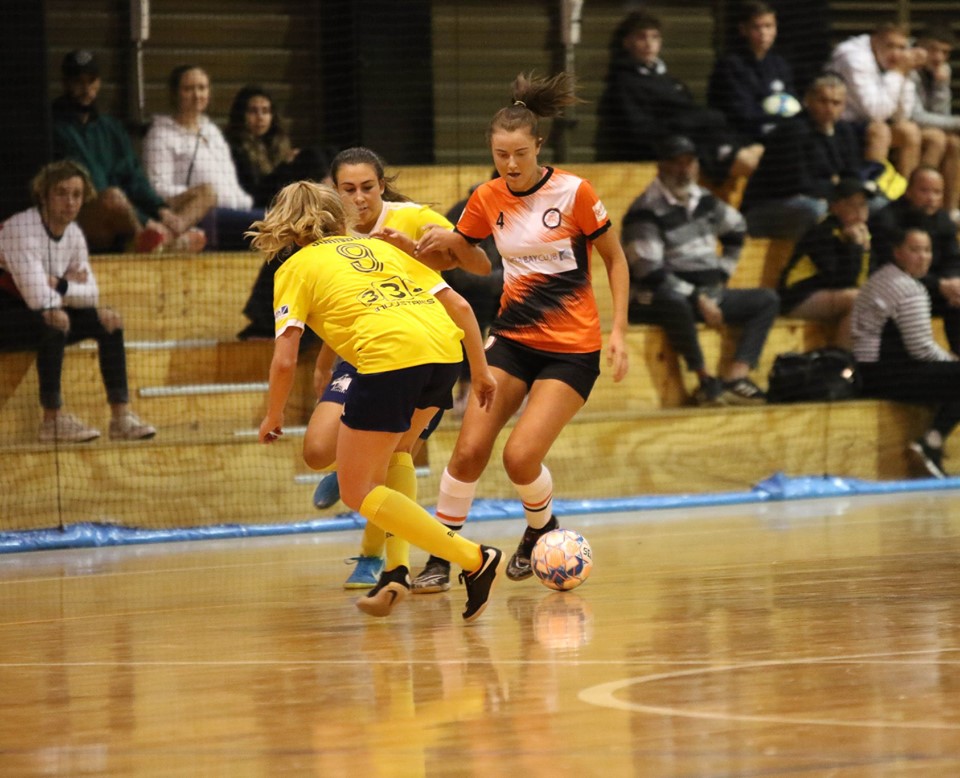 The 18 year old has had quite the run in recent times. Since suffering defeat in the 2018 NSW NPL Grand Final, she has been part of teams that have won 13 trophies: six with Sydney University (a NSW NPL Premiership/Club Championship/Grand final treble in 2019, NSW/ACT Challenge Cup victories in 2018 and 2019, plus the 2019 Unisport Nationals), and seven with Inner West Magic (two consecutive Futsal Premier League Cup/Premiership/Grand Final trebles and the 2020 Australian Futsal Club Championship). Tumeth takes delight in the opportunity to be constantly surrounded by success.
"Personally, I hate losing, I really am a sore loser. I play every single game to win, I get upset when I don't win. I'm a competitive person by nature, that's a big part of my personality, and that transfers into my football. The players we have here [at Sydney University] honestly do want to win, so when you have that and you're surrounded by a winning mentality, I think it's good, and I've always played to win since I was young."
At the 2019 University World Cup in Jinjiang, China, Tumeth had what was for her an unusual experience: she was a member of a side that did not finish as winners. Although Sydney University (representing Australia) finished sixth out of eight sides at the tournament, Tumeth was still able to gain a lot from the experience.
"It wasn't my first international game because I've played with the Young Matildas and Junior Matildas, but for a lot of the squad it was, so from there I felt like I was taking up a leadership position, because of the fact that I had experienced that [playing abroad] previously."
Leadership opportunities are coming more frequently for the 18 year old these days, and she captained Sydney University in a recent trial game, something which came as a surprise.
"When I came back to Sydney Uni, I was going from being the big fish in the little pond to the little fish in the big pond, looking up to players around me like Taren King and all the W-League players that have so much high level experience. While I've established my spot in 1st Grade, leadership has never really been something I've focused on, I try and lead through what I'm doing with my feet and with the ball", she said.
"I was actually quite shocked when I got the message from Alex the day before, saying 'you're going to be captain for this week's trial'. It's good to see that he does see me as a senior player now, when I'm one of the youngest in the 1st Grade team. I felt good that he trusted me to lead the team as one of the youngest players."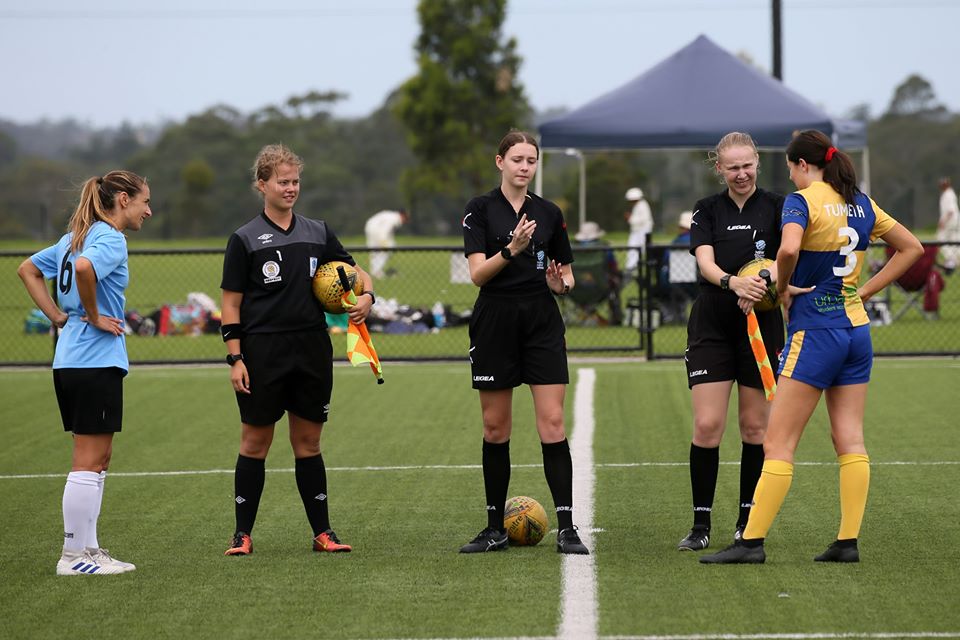 As is common with young players who have already achieved as much as Tumeth has, those who have observed her closely are more than willing to identify her as a player who is suited to higher levels of the game. Unsurprisingly, Epakis is one of those people.
"Coaching Tori has been one of the most interesting experiences I have had in my own coaching journey. You have a person who has an enormous amount of ability, decision making skills and courage with and without the ball. But, on the other hand she still loves being a big kid and having a laugh and joke. At times she doesn't say much, but when she does, you listen – even me as a head coach, I listen. She offers unique insights and it's great to hear her thoughts within games. She has overcome hurdles and is blessed with an amazing amount of potential as a player, person and society member. I am just lucky I get to play a small part in shaping her journey."
Sydney University head coach Alex Epakis
Tony Tannous, Football NSW NPL and Futsal Premier League commentator, and a respected analytical voice in terms of player identification, has been calling and following Tumeth's development over the past three years. He had this to say:
"Tori is a leader with a fierce winning mentality and has unrivalled success in the NSW football and futsal scene, at both Sydney University and Inner West Magic. The bigger the game and more the game is on the line, the more she relishes the contest, showing a maturity beyond her age. Cultured and clever on the ball, she is ferocious in the tackle, a born competitor. Undoubtedly she has a very bright future and when she does put her hand up for the W-League would be a prized pick-up for any team. Her leadership, ball-playing and defensive maturity make her one to watch as far as national team honours are concerned, particularly in an area (central defence) where we aren't flush with options."
Even with the words of approval from those around her, Tumeth has her feet on the ground and is aware of the risks posed by moving too quickly.
"I've just started to establish myself in NPL 1st Grade as a strong player. I don't want to rush into it too early and not be ready, because playing NPL and W-League, it's a long year. I want to make sure I'm ready before I step into the W-League", she said.
"The next national team is the Matildas, and I know the gap there is quite big, I've obviously got to get into the W-League first. Every person's goal as a footballer is to make that senior national team, that's quite a long term goal."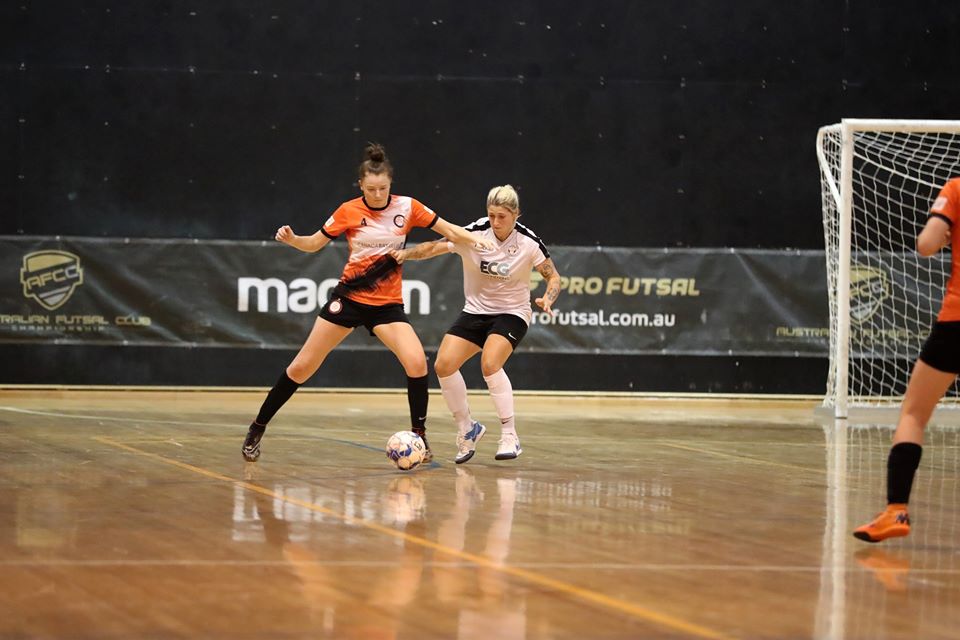 Outside of football, Tumeth is studying a Bachelor of Primary Education at Sydney University. She has a genuine love for working with kids and wants to be a role model, especially for young girls.
"I'm enjoying my degree, I want to be a primary teacher and I enjoy coaching as well. I moved into a job with Fit Futures, teaching the PE programs at primary schools, and I've been coaching with Girls Development Football Australia", she said.
"I think it's good to see the development in them, and be a female leader that I didn't really have. There aren't that many female coaches around. I see myself as a player that's analytical of the game. I'm not the strongest, the fittest or the fastest, but I think my football knowledge is quite good, so I like offering that to the younger girls."
No matter what the future holds for her, Tumeth looks set to do what she has always done: excel at whatever she puts her mind and efforts towards. Whether it's in the NPL, W-League or even internationally, she will certainly be a player to watch for many years to come.