"I'm late, I'm late, for a very important date." – The White Rabbit, Alice in Wonderland.
Cutting it fine with this episode of the Beyond 90 Podcast W-League Round 9 wrap plus Fatty.
The downright amazing Fatima Flores joins Molly and Cheryl to talk about the Roar Corp, MadTildas, and Level Playing Field.
Fatty gives a big shout out to the Roar Corp gang, including uber-fan Harper McGowan.
No chance of stopping Fatty there so we roll onto our thoughts on the 20 player Matildas squad announcement for the Olympic Qualification series in Wuhan, China. Australia must finish first or second in Group B to advance to the final phase of qualification against Korea Republic (20), Vietnam (32) or Myanmar (44) in early March 2020.
The squad will arrive for a training camp in Sydney Jan 20-27, departing for China on Jan 28th with matches as follows:
Game 1 – Monday 3/2 7:00 pm AEDT – Chinese Taipei (40)
Game 2 – Thursday 6/2 7:00 pm AEDT – Thailand (38)
Game 3 – Sunday 9/2 10:30 pm AEDT – China (15)
Squad, assemble 💪

Here are the 20 players heading to China for our #Tokyo2020 Olympic Games qualifiers! #WeAreMatildas pic.twitter.com/XS1W3Kd4ql

— Westfield Matildas (@TheMatildas) January 8, 2020
We catch up on the latest w-league action including results from Round 8 and 9
Monday 13/1 R8 – CBR v SYD 0-4
Thursday 9/1 R9 – MCY v CBR 4-0
Sunday 12/1 R9 – WSWvBRI 0-4
R9 – NEWvADE

postponed

to Saturday 1/2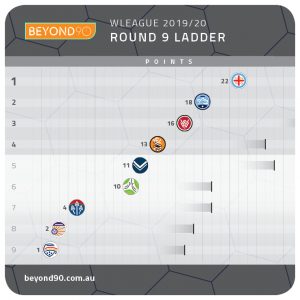 Cheryl stands up and gives her W-League end of season predictions.
And before we leave you alone, catch up on the Aussies in the FAWSL with Sam Kerr's latest match, Jacynda Galabadaarachchi at West Ham United, plus rumours – is Caitlin Foord heading to Arsenal?