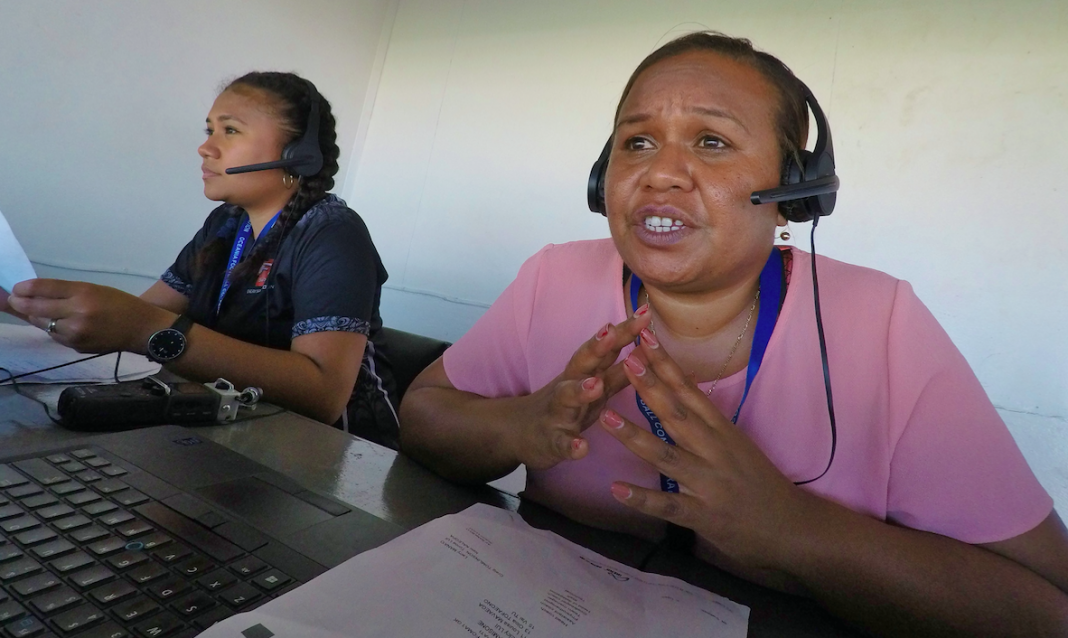 It was 5 July 2015, and the USA were taking on Japan in the Women's World Cup Final.
The game was only 15 minutes old, Lauren Holiday had just scored the USA's third goal, Carli Lloyd had a double, at 3-0 up they were cruising, but we all remember what happened next.
Japan kicked off and attempted to play their way through midfield, only to give up possession through a wayward pass.
If you had been listening a radio broadcast, the description may have sounded something like this: "Lloyd picks up the loose ball just her own side of halfway through a somewhat vacated midfield she goes, makes her way to the centre circle. She looks up, notices Ayumi Kaihori – the Japanese goalkeeper – is off her line. She takes a shot from a long way out. GOAL!
"Kaihori is backtracking but she can do little about it as the ball takes a nick off the base of the post and goes in.
"Carli Lloyd has just pulled off the unbelievable, the unthinkable, the smile on her face says it all, she enjoyed that one and so did the crowd. They're going wild.
"Carli Lloyd has scored one of the most memorable goals of the Women's World Cup in Canada 2015."
Now imagine you're a young girl or woman sitting at home in Port Vila, where your first language isn't English, but rather Bislama.
You dream of becoming a broadcaster, but Vanuatu isn't much more than a tropical outpost in the footballing landscape from an international perspective.
A Women's World Cup game has never been broadcast in your native language, let alone had a female voice bringing the game to life.
To be the first to report and broadcast such big moments in your native language would be an honour, and for Adele Willie that dream is about to become a reality.
Willie, along with a selection of others from Fiji and Vanuatu, will take part in the FIFA Women's World Cup Pacific Commentary Project in what is the International Year of Indigenous Languages. Alongside the team will be a familiar face, their mentor, Australian sports broadcaster and trainer Aaron Kearney, from Newcastle.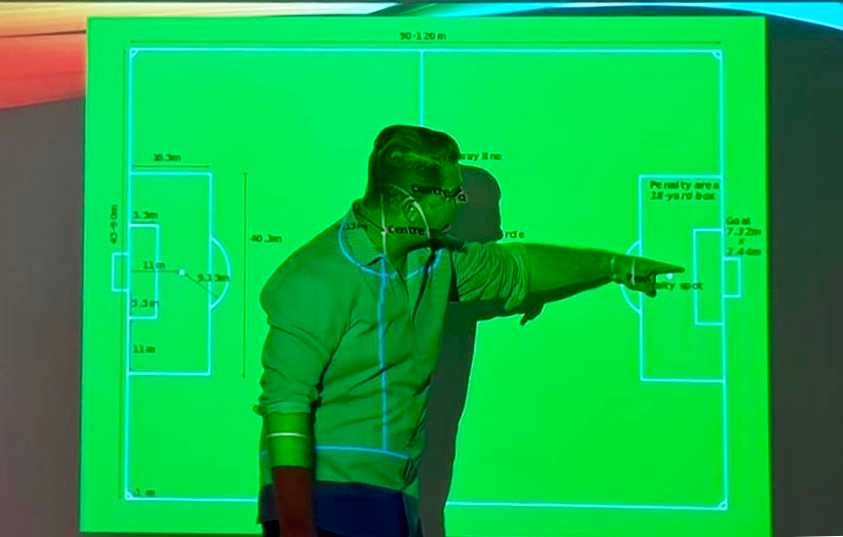 It was Kearney, who whilst in Papua New Guinea in 2010, noticed the lack of opportunity for women from the Indo-Pacific region to become broadcasters compared to places like Australia and England.
As a part of his masters degree, Kearney devised a program titled "Commentary for Good" to improve the prospects of women from across the Indo-Pacific to gain work and promote a better gender balance in sports broadcasting.
Using Kearney's research, the Australian Broadcasting Corporation's International Development Unit in partnership with Australia's Department of Foreign Affairs and Trade put together a program, known as Women in News and Sport (WINS).
After months of intense training, women had the chance to broadcast at big events such as the Pacific Games in 2015, the Commonwealth Games last May, and culminating in the OFC Women's Nations Cup last November which of course doubled as the qualifiers for the 2019 FIFA Women's World Cup in France.
In commentating these football matches in her native language, Willie and the team were making history and showcasing themselves to the world.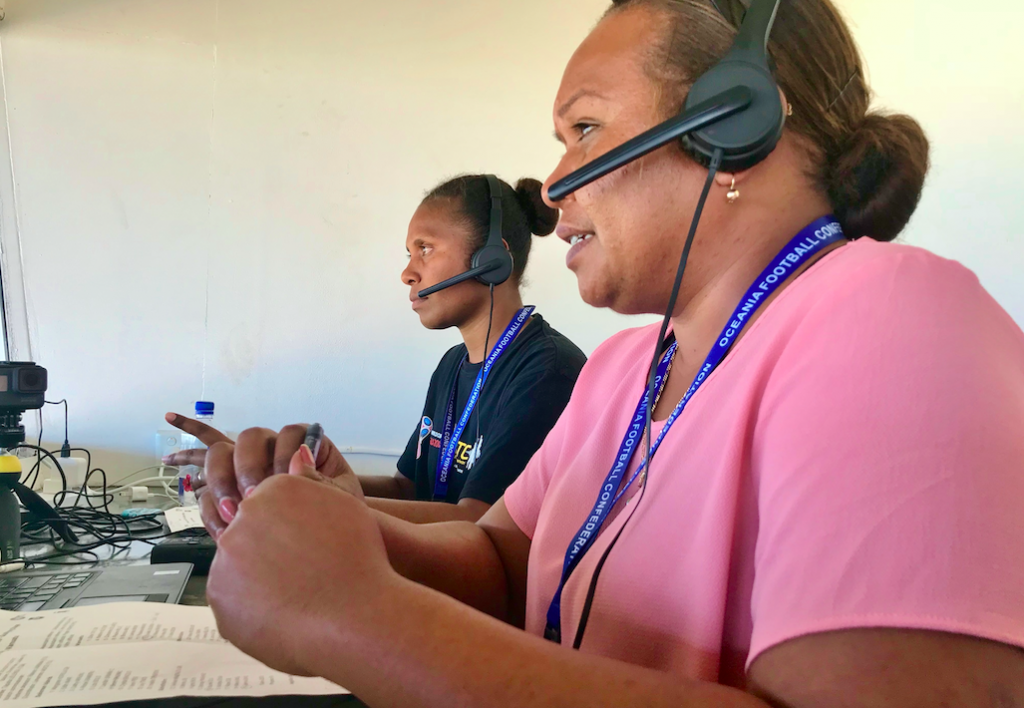 This caught the attention of FIFA's Chief Women's Football Officer Sarai Bareman, herself a Kiwi who represented Samoa during her playing days and will now give the region's top broadcasters the opportunity to put their countries on the map in the world of broadcasting.
I asked Aaron and Adele just how big an impact will this have for women in the Indo-Pacific region?
Aaron Kearney: "To hear someone from your part of the world, speaking in a Pacific language from the biggest stage in the world suggests nothing is out of reach.
"It shows that women in the Pacific can be, and are, world-class broadcasters.
"To have the chance to do it at the World Cup proves that they are worthy of the big occasion and will represent themselves, their organisations, the Pacific and women everywhere with honour.
"It will hopefully be an inspiration and challenge to others.
"There is a famous saying that 'you cannot be what you cannot see'..
"A lot of focus has been put on letting girls dream of playing in the big time. Some may have talents that lie in "bringing alive" the big time for others, as commentators.
"This shows it can be done."
Adele Wille: "It has always been a dream for me to present or be an official at any World Cup but especially the football world cup, but this year was just an amazing experience for me, and to promote my indigenous language, this year's theme is to promote the indigenous language, I really enjoy it.
"There are now opportunities, especially for girls and woman's out there to promote women's sports and cover these big events."
So, that Carli Lloyd moment in Bislama, how would that read or sound you ask?
Well it would go something like this:
Carli Lloyd hemi sapraisem ol sapota lo kem blong USA wetem Japan,taem I lukim hemi mekem wan autstaning kem long taem we hemi holem tait bol long haf sait blong  fil wetem wan taf trik we hemi displayem be hemi still manej blong holem tait bol kasem long senta sekol blong fil mo long taem ia nao hemi no tekem taem nating mo I no kivim wan Janis long team Japan blong karemaut bol,taem ia nao hemi putumaut wan long shut we hemi strong tumas,blong kasem wantaem insait long teritoryi blong Japan be wetem shot taem ia nomo kolkipa blong Japan hemi bin wokaut smol long kol box traem manej blong kasem bol be nokat nomo nao wetem strong presa we Lloyd hemi putum long bol ia,net I solap insait long territory blong Japan,kolkipa I mestem fainal point I lukim kolkipa hemi slip taon long kras taem ol sapota oli singsingaut long taem we bol hemi ko insait. Lloyd hemi ron long fil wetem wan brait long fes blong hem.
Cardi Lloyd hemi play long team blong USA,wetem poen we hemi putum ia,hemi kam olsem wan top kol long Canada 2015 long faenal wetem Japan.
On that note, bring on June! Where many more truly sumptuous, memorable moments will be described in the many different languages of the world.
This is football, the beautiful game.