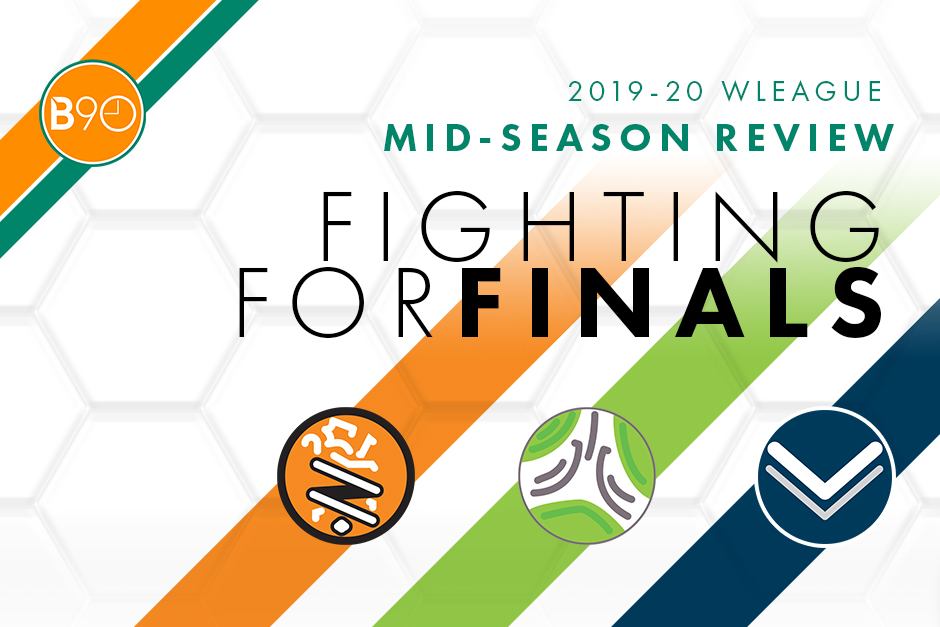 W-League mid-season review – the mid-point of the season sees three teams pushing hard for a prized finals berth, but only one of the middle pack of three – the resurgent Brisbane Roar – are currently in the top four (by virtue of goal difference over Canberra United).
4th: Brisbane Roar
Written by Nick Amies
It was a slow start to the season for the team in orange, losing their opening two fixtures after a bye in round one.
Scoring goals certainly didn't seem to be the issue, but a defence shorn of Jenna McCormick's experience next to captain Clare Polkinghorne was proving more porous than predicted.
Round four was no easy task, facing Canberra United in front of the always-imposing home crowd at McKellar Park.
Goodship needed to change the formula – shifting Celeste Boureille from midfield into the heart of defence and promoting Isobel Dalton to the starting lineup.
It was not the easiest of wins, but the three points went to Brisbane that week, with Dalton and Boureille putting in impressive performances.
A first home win of the season then followed in a five-goal thriller against Adelaide, before rounding off their first half of the season with a scoreless draw against Victory and a 2-1 win over Newcastle.
That last victory was enough to see the Roar squeeze into the finals places for the first time this season, with only Melbourne City earning more points in the last four rounds.
A bonus heading into the second half of the season is the return of Matildas midfielder Elise Kellond-Knight, who made her first appearance of the campaign off the bench against Newcastle.
With the likes of Hayley Raso and Tameka Yallop finding the net regularly and Katrina Gorry pulling the strings in midfield, the Roar will no doubt be one of the teams to watch in the next seven rounds.
⚽️With the game on the line Hayley Raso was 🆒under pressure 😎sealing all 3️⃣points for @brisbaneroar 👏#BRIvADL #WLeague pic.twitter.com/hMvqN9bpY5

— Westfield W-League (@WLeague) December 14, 2019
5th: Canberra United
Written by Steffen Moebus
We're only at the halfway mark of season 2019 – 20, but Canberra United's season is further along than most. The team only has five more games to play before finals, thanks to two forthcoming bye rounds.
Sitting just outside the top four on goal difference, Canberra has a finals' spot in their sights. The fact that they are in this position in Round 7 can be attributed to a number of factors:
Early team cohesion – this is a team that enjoys each other's company and are loving playing together.
Character/fight, partly borne from wanting to play for each other, but also something intrinsic to coach Heather Garriock and her recruitment criteria. It's hard not to be inspired when you see Leena Khamis go the extra mile, or Kayleigh Kurtz ('KK') battle on with a twice broken nose.
The long standing 'away form' bugbear has been seemingly banished.
An underdog vibe which the team is thriving on.
A favourable draw in the first half of the season.
Strike power and creativity in the attacking third, with international recruits Simone Charley, Elise Thorsnes, and Camila leading the way, ably supported by NPL up-and-comers Ashlie Crofts and Hayley Taylor-Young.
And finally, strength in key positions: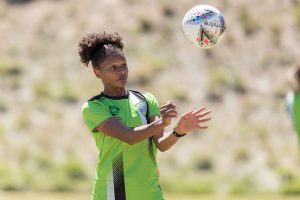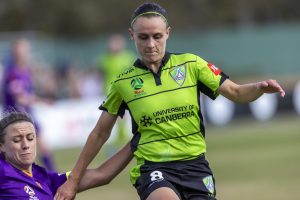 Simone Charley and Olivia Price have been outstanding in the first half of the season
Olivia Price photo by Michael Daniel / Michael Daniel Photography. Both images courtesy of Canberra United
It's not all a bed of roses, however. Canberra United would be firmly ensconced in the top four if not for late game lapses which cost them valuable points away to Perth and at home against ladder high-flyers Melbourne City. Some of these lapses have been due to concentration, but others have been due to a loss of fluidity as substitutions occur.
The run home for Canberra is not an easy one. They will need to address the lapses. This means winning at home against Adelaide and away against Melbourne Victory; and looking to get something out of difficult games against Sydney FC (home), Melbourne City (away) and Brisbane Roar (away), preferably with solid contributions from a fit Katie Stengel.
Can they do it? What answer would you expect from a fiercely determined underdog?
6th: Melbourne Victory
Written by Marissa Lordanic
Heading into the season, the question surrounding Melbourne Victory was whether or not they could replicate their form from the 2018-19 season.
At the halfway point of the season, it would be fair to say Jeff Hopkins' side is not where they hoped they would be. But by no means are last year's premier's plate winners out of the contest.
A long stretch of away games to start the season, plus a trip to Korea to partake in the inaugural AFC Women's Club Championship, have had an effect on Victory's campaign.
Finally here in Korea ready for the first ever Women's Club Championship! Let's go Victory 💙⚽️💪🏽 @victorywleague @gomvfc @WLeague pic.twitter.com/qAaJPbbrwm

— Natasha Dowie (@tatsdowie) November 24, 2019
Barring the comprehensive 3-0 loss to Sydney to start the season and a dull second half showing against cross-town rivals Melbourne City, Victory has stayed in games.
The side has managed good wins against Brisbane Roar and Perth Glory and are currently the only side to have taken any points off the ladder-leading Western Sydney Wanderers.
Casey Dumont is having a stand out season, while international recruits Annalie Longo and Haley Hanson are running the show in the midfield.
❌✋@CaseyDumont kept us level #MelbDerby 0-0 #WLeague @FOXFOOTBALL pic.twitter.com/birspSKrgF

— Victory W-League (@victorywleague) December 12, 2019
All of the ingredients are there for Victory to play in back to back finals series. The win against Perth could be the catalyst for an assault on the top four with Victory's next two games against opponents below them on the table.
---
Check out the Mid Season Reviews for the three teams with an outside chance and the top three.