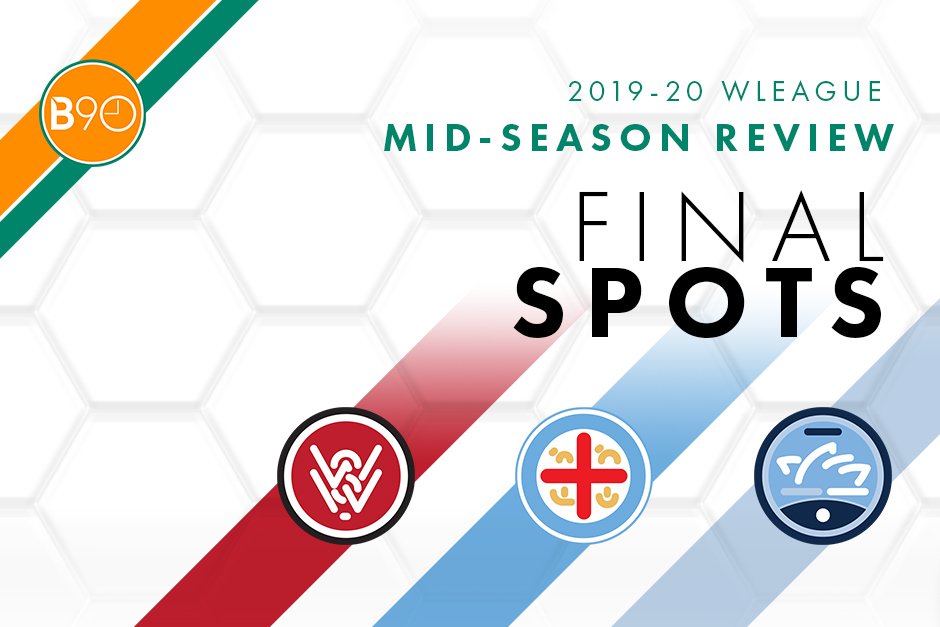 A new dominant force, the returning Champions and a former powerhouse on the come-back – it's busy at the top mid-way through this season as we take you through the Top 3 in the W-League mid season review.
1st: Western Sydney Wanderers
Written by Eric Subijano
This is just as much a reflection of previous seasons, but the Wanderers have set a club record for points earned in a season after only six games, exceeding the expectations of even the most optimistic part of their fanbase.
Their international signings have been as advertised. Kristen Hamilton and Lynn Williams have caused havoc for opposing defences, while Denise O'Sullivan is pretty much the complete defensive midfielder. Samantha Staab is showing leadership beyond her years, and it's a testament to how solid the Wanderers backline has been that goalkeeper Abby Smith has not been seriously tested for large parts of the season.
Any excuse to catch @khamilton17's 🔥 hat-trick again 😍 #WLeague pic.twitter.com/HeeuOa9Ipu

— Westfield W-League (@WLeague) November 29, 2019
It's not just the visa players who have stood out, with Kyra Cooney-Cross and Ella Mastrantonio performing key roles in midfield and captain Erica Halloway doing a great job in her new position at right-back. Performances like this mean it's no surprise the Wanderers have had an unchanged starting lineup and bench for the last five games.
The cohesion is excellent, made even more impressive when you consider the late arrival of the international players. We aren't at the business end of the season just yet, but this side seems to be breaking new ground every time they step on the field, most notably in Round 6 when they ended their five-year winless streak in the Sydney Derby.
🏁 FULL TIME @wswanderersfc break the 5️⃣ year drought with a 5️⃣ – 0️⃣ win #WSWvSYD #WLeague #SydneyDerby pic.twitter.com/n0uDIpQbKn

— Westfield W-League (@WLeague) December 20, 2019
However, there are still challenges for the Wanderers. Denise O'Sullivan has only two games remaining on her guest stint. With no obvious defensive midfield replacement in the squad, how will Dean Heffernan adjust the side to cover for the loss of all that O'Sullivan brings to the table? He could change the formation, or ask another player to adapt to that role – both approaches come with their own risks.
.@OSullivanDenise and @lynnraenie named in the @guardian_sport's Top 100 Female Footballers: https://t.co/QtQMQy1nWI #WSW pic.twitter.com/7CwlVcPOY5

— WS Wanderers FC (@wswanderersfc) December 9, 2019
The lineup has been very stable, however that does mean there are a number of players receiving less game time than they would have hoped for. Cortnee Vine has one start to her name, and Susan Phonsongkham has only made one substitute appearance so far. Keeping the bench and squad players happy will be vital to the side's chances of success.
2nd: Melbourne City
Written by Angela Christian-Wilkes
W-League followers have always expected great things from City, what with that whole three-peat thing.
However, this time last year, they sat at an all-time low of 8th on the ladder, before bouncing between 5th and 6th for the remainder of the season.
A year later, City sit comfortably at 2nd with the same points, wins and draws as league leaders Western Sydney Wanderers. They found their footing with a draw against Newcastle and haven't lost since.
Whilst Wanderers have challenged all that has typically been expected of them with exciting, high-scoring football, City are taking a more softly-softly approach by playing… well, City football. Possession is consistent, build-up is patient, scorelines are modest.
What's making the difference? Vidošić has more often than not worked with a back three, giving Matildas Ellie Carpenter and Steph Catley more freedom to work the flanks. Meanwhile, Kyah Simon has been proving herself post-injury, and Emily Van Egmond has fitted in well with the forward-pressing, possession-based play, netting the most goals for the team so far. The ongoing joke about City being Matildas 2.0 is working in their favour.
CLUTCH 🔥🔥🔥 #CBRvMCY #ForeverCity pic.twitter.com/3Galp9HmOj

— Melbourne City FC 🏙️ (@MelbourneCity) November 24, 2019
Furthermore, City's geographically diverse group of returning internationals – Japanese Yukari Kinga, American Lauren Barnes and New Zealander Rebekah Stott – have also all had solid seasons so far.
There are two concessions that come with City's unbeaten first half of the season. While opposing teams have found it hard to crack through three centrebacks, there's not too much happening at the other end of the pitch. They currently sit with 8 goals to the Wanderers' 16 and Sydney's 12.
The second, and this is perhaps a little more subjective, is whilst City's players can be a joy to watch (Yukari Kinga, speaking to you here), games are often a little boring even when leaving everything on the line (see Van Egmond's penalty against Canberra and Kinga's goal in the Derby).
City will be truly tested when they face the Wanderers for the first time, Brisbane twice and Canberra again in their remaining 6 games. Their place in the top 4 is pretty solid – the bigger question is whether results will go their way to edge out the Wanderers to the Premiership.
⚽️ Kinga with the latest EVER #MelbDerby winner.

📹 @FOXFOOTBALL
#MCYvMVC #WLeague pic.twitter.com/qtPXMGz7sZ

— Westfield W-League (@WLeague) December 12, 2019
3rd: Sydney FC
Written by Dale Roots
At the outset of the season, most followers of the W-League would have nominated Sydney as one of the favourites for the Premiership. The club's consistent line-up and style meant that, even with the loss of key players, Sydney had recruited or maintained enough quality to push for silverware once again.
With comprehensive wins against Melbourne Victory (3-0) and Perth Glory (3-1) either side of a scrappy win in Adelaide (1-0) to start the season, the Sky Blues looked back to their old ways – strong in defence, fluid through midfield, and confident in attack, chalking up seven goals in their first three fixtures.
Could be hard to beat this for a better moment in the W-League season – @shadeene_evans scores her first goal in the #wleague. #SydneyIsSkyBlue pic.twitter.com/iDGCejnS9I

— All Sides Of The Harbour (@asothdotcom) November 17, 2019
That early form hit a rough patch during a 1-2 home loss to a Melbourne City outfit happy to strangle Sydney through weight of possession and clinical finishing, but normal service was resumed with a 2-0 win in Newcastle.
If the City result was turbulence, Sydney's performance in the Sydney derby was a full-blown crash landing, as the Sky Blues were torn limb-from-limb by a ruthless Wanderers side in a calamitous 0-5 defeat, before having to rely on an own goal and a Princess Ibini wonder-strike to secure the three points against an energetic Adelaide side at home.
An absolute 🚀 from @princessibini_ to wrap up the points in the @WLeague!

🎥 by @FOXFOOTBALL#SydneyIsSkyBlue #WeAreChampions #SYDvADL pic.twitter.com/7D9HXJj68Y

— Sydney FC (@SydneyFC) December 29, 2019
Facing a difficult end to the season – including matches against four of the top six teams – Sydney must now reconcile with the very real possibility of missing the finals for the first time in the competition's history. However, manager Ante Jurić will be hoping his talented side can regain its early-season form heading into the new year. With leading scorer Remy Siemsen in red-hot form, and the international experience of Veronica Latsko, Sofia Huerta and Aubrey Bledsoe to call upon, Sydney will be looking knock the dominant Wanderers and Melbourne City of their respective perches come finals time.
---
Check out the Mid Season Reviews for the fight for the final four and the three teams with an outside chance.