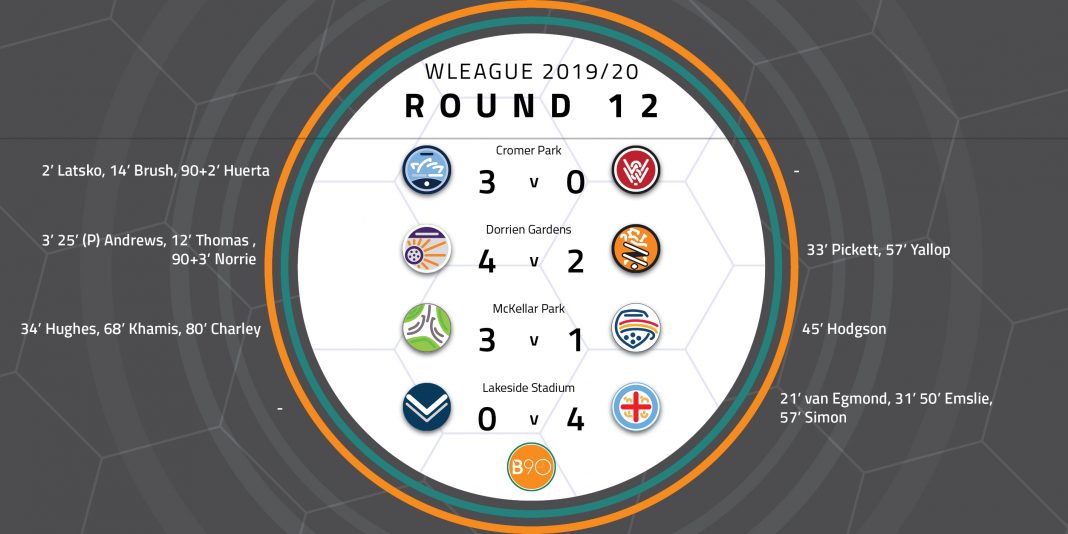 It was a good round to be wearing light blue in derby games, with Sydney FC and Melbourne City earning wins against their crosstown rivals. Perth Glory came out on top in a six-goal match against the Roar, while Canberra picked up three points with a victory over Adelaide.
Sydney FC 3 – 0 Western Sydney Wanderers
Written by Dale Roots
Sydney have reclaimed bragging rights in the Harbour City, defeating local rivals Western Sydney Wanderers 3-0 in a heated 16th Sydney Derby at Cromer Park on Saturday afternoon.
The Sky Blues welcomed midfielder Taylor Ray back from a 12-month injury lay-off, while defender Alanna Kennedy and Wanderers striker Lynn Williams were unavailable due to international duty.
Sydney got off to the perfect start as Veronica Latsko opened the scoring after just 66 seconds, the American winger turning home Huerta's cross at the back post after the Wanderers failed to deal with the pass from deep.
Not a bad way to start a #SydneyDerby! Less than two minutes on the clock before we opened the scoring thanks to @V_Latsko12 👌👌

Second half coming up…#SydneyIsSkyBlue #WeAreChampions pic.twitter.com/82V6C0rkKR

— Sydney FC (@SydneyFC) February 15, 2020
Ellie Brush doubled the dose after 14 minutes. The W-League's highest-scoring defender added another goal to her extensive tally, nodding a corner back against the grain to beat goalkeeper Courtney Newbon.
The Wanderers were reduced to 10 players midway through the second half after striker Kristen Hamilton was shown a second yellow card for a late tackle on Brush. Huerta then capped off a superb performance by her side, expertly evading the attention of two defenders to slam home a shot from distance in second-half stoppage time.
.@schuerta goes 💥

A stunning effort in the second half to wrap up the points in the @WLeague #SydneyDerby! #SydneyIsSkyBlue #WeAreChampions pic.twitter.com/5gPnN9l3Oq

— Sydney FC (@SydneyFC) February 15, 2020
The defeat was an especially costly one for the Wanderers. They are now without both Hamilton and Ella Mastrantonio – who picked up her fourth caution of the season – through suspension for their crucial match against Melbourne City at Marconi Stadium on Thursday.
Photos Courtesy: KLZ Photography
Perth Glory 4 – 2 Brisbane Roar
Written by Neil Bennett
Perth Glory's American import Morgan Andrews put a serious dent in Brisbane Roar's top four hopes with a first half brace in her team's 4-2 win.
Glory raced out of the traps and scored in the 2nd minute when Andrews headed home from a Crystal Thomas corner. They doubled the lead in the 12th minute when a long ball from Spanish international Celia found Thomas just inside the Brisbane half. She raced clear and calmly chipped over Mackenzie Arnold.
Feeling peckish? Have a cheeky chip 😂😉

🎥 @FOXFOOTBALL#PERvBRI #WLeague pic.twitter.com/hOVSFItpzV

— Westfield W-League (@WLeague) February 16, 2020
A rampant Glory continued to take the game to Roar, and scored their third in the 25th minute via a penalty. Andrews calmly dispatched the spot kick and seemed to have sealed the deal for Glory.
Roar fought back though, and clawed a goal back in the 32nd minute when a speculative cross from the impressive Carson Pickett evaded Morgan Aquino's efforts to prevent it from crossing the line.
The second half started off at a frantic pace with Roar desperate to keep their top four hopes alive, and their pressure was rewarded in the 56th minute when Tameka Yallop made the score 3-2.
It was at this moment that Yallop made things very intense for this clash 🤯

🎥 @FOXFOOTBALL#PERvBRI #WLeague pic.twitter.com/Ad4p3I8lnh

— Westfield W-League (@WLeague) February 16, 2020
Roar continued to press for the equaliser, but Glory hung in and settled the matter in injury time with a breakaway goal from Ayesha Norrie.
Canberra United 3 – 1 Adelaide United
Written by Steffen Moebus
Canberra United still have one game left of Season 12 of the W-League, but their matchup at a breezy McKellar Park against Adelaide United was notable for several 'firsts' and 'lasts'. A 3-1 win marked coach Heather Garriock's last home game of her three-year tenure. If reports are correct regarding Leena Khamis weighing up her W-League future, then this may also be the last home game for her.
Garriock encouraged her team to play with freedom and enjoyment, so it is unfortunate that the player who most naturally embodies those qualities – Camila – is out for the rest of the season with a medial ligament strain suffered at training. Adelaide were also missing one of their key players, lining up without impressive American import Mallory Weber.
After an even opening half hour punctuated by Canberra's attacking intent (dealt with on several occasions by Sarah Willacy in the Adelaide goal) and occasional defensive uncertainty, Laura Hughes opened the home team's account with her first W-League goal, a well placed left footed shot from just inside the Adelaide penalty box.
The Reds responded in style just before the break. Chelsie Dawber took the ball deep in her own half and advanced up field, feeding a sublime through ball behind the defence to Isabel Hodgson, who made no mistake with a low and accurate finish to the far post.
Despite the strong breeze at Adelaide's back, Canberra United had the better of the second half, playing with greater defensive surety and more convincingly as an attacking unit. With around 20 minutes to go, Simone Charley burned past two defenders with ball at feet and played through to Khamis, whose first time instinctive shot was perfectly angled, giving the home side a 2-1 lead.
An outstanding team goal with ten minutes to go sealed the deal for Canberra after Karly Roestbakken took off upfield at speed from a standing start, finding Elise Thorsnes on the left. The ensuing pinpoint cross found a worthy recipient, Charley leaping high and heading into the corner of the net.
Soaring header from @SimoneCharley, who rises highest to ice the game.

🎥: @FOXFOOTBALL #CBRvADL #WLeague @ABCTV pic.twitter.com/67PtlZi4Aa

— Westfield W-League (@WLeague) February 16, 2020
W-League debuts followed late in the game for promising local Rachael Goldstein and Adelaide's Ella Tonkin. Best for Adelaide were Willacy, Dawber, and Charlotte Grant, while attacking trio Charley, Leena Khamis and Thorsnes performed well for Canberra.
Melbourne Victory 0 – 4 Melbourne City
Written by Cheryl Downes
Melbourne Victory's finals chances were dealt a blow, succumbing to a 4-0 loss at the hands of the Melbourne City empire. A brace to Scottish footballer Claire Emslie was sandwiched between goals from Matildas Emily van Egmond and Kyah Simon.
You don't hit them much sweeter than that 🤩@Em_surf is at it again 👏#MelbDerby #MVCvMCY #WLeague

🎥: @FOXFOOTBALL pic.twitter.com/Jorp9ErQI5

— Westfield W-League (@WLeague) February 16, 2020
City started off the game dominating possession and creating chances right from kickoff, with Melbourne Victory perhaps a bit stale on the ball after a significant break from W-League action. Pace from Ellie Carpenter on the right flank and precision from Steph Catley on the left caused double trouble for Victory, who were aiming to extend their four-game winning streak. Coupled with a deadly, in-form midfield, City were able to monopolise stats across the park.
Victory now head north to Newcastle for their round 13 encounter on Sunday. Sitting in fourth position and three points clear of Brisbane Roar, the match could be almost enough to seal a finals position.
City will travel to Marconi Stadium to take on the out of form Western Sydney Wanderers for Hersday Night Football. A win or draw will be enough for City to lift the Premier's Plate for the second time in history.