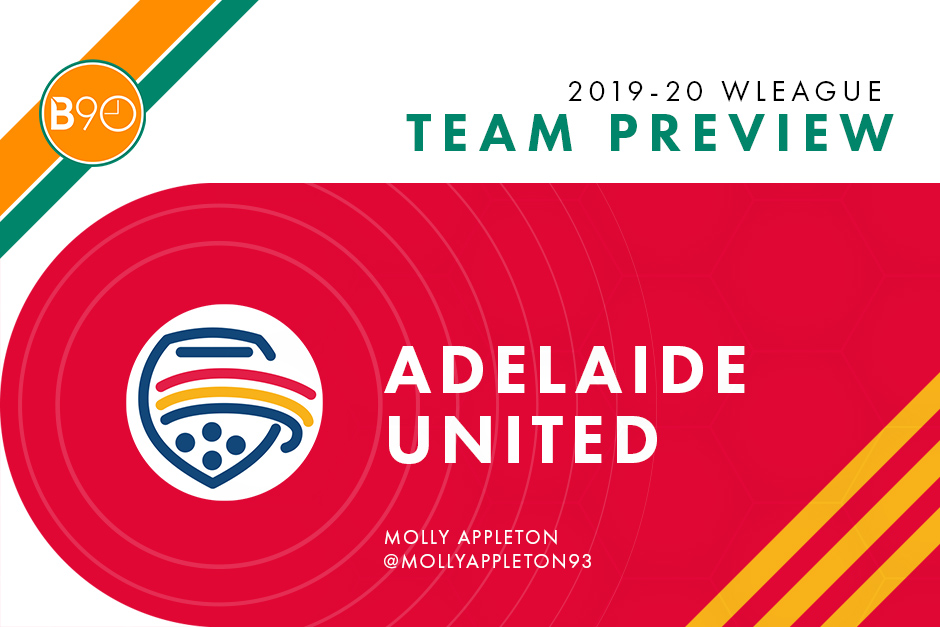 Adelaide United Preview
The simple goal for Adelaide United in season 11 is to break into the top four. It's a big ask, with many of the other squads loaded with more Matildas or more established international players. However, the South Australians shouldn't be underestimated. Under Ivan Karlovic there has been an uncanny consistency on the pitch that sees the side rise to the underdog tag and provide stunning united performances. Adelaide will certainly demonstrate the fight to the last minute type of football we became fond of last season.
Things are looking good early in the camp, with goalkeeper Sarah Willacy confirming the squad is looking stronger than in last year's preseason. If that proves to be correct, expect Adelaide to stamp their authority on the season early.
Last Season
A season of "could've been" and "nearly was". Adelaide United set out of the gates fast and early, proving to be the dark horse of the competition. The side were close to cracking the top four and would've made history with a first finals series appearance. However, the side struggled with the pressure of entering matches as favourites towards the back end of the season. The final nail in the coffin was being the only side to lose to Western Sydney Wanderers. However, hope is ripe off of a narrow sixth position finish, with lessons learnt and aims high for the new season.
On the field, Adelaide possesses pace in abundance, a solid backline who were a difficult nut to crack and a direct style of football. They produced some simply memorable moments, while fighting in the last minutes for nail biting finishes. 
Ins and Outs
Ivan Karlovic returns for a third season. Along with him are many familiar local faces, including Sarah Willacy, Laura Johns, Emily Hodgson, Kahlia Hogg, Dylan Holmes, Charlotte Grant, Emily Condon, Georgia Campagnale, Chelsie Dawber and Isabel Hodgson. 
.@Willacy20, @lauraj0hns, @DylanHolmes08, @kahliahogg and @_charli_grant all RETURN! #AUFC #WLeague

📰 Read more: https://t.co/CtT3dPr80r pic.twitter.com/S2E95f5S87

— AUFC Women (@AUFCWomen) September 30, 2019
Adelaide are a club who have struggled to include as many Matildas as other clubs. This season they've made their intentions clear early with the signing of the Fowler sisters, Mary and Ciara. Last season's captain Emma Checker, parts ways for Melbourne City, and whether Michelle Heyman will return to the club remains unknown.
On the international front, Adelaide have traditionally signed well. Mallory Weber has been added to the books for her first spell in the W-League. The American is a pacey forward, who should fit into the Adelaide mould like a fish into water. Amber Brooks, the Reds' Player of the Year last season, has once again returned to shore up the defence, while providing tasty direct long balls to kick start attacks.
Thrilled to be back in red with @AUFCWomen for another season 👊🏼❤️ https://t.co/DBwOjengYU

— Amber Brooks (@abrooks22) November 4, 2019
Meanwhile, the club's top scorer in Veronica Latsko has made the switch to Sydney FC. Last year's Icelandic duo of Gunnhildur Yrsa Jonsdottir and Fanndis Fridriksdottir look unlikely to return as well.
The Strengths
You asked for some counter service? Adelaide will provide you with counter attacking football at its best. With the addition of Mary Fowler, there's little doubt Ivan Karlovic will implement a similar strategy to last season. Expect Adelaide to look comfortable sitting deeper without the ball, then go and pounce. Their speed on the flanks is their strength, which will provide headaches for opponents throughout the season.
The Challenge
Last season Adelaide had Jonsdottir to provide experience in the midfield engine room. While Adelaide still have Holmes and Condon to provide their usual stability and class, it will be a huge challenge to consistently match it with the Matilda and international laden midfields they expect to come up against. This season will provide an opportunity for both Holmes and Condon to prove their worth in the W-League. However if they don't rise to the challenge, or if Adelaide don't find reinforcements with an international, they may struggle.
Key Players
Outstanding performances last year put Willacy on the map. The keeper is quick to pull out a save from short range using her uncanny reflexes. She's a consistent performer who now has a full season as the first string shot stopper under her belt. 
.@Willacy20 is determined to be even better after enjoying a career-best season. 🧤 #AUFC #WLeague

📰 Read more: https://t.co/BpFnGF3pIg pic.twitter.com/Kpz70KF5Zp

— AUFC Women (@AUFCWomen) October 4, 2019
Holmes is the player you want shoring up in front of the defensive line, with her diligent defensive skills and keen eye for spotting open channels. Last season, she sat back and controlled the engine room, allowing Jonsdottir to roam higher up the field to help out with Adelaide's attacking opportunities. Recently coming off an outstanding WNPL season with Adelaide City, she will be expected to carry that consistent form through to the W-League.
After coming so close to a maiden finals appearance last season, @DylanHolmes08 believes the Reds have unfinished business heading into the new campaign. #AUFC #WLeague

📰 Read more: https://t.co/0jDS9LeaP5 pic.twitter.com/yjR5DJWHVZ

— AUFC Women (@AUFCWomen) October 3, 2019
Mary Fowler (Centre Forward)
There's a reason Mary Fowler was selected for the Matildas World Cup squad. She can pull a goal out of thin air, is strong on the ball and can place a shot so well it's a wonder it made it through traffic and into the corner of the net. Fowler will have the responsibility of leading the line, but everything is pointing towards a stellar, breakout first W-League season for the teen sensation.
#AUFC adds Mary and Ciara Fowler to squad ahead of @WLeague 2019/20 season!

📰 Read more: https://t.co/F6EJR3ZpUV pic.twitter.com/LoTNrbQKbH

— AUFC Women (@AUFCWomen) September 27, 2019
One to watch
Dawber could be a game changer for Adelaide United if she manages to stay clear of injuries. Tearing up South Australia's WNPL, if Dawber can carry her Adelaide City form over to the W-League you can expect a deadly winger who is comfortable moving around the top three attacking positions. Not shy of scoring, Dawber has the WNPL golden boot to her name and there's no reason why she couldn't back that up in the W-League.
ICYMI: 33 goals for Adelaide City in the WNPL 2019, Chelsie Dawber is back and gunning for a big season. #AUFC #WLeague

📰 Read more: https://t.co/MkFxNCmq87 pic.twitter.com/kV8yd4QAj8

— AUFC Women (@AUFCWomen) September 29, 2019
Prediction: 4th
A bold prediction: Adelaide will finish in a finals place. It hasn't happened in ten years. However, this season could be the breakthrough to throw the monkey off their back. They're a squad who have developed over the past few seasons and went very close last time out. With a little bit of confidence at pivotal points during the back end of the season, this is a side that can finish in the top four.
See the full squad here.