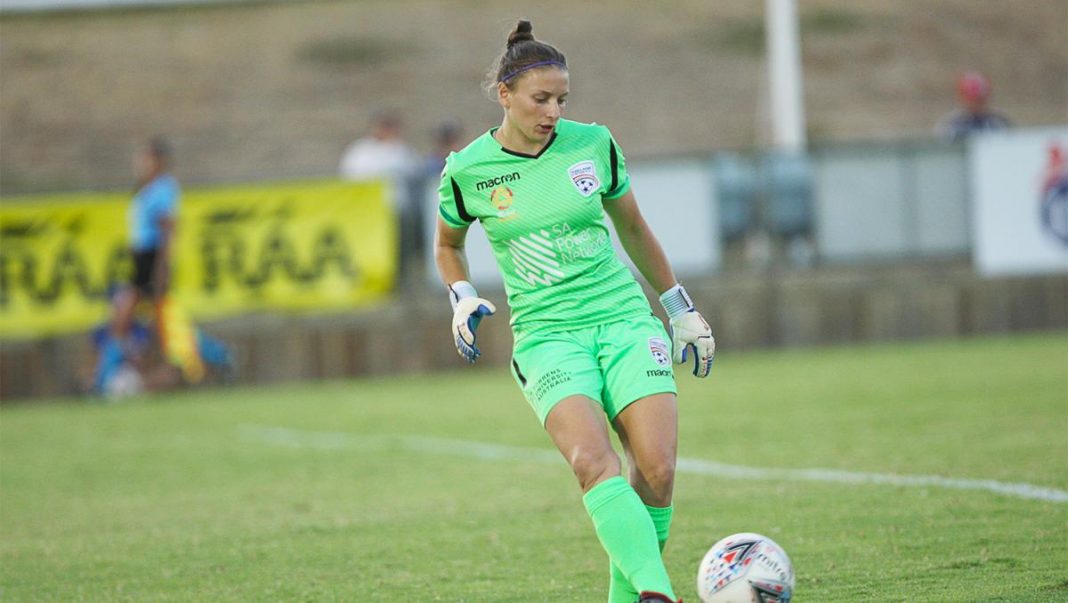 Sarah Willacy has consistently pulled out show-stopping saves for Adelaide United over the past few seasons. The keeper was part of the backline to break the club's 33 match clean sheet drought. Now, after displaying her goalkeeping talent in the W-League, the time for her first Matildas call up has arrived for Willacy.
"Yeah I wasn't surprised.. but I didn't expect it. Obviously I was over the moon," the keeper speaks of receiving her first international call up, "It's a really good feeling to actually get noticed and be called into the squad."
Willacy has been plying her trade at West Adelaide in South Australia's WNPL over the winter, while also training with the successful NPL side, the Metro Stars. However, the W-League off-season hasn't been smooth sailing after picking up some injuries here and there. The time off has allowed her the opportunity to return to full fitness and get ready for the national competition.
"It is a pretty long offseason. So I've just been training hard and looking forward to the start of the W-League."
Willacy is the fifth goalkeeper to be named in the Matildas squad since this year's Women's World Cup. Clearly unphased with being part of the pack vying for the third-string goalkeeper position, she remains grounded about the opportunity heading into camp.
"To be honest I'm just gonna go there and train very hard and hopefully … " Willacy trails off before continuing.
"My goal is to train really hard and try to impress the coaches. Hopefully maybe if I train well I get games, or a few minutes. But, if not, that's fine."
Goalkeeping is a notoriously difficult position to secure playing time on the pitch, especially when there are other established players available, such as the Matildas with Lydia Williams and Mackenzie Arnold at their disposal. Remaining patient for an opportunity is something Willacy is familiar with and is taking in her stride.
"It's a pretty hard position to breakthrough, like it took me a few years in Adelaide to become the number one," Willacy begins.
"When Eliza [Campbell] was here, I just worked hard and tried to keep on pushing her. Then I got an opportunity when she was injured, so I had to step up and apparently I've done that.
"Obviously it's quite a privilege to play for my hometown."
Thank you @Godders_20 and @NE_MetroStars for letting me train with you over the past 3 years, you have been a big part of my journey so far to get to this stage https://t.co/982cJnqID7

— Sarah Willacy (@Willacy20) October 30, 2019
Adelaide will welcome the Matildas after a ten year hiatus. What is perhaps more special is the local feel of the squad Ante Milicic named for the occasion. An Adelaide trio of Willacy, Emma Checker and Jenna McCormick all named, provides a sense of serendipity, with all three deserving of a spot in their own right.
"It's definitely very special," Willacy said of being in the squad to play in Adelaide. 
Unlike the heavy hitting states of New South Wales and Queensland, players hailing from South Australia is less common. Speaking on this reality, Willacy continues.
"Especially having three Adelaide girls in the squad generally. It's hard to get in. Not that they [selectors] don't really look at Adelaide girls, but there's not that many who get to play for the Matildas.
"So yeah, definitely very special, to play in front of, or be on the bench in front of friends and family."
The addition of the South Australians will make first camp nerves a little easier for Willacy.
"It's definitely going to help out. I've played with both Em and Jenna, so I think it'll definitely help me settle in a little bit easier.
"I've obviously played against all the other girls, but I've never actually been on the same team. I think it will definitely make me a little more comfortable knowing a few of the players."
The future success of Adelaide United has the potential to influence how many players go on to play for the Matildas from Willacy's home state. Coming within inches of a top-four finish last season, Willacy is optimistic for the coming season.
"Preparations are going really well actually. The squad is looking good so far. Obviously not everyone's signed yet, but we're looking a lot stronger than this time in preseason last year. I'm really excited to see where we go and what we do."
For the goalkeeper, her ambition for the new season remains simple, to continue her good form from last season and to play well. While the hope of helping her side finally finish in the top four is a no brainer.
"Last year we were very close to the top four spot, that's definitely a goal for the whole team. To make finals and to even do better this season than what we did last season."
There's one thing that becomes abundantly clear about Willacy's approach to football, she is someone who will put in the miles and hard work behind the scenes to become the best player she can be on it. This philosophy covers leading Adelaide from the back to potentially finding her way into more Matildas squads.
"As long as you work hard, you can definitely achieve anything … just work hard and anything can happen."