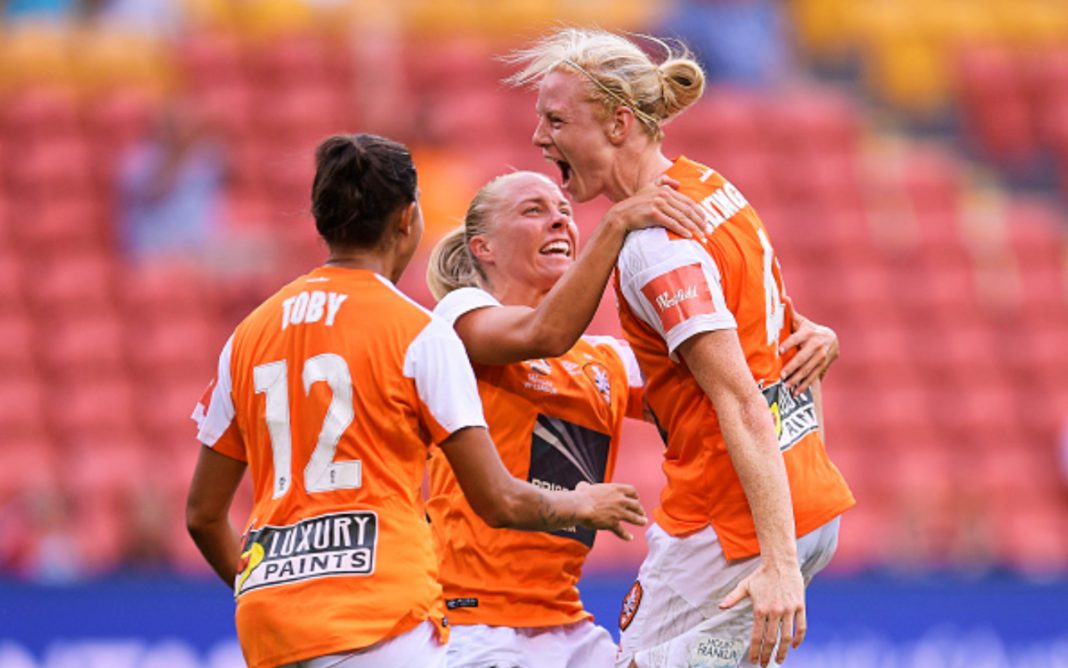 Clare Polkinghorne grew up in Brisbane, Queensland playing sports and making lists of the goals she hoped to achieve in her life.
Now at the age of 30 (she'll turn 31 on February 1, 2020), the seasoned defender has checked off nearly all the boxes within those lists she set for herself as a youngster. However, that doesn't mean she's done setting new goals or accepting bigger challenges.
Challenge Accepted
At the start of the 2019-20 W-League season, it was announced that Polkinghorne would step into a new role with the Brisbane Roar as player/coach. On the outside looking in, it would seem like a perfect role for Polkinghorne, who regularly attends various Young and Junior Matildas training camps as a coach and mentor.
However, Polkinghorne was surprised when Brisbane Roar approached her in early 2019 with the prospect of becoming a player and assistant coach.
"It's a role that I wasn't really expecting," says Polkinghorne, who thought long and hard on the proposition. "I had to see whether it was something I would be interested in pursuing.
"Coaching wasn't something that I had considered seriously, but I'm a big believer in personal development and improving myself in different ways.
"When the opportunity came up – it was something that I thought would be beneficial, not just for myself as a person, but also as a footballer, and to continue developing different aspects of myself."
Lessons in Leadership
Polkinghorne's development began in her early years at the Queensland Academy of Sport, where she was mentored by coach Mike Mulvey, who continues to have an impact on her career.
"Mike really introduced me to the idea that football could be a career for me," says Polkinghorne, who is well aware of the impact good coaches have on young players.
"He instilled that belief in me that I had the potential to go to the Olympics and World Cups. He allowed me to develop as a player and had a lot of influence on me outside of football."
Polkinghorne's leadership skills were honed in these early days, not only by quality coaching but by training alongside many of the Matildas at the time.
"When I started at Queensland Academy of Sport at 14 or 15 years old, I was never the best footballer. But, I was training with players who were preparing for the Olympics and World Cups", she said.
"There were a number of pretty strong leaders in that group and from a young age I was surrounded by people and leaders who had a big influence on me.
"They instilled in me what a leader looks like and I learned that from them at an early age. Those leaders really helped me to find my own way and my own style."
Our skipper is headed to a fourth @FIFAWWC 💪 @TheMatildas squad 📰 https://t.co/GczXVYiwCh#RoarAsOne #GoMatildas pic.twitter.com/Mm9ck1d6iX

— Brisbane Roar (@brisbaneroar) May 14, 2019
The Style of Coaching
Having quality coaches and role models in her life has helped Polkinghorne develop in and out of football – something she hopes to pass on to the players in her charge.
"I've been thinking a lot lately about what sort of coach I'd like to be," adds Polkinghorne thoughtfully.
"For me, it's about taking the different aspects that I liked about coaches who I've had previously. I'd like to take bits and pieces from everybody and then put that into my own style.
"It's definitely interesting to go back and analyse your coaches – to see what you like and what you don't like.
"There are definitely a lot of coaches out there who I'm trying to pick apart and see how they go about their coaching and how I can use that to be the best coach that I can be."
Brisbane Roar have gone through a few coaching changes over the course of 12 seasons. After the departure of head coach Mel Andreatta in 2019, new manager Jake Goodship welcomed Polkinghorne's unique stature within the team, as well as her approach on game days.
"I've had conversations with the club and obviously with Jake and first and foremost, I'm a player and my job doesn't change on the field," insists Polkinghorne.
"All my preparation and everything that goes into that remains the same. It's play first, and then the coaching comes after that."
.@clarepolks89 caps off 2019 with a goal! ⚽️

🎥: @FoxFootball #WLeague pic.twitter.com/uEF4hq5pue

— Westfield Matildas (@TheMatildas) December 29, 2019
The Gift of Opportunity
While the long-time captain has been a staple in the Roar lineup since the club's inception in 2008, Polkinghorne's penchant and passion for self-development and leadership seems to be laying the groundwork for a future in coaching. She, on the other hand, is approaching her new role with an open mind.
"It's an interesting mix and I'm not sure how that translates to the rest of my career," adds Polkinghorne.
"Definitely something I've learned this year is that whether it be in football or in life, you can't take things for granted.
"You've got to make the most of your opportunities and not let anything slip by."
Impacting the Next Generation
So, how will Polkinghorne pass these life-learned lessons to the next generation of Aussie footballers? It starts with believing in oneself and continues with determined focus.
"The big piece of advice that was given to me was to remain focused and don't be distracted by the outside noise, whether it's positive or negative", she said.
"Just have a clear goal in mind of what you want to achieve in your career and how you're going to get there. Remain focused on your pursuit no matter what happens or what people say or do."
The next career path for Polkinghorne might still be waiting in the wings. However, one thing is for certain – Clare Polkinghorne will continue to impact the future of women's football in Australia and throughout the world.
"Am I going to be a coach after I finish playing? I don't know. But, I do know that the opportunity to help the next generation is something that I'm really passionate about."