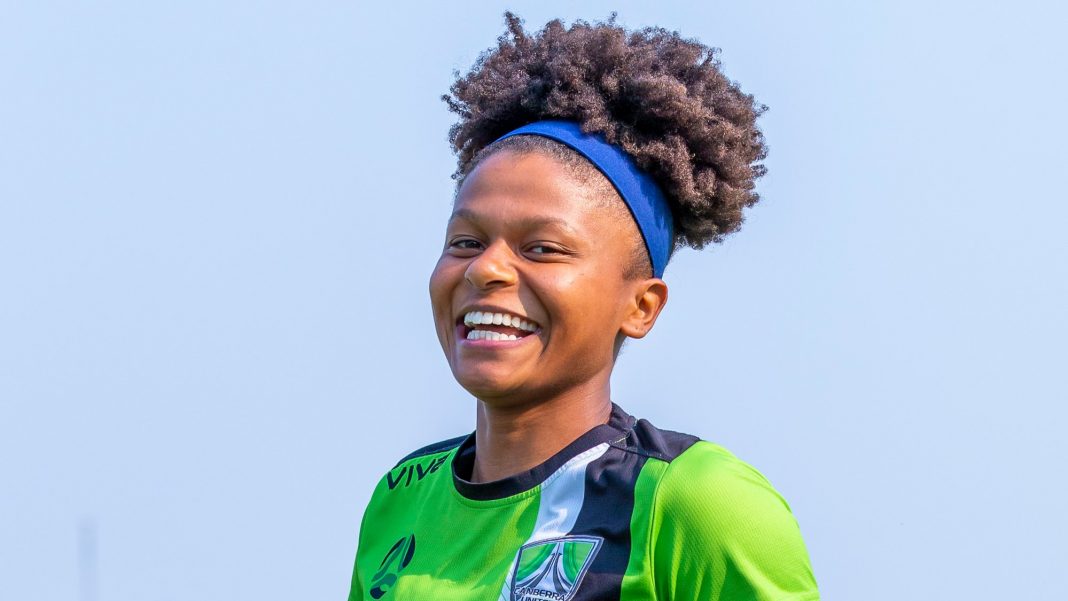 "Sometimes your joy is the source of your smile, but sometimes your smile can be the source of your joy." – Zen Master Thich Nhat Hanh
A smile is never far from Simone Charley's face as she reflects on her first W-League season with Canberra United.
Playing in every Canberra United game bar the last in this campaign, a somewhat mixed season for the team provided many Charley highlights, to the delight of fans everywhere. Her speed and deadly runs in from wide have caught the imagination, and she was named recently in the W-League's team of the season so far.
.@SimoneCharley takes her last dance of the season as @CanberraUnited finish their 2019/20 Westfield #WLeague campaign this Sunday 💃 pic.twitter.com/zd9yrPjJRr

— Westfield W-League (@WLeague) February 21, 2020
Charley came to Canberra United after Canberra coach Heather Garriock made perfectly timed contact with Portland Thorns coach Mark Parsons.
"I talked with my coaches back in Portland about halfway through the season because we have a couple of Australian teammates here, Ellie Carpenter who played here last year, Hayley Raso, and Caitlin Foord. They had talked to me briefly about playing in Australia. And that's something that had come up. I talked to my coaches in Portland, saying that that's something I want to do, wanting to be able to get more games under my belt. Later on that week, Heather just happened to reach out to Mark just wanting to know if there are any players who are interested in coming. He shared my name as well as got film and [other details] together for me and sent that all to Heather and then yeah, it just all fell into place."
Just a couple of our Thornies in Australia. 🥰 #BAONPDX pic.twitter.com/Du2ZApNiW2

— Portland Thorns FC (@ThornsFC) November 26, 2019
As it turned out, Charley's desire for additional games panned out well, just exceeding the eleven Thorns appearances in 2019 with the number of games played in the green of Canberra United.
Prior to the 2019 Portland Thorns season Charley had not really been in a position to consider playing overseas, concentrating instead on making the Thorns squad, having made the USA Under 23's women's team back in 2017. Elite track-and-field options and a budding career as a clinical psychologist were also in the mix around that time, and are on hold for now.
"[In] my previous year, I was a practice player. So I wasn't signed to the [Portland Thorns] team, I was just training with them trying to get a spot and so I think at the beginning of the year, it's more so just focused on 'Let me make the team' and then once I made the team that was like, 'Okay, now let me think about, what are my goals for this season?'. And I think once things started looking up now it's like, maybe I can play elsewhere too, and try something else out. And so, yeah, I came here because I wanted to grow as a player and as a person."
That smile returns when asked if she has enjoyed her first W-League campaign.
"I've loved it here. Do you know I think the team, honestly, that's just been the highlight of my whole time here. Everyone is just so welcoming, so down to earth, everyone will give you their last. And I think that's something that I think is just amazing. And I've made some friendships here that will last me a lifetime, like I already know I'm going to be Facetiming people when I go back to the US. So I think that's definitely been the highlight – the relationships that I've built since being here."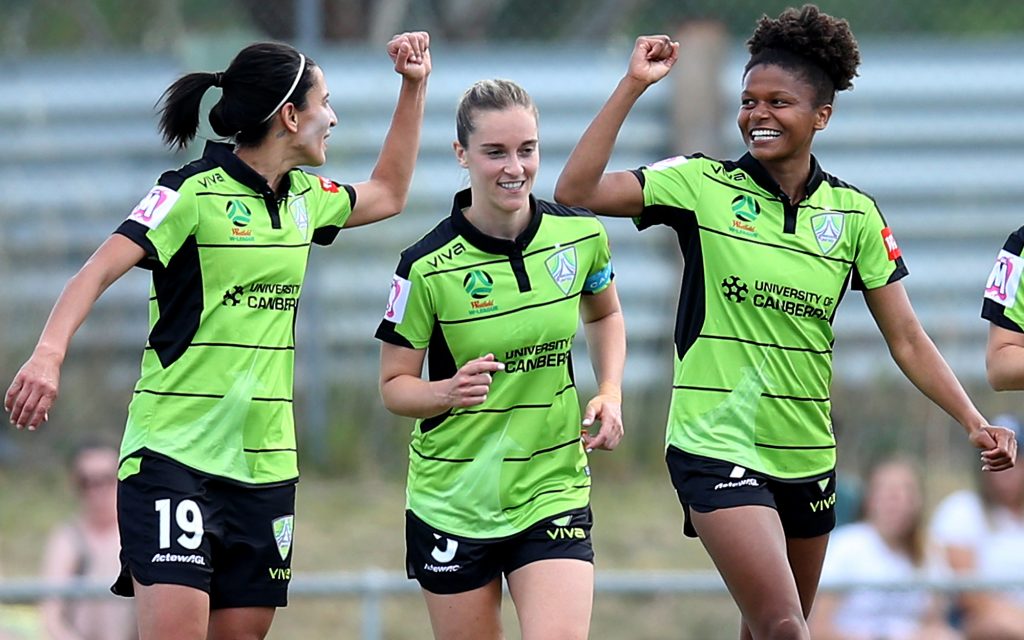 Charley notes several differences in style between the NWSL and the W-League.
"Yeah, I would definitely say it's very different.
"I would say the NWSL is more focused on the technical side and making sure your passes are sharp, and being purposeful with passes and things like that. Whereas I feel like the W-League focuses more on the athleticism side. And it's a lot more physical. And so I think that's been something that I've had to learn and I've had to add to my game because they're very different leagues and there are very different types of players in both leagues… I've definitely had to adjust in that way.
"I know coming up here – and Heather spoke on it too – about how you know, it's just so hot. It's hard to sustain a press for 90 minutes, [for example]. Whereas in Oregon, where it's hot for maybe two weeks of the year you can sustain a high press for the majority of the games.
"I think there's more of an emphasis on the tactical side [in the NWSL] just because you can sustain certain tactics for longer as opposed to here when it's over 100 degrees outside Fahrenheit… and everyone's out there cooking."
"There's only so much that the tactics can help you when you're in the 90th minute and everyone's really tired."
Other types of comparisons between the two leagues are perhaps unfair due to the different levels of investment and professionalism in the leagues, Charley feels.
"I think just with, especially with the success of the US women's national team… it has spiked interest in women's soccer and so we've been able to make big strides in a short period of time.
"And I think also having them connected with the MLS side. Well, I know there are teams connected with A-League.
"[But when] I think of like the Women's Professional League in the US, you're for the most part full time professional women's footballers, whereas here, if you're not an international player, you're not necessarily full time. It's more like a semi-pro thing.
"And it's pretty common for people to have a job on the side [in the W-League]."
Adjusting from a central attacking position for the Thorns to a wider attacking role for Canberra United, Charley has been happy with her form this W-League season. She paid tribute to coach Garriock's role in adding to her game in various ways.
"I would say I'm pretty happy with my form. There are definitely areas that I've been trying to work on since being here. And I think Heather's helped me a lot with that as far as the tactical side and sitting me down doing one-v-one film sessions and stuff like that. And I feel like I'm happy with the things that I've learned since being here – moreso the tactics and being smarter with my runs.
"Also, I guess, switching it up a lot more. And so I think for me, one thing that I really wanted to work on coming here from the Thorns, I played the nine normally [centre forward]. And so just learning how to lay it off and then spin out or if I'm checking feet, and I'm not being played the ball, then spin out or just take off, that kind of thing. And how to, I guess, outsmart defenders instead of just having to rely on my speed or athleticism. It's just about outsmarting them. And so I think that's healthy bringing that back."
"I'm very appreciative of everything that she's [Garriock's] done. I know for me personally, she sat down with me at the beginning of the season to talk about my goals and what she can do to help me and help develop my soccer IQ, and she went out of her way to help me with that, whether it was coming in before sessions and watching film with me."
"Or we'd be on the plane with a laptop, looking at stats. And just holding me accountable in practice for the small details.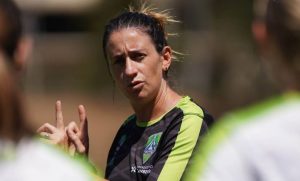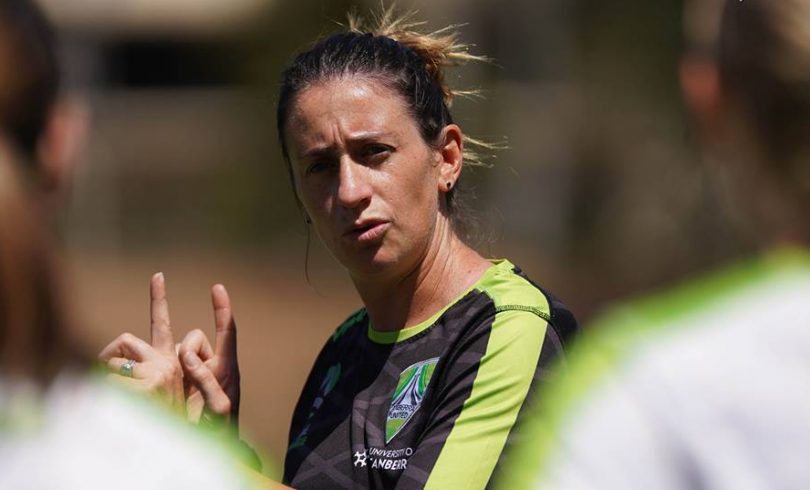 "I think that's just made a huge difference in my game just to see how much she cares about my individual development as well as the team development. I'm just so thankful for that."
A series of heavy losses marked a rough patch for Canberra United around the Christmas period, before the team bounced back strongly with a win over Adelaide United. During that time, defenders had learnt to try to cut off those inside runs, and were attempting to nullify Charley either by double-teaming her or with sheer physicality. There were some good lessons learnt from that challenging period.
"Yeah, I definitely noticed as far as like people or defenders not allowing me to go inside any more or not letting me go onto my left foot. But I think it forced me to learn how to switch my game up".
"Being able to go outside and go inside, or read if I am being double-teamed and how to adjust to that. And so I do agree in that … I think defences changed a little bit in order to try and hinder me in a way, which is understandable. But like I said, Heather was very helpful in helping me watch film and see how I can adjust my game to those [defensive tactics]."
Charley's face lights up when asked what she'll be telling friends and family about Australia upon her return.
"Definitely will talk about the kangaroos – how they are everywhere, like deer are in the US. The other day, I was talking to Kaleigh Kurtz, and she's like, do you know you can go to the grocery store and buy and eat it? And I was talking to one of my friends from home and I'm like, I feel like that's something I should try, or am supposed to try before I leave, but it just feels wrong.
"So I think I'll talk a lot about kangaroos. And the beaches – I think that's like almost like a central part of Australia and Australian culture. Which is interesting for me because I never really grew up around a beach. And so that's been kind of cool. Obviously Canberra is not that close to a beach. But compared to where I'm from, it's pretty close. I've gotten to go to Sydney and to Wollongong. I went to Batemans Bay as well, and Pebbly Beach. So I've been able to like explore some and … they're just beautiful."
Will Charley be keen to come back to Australia to play again someday?
"I've enjoyed my experience here so it's something I'll be looking at!"
First however, there's a chance for Charley to catch up with family – parents, brother and sister for a week or so before coming back into preseason for the 2020 NWSL season with the Portland Thorns.
And on her aims for the future?
"Just to be the best that I can be and see where that takes me", Charley says with a smile.
Congratulations are in order at the @CanberraUnited season awards night for:@Leena_Khamis for winning Players Player,
Simone Charley for Supporters Player and
Hayley Taylor-Young for winning Rising Star pic.twitter.com/Ow3fF5JyS2

— Beyond 90 (@Beyond90AU) February 27, 2020
---