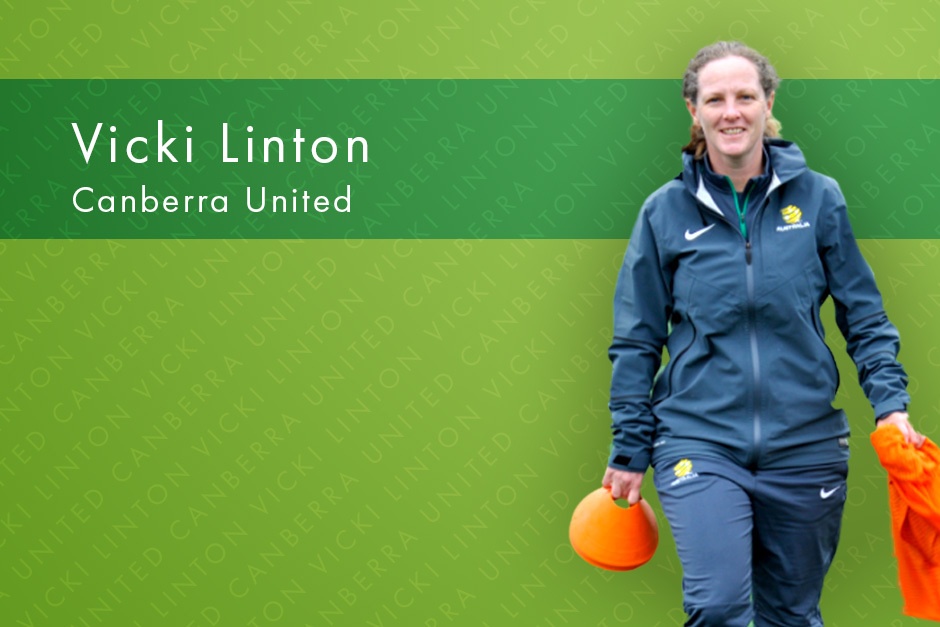 Canberra United have announced that Vicki Linton has been appointed as the club's head coach for Season 13 of the Westfield W-League.
Linton is a former NSW representative player who at the time of commencing a successful two year head coaching role with Melbourne Victory in the W-League in 2010, had already had coaching experience in the US and England, and had served as assistant coach to the Australian Under 17's and Under 20's Women's Team. She then went on to be assistant coach with the Westfield Matildas and head coach of the Junior Matildas before returning to the US, where she has spent the last three years with their Soccer Federation's Development Academy, mentoring Academy Directors on player and coach development.
Linton spoke to Capital Football about being excited and honoured to coach one of the Westfield W-League's most successful clubs.
"Spending time away from working with players directly had given me itchy feet, so I had a desire to get back into coaching and use all the skills I have learned over the past three years.
"Where United sits in Canberra's sporting landscape is fairly unique to the Westfield W-League, which excites me. Canberra has always been a really well-run club and it has had success in the past so it is a really exciting opportunity.
"I am looking forward to coming into the club and having an impact at the senior level and continuing to grow Canberra United's Academy program as well."
Canberra United's history of high achieving female coaches was also a drawcard for Linton.
"In the past, I spent time with Jitka [Klimkova] when I was working with the National teams at the AIS and I connected with Lizz [Migchelsen] and Rae [Dower] when they were coaching Canberra United, so I have always had a connection with the club," Linton shared.
"The last four head coaches being women says a lot about the club and the strong program it runs. It makes me proud to follow on from them but with that comes a sense of responsibility which I look forward to living up to."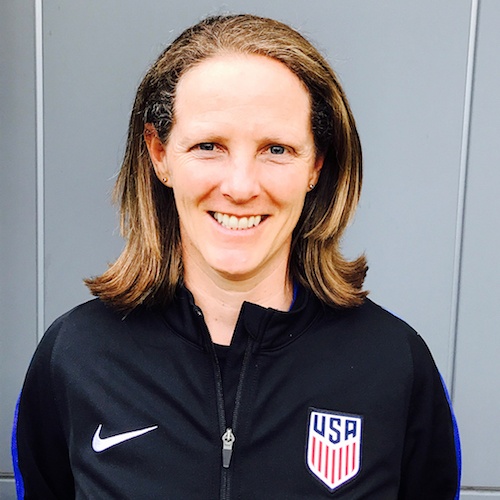 Capital Football CEO Phil Brown welcomed Vicki Linton to Canberra United.
"We are very excited to have Vicki Linton on board as the new head coach of Canberra United," Brown said.
"To have a coach of her experience at the helm of our women's program in Canberra will give our Westfield W-League team every opportunity to succeed on and off the pitch.
"With Linton working alongside Capital Football's Technical Director Scott O'Donell, we have a wealth of coaching talent for Canberra United and our development pathways. We look forward to welcoming Vicki to the nation's capital."
Linton explained to Beyond 90 that her role is a year round one. She will continue and enhance many of the initiatives put into place during predecessor Heather Garriock's time as coach, and her experience in developing players will be an important part of what she brings to Canberra United. She will also continue building bridges between NPLW and Canberra United, as well as examining NPLW (both locally and interstate) and Academy talent pools when it comes time for squad selection.
From her first day in the head coach role on Monday August 3rd, Linton will sit down with Capital Football and gain as much clarity as possible in these uncertain times around the club's development goals, aspirations, and available resources.
The resources question is a tricky one. Possible negative forces around COVID-19's impact on the forthcoming W-League competition could be counterbalanced to some degree by FFA's plans to uplift women's football in this country (see Principle X of XI Principles for the Future of Australian Football) in readiness for 2023 and beyond, depending on how quickly the FFA is able to enact these principles.
Departing coach Garriock noted earlier this year that the team needs to work out whether it wants to be a title contender, or a development team. Without having had those detailed discussions with the club, Linton nonetheless stated a belief that the team should be aiming to make the top four.
As far as priorities for recruitment are concerned, there are many unknowns regarding available players due to COVID-19. It is not presently known whether international players will be available, or even interstate players, depending on how the virus plays out. One advantage is that with Linton's time in the game in Australia she already has a network of player contacts and personal acquaintances in the player pool, and should be able to draw upon those contacts to the squad's benefit.
Ellie Brush spoke to the Canberra Times in July and left the door slightly ajar in terms of a possible return to Canberra to end her career – her leadership would prove invaluable, especially to younger squad members – and there were hints of a similar sentiment to possibly return one day by Grace Maher at the time of her 2018 club exit. Linton is not ruling anything out as far as the makeup of her squad is concerned, but retaining the club's Nordic-based contingent (Karly Roestbakken, Laura Hughes, and Nikola Orgill) will no doubt be a priority.
Linton agreed that while there is a universal desire for a full home and away draw, she was unsure whether this would be achievable in the coming season given the uncertainties around competition format and available playing windows both here and overseas, with COVID-19 hanging over all these decisions.
It was a similar story for Linton regarding a timeline of events in preparation for the W-League season. A target start date really needs to be known first to work back from, in formulating a detailed plan of attack.
The good news for Canberra United fans is that Linton's own start date with the club is known, so there is optimism around the prospects for a decent preparation for season 2020/2021.