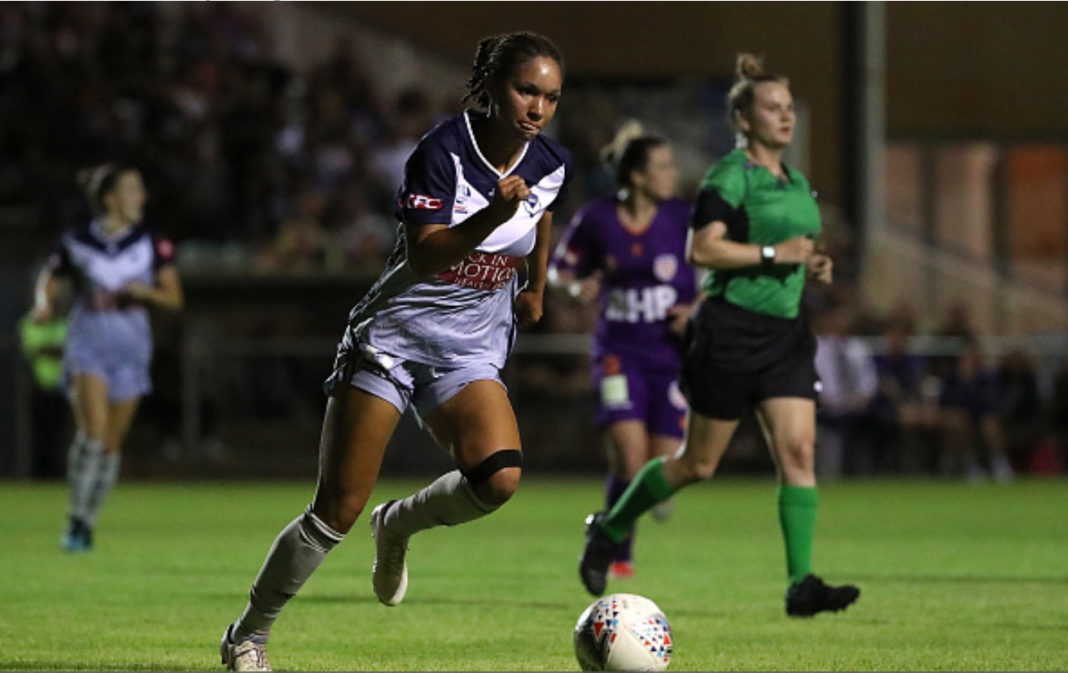 In the midst of her first attempt at completing an NWSL to W-League double header, Melbourne Victory's Darian Jenkins says she is already experiencing benefits to her game.
Traded by North Carolina Courage to Seattle Reign for the ninth overall pick of the 2019 NWSL Draft – which the Courage turned into Pepperdine defender Hailey Harbison – Jenkins went on to make 18 appearances for her new side in 2019, including 12 starts.
Jenkins lined up in a Reign XI packed with W-League players past and present, including Jodie Taylor, Jasmyne Spencer, Celia Jiménez Delgado, Morgan Andrews, Megan Oyster, Theresa Nielsen, Lauren Barnes and Michelle Betos.
Her impact for the side was immediate. She netted her first NWSL goal during her first NWSL start in Reign's 2019 campaign launch against Houston Dash.
This came after a frustrating two years in North Carolina, where a compound fracture in her fibula sustained while a senior at UCLA robbed her of a chance to play in 2017 and the Courage's strong roster restricted her to just 176 minutes in 2018. The season in Seattle represented a welcome burst of career momentum.
And, two weeks after her Reign was knocked out in the NWSL semi-finals by Courage, Jenkins looked to keep that impetus going when she was formally unveiled by Melbourne Victory as one of its foreign contingent in 2019/20.
Another US signing! @ReignFC forward @darian_jenks will join us for the 2019/20 #WLeague season https://t.co/sFv1ocYPKz #MVFC #OurVictory pic.twitter.com/zcf1zoBbm6

— Victory W-League (@victorywleague) November 6, 2019
"I'm loving it," Jenkins said of her Down Under sojourn. "Australia's not a bad place to live for five months!
"It's a different style of soccer, which I'm really appreciating, and I've got such great teammates and the coaches are really helping to improve my game.
"It's been a great experience, I'd definitely do it again.
"We play a little bit more … it's still gritty. And the training style is different, waking up early for training is different. It's good, it's a different tempo.
"It's been good now because we have the whole day [off after training], which is really nice."
Having started every game for Victory throughout the opening weeks of the W-League season – AFC regulations surrounding foreign players causing her to miss the 2019 AFC Women's Club Championship – Jenkins has quickly become a key cog in Victory's plans.
Unlikely premiers of the W-League a season ago, squad upheaval and stiffened competition has resulted in Victory not quite reaching the lofty heights of last season so far. The club still remains well in the mix for a top-four finish and berth in the finals.
Jenkins has already won herself a fan in Head Coach Jeff Hopkins.
"We brought her here for her attacking qualities," Hopkins said. "And what we're trying to do now is trying to get the ball to her as often as possible, as much as possible, without being too predictable.
"One versus one she's amazing. She can go past, down the outside or down the inside. She's got good delivery with both the left and right foot and we're starting now to get the ball to her in dangerous positions and she's starting to produce.
"She has been important to us and she's going to be even more important to us as the season goes on.
From all accounts, it appears that the relationship is one of mutual benefit, with Jenkins already noticing improvements in her game.
"I was actually just talking to my old coaches about this," she said. "I do a lot more defending, playing wing-back with the formation that we're doing, and it's definitely improved my game a lot.
"Being able to get up and down the field is difficult but I'm finding it a lot easier to pick those moments of when to make runs and when to just possess. It's really improved for me.
"I think what I was missing the last off-season was getting games in and a competitive training environment for those five months that we don't have anything.
"This is definitely huge for my personal development here."
A veteran of over 200 appearances for Fulham, Crystal Palace and Reading as a player himself, Hopkins was concurrent with Jenkins on the benefits of spreading one's wings in the formative stages of your career.
"I think you build your career on different experiences," he said. "I think that, as a young player, to get as broad a perspective on the game as possible playing in different formations, playing under different coaches, playing with different players is all part of their education.
"Obviously, Darian's bringing a lot to us as well so hopefully it's mutually beneficial and she gets a lot out of it and we do as well."
Watch Darian Jenkins play in Victory's clash against Newcastle Jets on Saturday 4th January. AAMI Park, kick off 4pm AEST. Broadcast on Kayo and My Football App.