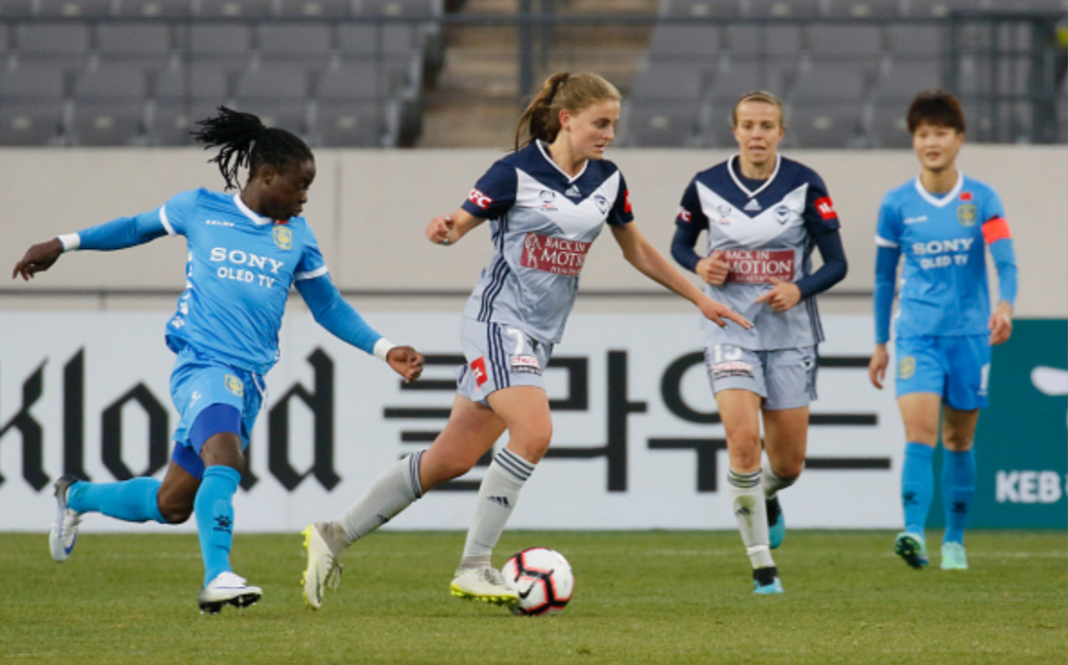 Emma Robers' excitement was as evident as it was infectious.
The 21-year-old had just signed a deal with Melbourne Victory when she spoke to Beyond 90.
She is one of the newest and youngest members of Jeff Hopkins' squad. As such, she was modest in her goals for the season, aware of the opportunity afforded to her.
"[I want] to learn and experience as much as I can and I'm grateful for any game time or team sheets I might be on." Robers said.
"And for the weeks that I'm not, it doesn't matter to me because I'm here to learn and experience and absorb everything that I can and work hard. I really want to lift my game and continue to improve and push myself and push for game time, of course."
Barely a month later, Robers has made her W-League debut and represented the club in Asia.
She played in all of Victory's matches in the inaugural AFC Women's Club Championship.
Yongin Stadium in South Korea is a world away from Melbourne's north west.
Robers' kicked off her 2019 at Green Gully Reserve, back in February. There, Calder United beat Bulleen Lions in the Community Shield 3-1.
Robers, the newly appointed captain, would go on to lead her side to another three trophies.
The club would go on to finish top of the table, secure the Nike FC Cup – where Robers was awarded best on ground – and win the grand final.
Even after a stellar season, the move to Victory wasn't a certainty.
"[Calder United] were really successful, took away the trophy and the Premiership and everything. Jeff [Hopkins] had been kind of scouting at the games and toward the end of the season asked me to come along for a trial," Robers said.
"There was maybe 20 of us or so trialling and in the end he chose me and my [Calder] teammate Polly Doran as well to sign on for the team, so we were ecstatic. Honestly, it was a dream come true and I've wanted this for so long and worked really hard. Yeah, it was a blessing."
Robers is one of many NPL talents to have signed for W-League clubs across the country this season.
The step up from NPL level to the W-League has been a challenge but an enjoyable one for her.
"It's definitely a whole other level and the intensity is a lot higher, the work rate of everyone is a lot higher. But in saying that, although there's a lot more work to do, the camaraderie and the encouragement and support from everyone is amazing."
"We all know we're in it together, we all know we need to push each other to be the best that we possibly can be. And the whole environment has been nothing but supportive."
Robers is confident the NPLW will become even more of a breeding ground for future W-League talent.
"I think the reason that we integrated into the whole NPLW [from the previous women's state league set up] was to make it more professional and make that gap between W-League not too large and more achievable."
"I think, I'm hoping, that seeing people like Polly and I and all the girls from the Brisbane NPL and the NSW NPL gives people hope. They can even look up to us a bit and be inspired and if they work hard they can get this opportunity."
We've signed #WNPL duo Emma Robers & @polly_doran! Details: https://t.co/HXqHTQgPKe #MVFC #OurVictory pic.twitter.com/E14VgNCEfP

— Victory W-League (@victorywleague) October 31, 2019
And it's an opportunity that Robers has wanted since she was five years old.
The midfielder began playing locally in boys and girls teams, before a stint at the National Training Centre. She thrived in the developmental environment.
"I thoroughly enjoyed being around other really skillful, technical players and having training almost every day was something that I really, really loved".
However, she wasn't successful in getting into the senior NTC and so spent time at Sandringham in the then Women's Premier League. The birth of the NPL saw her move to Bayside United and eventually Calder.
One thing that has never wavered, however, is Robers' love for football.
"I love the sport and I continued to work hard and I pushed and regardless of anything that happened, I was playing it because I enjoyed it."
"Now here I am 21 and you know, I might be seen as a little bit older to make my debut or whatever, but I hope that I can inspire other people to keep going and keep pushing because you never know what's going to happen and what's around the corner."
Emma Robers' Melbourne Victory head away to play City at the first Melbourne Derby of the season on Thursday 12th December. Kick-off 7.30pm, ABD Stadium, Broadmeadows. Broadcast on Fox Sports and the My Football App.