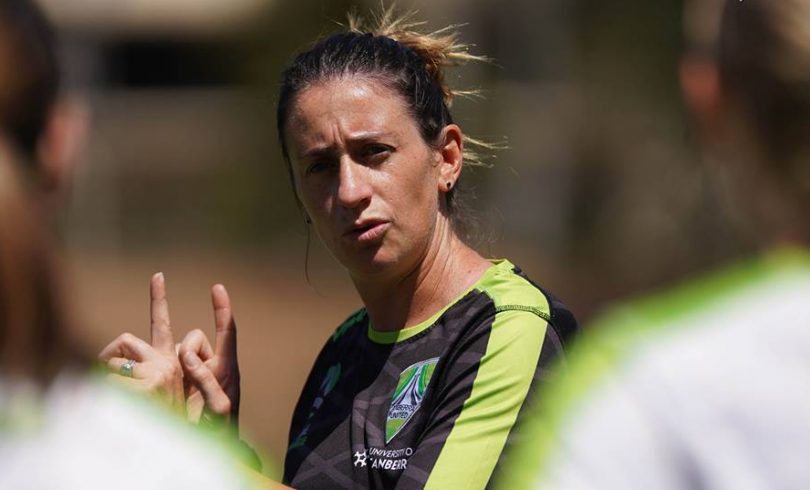 Capital Football have released a statement advising that Heather Garriock's contract with Canberra United will not be renewed past the end of the 2019-20 season.
In her third season with the club, Canberra United have two games left to play this season and currently sit in sixth position on the ladder. The team will not be contesting W-League finals this season, nor have they for the previous two seasons under Garriock's tenure.
Capital Football CEO Phil Brown said his organisation believes the time is right for a change, but paid tribute to Garriock, her efforts, and the legacy she will leave with regard to player development.
"Heather has played a significant role in developing young players through the pathway system, including the Canberra United Academy through to Canberra United", he said.
"We will be indebted to Heather for the role she has played in establishing high-performance standards within the program."
While naturally disappointed, Garriock alluded to such decisions being a reality of the professional sporting landscape.
"I am grateful for the opportunity given to me by Capital Football to coach at this level", Garriock said.
"As somebody who has been involved in elite sport for most of my life, I fully understand the decision that has been made by the organisation.
"I am proud of the role I have played in nurturing young players and developing them, not only as footballers but also as people. I have enjoyed contributing to the lives on and off the field of every player who has pulled on a Canberra United jersey.
"Canberra United's members and fans have been a highlight of my three seasons coaching at the club. They turn McKellar Park into a fortress every home game."
Garriock has been instrumental in recognising the need to close the gap in standards between Capital Football NPLW and the W-League, instigating a Canberra United Winter Programme in 2018 for aspiring W-League players. The programme brings players from different Canberra NPLW clubs together for extra weekly sessions under Garriock's tutelage, preparing them for the standards and realities of the W-League.
With Capital Football's support, she also took over the coaching role of the Canberra United Academy NPLW team in season 2019. Together with her role leading the Winter Programme, this gave her a strong base from which to survey the talent in the Canberra region. In turn, this informed Canberra United squad selections and aided the development of local players for the national league.
Garriock spoke yesterday about the final two Canberra United games of the season with determination to finish the season well, and with a sense of pride in her Canberra based players.
"Whilst we can't make the top four, which was our ultimate goal, there are other positives that we can take out of this season.
"Most importantly, we want to finish the season off strong for ourselves, the club and our fans.
"We have nine Canberra based players in our squad which I am proud to say. They have either come through the NPLW or the Canberra United Academy program which I am sure other clubs can't boast about.
"Some of our young and inexperienced players have stepped up this season and I am proud of them."
With her standing in the game as one of the highest capped Matildas (108 appearances), her drive, passion and media profile, this will not have been an easy decision for Capital Football. Her presence as Canberra United coach is a drawcard for many players.
Her time at the club is in an era where Capital Football continue to operate without the professional backing of some of the other W-League clubs, a trend begun in earnest by Melbourne City's entry to the competition in season 2015-16.
Having settled well into the Canberra community, Garriock and family will continue to reside in Canberra.