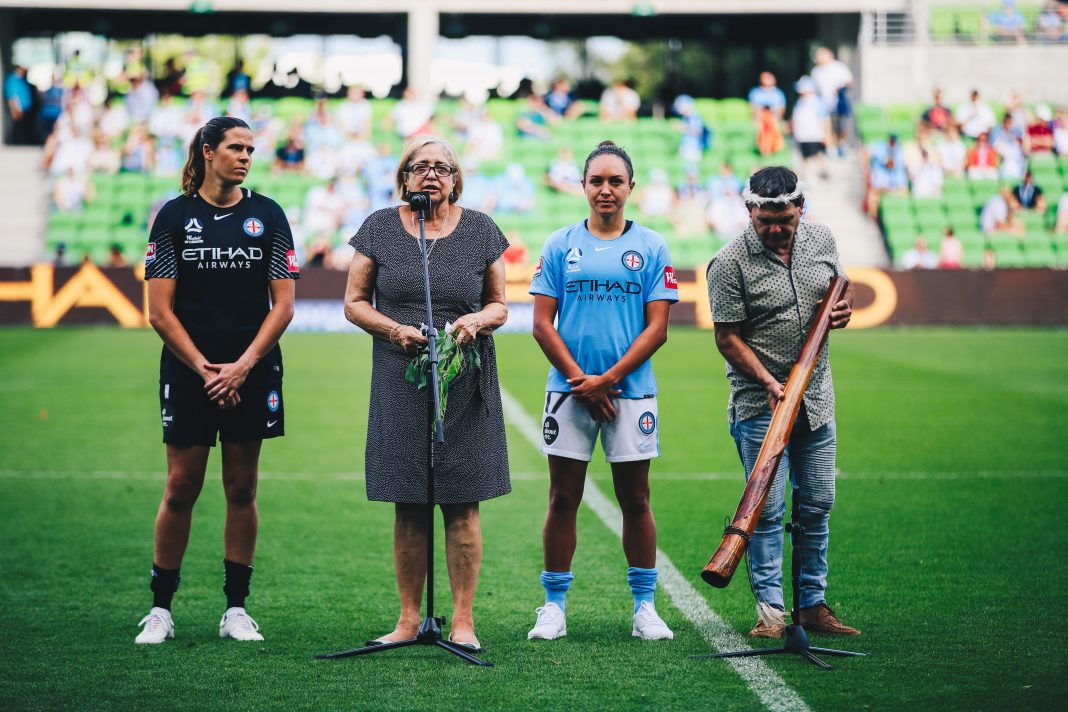 With Melbourne City getting set to celebrate their annual indigenous recognition match this weekend, goalkeeper Lydia Williams has repeated her calls for football to provide greater outreach and recognition to indigenous communities.
Williams, alongside fellow indigenous teammate Kyah Simon, will join Aunty Joy Murphy Wandin – a senior Wurundjeri elder of the Kulan alliance – in delivering a welcome to country as part of Sunday's proceedings, which will also feature Ron Murray – a member of the Wamba-Wamba nation – playing the didgeridoo during the walkout of the A-League leg of the double-header.
Williams has a proud and longstanding history of calling for greater recognition for Australia's indigenous people and has been a leading voice for reconciliation efforts such as the inclusion of Aboriginal and Torres Strait Islander people in the Australian Constitution.
Speaking to media on Wednesday, the Matildas goalkeeper – the first indigenous woman to achieve that feat – said that she was looking forward to being part of proceedings on Sunday, but that football, with its vast opportunities at home and abroad, could still be doing more to entice indigenous Australians away from Australian rules, rugby and league.
"To go out there and do a welcome to country and have that be a recognition I think is amazing, the fact that clubs are starting to do that now is incredible," she said.
"We just need to get that into our national curriculum and hopefully down the track, we'll have a jersey. Every other sport has a jersey that celebrates indigenous round, so that would be really exciting if we got to that.
"I think a lot of indigenous players have that X-factor that you can't really teach or coach. I think once they get a love of the sport it just comes out in different ways and I think football's kind of losing that race a bit, finding those X-factor athletes.
"But I think it's a priority for them, it's definitely been spoken about so it's just a matter of going out there and doing it."
Williams expanded on just what greater outreach to Australia's original inhabitants could look like.
"It's [about] creating relationships. You can't just go out there and be like 'hey, come trial here,' you have to actually put in the time and effort.
"That's something that has to be beginning now and then probably in a couple of years down the track you'll see the fruits of that.
"I think it's just about creating programs in indigenous areas and giving that exposure to the game because I think [football has] got so much potential. You get to travel the world; you get to go to so many places that AFL and Rugby don't tend to do."
While Australian football has always been behind the eight-ball when it comes to competing with leagues such as the AFL and NRL to attract indigenous players, the increasing growth of competitions such as AFLW and NRL Women's represent a new front in the battle.
Though organisations such as John Moriarty Football do excellent work in the field, football's relatively sparse outreach in those communities could mean that the next Lydia Williams, Kyah Simon or Shay Evans are lost to the game.
"Growing up in outback Western Australia I didn't know anything about football, it was all [Australian rules]," Williams said.
"West Coast Eagles came out to my town a lot, so I got to be around a lot of AFL and it wasn't until I moved out to Canberra, where there's no AFL, where I actually started playing football.
"In WA it was pretty rural, a town of 30,000, so there wasn't a lot to do besides play sport – I played everything.
"I'm happy to say that I'm a footballer and not an AFLW player – I couldn't have gone to World Cups with that. For me, I definitely chose the right sport but, definitely, if [AFLW] was presented out in these rural communities I probably would have been an AFL player."
As well as serving to recognise indigenous Australians, Sunday evening's double-header at AAMI Park will serve as the final game of City's premiership-winning season.
Having steadily built momentum throughout the 2019/20, a now utterly-dominant City side downed Western Sydney Wanderers 4-0 last Thursday to secure the Premier's Plate with a game to spare – still having conceded just three goals all season, and none in over 700 minutes of football.
The ahead of schedule success was important for City who, with nine players set to head off to represent their country during the international window, is using the week leading into their meeting with Brisbane Roar as makeshift semi-final preparations.
"It's definitely, while we're looking forward to the Brisbane game on the weekend, it's kind of maybe a bit of a snapshot into the semi-final," Williams said of this week.
"I think the way that we've been preparing all season I think we're ready for whoever that opponent may be."
With records on the line though, Roar can't count on Williams and City looking past them on Sunday.
"I think it's more important for us to get that clean sheet and keep that record rather than scrape by and look forward rather than get to the semi-final.
"I think everyone is keen to keep breaking records rather than look ahead to the semi-finals."
---
Read more of Beyond 90's Melbourne City coverage