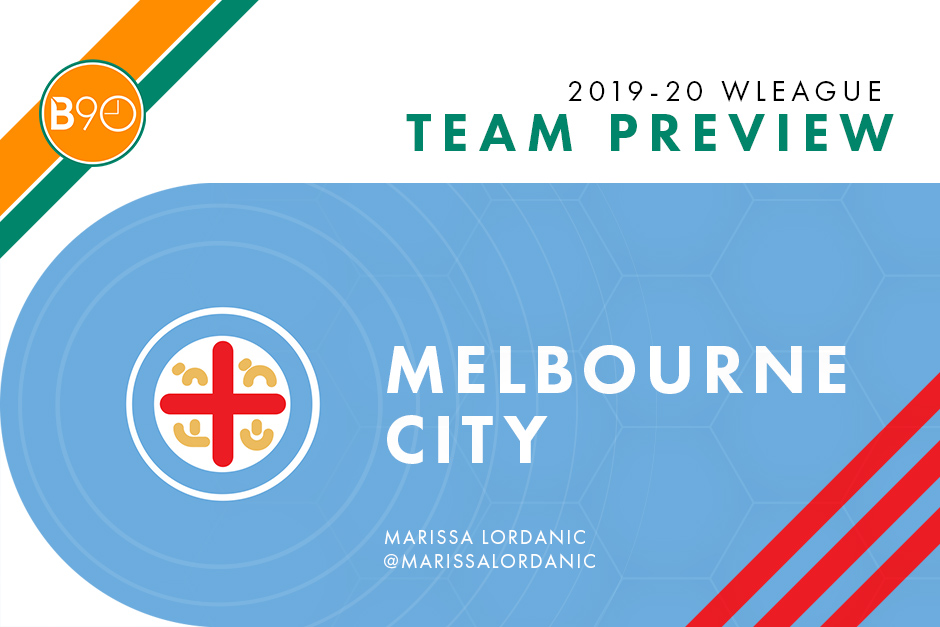 Since making their barnstorming debut in season 2015-16, Melbourne City swept all before them and created history. While the team has proven to be beatable over the past three seasons, the weight of history and expectation meant there was still something that felt a little bit off when the three-time champions missed out on finals last season; it was the first time they had failed to make the top four in their existence.
Last season
City always undoubtedly has the talent at its disposal to win the league and last year was no exception. With Matildas aplenty and various internationals, City's fifth-placed finish came down to one key factor: time. The W-League is a sprint. Teams can't afford to have slow starts or lose first string players for any significant amount of time.
Rado Vidošić's side had two or more players unavailable, either through injury, international duty or not yet arriving in the country, for the first five rounds of the season. That's almost half a season where the likes of Steph Catley, Rebekah Stott and Kyah Simon were missing at one point or another. In those five games, City won once and took home only four points out of a possible 15. Once everyone was available, it is no coincidence that City was able to push for a late finals birth, only missing out via goal difference.
In a similar vein, City's quest to replace Jess Fishlock and her goal scoring hit a roadblock with England striker and guest player Jodie Taylor never reaching full fitness. By the time a replacement had been found in young American Hailie Mace, it was round 12.
The timing was never quite right for City last season.
Ins and outs
Ins: Ellie Carpenter, Emma Checker, Emily van Egmond, Claire Emslie, Milica Mijatović, Maja Markovksi, Katherine Goff
Outs: Elise Kellond-Knight, Helen Caceres, Jodie Taylor, Hailie Mace, Adriana Jones, Theresa Nielsen, Shelby Green, Amy Jackson, Janna Lawson, Jasmyne Spencer, Tameka Yallop
Returning: Melissa Barbieri, Lydia Williams, Chelsea Blissett, Lauren Barnes, Steph Catley, Sofia Sakalis, Nia Stamatopoulos, Yukari Kinga, Rhali Dobson, Kyah Simon, Tyla-Jay Vlajnic
City will once again have a strong Matildas contingent, but with a few new faces. Tameka Yallop and Elise Kellond-Knight both return to Brisbane Roar – in come Ellie Carpenter, Emily van Egmond, and Emma Checker. That trio joins Kyah Simon, plus City mainstays Steph Catley and Lydia Williams in light blue.
Claire Emslie, who scored at the World Cup in France for Scotland, and Milica Mijatović, a Serbian international, look set to provide the goals. They join World Cup winner Yukari Kinga as the Melbourne side's foreigners for the season.
https://www.instagram.com/p/B4v8YrXhvaF/
Strength
Melbourne City's defence would have to be one of the strongest in the competition. The beauty of the backline is that it excels not only individually, but also as a collective.
There are seven defenders and goalkeepers currently in the squad and between them they have 473 W-League appearances. Only two have less than 50: Ellie Carpenter, who should bring up her half century this season, and Chelsea Blissett. On top of the wealth of experience and individual talent of these players, the familiarity with one another – through either the national team or previous W-League seasons – is an added bonus.
Challenge
At the time of writing, City's squad depth, most significantly in the midfield, could become an issue if players become unavailable for any reason.
Presently, City is incredibly top heavy with plenty of goal scorers and wide players at their disposal. Similarly, there is enough defensive depth to accommodate any potential injuries or the like. However, the midfield is a little bit sparse with only four players currently signed.
There is no denying the talent of any of these midfielders – Rado Vidošić has a Junior, Young, and senior Matilda plus a former Japanese international available in the middle of the pitch. How they go about working together and providing that crucial link between defence and attack remains to be seen.
Key players
Defender
Lauren Barnes is a familiar face in the W-League and in Melbourne, having played for a Victorian team in five of the last six seasons. The American has won four Championships and a Premiership during her time at both Victory and City, and has become a stalwart in the heart of City's defence.
Midfielder
Emily van Egmond's move to City is set to benefit both parties. The club gains a talented, versatile midfielder, who can pull the strings in the centre of the park, play in more advanced positions and drop deep when necessary. Van Egmond, meanwhile, is looking forward to the challenge provided by a new club and new city.
Forward
Claire Emslie looks set to play a vital role for City this season. The Scottish international is versatile enough to play across the front three and is known for her pace and balls into the box. Whether she is creating goals or scoring them, her link up play with the likes of Rhali Dobson, Milica Mijatović and Emily van Egmond will be key to City's ability to score this season.
Great Scott! 🏴󠁧󠁢󠁳󠁣󠁴󠁿

Welcome, @emslie22! #ForeverCity

— Melbourne City FC (at 🏡) (@MelbourneCity) November 4, 2019
One to watch
Junior Matilda Nia Stamatopoulos is in her second season with the club and will be hoping to add to her four appearances for the team so far. The 16-year-old midfielder enters the 2019-20 campaign off the back of a season with Victoria's senior NTC in the NPLW, as well as plenty of national team experience with the Junior Matildas.
Prediction: 4th
City is a proud club and there is no doubt that they won't want to miss out on finals two seasons in a row. Vidošić has compiled a squad that is more than capable of playing well, and finishing in the top half of the table is more than achievable. From there, history shows us that anything is possible for Melbourne City.