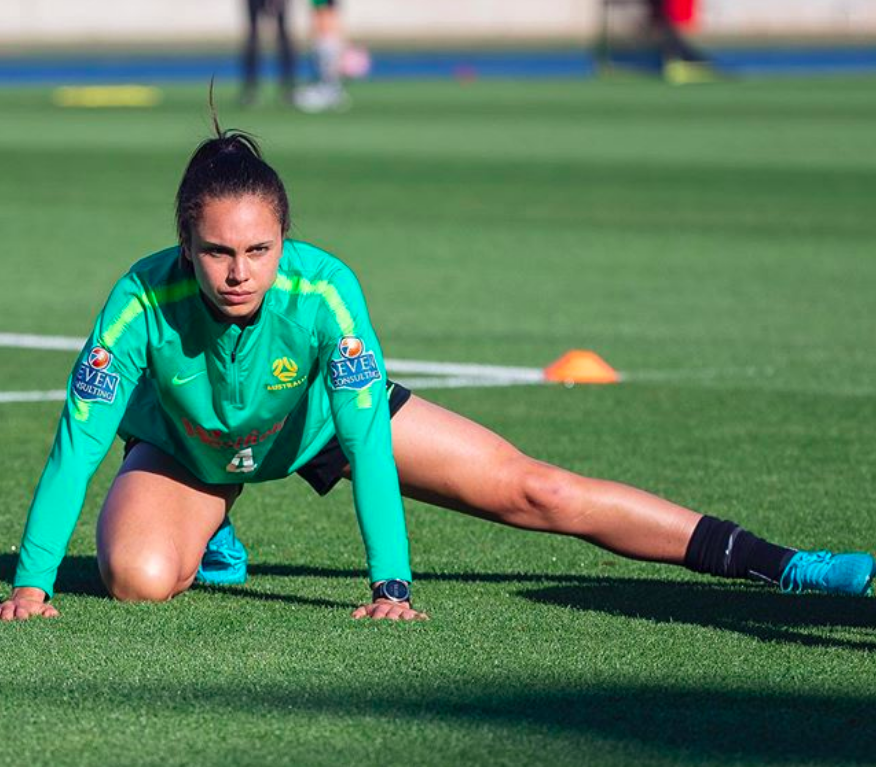 In the guest pool of the Heritage Park Hotel in Honiara, the capital of the Solomon Islands, Emma Checker is swimming laps.
60 laps, to be precise.
It follows a day mentoring and training the Junior Matildas—Australia's U-16 women's team—who've been touring through the Pacific in preparation for an upcoming AFC tournament.
Checker was invited by head coach Rae Dower to provide guidance and support for the players as they experienced one of their first tastes of life as a professional footballer—much of which can take place on the road, especially at international level.
It's an experience that the new Melbourne City signing knows all too well, having represented Australia at various youth levels throughout her career, as well as playing club football in South Korea.
More than anything else, the Pacific trip served as a huge reminder for Checker of one of her ultimate goals: after a string of injuries derailed her career in 2017, she's more determined than ever to represent the senior Matildas on the international stage once again. Hence the 60 laps.
"Being amongst the young girls in the Pacific was a really, really special experience. I got just as much out of it as I think those girls did as well," Checker said.
"I think a big part of that being that I got to share such an amazing experience with Rae; she's been someone very close to me for a long time and the fact she has trust and faith in me to be the right person for those trips was really big for me.
"I think they also created an extra driving force for me to get back into the [senior Matildas] team, and while they weren't directly related to the senior Matildas group and being part of that squad, it felt like I was one step closer even by being on those trips."
https://www.instagram.com/p/B0-o-ZcnLdw/
Since the conclusion of the 2018-19 W-League season, where Checker captained Adelaide United through their best ever campaign, the centre-back has been working hard on and off the field to put herself back on the Matildas radar for the first time since 2017.
And last month, after returning from the Pacific, her wishes were granted.
"I honestly can't even tell you how it made me feel. I think it was the best news I've received in almost three years, since the last [call-up]. Every day it's what I want to do and every day I spent not in the team, I wanted to be in the team," she said.
"I've been working bloody hard and it's been tough not making it for so long, but at the same time, it makes you realise how much you want it and you have to make a choice to stick at it or to not, and there was no way I was going to back down. I knew it in myself that I was capable of getting back in, but I also knew I had a lot to improve on and work on to make that happen.
"Obviously the team's had a lot of success as well so while the team's successful, it's even harder to break in, which is a great problem to have, but it just means I have to go above and beyond. Seeing that email was unreal. It was overwhelming. Now I have to make it happen more often. One camp isn't satisfying for me; it's a great start and it's exciting to be back but now I want more and I want to be part of the bigger picture."
https://www.instagram.com/p/B3YQMM1nHWR/
Checker's move from Adelaide to Melbourne City is part of that "bigger picture" plan.
"I loved my time in Adelaide and it was the best thing for me at that point in time. And I felt really proud being able to captain my home club," she said.
"Leaving a work in progress like that was hard but I had a lot to take into consideration. Obviously, [with] football being the biggest thing, my goals and ambitions around that were big and I needed to be in the best possible place for me to have a chance at reaching those goals.
"On top of that, I'm ambitious with my work and what I'm doing in my life away from football and a lot of that is Melbourne-based. It just made sense collectively, looking at my life as a whole, and Melbourne City was where I felt like I needed to be to achieve everything I'm trying to work towards."
Melbourne City's introduction to the W-League was about as successful as a new club could hope for. They won the double in their inaugural season, followed by two consecutive Championships.
Checker believes it's the perfect environment to push herself to improve and cement her spot in the Matildas.
"My gut feeling told me that City was where I needed to be. I loved what I saw and what I heard and from the moment I stepped in to meet everyone at the club and see the facilities, I knew straight away," she said.
"I felt like it was a place where I could be challenged. And why not give yourself every chance to be challenged and being in an environment to grow? From the moment I walked into City, I felt that's what I would be faced with. And it is what I'm faced with: I'm challenged all the time at training in a professional environment that's working me hard and it's paying off."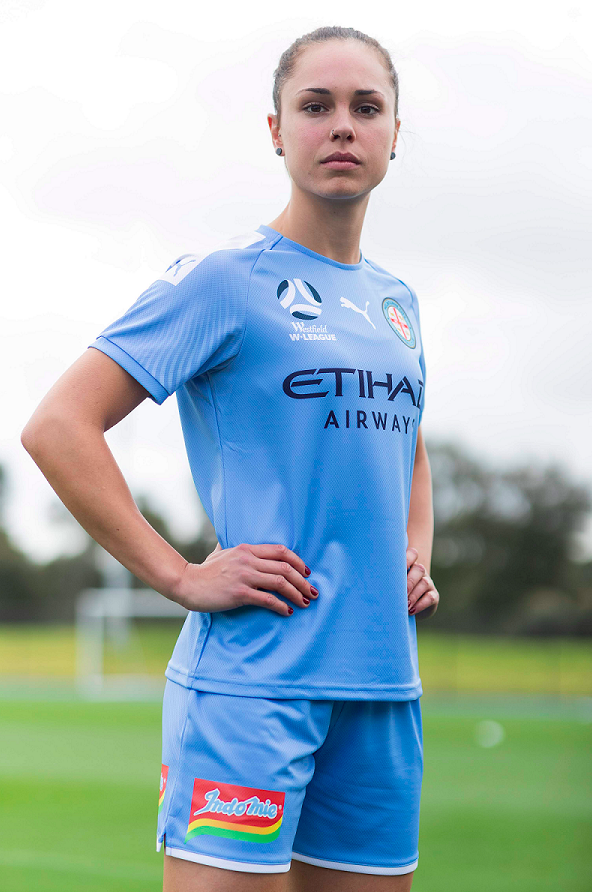 Checker's goals aren't just clear in the "bigger picture" scheme of things: she also knows exactly what she needs to work on to develop as a footballer on the pitch.
"I've been lucky in ways that my athletic ability has got me to certain points, but that only gets you so far, and I think that's been a big difference for me in the last couple of years is realising that I need to focus on things away from that as well because they're the things that sometimes let me down," she said.
"If I can be in a position to develop my decision-making, that's going to help me grow massively and being at City is a place that's going to help me with that because the way we play and the way we train is high intensity, it's high pressure, and I'm forced to make quick decisions. And if I don't, then it's not good enough. And that's the same thing as the national team.
"So I think that's one of the biggest things: making the right decisions in the right moment and at the right speed. And you can't learn those skills unless you're in a high intensity environment, so I think being at City is gonna help me develop that."
But international football isn't Checker's only goal. The centre-back says she'd love to follow in the footsteps of old friend Amy Harrison, who signed for NWSL team Washington Spirit after coming back from two ACL reconstructions.
Harrison's career trajectory gives Checker even more motivation to put her best foot forward this season as more and more players are finding opportunities overseas.
"I'm very interested in playing in the American league; it's something I've always had in the back of my mind. Amy's been someone very close to me for a long time, we've been through the system together since we were very young and it made me buzz when she got the opportunity to go over there," Checker said.
"I would love to have another overseas experience. It's very dependent on what happens with this season and with the national team. Obviously you have to work bloody hard to get a spot overseas, but in a perfect world I would love to have the best season of my life this season and I would love to get a more regular spot in the Matildas and open up my network and opportunities to being in a high-calibre league elsewhere in the off-season. But at this point in time, I'm just taking it step by step and focusing on doing everything I can to be at my best, and then hopefully those opportunities will come in time.
"If you look at some of the biggest teams in the world and biggest leagues in the world, there is player movement; it's a positive part of the stepping-stones we're taking at the moment. The fact we've got players wanted by such big clubs, it shows that things are getting better here. I think if you look at it from that light, it's a big positive that we're even having this 'problem,' as it could be called."
https://www.instagram.com/p/BHMeWpeDjyA/
Her "bigger picture" goals extend to her work off the pitch, as well. Checker's move to Melbourne City has made it much easier for her to complete her degree and develop business opportunities of her own. It can be difficult to balance at times, but she relishes the opportunity to extend herself in areas outside of football.
"It's tough but at the same time I believe that I play better with that balance. I'm a go-go personality and I work well under pressure; I like the feeling of working really hard at training and busting my gut and then putting my mind towards something else that's positive and exciting," she said.
"Don't get me wrong, there are times where the balance is hard, but I would never say I call it a struggle because I love both sides of it, and I think when you care about something and you love doing it, you find a way. I am lucky that a lot of what I can do for work is not physically demanding anymore; a lot of it is just mentally being switched on. I like being mentally switched on and I feel like I perform better when I am.
"If I was ever to a point where I felt like it was too much, soccer is my priority and I would find a way to make sure it always is. For me, it's not about my work taking over my soccer career, it's about it being there so that I'm developing further into my life as well. I see it as a win-win, if I can be the best I can be at both. But soccer is my number one."