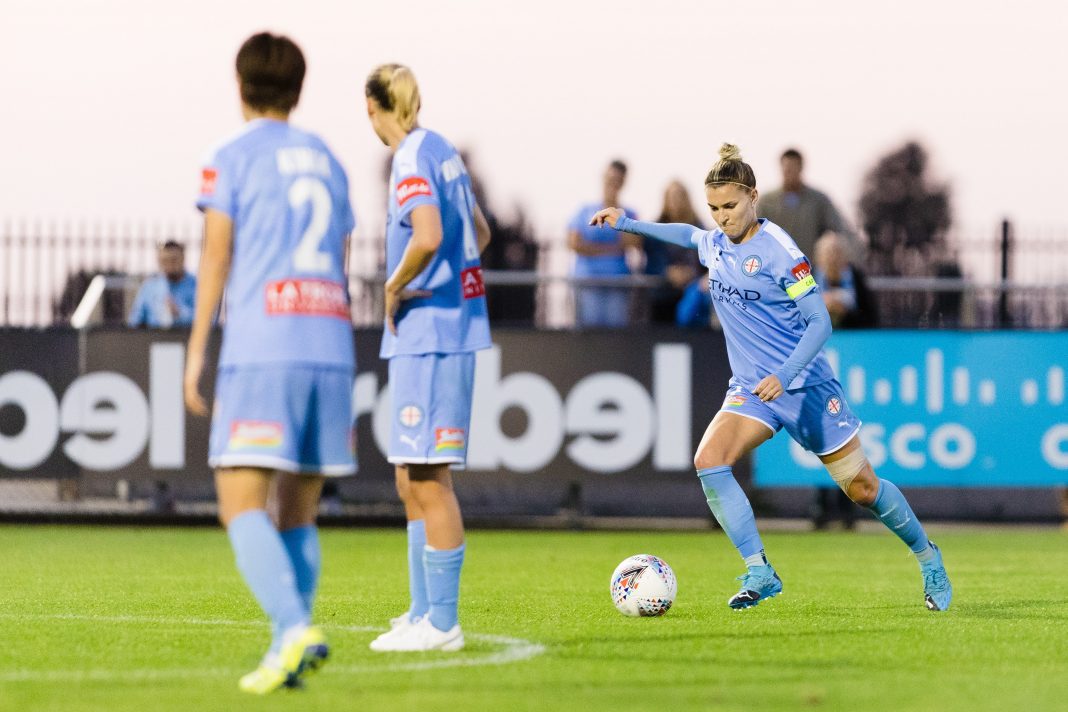 In some regards, this year's W-League Grand Final carries a sense of normality, with the competition's two most successful clubs in Melbourne City and Sydney FC battling it out for 2019/20 supremacy. Of course, the reality is that this year's Grand Final is anything but routine.
When City and the Harboursiders step out on the surface of AAMI Park to do battle this Saturday, there will be no pre-game festivities, no mascots' hands to hold, and no fans cheering them on from the stands.
Instead, proceedings will largely take place to the sounds of silence; only personnel deemed as 'essential' are set to be allowed into the stadium as Australian football takes steps to mitigate the spread of the COVID-19 pandemic that is gripping the globe.
Though not without significant controversy, the W-League and A-League remain the only official football competitions still being played across the country at time of writing. On Tuesday evening, the FFA suspended all grassroots and National Premier Leagues football under its jurisdiction as society begins to adjust to a new, distant, normal.
It is with this backdrop that both City and Sydney have had to prepare to somehow go out and produce 90 minutes of football that will see one crowned as the rulers of Australian football and, in doing so, stand alone as a record four-time W-League Champion.
"I'm not really sure what it's going to be like," City captain Steph Catley told a teleconference with journalists on Friday.
"I haven't played behind closed doors [at club level] probably since I was in under 7s when no-one came to watch … maybe Mum and Dad.
"But yeah, it'll be an interesting scenario I guess … but I mean, at the end of the day you just go out there and you play.
"And I thought about it the other day – there have been so many times even when I've been at home when I've been so focused on the game that it doesn't make that much of a difference in a sense.
"I have played a closed-door game against Vietnam [in recent Olympic qualifiers] and they played all the sound effects and did the walkout and the national anthems. I think that helped keep everything normal.
"I'd say keep the sound effects and keep everything as it would be, change it as little as possible."
Having resoundingly walloped Western Sydney Wanderers 5-1 on their way to booking their place in the decider, City has taken numerous steps to do what they can to avoid exposing members of their squad to the risks of contracting COVID-19.
The club's Bundoora-based headquarters has gone into almost total lockdown since the threat posed by the virus became apparent, with the vast majority of staff – and the club's academy sides – instructed not to attend the venue.
For those that remain, the W-League and A-League sides and their associated staffs have been cordoned into different sections of the building in an attempt to minimise risk.
Nonetheless, with elite athletes perhaps the ultimate creatures of habit, the club has been doing all it can to try and retain some sense of status quo.
"It's been pretty normal," said Catley.
"Obviously, there is a lot happening right now and lots of new news and information coming in on the hour but when we're at the club it still feels completely normal and training's been the same – we've tried to make everything feel like it's a normal week.
"That's what we did [ahead of the Wanderers game] and it worked pretty well – everyone was switched on and ready for the game. We're just trying to keep everything as normal as possible and get on with it like it's a normal game."
And despite the tense backdrop, Catley says she and her teammates are "absolutely" comfortable about playing.
"They've done everything they can to keep us safe," she said. "And all the protocols are in place to keep everyone safe and that's keeping it behind closed doors.
"There's nobody in our team that doesn't want to play, that doesn't feel safe.
"We're just really looking forward to playing the game obviously, touch wood things don't get any worse here but for now we've been cleared and it's okay to play.
"We have a lot of trust in the people around us and the doctors and the people that are taking care of the planning of this game.
"Obviously, lots of leagues around the world are shutting down but in Australia, we have specific numbers and specific circumstances where we can get this game finished, I suppose."
City will start as heavy favourites for Saturday afternoon's clash – Catley and crew seeking to put the cherry on a season in which they went undefeated, set defensive records and, in the past six weeks, averaged just over three and a half goals per game.
Whereas Sydney has had to figure out how to adjust to the loss of players such as Caitlin Foord and Chloe Logarzo, City's galaxy of stars has remained in constant orbit around the City Football Academy.
Indeed, following his side's win over Western Sydney, Head Coach Rado Vidošić revealed that a number of his players had received offers from overseas clubs but opted to stay at the club until the season was completed.
"Look, [Sydney has] got a number of good players in their squad," Vidošić said on Friday.
"And with Ante [Juric, Sydney FC's Head Coach] I don't think they're going to come here to defend.
"I think they're going to come here to win the game and keep the championship trophy in Sydney for one more year.
"So, it's up to us to make sure that we execute our plan perfectly.
"We have identified some of their weaknesses, we have identified some of their strengths. It's up to who is going to win more battles on the field throughout the game and I believe we have players who are capable of winning their battles and hopefully that is going to be enough on the day."
---
Follow all the W-League coverage.