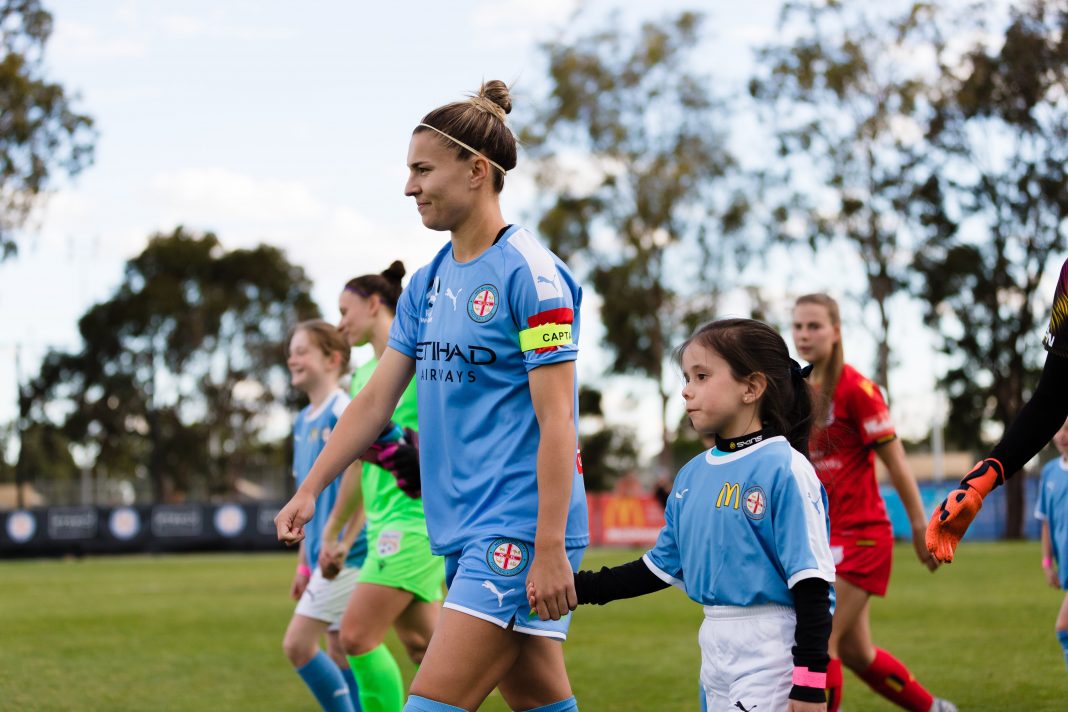 Boosted in confidence by their form in both defence and attack, Melbourne City captain Steph Catley says her side will be looking to complete some unfinished business when they host Newcastle Jets at AAMI Park this Saturday.
City remain the only undefeated side in the competition heading into round ten, holding a four-point lead over second-placed Sydney FC and a six-point lead over third-placed Western Sydney Wanderers.
Winners of seven straight games, the lone blemish – if you could call it that – on the three-time champions' season came back in round one when they were held to a 1-1 draw with Newcastle Jets at No. 2 Sportsground.
Though the two sides have gone in different directions since then, Newcastle entering Saturday seventh on the table with just a sole win to their name, there is still a respect for the Jets in the City dressing room – as well as a desire to right the ledger.
"It's the one team we haven't been able to get a win over," Catley said on Thursday. "You look at them and they're playing sort of with a confidence of a team that has nothing to lose and that can sometimes be really hard to come up against.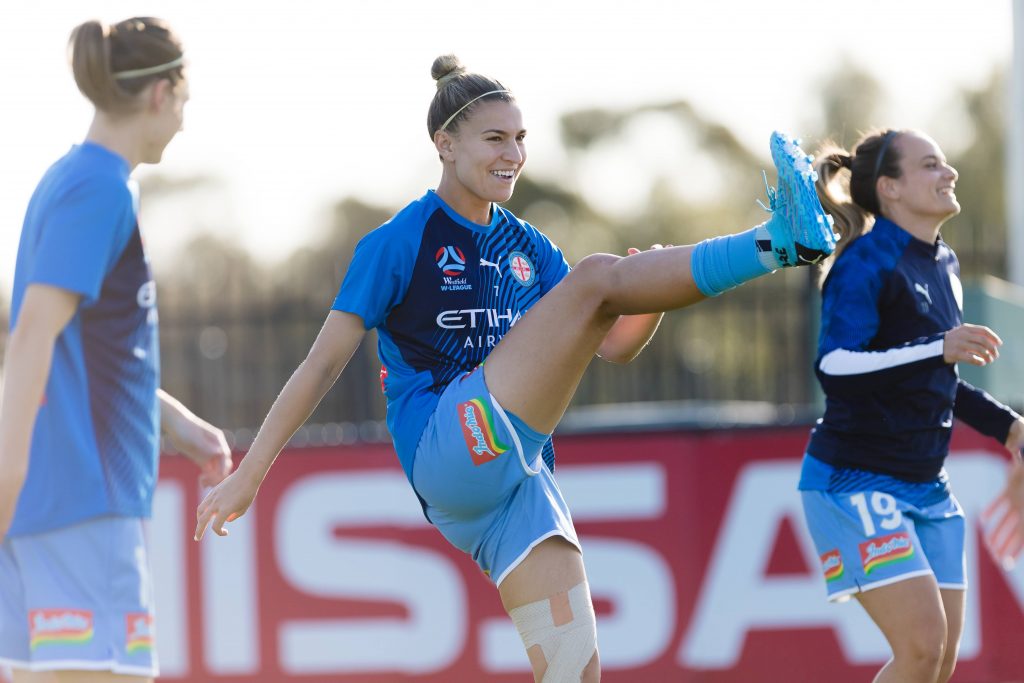 "We've watched footage of them and watched them closely through the season and they're a good team. They have passages where they create really good opportunities.
"I think Tara Andrews up front has been playing really well for them and she's capable of scoring at any stage of the game. There's definitely stuff where we need to be careful.
"That we haven't got a win over them definitely motivates us."
City, while yet to truly reach the flashy heights of some of their rivals so far in 2019/20, have begun to show signs in recent weeks that their collection of superstar parts is starting to click as a collective unit.
Having previously been restricted to one-goal winning margins, back-to-back wins over Brisbane Roar and Canberra United were delivered in a multi-goal manner – downing the Roar 2-0 in round eight and hammering Canberra United 4-0 in round nine.
Combine this newfound attacking lethality with the club's rugged backline, which has gone over 400 minutes of football without shipping a goal, and seemingly everything is coming together for Head Coach Rado Vidošić's side.
"At the moment things are going really well," said Catley. "We're playing some really good football.
"Obviously not conceding is massive, I think that's the key to winning a championship.
"I think last week we started to score goals and that was really important for us because we were struggling with that.
"We haven't changed much but sometimes the more time you spend with people on the field the better things get. There was maybe that last piece of the puzzle missing and that was just the finishing.
"The number of chances we were creating it was going to happen at some stage. At times we were unlucky and at times we weren't good enough in front of goal. That clicked for us against Canberra the other night and, hopefully, that can keep going from here."
Perhaps making City's watertight defensive efforts in recent weeks even more impressive has been its delivery through multiple systems.
With Matildas' wingbacks Catley and Ellie Carpenter at his disposal, as well as the sturdy trio of Rebekah Stott, Lauren Barnes and Emma Checker in the middle, Vidošić has used both a traditional back four and more attacking back five at different points throughout the season.
"Rado's kind of brought in a few different systems," explained Catley. "Just to ensure that, going into the later parts of the season, we've got different plans.
"If we need to rearrange things because of personnel or whatever it is we're organised, and we know what to do in those situations.
"But I think if you look at our backline, the experience that's there is like no other in the league. It's probably our strongest asset and something we definitely can improve on but it's something that is really strong for us.
"Those different formations leading into the later part of the season, knowing how to do those, will be really important.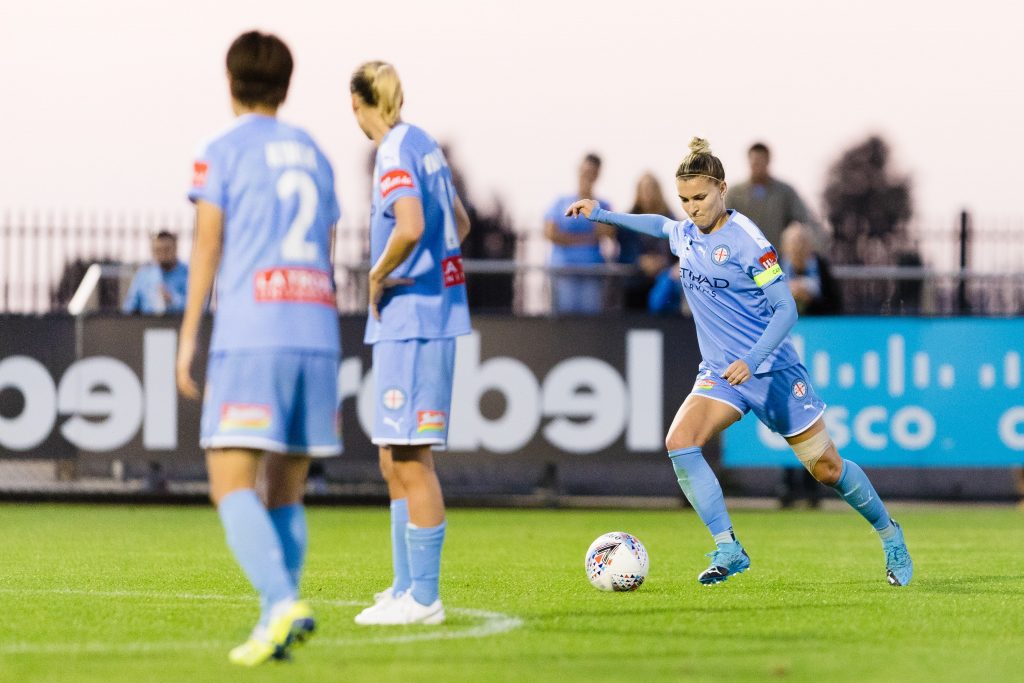 "I think we're pretty good at both [systems] but some games utilising the wingbacks I think has been pretty effective. You watch Ellie [Carpenter] bomb forward and that's always pretty powerful and she has a pretty good connection on the right side with Kyah [Simon].
"I think that formation really suits us, but we play well as a four as well."
But, regardless of if it's a four or a five, Catley has no qualms about bombing forward in coming weeks.
"Going forward and knowing how strong it is at the back really helps me because I'm not in a 'should I go, should I not' frame of mind," she grinned.
"I'm just going because I'm confident in the backline. You put [Rebekah] Stott up against anyone and she's going to pretty much almost come out on top every time. She's one of the best defenders I've played with anywhere in the world.
"Having someone like her and Lou Barnes next to her and Emma [Checker] who's had a really good season, you look back there and you feel confident."