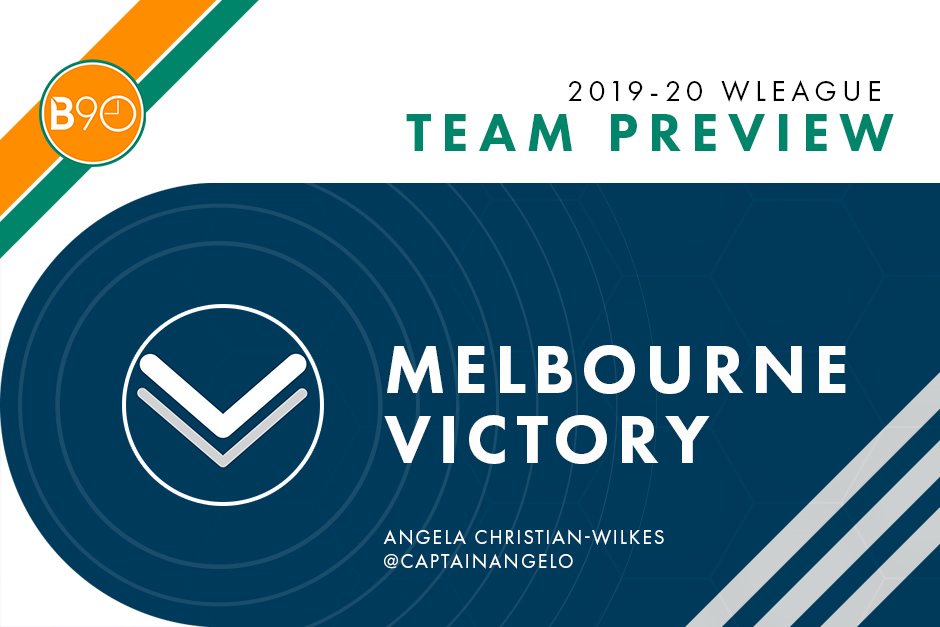 Melbourne Victory Preview
Good things come to those who wait, and that was exactly the case for Melbourne Victory last season. 
After battling to scrape past the bottom of the table for several seasons, Victory pushed through to get their first premiership. Of course, this wasn't without its difficulties. The continued growth of the league's competition combined with Victory's sometimes uneven performances was summarised by their semi-final loss to Perth (a week after beating the Glory to secure the Premiership). Christine Nairn put away the fastest goal in W-League finals history, only for the side to fall 2-4 to (then) Sam Kerr's Perth Glory. 
It was still an incredibly positive season overall, with more goals scored, less conceded, and a total of 11 rounds at the top of the tree. Along the way they claimed two Melbourne derbies and saw out a win against league powerhouse Sydney FC with a Natasha Dowie hat-trick. This improvement was the result of several seasons of reconstruction under the nurturance of coach Jeff Hopkins, now into his fourth season with the club. With a Premiership to their name, the question now is if Victory can maintain the standard and make the grand final for the first time since 2014.  
Ins and outs
Shall we start with the bad news? Christine Nairn isn't returning to the W-League this season, the reason currently unknown. The influence of her captaincy on Victory's premiership was undeniable, epitomised by her becoming the first international signing in the league to win the highest award on offer, the Julie Dolan Medal. Fellow American and key midfielder Dani Weatherholt will also not be returning, as well as Sam Johnson who has since retired from professional football.
Ella Mastrantonio, who made her return to the W-League under Victory's wing, has moved to a star-studded Western Sydney Wanderers side. Mastrantonio's incredible workrate in front of defence made her a standout. She is joined by Kyra Cooney-Cross at the Wanderers, with fellow young gun Annabel Martin heading to Newcastle. Laura Brock (nee Alleway) and MelindaJ Barbieri are still linked to Victory, rehabbing a foot injury and ACL injury respectively. Another notable omission is Emily Gielnik, who is currently making a name for herself at Bayern Munich in the Frauen Bundesliga.
Squad 🔥 #MVFC #OurVictory pic.twitter.com/6MJwmVz7aT

— Victory W-League (@victorywleague) October 31, 2019
This squad still has a number of NWSL imports: Portland Thorns defender Emily Menges, Reign FC striker Darian Jenkins, and Houston Dash midfielder Haley Hanson. They are joined by Football Fern Annalie Longo, as well as fan favourite English striker Dowie. Locally, Polly Doran and Emma Robers join from NPL Victoria side Calder United, with keeper Melissa Maizels joining from Southern United Football Club. Jenna McCormick (see below) is a steal from Brisbane Roar, whilst Rosie Sutton (previously at Western Sydney in the 2017-18 season) adds experience and physicality to the forward line.
Ins: Polly Doran, Annalie Longo, Melissa Maizels, Jenna McCormick, Emily Menges, Amy Jackson, Emma Robers, Rosie Sutton, Darian Jenkins.
Outs: Kyra Cooney-Cross, Sam Johnson, Emily Gielnik, Annabel Martin, Bethany Mason-Jones, Ella Mastrantonio, Christine Nairn, Dani Weatherholt.
Returning: Teigen Allen, Melina Ayres, MelindaJ Barbieri, Angela Beard, Laura Brock, Natasha Dowie, Casey Dumont, Alexandra Gummer, Grace Maher, Lia Privitelli.
The Strengths
Consistency is one of Victory's strengths, and group of returning local players at the core of the team will be important for Victory's campaign. Natasha Dowie – an attacking mainstay for multiple seasons now – is notable. The likes of Alexandra Gummer, Lia Privitelli, Angie Beard, Melina Ayres and Casey Dumont may not accumulate the attention of their more decorated teammates. However, last season proved it takes a village – a village with a deep bench and good chemistry – to get results. Having a strong group of players returning signals not only positives about the team culture, it also gives Victory an advantage heading into the relatively short season where each result holds higher value when it comes to the ladder.
The Challenge
In saying all of the above, Victory's midfield is perhaps the area on pitch that has been the most disrupted. Granted, plenty of local and international talent has come in, but talent on the teamlist doesn't always equate to on-field cohesion. It is worth noting that last season the NWSL trio – Johnson, Nairn and Weatherholt – had played together in different combinations before the 2018-2019 season, with both Johnson and Nairn having also played with Victory previously. With the season still tapping in at 12 games and a particularly choppy start fixture-wise, it will be essential that Victory figure out their midfield quickly.
Darian Jenkins began her NWSL career for championship winning side North Carolina Courage, before being traded to Reign FC for the 2019 season. The move – one she initiated – has seen her shift from a late substitute to a starter and build confidence in front of goal. During her time at Reign she won NWSL Player of the Week following a brace against Orlando Pride in Week 21. She will be a valuable asset to the attack, both as a goal-scorer and as someone who can absorb the defensive pressure often focused on Dowie.
As discussed, how well Victory gel in the middle of the park will be crucial for early – and sustained – success. Alongside New Zealand international Longo, Amy Jackson brings a wealth of experience which will be important for leading the pack. With Mastrantonio's departure, it's looking like Jackson will occupy an important position in defensive midfield. She is strong on the ball, keeps a cool head and is able to move play up through the centre of the park. Jackson being able to hold the fort will give freedom to more attacking players such as Grace Maher.
McCormick garnered attention at Brisbane Roar last season as she stepped into the role of centre back for the first time. More recently, conversations have centred on her starting for the Matildas – and what better place to do that than with Jeff Hopkins? Emily Gielnik, Teigen Allen and Laura Alleway all recently proved their worth and returned to the national fold when playing for Hopkins. Call me superstitious, but is it simply a coincidence that her signing to Victory was swiftly followed by her first start for the national side? Superstitions aside, McCormick's performance and development this season will undoubtedly have implications for her beyond Victory. 
One to watch: Emma Robers
Attacking midfielder Robers joins Victory from NPL Victoria side Calder United – a side she captained at age 21 to the double premiership and the final of the Nike FC Cup. Moving into the W-League, it will be exciting to see how Calder's Best On Ground develops within one of the most experienced Victory squads in recent years. 
Prediction: 3rd
Sydney FC have many returning players on their Premiership winning side, Melbourne City have replenished their Matildas stock, and Western Sydney are getting everyone's attention with serious international signings. It will be no easy run for Victory, but if they play it smart and start the season strong, a top four spot is well within their reach.
See the full squad here.