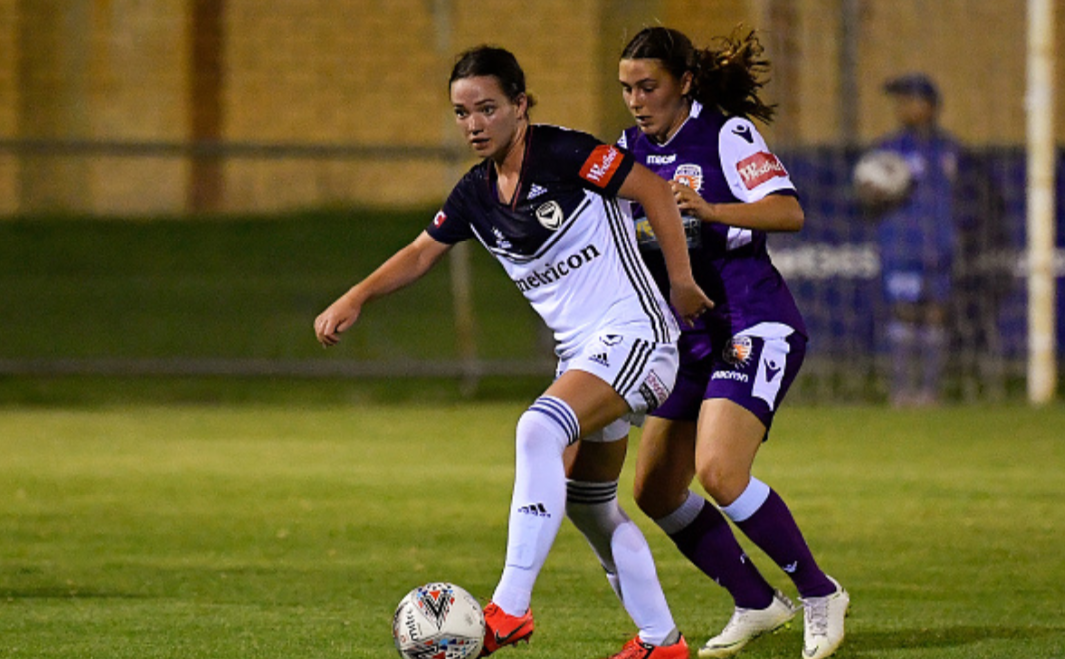 Grace Maher returns to Melbourne Victory after a 16,950 kilometre detour. She enters her sixth W-League season having spent the Australian winter playing for KR Reykjavik.
"I had actually always wanted to go play in Europe," she told Beyond 90.
"At one point I was hoping to last year and I ended up unfortunately having to have surgery. So it just worked out really well, coming off the back of such a successful W-League season, to go over there and be pushed out of my comfort zone."
The move came about late last year thanks to an Australian connection within the KR coaching staff.
"It was basically through the assistant coach of the team [who] had previously coached Aivi Luik, and he'd reached out to her to ask if there were any Australian players interested in playing. And then my name came up, from there they contacted me and the next thing I knew I was on a plane to Iceland."
The Aussie influence continued when it came to deciding whether or not to take the leap.
"I was fortunate when I was at Canberra, I played with both Chantel [Jones] and Jenna [McCormick], who had [both] been over in Iceland. So I reached out to them and just got a little bit of a background briefing on the Icelandic league," Maher said.
"After talking to them the conclusion of it was still really positive, so I went for it and don't regret it at all."
https://www.instagram.com/p/Bz5DOdlnLoc/?utm_source=ig_web_button_share_sheet
Being exposed to a new country and a different kind of footballing culture was a huge change of pace for Maher.
"It was just a really cool experience to appreciate the European culture of football but also the Icelandic culture. I think it's really rich and really community based, and everyone's obsessed with football over there."
Maher admitted it was difficult to compare the two leagues with both having their pros and cons. There was, however, one aspect that Iceland had over Australia.
"One of the really big things was we played a lot more games than you would typically in Australia. We had Cup games, league games, and sometimes catch up games, because some of the teams were playing in other tournaments – Champions League or whatnot," she explained.
"It was a lot. Games were on Tuesday and Sunday, then Wednesday and Friday and so it was quite full on. It felt a lot more full time I think because it was just all football."
After playing 21 games across all competitions for KR, Maher wants to see the number of matches in the W-League increase via a full home and away season.
"It baffles me that this hasn't somehow been at the forefront of this all. It's disappointing as players because it's forcing girls to have to leave the league altogether, unfortunately getting a salary for five months of the year isn't going to work," she said.
"Then for girls that do have jobs, [they're] expected to leave their jobs just for the season. It becomes very difficult."
Maher has been able to play year round in 2019 and is looking to apply what she learnt in Iceland to the W-League.
"It's a very physical league [in Iceland]. So I really learnt this year, off the ball, how to be more effective and how to put in that physical effort. Because that's half the battle. If you haven't got that, then you weren't able to show off your technical ability."
While the focus is very much on the season ahead, season 2018-19 was Victory's best since its 2013-14 championship win. When discussing it you could hear in Maher's voice that she was trying to convey something that was almost intangible.
"I think the more seasons I play, especially in the W-League, the more I'm going to realise how special last season was, in terms of what we were building towards throughout the whole season," Maher explained.
"We were a team that knew some games, we weren't going to play pretty football and we dug down and dug deep for each other. Some games I was starting and during the season, I had to miss some games but everyone knew their role.
"Come game day we were fighting for the team, and I think it reflected in the football and the consistency in the results.
"That's a credit to Jeff and the culture that he drove with the team, but also a credit to our senior players who really from the get go came here and showed the team that we're ready to win."
https://www.instagram.com/p/BsHXRP9Ax-c/?utm_source=ig_web_button_share_sheet
The key to Victory improving on last season will be maintaining that culture and keeping the belief the team built. It's something Maher feels deeply and wants others to buy into.
"I feel a really big passion in my heart for Victory and so I want to make sure that everyone feels that this season, so that'll be a big part of pushing to fight for the club, for the team and for each other."
While this Victory team has lost some big names – namely Christine Nairn, Emily Gielnik, and Samantha Johnson – concerns over the team gelling are minimal.
"I think it's interesting because although there's a half a squad turnover for myself, a couple of the new faces I've played with in previous seasons and some of them have been involved with Melbourne in previous years," she said.
"So already there's that kind of chemistry, that it's as though the team has been around for one or two seasons already. And then we've got you know, some great local NPL girls that have come up, that a lot of the team are already familiar with, so it's just been a super smooth transition."
This chemistry will need to be on song immediately with Hopkins' side taking part in the AFC Women's Championship later this month.
"We're super grateful to be invited to the tournament and it's really cool. We're really excited as a club because you know, it's our name on the paper and a historic moment," Maher said.
"At the moment, it's a short, rough tournament, but then hopefully it develops into something that allows us to be able to take on champions of more countries in Asia, and even perhaps the European champions and South American champions."